[ Home | Staff & Contacts | DIY & Tweaks | Listening tests | HiFi Playground | Music & Books ]
Atacama Nexus stands, Spike Shoes and Atabites Filler
Don't STAND so close to me :-)
[Italian version]
Products: Atacama Nexus 7 stands, Spike Shoes and Atabites filler
Company: Atacama Audio - UK
Supplied by: Playstereo (online store) - Italy
Approx. price: Nexus 7 stands: 120 € - Spike Shoes (set of 4): 25 € - Atabites filler (9 kgs): 35 €
Reviewed by: Lucio Cadeddu - TNT Italy
Reviewed: March, 2006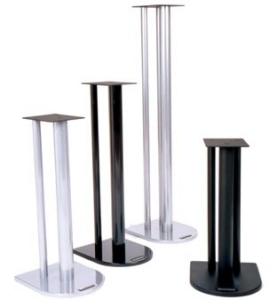 Atacama Nexus speakers stands
Atacama is a well-established British Company which specializes in stands, HiFi racks, spikes and HiFi furniture in general. Every audiophile worth his weight in spikes knows that audio accessories can play a key role in fine tuning any HiFi system. For example, the so called "bookshelf" loudspeakers rarely sound decently when placed on a ...bookshelf! Most of the times, to get the best out of any compact-sized loudspeaker, one needs a speaker stand, possibly with spikes...or so they've told you.
When dealing with low budget loudspeakers it is very hard to find a logical reason to spend more money on stands. Actually, good speakers stands can be damn expensive (should I say ridiculously expensive?). For this reason, especially when budget is tight, we suggest buying small floorstanding towers instead. Anyway, there's still hope for those on a tight budget who prefer compact loudspeakers. Either one can pursue the DIY route (see, for example, our TNT Stubby stands) or browse the market for decently priced commercial products. The Atacama Nexus series proves to be one of the possible answers: good looking, nicely finished stands of various finishes and heights, with spikes, equipped with a price tag that won't break the bank.
I've tested the 70 cm model, with spikes, that sells for 120 €/pair or so (your mileage may vary depending on Country). They do possess a very high WAF, are easy to assemble and their central column can be finely-tuned by means of some damping "filler" (sand, lead shots or...the Atacama Atabites steel filler, of course!). The Nexus uses three columns (1 large, two small) bolted to bottom and top plates. The top plate is small but extremely solid (4 mm thick steel slab). The bottom plate uses four adjustable spikes.
In order to get a complete picture of the Atacama "system" I decided to test the Atacama Spike Shoes and the Atacama Atabites filler as well. The Spike Shoes use a curious and somewhat controversial approach: while spikes normally work following the principle of "max pressure on a very small area", the Spike Shoes distribute the weight on a wider area - hence pressure diminishes - and add even some kind of damping thanks to a rubber side. Yes, they're actually made of two pieces: one side is metallic while the opposite is made of a kind of heavy duty rubber. The idea behind this design, I assume, is to minimize spikes vibrations, hence improving stereo image stability and focus, plus adding some extra control to the bass.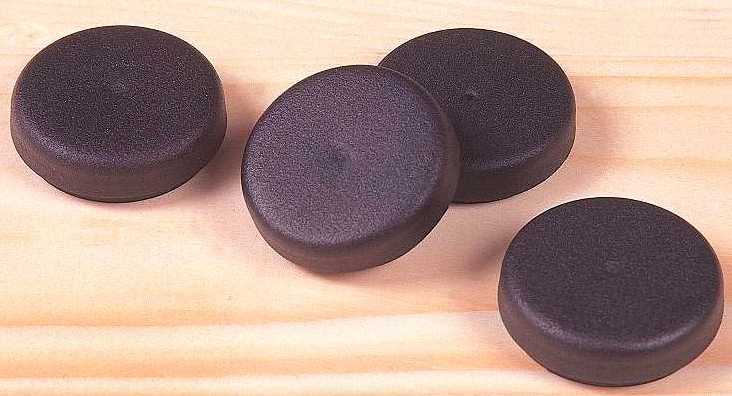 Atacama Audio Spike Shoes
The Atacama Atabites filler is made of small high-density "interlocking" steel triangular chips (called "delta-chips") that should fill any speaker cavity or speaker stand column with precision. Specific weight is higher than sand and, of course, toxicity is null, while lead shots many audiophiles use aren't the best choice for home environments (in my opinion, of course).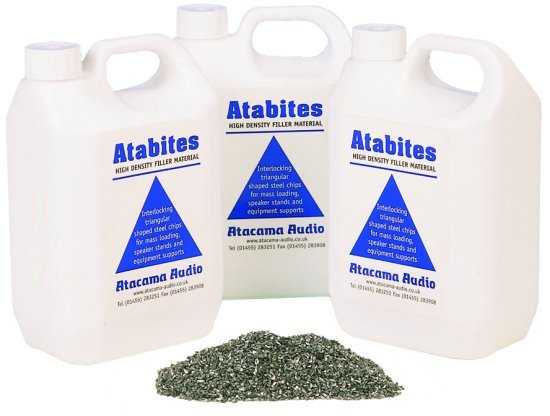 Atacama Audio Atabites filler
Don't STAND so close to me
Testing speakers stands is annoying. And it becomes a real nightmare when you have to deal with spikes. Moving speakers on different stands for comparisons is boring, especially when you have to find that perfect spot at every stands change!
My reference speakers stands are made of a solid welded aluminium structure (Acoustical/Aliante Stands) and are extremely light and rigid. Unfortunately Aliante does no longer manufacture them as they were pretty expensive. The comparison isn't fair, actually, but the Atacama stands prove to be a very wise choice for audiophiles on a budget. Not as rigid as a welded structure (they use bolts) the Nexus stands are sufficiently solid for a small loudspeaker.
Heavier cabinets can make the Nexus oscillate lightly and, of course, the situation gets worse if you use a taller model. In view of this behaviour, I'd recommend the Nexus 7 for small and lightweight loudspeakers.
The effect of the Nexus 7 is noticeable and is all about musicality: of course it is not precise nor dynamic like the cited reference stand but overall sound is enjoyable, thanks to a sort of a smoothing effect that might be welcomed with certain recordings or aggressive/harsh loudspeakers.
The soundstage remains wide and deep but loses some focus, especially at high listening levels. In order to get a stable 3D soundstage you need extremely rigid stands and the Nexus 7's, as said, show a slight tendency to oscillate. Anyway, considering the extremely low price tag, the result has to be rated very good. I've seen even expensive stands that oscillate much more than these.
In the macrodynamics department the Nexus 7's perform well: though not as fast as the reference they handle highly demanding dynamic jumps with ease. They just slightly tend to slow down attacks and decays, which is natural, considering their structure. They perform better in terms of microdynamics, especially when partnered with minimonitors that don't have a strong bass output. Again, this is perfectly natural and obvious: more bass = more vibrations = less precision and less dynamics.
The performance of the Nexus 7 can be easily improved though. Each stand weighs in 6 kgs (13 lbs) but you can make it heavier by just adding some filler into the central column, for example using the Atacama Atabites "delta-chips"...
Adding the filler makes the stand heavier and less prone to resonate. This adds some extra weight (pun not intended) in the bass department, too. You can experiment with different amounts of filling till you get the desired compromise. Don't think that filling the central column completely is the best option. Try 50%, then 75% and finally judge with your own ears at each step.
The second upgrade step is using the Atacama Spike Shoes: though I generally refuse the idea of this coupling/decoupling mix & match (rigid coupling partnered with damping/decoupling) I admit the effect on the Nexus 7 stands is extremely positive: bass becomes tighter and fuller while the whole 3D soundstage "clicks in" better: more focus and image stability, even at loud listening levels. I haven't been able to detect a negative effect so I have to consider the Nexus 7 + Spike Shoes an extremely good sounding match (despite my prejudices).
I've tested the Spike Shoes on different situations too, even under "spiked" heavy floorstanding loudspeakers. The results may vary. Depending on the structure, the effects range from "generally positive" to "neutral" (no pluses, no cons) to "slightly negative". And, of course, everything depends on the general equilibrium of your system and on your personal taste. Anyway, thanks to the low cost - 26 € for a set of 4 shoes - experiments can be interesting.
Some advice and complaints
The Atacama Nexus 7's seem to give their best when partnered with the Atacama Spike Shoes and filled with the Atacama Atabites filler. It's a kind of a "family synergy" that greatly improves the performance of the stands. For a better speaker/top plate interface I'd suggest using few blobs of blue tack or similar stuff.
I have very few complaints: perhaps not the stiffest stands around, their overall performance is good and can be easily improved. In my opinion, moving the three columns as close as possible to the corners of the top and bottom plates would significantly improve stands stiffness.
Finally, quality of manufacturing, design and finish are top notch, regardless of price.
Conclusions
The Nexus is the entry-level series of speaker stand of the Atacama catalogue. The quality/price ratio is very high and a Nexus stand can be a very wise choice for every audiophile on a budget. The Spike Shoes and the Atabites filler proved to be extremely useful both when partnered with the Nexus stands and as a stand-alone "accessory".
© Copyright 2006 Lucio Cadeddu - www.tnt-audio.com
[ Home | Staff & Contacts | DIY & Tweaks | Listening tests | HiFi Playground | Music & Books ]