[ Home | Staff & Contacts | HiFi Playground | Listening tests | DIY & Tweakings | Music & Books ]
Tommy Larsen CD Lift™
A smart way to handle optical discs...and not only!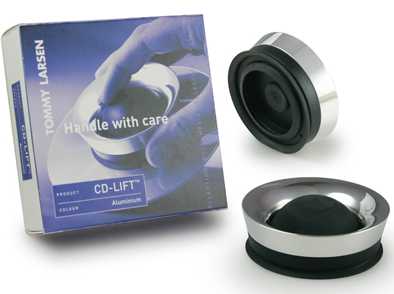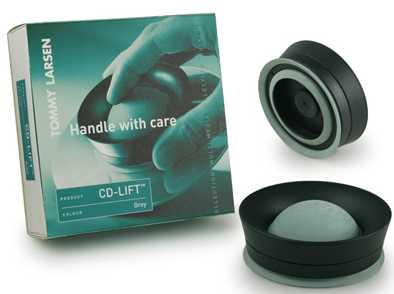 [Italian version]
Product: Tommy Larsen CD Lift™
Company: Tommy Larsen A/S - Denmark
Approx. price: 12-25 € depending on finish
Reviewed by: Lucio Cadeddu - TNT Italy
Reviewed: June, 2012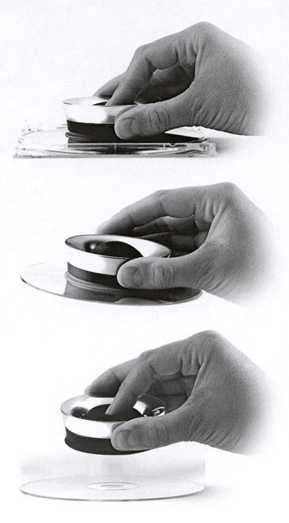 We know that the best way to keep discs (CD's, DVD's and LP's) clean is avoiding dirt reaches them! And the dirtiest things that can touch those records are our own hands and fingers. There's a way of handling LP's and CD's that (almost) keeps our fingers far from the recorded areas...but it is impossible to avoid any kind of contact.
Moreover, many modern CD players and transports make use of a top-loading mechanism, so there's no sliding drawer where you can gently and safely place your CD...If the top loading mechanism is recessed, as sometimes happens, avoiding to touch the CD on a sensible area is almost impossible!
Even worse than that, there are high-end CD players that make use of a 45° angled top-loading mechanism! For example the Chord Red Reference MkII...you might need very special fingers to make things work and avoid touching and even scratching the CD surface!
Enter the Tommy Larsen CD-LIFT™ gadget! This cool device has been around for 10 years already but its popularity is gaining momentum because of the top-loading CD players and transports. Indeed, Chord are offering it for free together with their Red Reference mkII player.
Now, what is exactly the CD Lift™? It is a cool gadget that allows you handling a CD, from the CD case to the CD player and vice versa, without touching it with your fingers. It is a kind of suction cup (a sucker, maybe? :-)) that works incredibly well.
After placing the gadget in the centre of the CD, gently press down on the rubber bulb and release. By lifting and turning at the same time, the CD can be lifted out of the case. Turning the CD isn't always necessary as the grip is strong enough! Now you can place the disc into the CD player (drawer, top-loader, angled top-loader, whatever). Once the CD has been positioned into the player, gently press the bulb down to the furthest point and move the CD-LIFT™ away from the disc. Et voilà, everything will remain clean and safe. Of course, repeat the procedure to pick up the disc from the CD player and store it safely into its case again.
Available finishes are: aluminium & black/grey plastic. The cooler aluminium model is more expensive, though. Of course, it can be used for DVD's as well. It works on LP's too but only for putting them on the turntable platter. The vice versa operation is almost impossible, because the platter spindle hits the bulb and makes the vacuum operation impossible. Perhaps it should be slightly modified in order to make it work flawlessly even with LP's. Call it LP-Lift then! Inexperienced vinylophiles might find it extremely useful...
Availability
The CD-Lift™ is quite easy to find on the Internet. Do not search for audiophile stores as they might not have it in stock. Gadget and designs stores are the places to look for. It pops up, from time to time, even on Ebay. Just put Tommy Larsen CD Lift on Google and browse through the results. Prices can vary but if you avoid the more sophisticated aluminium version you should be able to purchase it for ±15$/€, shipping included.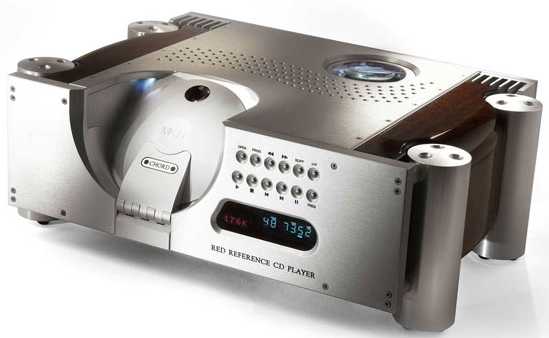 Chord Red Signature mkII CD player (16,500€, CD-Lift™ is included!)
Conclusions
A cool geeks' gadget which has been around for years and that might become more popular, especially if modified to work well with LP's. A nice audiophile gift idea, too.
© Copyright 2012 Lucio Cadeddu - direttore@tnt-audio.com - www.tnt-audio.com
[ Home | Staff & Contacts | HiFi Playground | Listening tests | DIY & Tweakings | Music & Books ]