[ Home | Staff & Contacts | HiFi Playground | Listening tests | DIY & Tweakings | Music & Books ]
Arylic S50 Pro+ Wireless Aptx HD Multiroom Stereo Preamplifier
A Long Name for a Small Box!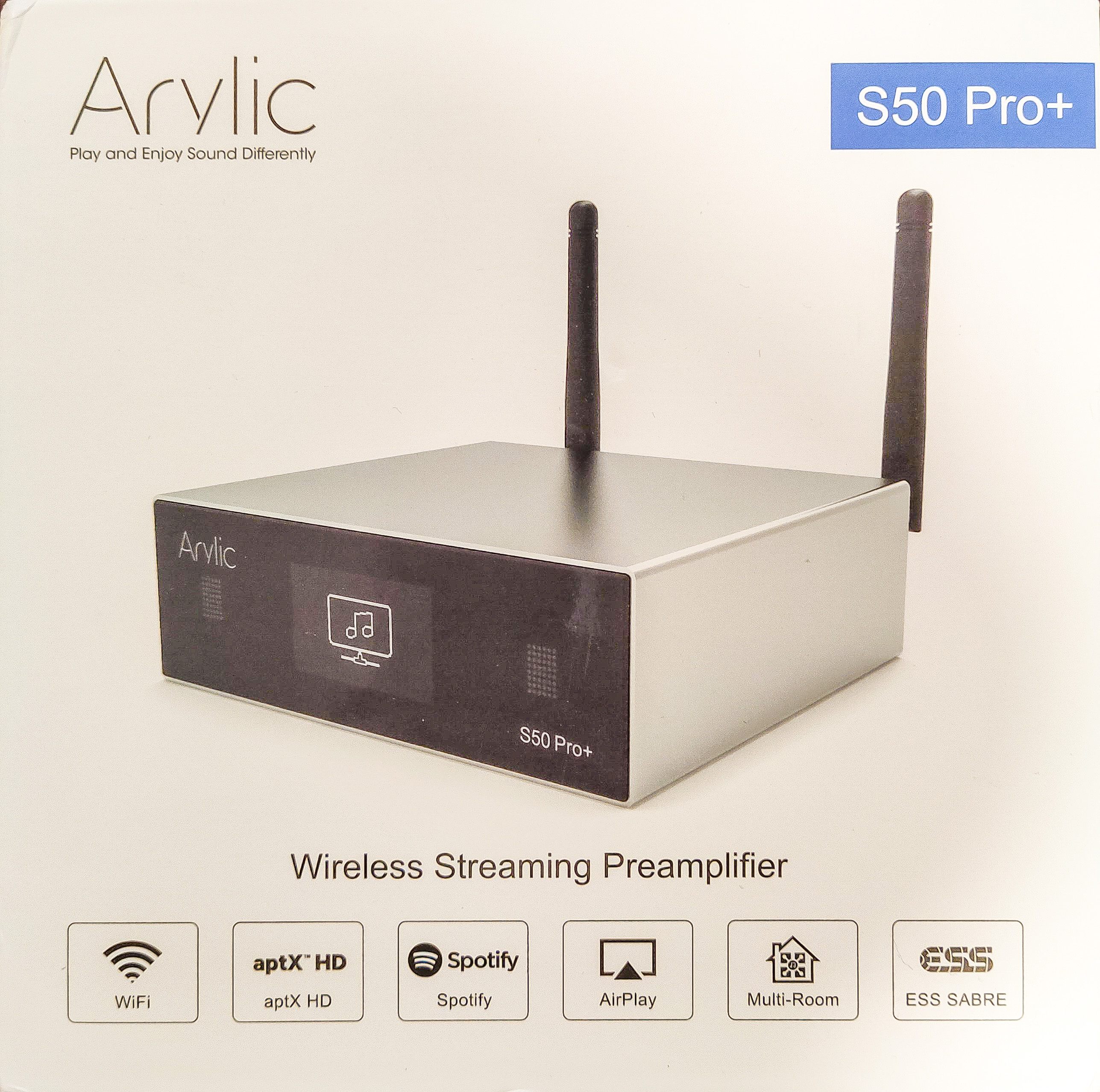 [Italian version here]
Product name: Arylic S50 Pro+ Wireless Aptx HD Multiroom Stereo Preamplifier
Manufacturer: Arylic.com
Cost: $219. US. (Currency conversion)
(YMMV)
Reviewer: Roger McCuaig - TNT Canada
Reviewed: June, 2022
Introduction
The S50 Pro+ is a DAC/Preamp and digital streaming hub. You send to it all your digital streaming sources such as Tidal, Prime Music, Spotify, Internet radio sources and a long list of others via Wifi, or Bluetooth, or Ethernet cable, you can also play music from a USB pen drive, stream from a PC or NAS, use your CD player as a transport (if it has an optical cable output). If that's not enough, there is also has an analog input. With the two digital (coax and optical) and one analog outputs, there are a lot of ways to use this device. All for just a bit over $200. US!
Description
This review almost became the shortest project in my reviewing career! Half an hour after opening the box, I was stuck. The thing just wouldn't work. I read the manual over and over and tried to make sense of it, to no avail. The manual sucks, which of course seems to be the new normal for audio components. Well, I have already written that rant so I will say no more on that. So, as a favour to Arylic, I will write here what they should have written as the first paragraph of the manual.
The initial setup process for the S50 Pro+ is as follows: Go to the Wifi settings on your Android or Apple phone and connect to the S50 Wifi Hotspot "Soundsystem_XXXX". Next, open the 4STREAM App on your phone and use it to connect the S50 to your home network. (You will need to select the router name and key in the Wifi password) Lastly, switch your phone back to your home network. You now have both the phone and the S50 connected to your home network and the phone will act as a remote and streaming manager for the S50 via the 4STREAM App.
Now, the people at Arylic would no doubt respond, "that's what the manual says". Well, if you are good at deciphering bad English, reading between the lines, and you are already familiar with how these sorts of devices work, then you might agree with that statement. That certainly was not my case. I suspect that all our Millennial readers would have this unit running in 5 minutes or less. In my case, the High-Tech of my youth was the transistor radio! I wonder if Millennials know what a transistor is.
The next day, not being a quitter, I tried again. I hadn't yet received any guidance from Arylic via email, so I was on my own. After about a half dozen attempts at cycling on and off the router, the 4STREAM app and the S50 in various sequences and connecting the phone to the S50 hotspot, the S50 screen suddenly announced to me that it had obtained an IP address. I'm in!!! Even a blind squirrel finds a nut from time to time. Now, the big question is whether the setup problems were caused by my incompetence or by a glitch with the S50? I believe that even the first day I did have the setup sequence correct at least once and probably several times, so I suspect that it was something not working properly in the S50 or in the 4TREAM app that was causing the problem. The 4STREAM app did give me some bizarre messages during the setup process that were undecipherable! By the way, when you see the word "speaker" on the 4STREAM app it appears to be referring to the S50 which, of course, is not a speaker. The Arylic unit has worked consistently without the slightest hint of a bug ever since my initial adventures so one may conclude, with some confidence, that the issue is gone or, at least, was isolated to the setup process.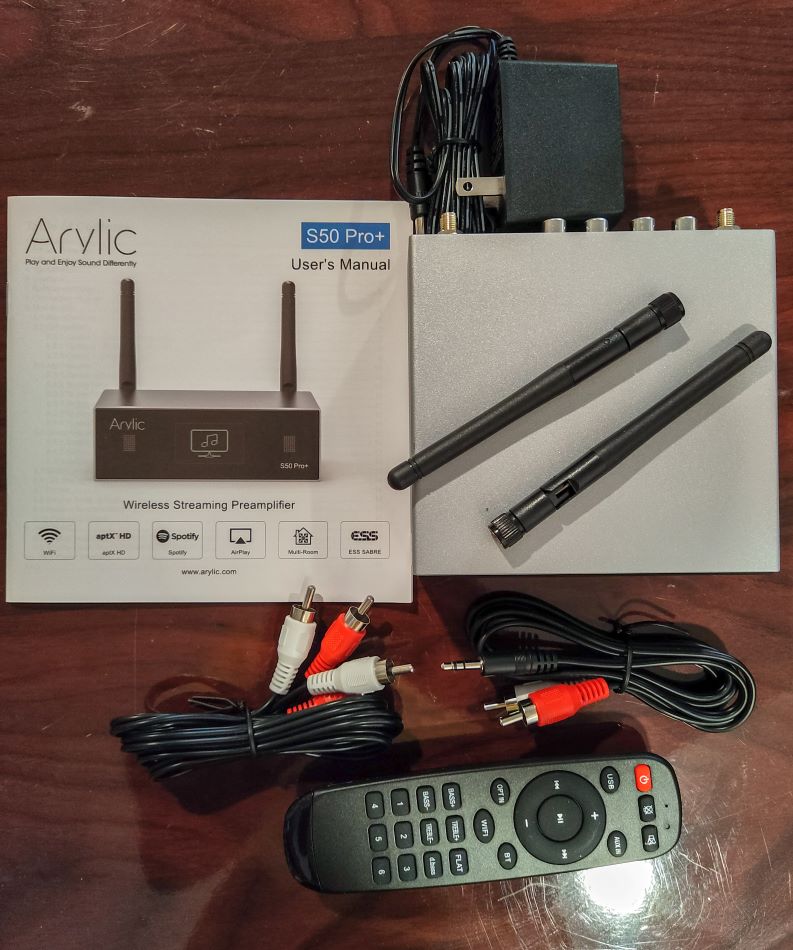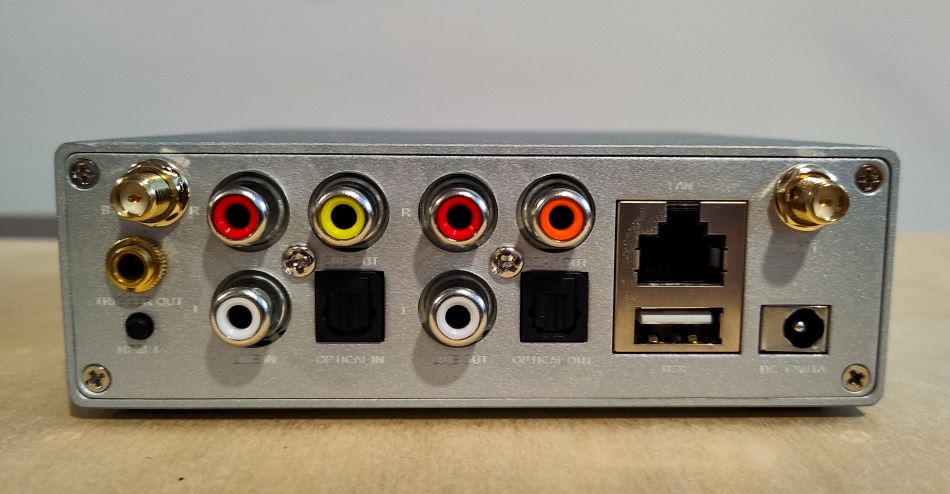 Listening Time
Starting with the output side; there are optical and coax outputs for digital streaming as well as RCA outputs from the DAC. Arylic has not included any numerical data for the analog output level in their manual and when I questioned them on it, they chose not to answer my questions. Operating the unit, it appears that the analog output level is like a normal preamp output, I am guessing between 2 and 3 volts. Volume can be adjusted both from the supplied remote and from the 4STREAM app. In front of the analog output is, of course, a DAC chip. In this case an ESS Sabre 9023. ESS describes this model as an "Audiophile, 2 channel, 24-bit DAC". In comparison, my Doge Tube DAC uses an ESS 9018 32-bit chip and my Arcam CD player uses a much older Burr Brown chip. The 9023 DAC chip is mid-range in the ESS hierarchy, which is quite appropriate for this device. Now, I presume that the digital outputs of the S50 just pass through the selected input stream, but I really don't know what is going on in there. The S50 does control the volume somewhere along the way though, from memory, the ESS DAC chips typically include volume control. I ran several different music sources through the S50 into my Doge Tube DAC via both coax and optical cables with excellent results.
Let's go with the simple inputs first. I connected a CD player to the Line IN (RCA connectors), selected Line In on the 4STREAM app and it worked fine. Nothing really to add, it does what it's supposed to do. Not so with the USB input. The manual states that it is to be used to connect a USB pen drive. I took the USB stick that I use to play music in my car and plugged it in to the S50. It played ok except that no folders or subfolders are shown and there is no way to sort or search the music files. Just a great long listing of songs showed up on my phone. What good is that?
The 4Stream app running on my Android phone makes it easy to stream many Wifi music sources. I have Tidal and Prime Music HD accounts, so they were the first ones played. All you do is select the streaming source you want to use from the list on 4STREAM, input your account name and password and the source page comes up on the phone screen. I also tried TuneIn, IHeart radio and a couple of others. All worked fine. It is possible to remove sources from the source list provided by 4STREAM to trim it down to the ones you use. For the record, Spotify was not among the sources tested as I will never allow it back on my phone again, maybe a story that I will tell another day. When streaming with the 4STREAM app, the volume buttons on the phone act directly on the Arylic volume control, something that I found to be a very nice feature. You don't have to use the remote or fiddle with virtual buttons on the phone display.
It is also possible to Stream from an NAS (I don't have one so that was not tested) or from a PC. I do have a large collection of music stored on a solid-state drive on a PC that I use as a music server. It is normally setup to send the music files to my Doge DAC via USB cable using JPLAY FEMTO. The S50 manual suggests using Foobar 2000 to stream from a PC and provides some setup information. I haven't used Foobar in years, however, I do have JRiver Media Center on my PC so I decided to do a bit of research to see if it is possible set it up for wireless streaming via DLNA. It turns out that it is possible, and I found a page listing all the setup steps. Surprisingly, it worked on the first try and I was able to stream all my flac library from my PC to the S50. It wouldn't play my DSD files, but I really didn't expect that it would. I suppose that if I really wanted to, I could setup JRiver to convert them on the fly, but I really don't have that many DSD files, so it probably won't happen. The 4STREAM app also found the Logitech Media Server on another PC. I was able to stream WMA and WAV files, but for some reason it wouldn't play the flac files!
I also played a bit of music via Bluetooth from my phone just to check it out. Again, it worked fine. The sound was found to be slightly less bright compared to the Wifi streaming. My new phone runs Bluetooth 5.1 which I understand to be CD quality, so I think we need to look elsewhere for an explanation for this perceived difference. Bluetooth streaming is very seldom used in our house and was played just long enough to show that it works.
The S50 is small and light which means that connecting cables to the back of the unit is a bit challenging, especially if you have big hands, and the cables tend to want to pull the unit off the shelf! Of course, this is not any different than what you get with any small format device so it's something we just must accept.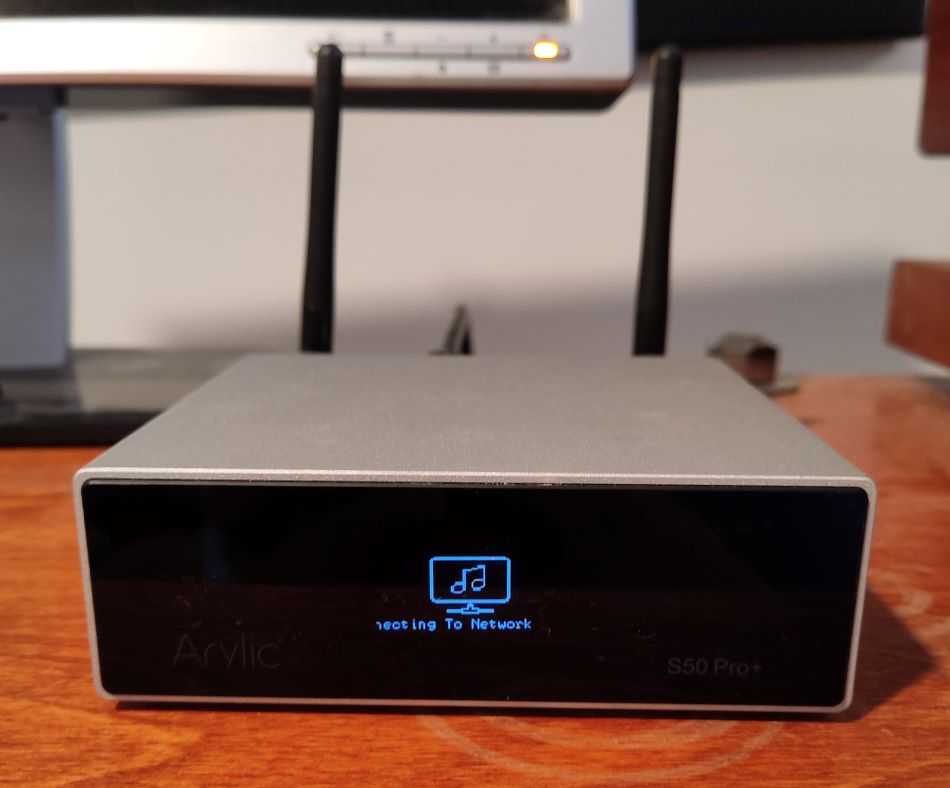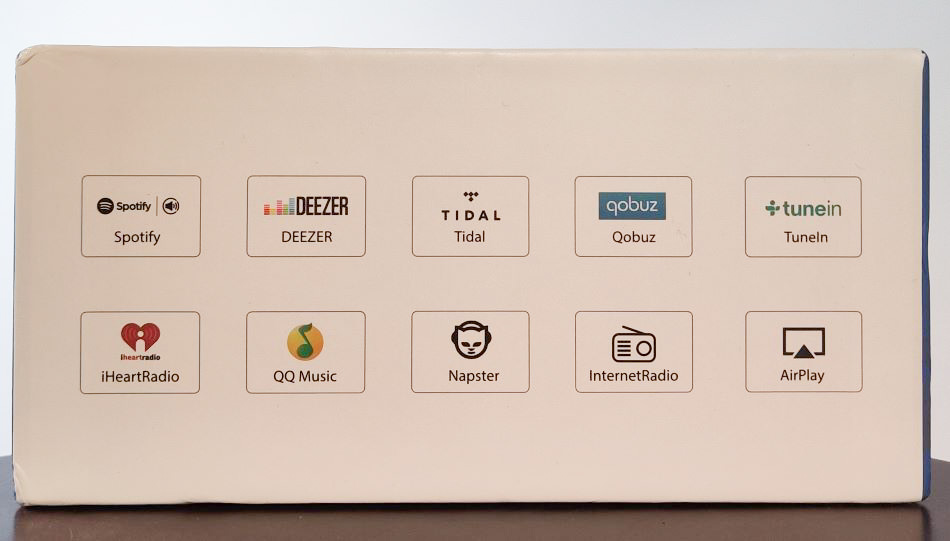 The 4STREAM APP
The only way to perform the initial connection to your home network is by using the 4STREAM app. The 4STREAM app works very well, you can select any input, then choose a streaming source and adjust the volume. There is also a settings page for presets, equalizer, setup info and a few other tools.
The display on the face of the S50 unit shows a variety of symbols and text messages. The latter being hard to read if you are farther than a meter away! Although it is possible to operate using only the remote and the unit display, I certainly wouldn't recommend it, it's a much more primitive experience and I only used it to power ON-OFF the device. The best way to fully enjoy the S50 is with a smart phone so if you do not want to use a mobile phone to play your music the S50 Pro+ is probably not a good choice for you. The only negative associated with the app is the poor quality of the error message text and the strange instructions I got while trying to perform the setup. The app kept telling me to look for a white flashing light on the S50 unit, in all the time I have had the S50 in my possession I have never seen a white light on the front display, flashing or otherwise!
Conclusions
The S50 Pro+ does a lot for just $219. US. and notwithstanding my initial setup problems, it does it all well. The sound quality from the analog output is surprisingly good and although it certainly can't qualify as high-end, it is much better than one might expect at this price level. The digital streaming works very well with the 4STREAM app with excellent sound. Another small item on the plus side; Arylic indicates that they ship from inventory in the USA and in Europe. This could be the heart of a great mini system. Add a high-end DAC and the sky is the limit!
DISCLAIMER. TNT-Audio is a 100% independent magazine that neither accepts advertising from companies nor requires readers to register or pay for subscriptions. If you wish, you can support our independent reviews via a PayPal donation. After publication of reviews, the authors do not retain samples other than on long-term loan for further evaluation or comparison with later-received gear. Hence, all contents are written free of any "editorial" or "advertising" influence, and all reviews in this publication, positive or negative, reflect the independent opinions of their respective authors. TNT-Audio will publish all manufacturer responses, subject to the reviewer's right to reply in turn.


Copyright © 2022 Roger McCuaig - roger@tnt-audio.com - www.tnt-audio.com
[ Home | Staff & Contacts | HiFi Playground | Listening tests | DIY & Tweakings | Music & Books ]