[ Home | Staff & Contacts | HiFi Playground | Listening tests | DIY & Tweakings | Music & Books ]
Audio Research LS 15
Velvet...underground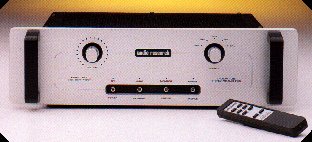 [Italian version]

Product: line tube preamp Audio Research LS 15
Manufacturer: Audio Research
Price: 3,000 US $ (in the USA, refer to your local distributor for prices in your Country as your mileage may vary)


When thinking of vacuum tube HiFi components the first name that comes to mind is certainly Audio Research, an US HiFi Company that has been designing tube HiFi gear for decades. Audio Research has made (and still makes) even solid state and hybrid components but most of the celebrity of this US brand is due to the pure tube preamps and amps. There's no doubt that the SP series preamps and the Classis power amps have left a pretty heavy landmark in the HiFi history.

The LS 15 under test replaces the previous preamps LS2/2B mkII.
It is a line preamplifier equipped with four twin-triodes (6922 in class A) while the power supply section is "solid state", that is, no tube rectifier has been used.
The LS 15 has an on-board microprocessor that controls a 70-step electronic relay attenuator (volume control) and a 5 position input selector. Every operation can be easily controlled via an easy-to-use remote. The volume knob doesn't rotate but it is spring-loaded so that turning it clockwise you increase the level of one step and counterclockwise you lower the level, more or less like in an electronic sequential car gear shift: up for higher gear, down for downshifting.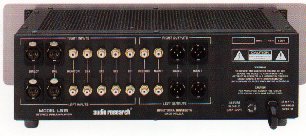 The same principle has been used for the other functions (mute, tape etc.), by means of spring-loaded switches. Each activation of any function is indicated by a green led.
While for the first minutes these relays-controlled function switches seem less intuitive than common switches, they become familiar very soon and you begin to appreciate this feature.
The LS 15 has a total of 7 inputs (5 standard RCA's plus two XLR balanced) and 4 outputs (2 main balanced, 1 standard RCA and 1 record (RCA).
As far as I know this preamp is available both in natural aluminium (the classic ARC style) and black, with or without rack-mount holes.
The quality of the finish and construction is simply excellent: the switches give the owner a feeling as this preamp has been built to last for years without problems.
Velvet...underground
The LS 15 is a tube preamp and it does nothing to hide this feature: its sound has that distinctive velvet touch that only the best tube components have.
Anyway, it is not the classical old-fashioned tube sound: this is a High Definition ® preamp so it is a precise analyzer of the musical program, it can easily reveal any tiny detail and nuance, carrying on the tradition of its ancestors, the SP series preamps.
Don't think that the sound of the LS 15 is cold or "clinic": its high level of definition is supported by a soft velvet carpet, hence the sub-title of this review (Velvet...undergound, like the famous Lou Reed band). This uncommon feature makes the sound of the LS 15 almost magic, yes, a magic compromise of precision and sweetness.
So the high range is open, refined and clear, harmonically very rich, wonderfully supported by a crystal clear mid range, never edgy, sometimes even a bit "rounded".
A lot has been said and written about the mid range of the ARC tube preamps, well, I'd say that the way the voices, both male, female and large choirs, pass through this LS 15 is nothing but excellent.
On the other hand the bass range is rather dry and taut, like you'd never expect from a tube component. It is a bit shy in the first octave, especially with organ pedals and the deeper notes of the double bass.

Micro and macro dynamics
The velvet touch gives to the dynamic performance of this preamp something very special: the musical transients are energic yet on the soft side. I know it is hard to understand, for this reason I urge you to test listen to this preamp by yourself. It is not the explosive dynamic performance of a good solid state preamp, it is rather a lively sound with a silk note in it.
And no, it is not the kind of preamplifier if you require an aggressive performance from your HiFi system, even when this sacrifies a bit of grace and overall musicality. This is actually one of the main problems of the musical reproduction at home: there's nothing that can come even close to the terrific dynamic of the live music.
To test this, if you know a musician, ask him to play a saxophone or a drum in front of you...you'll know what I mean by REAL dynamics. So, our poor HiFi components (and recordings, of course) can just try to reproduce a fraction of that live energy: some try to be as realistic as possible and fail because they become aggressive and unbearable in the long run (as an example, test listen to some of the high current integrated amps of the Eighties, those with huge amounts of "dynamic power").
Some other HiFi components know their limits and try to give their best in terms of energy, without sacrifying this in terms of grace and musicality. The LS 15 belongs to this second league.
Hence some energetic pop/rock tracks may lack some punch and explosive impact though even large orchestral pieces are reproduced with enough vitality.
In the microdynamics department the LS 15 is better, especially the high range offers a very good performance.
Pace and timing are exactly like you'd expect them to be, taking into proper account the character of this preamp: no hurry, it slows down just when the musical program becomes very intricate and complex with respect to rhythm.
Soundstage
The stage the LS 15 creates is large with a note of excellence with respect to the height of the virtual scene.
The image is fairly focused and the contours are somehow smooth (that velvet touch again!). This preamp, being High Definiton ®, can paint every detail into the soundstage with an amazing precision, the position and the size of any instrument is nothing but correct. In few words the soundstaging ability of the LS 15 is perfectly integrated into its being very refined and sweet at the same time.
Some advice
As any other tube preamp the LS 15 requires a reasonable amount of burn-in and break-in. Its sound changes during the first two hours (at least) going from dark and dull to clear and vivid. Hence, don't judge this preamp after few minutes of burn-in...you'll make a huge mistake.
Also, being a tube equipped component, it is important to keep it far away from vibrations. For this reason the Company may design better rubber feet, being those supplied quite inappropriate, in my opinion.
Finally, if your LS 15 comes with a detachable power cord (like this one under test), be sure to use a high quality mains cable as well as good interconnects. Just choose fast and dynamic cables and let the LS 15 sing its Music the way it knows well.
Complaints
From the sonic point of view I'd have preferred a bit more punch and impact...sometimes Music requires more "swing" and a faster pace.
In other words it seems (in my opinion) that the LS 15 doesn't like to dress a leather jacket, a pair of torn blue jeans and leather boots. It feels OK when dressed with a classic black tail-coat, ready for an opera concert.
A little complaint, as cited above, about the poor mains cable and the rubber feet, inappropriate in a tube preamp of this class and price range.
Thumbs up for the damping rings on the tubes.
Finally a strictly personal remark: I prefer a REAL volume knob, better if coupled with a motor controlled by remote.
Conclusions
The LS 15 is a nice compromise of very high definition and sweetness: a very refined and detailed preamp with a sweet touch of silk and Velvet...underground.

A big thank you to Luca Natali of Audio Natali, the Italian distributor of Audio Research, for having sent us this preamp for reviewing.

© Copyright 1998 Lucio Cadeddu

How to print this article

[ Home | Staff & Contacts | HiFi Playground | Listening tests | DIY & Tweakings | Music & Books ]