[ Home | Staff & Contacts | DIY & Tweaks | Listening tests | HiFi Playground | Music & Books ]
nOrh 9.0 loudspeakers
The Sounding Stones!
[Italian version]
Product: Norh 9.0 loudspeakers
Manufacturer: NOrh - Thailand
Approx. price: $ 2.500 USD/Euro
Reviewer: Stefano Monteferri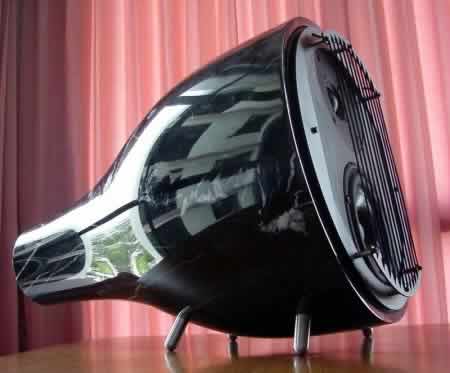 Black marble nOrh 9.0
TNT-Audio strikes back and reviews another nOrh product, this time the top model, the 9.0. As you may remember if you read the little nOrh 4.0 review on these very pages, the company held by Michael Barnes in Thailand, is characterized for its rather singular design and realization. OK, nowadays there are several producers who directly sell their products via the web, mailing their stuff all around the world.
Yet, we must acknowledge that nOrh production philosophy stands singularly, since it chooses for its loudspeakers' cabinets the shape and materials used to realize the traditional Thai drums. This leads to aesthetically particular and intriguing loudspeakers, inducing curiosity and eventually admiration in everybody, and that can be seen as "active" elements in your own house interiors.
Beyond aesthetics, though, the more technical aspects must not be forgotten - such produced cabinets are incredibly solid, with benefits for sound cleanness and intelligibility.
Due to "conceptual sublimation" and adequate quantity and shape of basic matter (read: trees' trunks) availability, Michael Barnes and his technical staff were led to evaluate the use of new materials.
In the end, nOrh guys made up their minds: they will reach the stated aesthethic and technical goals using, as material to build up their top (and not only) models' cabinets, marble! Oh, yeah, you got it - nOrh 9.0's cabinet is sculpted from a marble block, and is 5 cm thick (!).
Absurd? Foolish? Tremendously effective! And Michael likes to think that some day, in a far future, somebody can find those undestructable cabinets like archeological rests, so particularly shaped, as a testimony of our civilization's ability.
Aesthetics and Veneers
It's impossible not to be impressed by such an atypical and cured product - almost shocking at first impact. After a deeper analysis, it reveals a sage mixture of technics and artistry, creative innovation and tradition, a rather particularly attractive object. Put them in your living room, and they will capture the attention of any visitor of yours. I wonder if I said it clearly - we are in front of a work of art.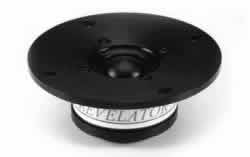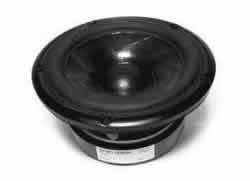 The "Revelators" by Scanspeak
Technique
We already spoke about the scultped-marble cabinet, almost absolutely deaf and stiff. Place your ear above the cabinet while the loudspeaker is sounding, and you will hear practically no noise or vibrational movements(!). If you add to this that the chosen shape warrants you against inner stationary waves, you'll get an even more complete picture of the cure applied in making this cabinet.
The front baffle, where the drivers are mounted, is made of marble, too, and then is covered by real leather. The grounding feet, four for stability reasons, are made of steel and come with different underfeet to level the loudspeaker's placement. The front grill's structure is made of laser-machined steel, too. Thai natural silk is manually applied as little ropes that are used to protect the drivers.
Uh, whaddaya say? The sported drivers? Well, hold tight, because nOrh 9.0s uses some of the best (and most expensive!) components worldwide : Scanspeak 9900 tweeter, a.k.a. "Revelator", and the new 15W/8530K00 woofer, this too, appointed by Scanspeak with the "Revelator" title. Now, it's finally clear that we are speaking about a two-way loudspeaker and that, as well as the previously reviewed 4.0 model, has the reflex port placed on its "tail".
The x-over sports hand controlled and selected components. The capacitors are from Multicap and the coils are air-wounded. The 9.0s feature a third-order, 3000Hz crossover point. Inner cabling, curiously realized with an architecture very similar to our own DIY design "TNT TripleT", is made exclusively of highly pure silver, of which all the solder is also made.
Moreover, the cabling itself allows the passive filter to be easily bypassed, so that active multiamplification with electronic x-over can be used. This should lead, according to nOrh, to the best musical performances, since a passive filter, as good as it can be done, always introduces less of more perceivable distortions and limitations.
The nOrh solution is called Multiamp, and is specifically designed for this purpose - you only need to use a pair of amplifiers, sporting output level regulation and electronic filter selectable among 2000/2500/3000Hz, and you go! Of course, it is also possible to use the Multiamp as a "normal" amplifier.
The connectors are obviously four on each loudspeaker, and feature, very smartly, tightening handles with hexagonal heads, so that you can tighten them in a safe way with a simple adjustable spanner.
This model's efficiency is not that high - it should be around 84-85dB. A tad surprising, considering its 13 cm woofer; the lower limit of the declared frequency response: a good 30Hz at -3dB (!). Too much of an optimistic value? We'll verify it during the listening test.
Ah, I almost forgot - those "bookshelves" - they travel closed into a huge double package - out-of-the box weight more than 70Kg (!) per pair, so you'd better think well about it before putting them on your 1800 English furniture. Dimensions? Expressed in centimeters, 35x38x50, respectively width, height and depth.
Sound
I state it now, so we won't talk about it anymore - we're in front of a pair of loudspeakers with very high level musical characteristics.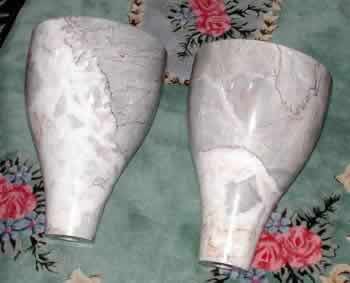 nOrh 9.0 top view
The frequency extension is surprising and, despite the use of a mere 5 inch (about 13 cm) woofer, is very notable and matches, judging by the ear, the manufacturer's specs that declare the remarkable value of 30Hz at -3dB (!). Such a result, in addition, was obtained without any particular loading system, but with an ordinary bass-reflex, that leads also to very good speed.
So, bass is always extremely controlled, very present when required by the musical message, and without any trace of excessive dryness, yet characterized as a very pleasant, basic softness (control and softness are gifts usually not found toghether).
Thanks to the cabinet's extreme stiffness and shape, the midbass is clean, agile and transparent, wonderfully blended with the splendid mid range that provides a warm, fluid and extremely musical timbric performance, with a total absence of grain. This helps voices and instrument reproduction. It is always extremely smooth, yet soft and velvety as rarely can be heard. Such a character, added to an excellent, stepless and exitationless tonal coherence, makes the musical reproduction extremely balanced, and absolutely fatigue-free.
Their behaviour is rather homogeneus, and nOrh 9.0s let you listen to them with extreme satisfaction (if allowed by the amplification) either at low or high volume level. Yet, I can't deny that they best satisfy the listener when playing at mid and high volume, showing a reference grade cleanness just where it is common to notice other loudspeakers' crises due to the low structural stiffness of their cabinets, whose resonance litters musical message reproduction.
With such a velvety musicality, elements like introspection and detail risk their mortification. But nOrhs are excellent from this point of view, too, being clean and very capable to present to the listener even the smallest and most hidden information. They dig into the music until they bring to light all the elements composing sounds' architecture, and they do it with surprising sweetness and accuracy, into a fluid and musical context, made up of warmth and transprency. Yes, the 9.0s can be so selective and transparent to make it easy to follow players' virtuosity, without particularly great concentration.
Dynamically speaking, frankly I didn't expect big results from a two-way bookself loudspeaker with a 13 cm-woofer and a rather low efficiency. But the nOrh 9.0s' performance was extremely gratifying, and this surprised me as much as the described low extension abilities did.
The dynamic contrast is all there, and it plays a great role in recreating that realistic sensation, typical of big loudspeakers. Though it's clear that we're not talking about a big and highly efficient loudspeaker, yet I can assure you that, matching those particular "marble sounding drums" to an energetic amplification (let's say, a high current and good driving 100W), you won't regret any of the above alternatives. In two words, emotion guaranteed!
Lastly, speaking of emotions, let's look at virtual image reconstruction. Here we have an extraordinary performance, and perfectly able to simulate a carpenter team ready to smash your house's walls! :-) Width, height, depth ... we're talking about ideas that become difficult even to measure. Very simply, the loudspeakers disappear, and only Music stays.
Music, dense and material, magicly materializing everywhere, even in the less predictable places, with its architectural components. This magnificent feeling of compressionlessness and freedom instill into the listener that natural sensation that satisfies and relaxes, without any more obsession like those afflicted by the millimetric quest for the loudspeakers' best room placement. I don't think it should be said any other way.
In conclusion, I think I have to report one last characteristic that I still didn't mention, since it's hard to define unless using a concept that I admit is not very exaustive and explicative: "class". And when I speak of class, I mean something that, in a certain sense, can't be trapped into any evaluation parameter, yet it can be felt in a clear and recognizable way. That way to narrate music to the listener with all its particulars and nuances, but without shouting it in any way. That grace and that authority that, together, capture listener's interest, fascinating him and moving him.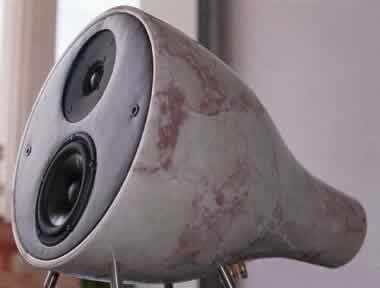 The elegant white marble version
Complaints
The placement of binding posts, expecially using spade-terminated cables, doesn't make frequent connecting and unconnecting operations comfortable; I also would have preferred more space between them. For the average user - that, unlike a reviewer, shouldn't be anxious about such repetitive operations - it is, anyway, a minor and easily bearable irk. Moreover, the choice of four standing feet makes more difficult the correct plane positioning of the speakers, but I think that, considering their weight, the choice of just three feet woudn't have properly granted safety and stabilty.
Advice for Use
First of all, the great depth. NOrh 9.0s are not particularly position-fussy, but they are half-a-meter-deep and the vent port is on the rear, so you must be sure to have enough rear space for their room positioning. The stands, whose best height goes from 60 to 70 cm, must be solid and with a very heavy base, or you might experience a good hole in the floor. We already spoke about the not very high sensitivity, so keep it in mind even in relation to the listening room - if it's not exaggeratedly big, some high quality 50 "high current" watts may work. Yet, I warn you: the nOrh 9.0s are speakers that make you really want crank it up. :-)
I underline the quality concept: using amplifiers not as good as those speakers' magnificent expressive abilities may limit their possibilities and banalize their overall performance. I want to be straight clear, otherwise you can be deluded by the end result: although they expressed a good level sound with almost all the amplifiers I used, the excellent sonic results I wrote about were obtained with a team formed by the AM Audio A-5 preamplifier that I tested during the same period, and the now well known A-50 Reference power amplifier, from the same brand! So, beware...
Conclusions
Musicality, softness, accuracy, speed, dynamics, realism, image, class … I confess I have written this many times in the nOrh 9.0 review, convinced I exaggerated the praises, and well, decided to limit my enthusiasm and evaluations. Yet, I coudn't do anything else but confirm what I had written.
The guys at nOrh's team, with their model 9.0, wanted to realize the absolutely best sounding, two-way loudspeaker. Frankly, I have no idea if they succeded or not - the variables playing roles are so many that to list an "objective" classification is, in my opinion, rather impossible.
Yet, at the end of what was an extremely interesting listening test, I feel I can express a judgment, but, be well aware, it's completely personal: marble nOrh 9.0s are overall the best, two-way, stand-mounted loudspeakers I have ever happened to hear!
A deeply felt thank-you to Michael Barnes, president of nOrh Loudspeaker Company, for having sent us their excellent nOrh 9.0s for this test.
© Copyright 2000 Stefano Monteferri - http://www.tnt-audio.com
Translation: Carlo Iaccarino
Supervisor: Richard George
[ Home | Staff & Contacts | DIY & Tweaks | Listening tests | HiFi Playground | Music & Books ]