[ Home | Staff & Contacts | HiFi Playground | Listening tests | DIY & Tweakings | Music & Books ]
Tekton Design Enzo - loudspeaker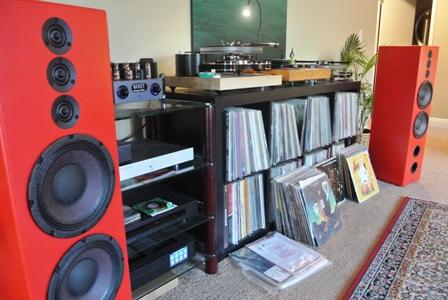 Enzo...
[Italian version]
Product name: Enzo loudspeaker
Manufacturer: Tekton Design - USA
Cost: $2000 USD (Currency conversion)
(YMMV)

Reviewer: Todd Bromgard - TNT USA
Reviewed: December, 2013
Introduction
Eric Alexander is a prolific designer and builder of loudspeakers for more than 25 years. Today he is the President, founder and CEO of Tekton Designs LLC (accident Greek for a craftsman). Tekton, manufactured in Utah, USA, has been accumulating accolades over the last few years in the media and blogosphere for its various speaker designs.
The subject of this review is the one of Tekton's newest products the "Enzo" loudspeaker. Eric told me Enzo is a family name, going back to his great grandfather, Lorenzo. I'm sure he would be proud.
Description
Each Enzo stands 40.5 x 10 x 13 (inches) and weighs 52 lbs. The enclosure contains three ring radiator tweeters and dual 8" bass drivers. There are two large front firing vents under the 8" drivers. Sensitivity is 98dB at 6 Ohms. Response is stated to be 40 Hz-30 kHz linear.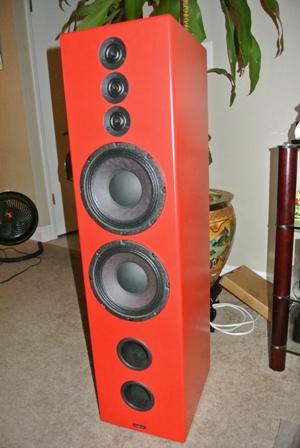 The cost is $2,000 USD per set which includes shipping inside continental USA. Standard finishes are red, white, gray and black; however, Eric and his crew will finish the Enzo in any color you want, just send him a sample. Wood veneer is available for an additional $300.
Associated equipment
I used several amps to drive the Enzo including Manley Stingray II, Pass Labs INT-150, Rogue Audio Sphinx, and Jolida 502 BRC. Phonostages included modified Jolida JD9, Lehman Black Cube and Musical Surroundings Phonomena. Sources included the Oppo BDP 103 Universal player, Origin Live Aurora deck, Origin Live Resolution deck, and SOTA's new Comet IV.
Setting up
My review sample was finished in eye catching Ferrari red, an appropriate color given the name. The color is bold and dominated our living room which does double duty as my listening room. But the speakers dominated in color only because the Enzo occupy very little floor space, about the same as monitors sitting on speaker stands.
The supplied brass feet are spikes screw into the bottom of the cabinet and are high quality. Same with the speaker terminals, which keep cables firmly connected over time. Bare wires, spades or bananas are accepted, but there is no option for bi-wiring. Woodwork and paint finish were flawless. Grills are optional and cost extra.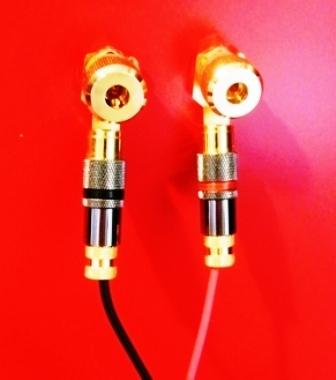 The Enzo are not fussy with placement and due to the front firing vents can be located closer to the rear wall than speakers with rear vents. I experimented by placing the Enzo only 6 inches from the rear wall in our living room and achieved good sound, but I felt they sounded best about three feet out. It only took a few minutes to get the speakers dialed-in to the point where bass response was balanced and a center image floated between the red towers.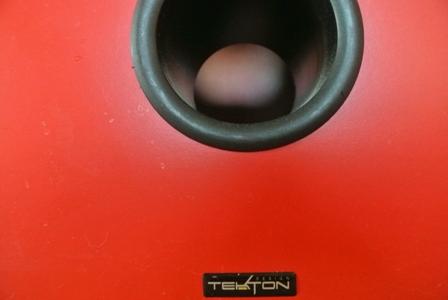 Tekton Design believes in the concept of reducing/minimizing transverse friction within transducers. This is accomplished in approx. 15 hours of break-in time at moderate listening levels. They should sound as intended right out of the box and continue to improve for the next several hours. I took them at their word and listened right out of the box and indeed they sounded good and continued to improve over the first 24 hours of use.
Listening
I used several different amplifiers to drive the Enzo, which I believe is the best way to review speakers. The speaker – amplifier combination is perhaps the most important link in the audio playback chain. Get it wrong and system synergy will never be attained. Get it right you have the foundation for a highly involving audio system. The Enzo proved to be a very easy speaker to match to a wide variety of amps.
The sensitivity of the Enzo nearly guarantees it will be a good match with tube amps so I was eager to try it with the Manley Stingray II integrated amp which 20 watts per side in triode mode using EL84 tubes.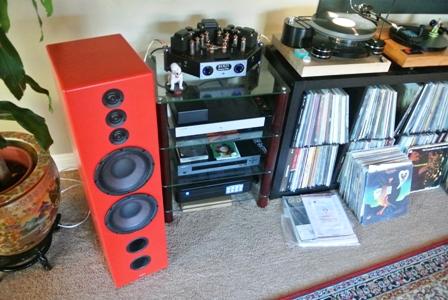 To be honest when I first saw the triple ring radiator design of the Enzo I wondered if it would sound bright. However, I detected no emphasis of high frequencies. Rather, the highs are extended and neutral, but not bright or etched.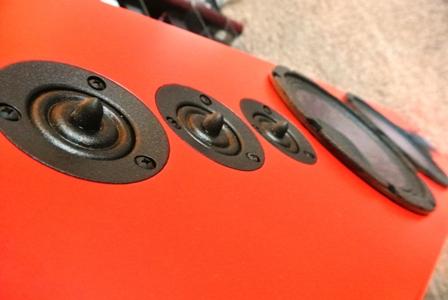 Midrange was full and rich sounding and at no time I could not detect the crossover point between the three tweeter array and bass drivers. On "Sinner…and Saint" by Irish blues-rocker Rory Gallagher, the sound of Gallagher's well worn Fender guitar had that distinct Stratocaster sound.
Vocals sounded realistic and immediate, Nat King Cole sounded like he was in the center of our living room singing all his hits. The music sounded dynamic and alive through the efficient Enzo, even when driven with just 20 watts.
I switched over to Jolida's 502 with 60 watts per side using KT88 Gold Lion tubes. It's not as sophisticated as the Stingray but also costs considerably less. I imagine the typical user of the Enzo might use an amp like the Jolida, its price being more commensurate with the Enzo's.
I played Alison Krause and Union Station Live LP pressed by Mobile Fidelity. Stringed instruments such as the fiddle, guitar, mandolin, and bass could be easily distinguished and sounded appropriately resonant and hollow.
Neil Young's archive performance Sugar Mountain: Live at Canterbury House, the power and smoothness of the Enzo portrayed the ambient details of recording venue while preserving the delicate earnest vocals of a twenty-one year old Neil Young. The Enzo/Jolida combo was very enjoyable and I think anyone would be pleased with the cost/performance radio.
The Enzo loudspeakers are efficient but can handle power too, so I didn't stop at the 60 watt Jolida. I switched over to Rogue Audio's Sphinx which integrates a 100 watt per channel class D amplifier with a tube pre amp and phonostage. It was nice to have the extra power on tap when playing LPs to compensate for the lower gain.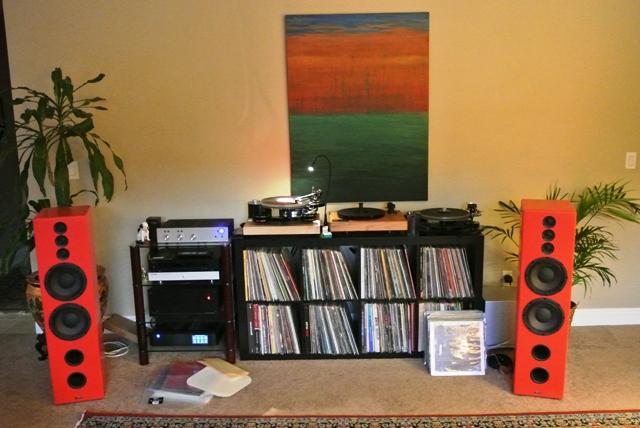 Tiger by Paula Cole has some of the deepest bass I've heard on any recording and the Enzo used all of the power the Jolida could deliver. Bass notes were punchy and tuneful. The extra power seemed to activate the Enzo's four 8 inch drivers which can pump serious air when called upon.
On the song King and Lionheart by Of Monsters and Men, stomping can be heard in the background and the low frequencies generated are not loud, but resonate extremely deep. I felt no need to add a subwoofer to augment its performance.
I had the superb Pass Labs integrated amp on hand which has a suggested retail price of nearly $7500 so coupling a $2000 set of speakers with it might not seem realistic. But I wanted to explore the limits of the Enzo.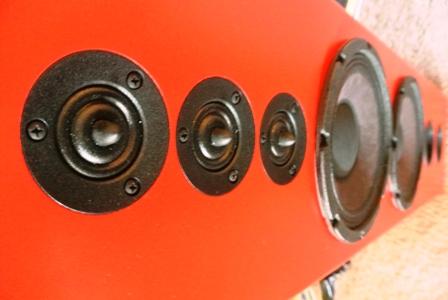 With 150 watts per side I couldn't resist and put Led Zeppelin II on the turntable and cranked up the volume. John Bonham's kick drum sounded palpable, I could feel its impact on my chest. Speakers which have the ability to convey the impact and realism of drums are usually expensive, much more than the Enzo's modest asking price. I was able to turn up the volume as loud as I could take and the Enzo continued to play without distortion. The Enzo certainly do not need powerful amplifiers such as the Pass Labs, I was really more curious than anything, and the results were excellent.
But the Enzo are not just a rock and roll speaker, all instruments were portrayed with transparency and detail. Sibelius Concerto in D Minor by violinist Jascha Heifetz is a work featuring long passages of solo violin with the well trained Chicago Symphony waiting to periodically break-in to make authoritative punctuations. It is quickly becoming one of my favorites. The rising tension was aptly communicated by the Enzo. The Enzo are able to convey this dynamic piece of music which goes from near silence to full tilt orchestra almost instantly.
Recordings of small scale acoustic music also sounded fantastic. Damien Rice Live at Fingerprints was recorded in a small record store in Long Beach, California. The intimate setting of the recording venue is made apparent when listening to the Enzo/Pass Labs combo. The Enzo is indeed capable and transmitted the transparency and power for which the Pass Labs amp is known.
The Enzo proved to work well with each of the amplifiers I used during my time with them. I could hear each change I made to the playback chain whether it was an amplifier and other associated equipment.
The loudspeakers are capable of reproducing a credible soundstage and cast aural images throughout my room. The virtual stage extended beyond the out edges of the speakers, and sense of depth excellent. I could easily detect the sounds of individual instruments playing in space.
The speakers did a respectable job disappearing as a sound source, nearly as well as stand mounted monitors. For example, The Lumineers' song Classy Girls sounds like it's recorded in a small bar room where the walls are defined by the sounds of the patrons talking and clanking glasses in the background as the band plays on. Even when listening at low volumes music sounded full, bass was present, images were stable and the soundstage did not collapse.
Conclusion
When I first saw the triple stack of ring tweeters I feared the high frequencies would dominate; however, I did not detect any emphasis of high frequencies. It images like stand mounted monitor and has the impact and dynamics of a large tower speaker. They are efficient and handle power, so they can be coupled with virtually any amp, from low wattage tubes to high power solid state. Plus, they play deep enough to enjoy without a subwoofer.
I liked this speaker a lot and had a good time listening to it. I recommend anyone looking at speakers near its price point give it serious consideration. Free shipping and a 30 day money back guarantee make the deal even more attractive. I look forward to future offerings from Eric and his team and Tekton Designs.

© Copyright 2013 Todd Bromgard - todd@tnt-audio.com - www.tnt-audio.com

[ Home | Staff & Contacts | HiFi Playground | Listening tests | DIY & Tweakings | Music & Books ]