[ Home | Staff & Contacts | DIY & Tweaks | Listening tests | HiFi Playground | Music & Books ]
AWG... what's that?????
[Italian version]
Ever wondered what does AWG mean with respect to cables cross-section? I'm pretty sure some cable DIYer absolute beginner has faced this problem at least once in a lifetime: finding the perfect relation between the mysterious AWG number and the cross-section in mm2.

May we leave you alone to face this trouble? Certainly not! So here it is an useful (hope so!) conversion table that puts into an exact relation the American Wire Gauge (AWG, for short) number with the cross-section measured in mm2.
You can print it and keep it into a drawer of your DIY garage, ready to help you quickly.
The first column reports the AWG number, the second the corresponding diameter of the cable in mm while the third reports the equivalent cross-section area in mm2.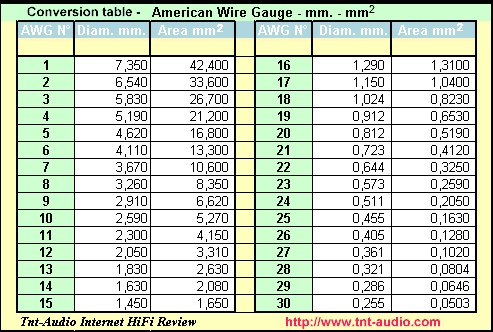 © Copyright 1999 Mimmo Cacciapaglia - http://www.tnt-audio.com
How to print this article
[ Home | Staff & Contacts | DIY & Tweaks | Listening tests | HiFi Playground | Music & Books ]