[ Home | Staff & Contacts | DIY & Tweaks | Listening tests | HiFi Playground | Music & Books ]
TNT-Audio 2012 recruiting campaign
WE WANT YOU...!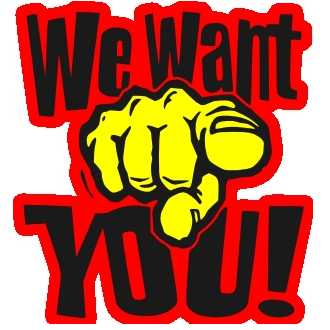 TNT recruiting campaign
Perhaps you all already know how things work here at TNT-Audio. We are a 100% independent, zero-profit HiFi magazine which has been around for more than 16 years! How time flies, uh?
Since day 1 we decided to choose a radical approach to HiFi reviewing, as we didn't like what commercial HiFi magazines (in print or online) were doing: it is hard to be 100% honest and sincere when you review an advertiser's product...after all he pays your bills!
Hence, and first of all, the mag had to be completely FREE for readers, and completely independent. This meant NO advertising, NO banners, NO paid links, not even subscriptions nor donations. Our editor, i.e. yours truly, paid and still pays for everything. This also implies that our reviewers (less than a dirty dozen) are UNPAID writers: they just write for the fun of it!
Moreover, we don't have to pay webmasters, proofreaders, graphic designers etc. because we do all the site needs just "in house", by ourselves. This helps cutting down costs and guarantees the mag can survive financially without support of any kind. We just have to pay for a dedicated server and that's all. An utopia? Maybe but...so far so good!
A couple of years ago we launched a recruiting campaign on our discussion forum and that produced two new staff members. Actually we were hoping to get someting more than that. Several wannabees proposed themselves as reviewers but then disappeared after writing a single review sample. That's why today we feel we need new reviewers, so that the magazine can continue to offer a wider variety of viewpoints on different aspects of HiFi.
If you think you can have the knowledge and the time to become a member of our staff read carefully what we require and try to apply!
A TNT-Audio reviewer should respect the following rules.
Independence. A reviewer should be completely independent from the market and the professional side of this (HiFi) world. No links with manufacturers, distributors, other magazines etc. Simply put, we need pure HiFi nuts.
Commitment. A reviewer should be ready to supply at least 6 articles per year (that's just one every two months!) but these pieces need not to be equipment reviews only (that would be a tough task!). Viewpoints, DIY articles, interviews, reportages, music reviews etc. are needed exactly like equipment reviews so we believe the target of 6 pieces per year isn't impossible to reach.
Internet/web basic knowledge. A reviewer should be able to produce his own texts, with pics etc., possibly ready for the web (pure HTML in TNT style). This is not difficult, our reviewers have started from scratch and learned quickly the basic things which are required. In any case we have templates, how-to tutorials and we can guide a novice during the (easy) learning process.
Writing skills. A reviewer should be able to produce texts in a "reasonably good" English. Not all our staff members (me included) know English as their mother tongue so help with tidying your English may be provided. :-)
Labour of love. A reviewer understands this is, and will ever be, a pure labour of love. Test samples are supplied for free by manufacturers/distributors and should be sent back to them once the review is completed. Sometimes test samples can be purchased at a special discount price. There are NO hidden costs: shipping charges are paid by the suppliers. Reviews are 100% FREE: manufacturers and distributors don't have to pay anything to get their gear reviewed by TNT-Audio. TNT-Audio reviewers can review whatever they wish, provided the components under test fit into our usual schedule. As for freedom of speech...as far as I remember we have NEVER edited the content of an article.
Now, if you feel you can successfully apply, just write a review sample of a component you know well so that our staff can judge the quality of your writing skills. Also supply a short CV, we need to know what our reviewers do for a living. Finally, briefly describe your career as audiophile. Be concise and try your best to convince us you can become our next staff member!
Send your texts (PDF, TXT, HTML) to submissions@tnt-audio.com. We will read everything and contact you shortly. Thanks and good luck!
© Copyright 2012 Lucio Cadeddu - editor@tnt-audio.com - www.tnt-audio.com
[ Home | Staff & Contacts | DIY & Tweaks | Listening tests | HiFi Playground | Music & Books ]