[ Home | Staff & Contacts | HiFi Playground | Listening tests | DIY & Tweakings | Music & Books ]
February 2023 Editorial
A modern reissue of the Brionvega RadioFonografo. Vintage, reinvented.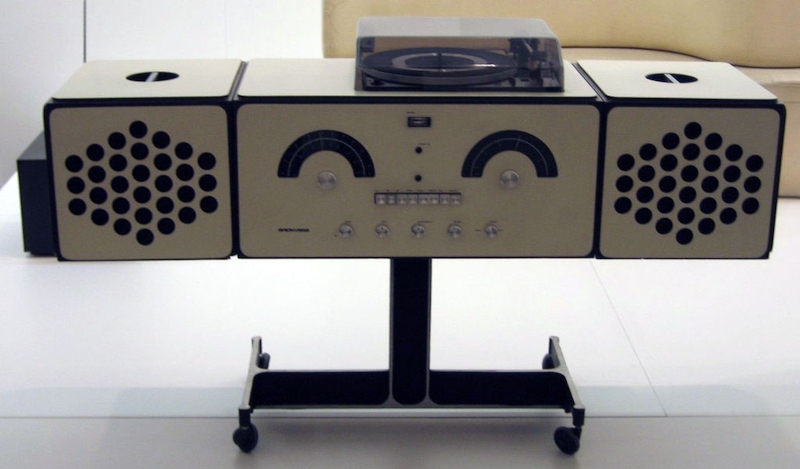 Brionvega RadioFonografo RR126, the original Sixties edition
Author: Lucio Cadeddu - TNT Italy
Published: January, 2023
I love vintage gear. Not everything is worth the hassle, but some iconic products of the past certainly have something that attract me. Not so the Audiotechnica SoundBurger portable vinyl player I've written about in my recent article, which is, according to me, a pure marketing move. Sadly, the same applies to the new Brionvega RadioFonografo, a reissue of a cool, iconic audio product of the Sixties, owned and loved even by David Bowie himself!
Brionvega has a long tradition of releasing industrial design masterpieces, such as their Algol 11" TV set, designed in 1964 by Zanuso and Sapper, and permanently displayed at the New York Museum of Modern Art (MoMA) and at the Museum für Kunst und Gewerbe in Hamburg. In the very same year, the famous cubic transistor radio, the TS502, was released, earning cult status almost instantaneously. This is now available for something around 500€. The next year Brionvega released the RR126, also called RadioFonografo, a stereo system consisting of a turntable, a radio, an amplifier and two speakers that could be installed in different positions around the central unit (laterally, behind...). This was a design masterpiece, created by the visionary minds of the two brothers Achille (1918-2002) and Pier Giacomo Castiglioni (1913-1968).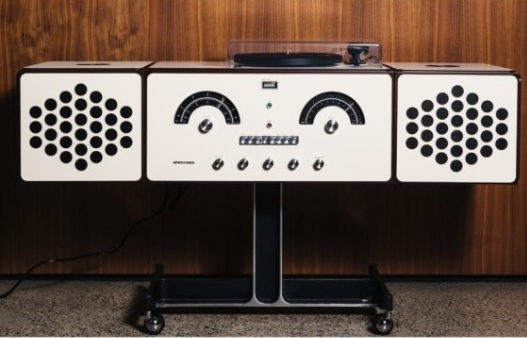 Brionvega RadioFonografo RR226, a modern reissue of the old RR126
After the closure of Brionvega and the brand being acquired by different companies over the years, the new owner has decided to reissue this vintage classic, the RR226 (previously RR126). The company has recently decided to boost the launch of this new edition via a powerful Facebook ad campaign. Here are the main tech specs of the RR226:
AM/FM radio
Pro-Ject turntable with Ortofon cartridge
125+125 watt integrated amplifier
2 RCA line inputs for external sources
1 RCA line output for external amplifier connection
1 RCA line as subwoofer output
1 headphones output
Moreover, if you purchase the unit via their official website, an HD Bluetooth streaming dongle will be included in the package. Aesthetically, the new RR226 is very close to the original one but, this time, it is available just in a very limited and numbered supply (100 units only!). You have to order it and wait for a long while, since it is made by hand.
The idea isn't all that bad, but the price tag might make you reconsider its purchase: 20,000€ (twenty thousand, yes) for the walnut finish and 11,900€ for the white one. Now, let me confess that this is a price tag that is very hard to justify, considering the quite inexpensive turntable which has been used and that, probably, the rest of the components is in the same price league. You may argue that the cabinet, being made by hand by artisans, is extremely expensive. Well, that depends. I've designed myself some of the furniture in my house, and asked an artisan to build it for me, using some of the best woods available. That wasn't a "limited edition", it was an "exclusive" one! Hence, I know quite well the cost of made by hand wood furniture. Of course, you pay for the brand, the iconic status and the history behind but...consider that an original RR126 can be found, in good condition, for something between 3500 and 7000€. For sure, I'd prefer the original one over this modern reissue!
Once again, like in the case of the AudioTechnica SoundBurger, marketing men decide it's better to reissue something that reminds one of an iconic product of the past, rather than designing something from scratch. The same has happened many times even in the automotive industry (the VW Beetle, the Fiat Cinquecento reissue and so on). When new ideas are missing, it seems companies try to exploit good ideas from the past. No evolution, no new ideas, no new concepts. What happened to Aldous Huxley's Brave New World?
DISCLAIMER. TNT-Audio is a 100% independent magazine that neither accepts advertising from companies nor requires readers to register or pay for subscriptions. If you wish, you can support our independent reviews via a PayPal donation. After publication of reviews, the authors do not retain samples other than on long-term loan for further evaluation or comparison with later-received gear. Hence, all contents are written free of any "editorial" or "advertising" influence, and all reviews in this publication, positive or negative, reflect the independent opinions of their respective authors. TNT-Audio will publish all manufacturer responses, subject to the reviewer's right to reply in turn.


Copyright © 2023 Lucio Cadeddu - editor@tnt-audio.com - www.tnt-audio.com
[ Home | Staff & Contacts | HiFi Playground | Listening tests | DIY & Tweakings | Music & Books ]