[ Home | Staff & Contacts | HiFi Playground | Listening tests | DIY & Tweakings | Music & Books ]
February 2023 Editorial
Fred Perry and ProJect team up! Vinyl running at full steam!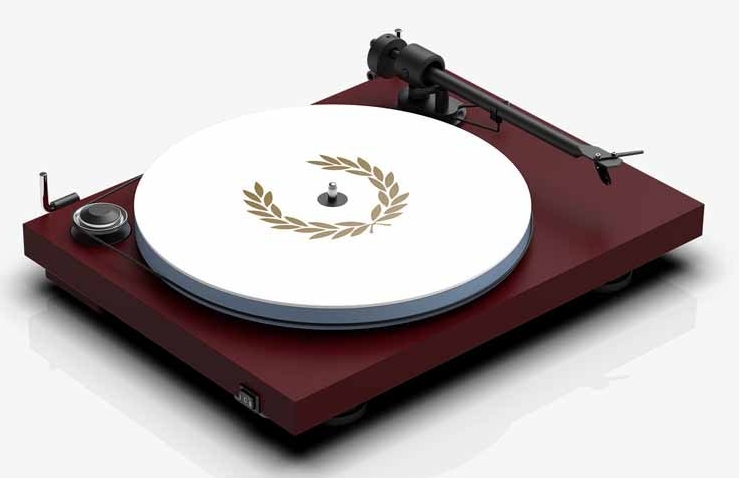 Author: Lucio Cadeddu - TNT Italy
Published: January, 2023
Frederick John Perry (1909-1995) has been a famous British tennis player, who won - among many other titles - the Wimbledon Championships three times in a row. Following the same idea of his colleague René Lacoste, Fred Perry established, in 1952, his own line of clothing brand, which quickly became famous for the iconic polo shirts with the embroidered laurel wreath logo, the original Wimbledon symbol. Quite surprisingly, the brand became iconic even among mod and skinhead generations.
Hence, it is not a big surprise to discover that this brand now teams up with the famous Austrian HiFi firm Project to design and release three new turntables. Inspired by the Essential III and Debut Carbon EVO models, these Fred Perry-branded turntables are equipped with on-board phono preamp, a full aluminium tonearm, a factory-installed Ortofon OM10 cartrtridge and electronic speed change (33/45).
The color scheme reflects the usual Fred Perry palette: purple/white/ice white, white/ice white/blue navy and black/champagne/champagne. The classic Fred Perry logo, the laurel, has been printed on the acrylic platter. Unfortunately, the laurel logo disappears once you put a LP on the platter. The street price should be 580€, which - honestly - isn't far from the price tag of those Project turntables.
This commercial move is quite interesting, since it proves, once again, the iconic status reached by vinyl playback and turntables. This reminds me of an anecdotal episode which happened to me many, many years ago. A young woman, visiting my house, complained of the lack of a compact disc player in my HiFi system: "Do you really still play those old and noisy records?". She thought she was trendy. And - to her eyes - I was someone not modern enough (or rich enough) to afford the latest outcome in space age technology, the perfect sound forever, read by a ray of light! The fact my turntable was a Linn didn't impress her, obviously! I suspect the same young woman, now a definitely unfashionable old woman, is now willing to play vinyl, just because it is so fashionable!
It is so bizarre how tastes have changed over the years! One of my favourite authors, Oscar Wilde, used to say: "Fashion is a form of ugliness so intolerable that we have to alter it every six months." How true! Anyway, vinyl seems here to stay, and perhaps other iconic brands will join the already crowded vinyl bandwagon. What about a crocodile-shaped Lacoste cartridge? A Gucci needle perhaps?
In any case, since one never knows, I've already prepared myself for the next retro-inspired fashion. A couple of years ago I started purchasing shellacs (78s) and gramophones (below is my His Master's Voice and Resonaphon players). At least, I can play them even during black-outs and nuclear war. I said, one never knows. In case you need to do the same, do not miss our On an Overgrown Pathé vintage corner.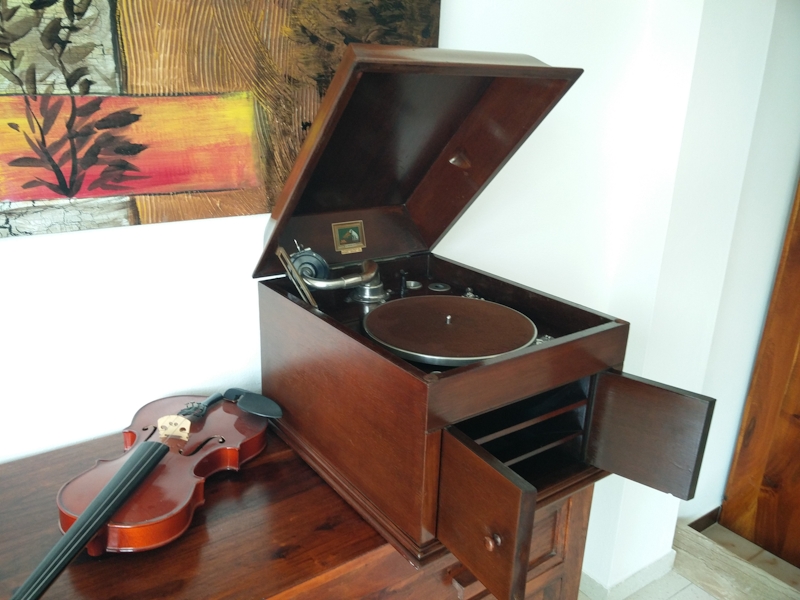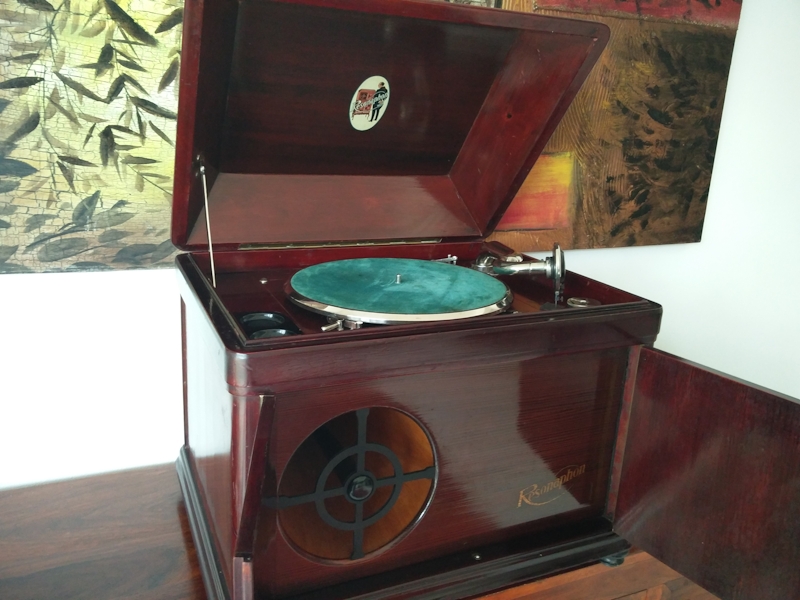 DISCLAIMER. TNT-Audio is a 100% independent magazine that neither accepts advertising from companies nor requires readers to register or pay for subscriptions. If you wish, you can support our independent reviews via a PayPal donation. After publication of reviews, the authors do not retain samples other than on long-term loan for further evaluation or comparison with later-received gear. Hence, all contents are written free of any "editorial" or "advertising" influence, and all reviews in this publication, positive or negative, reflect the independent opinions of their respective authors. TNT-Audio will publish all manufacturer responses, subject to the reviewer's right to reply in turn.


Copyright © 2023 Lucio Cadeddu - editor@tnt-audio.com - www.tnt-audio.com
[ Home | Staff & Contacts | HiFi Playground | Listening tests | DIY & Tweakings | Music & Books ]