[ Home | Staff & Contacts | HiFi Playground | Listening tests | DIY & Tweakings | Music & Books ]
Maarten van Casteren
TNT-Audio UK
[Italian version]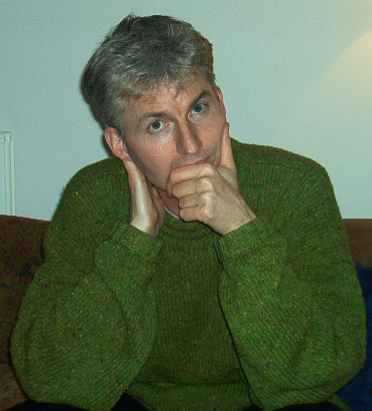 I was born in the Netherlands but have been living in Cambridge, UK, since 1999. I trained as a cognitive scientist, but spend several years in industry as a C++ programmer. At the moment I work at a research institute in Cambridge, mostly using my programming skills to contribute to the ongoing research there, but also trying to do some research of my own, from time to time.
I have always been an audiophile, although there have been periods when you couldn't tell by looking at my system. But since I discovered eBay I have been able to make quite a lot of progress.
What I am looking for in a system is a relaxed sound that presents all details to you in a non aggressive way. I don't like excessively forward sounding systems, but I also don't like 'dead' or boring sounding systems. For me the art of a good system is finding the balance between not adding things and not leaving things out. If a system adds to the music it will cause fatigue or irritation and you will not be able to listen to it for more that a few hours a week, but if a system leaves out too much it will not grab your attention and ultimately not communicate the music and the atmosphere. A good system lets enough through to make the music happen, but covers up the flaws that the system (and perhaps the recording) add.
My musical preference is mostly jazz from the fifties and sixties. I like the energy and rhythm, and also the fact that jazz is a performance that is necessarily live and cannot be constructed in a sound studio with over-dubs and other tricks. For me this directness is what makes this music so addictive. It is the feeling of being present at a real session, with real people playing. If my system can re-create that, I am happy!
My current system consists of:
An Astin Trew AT3500 CD player
A Django TVC (Transformer Volume Control) passive preamp.
A modified Electrocompaniet ECI-2 amp, used as power amp with the Django.
A pair of Dynaudio Contour 1.8 mk2 speaker, modified with ClarityCap capacitors.
As you can see I am a bit of a tweaker, which also explains why I joined TNT audio, I suppose. Actually, most of the modifications were done by a good friend of mine, who even designs and builds his own amplifiers and loudspeakers.

My reviews:

The Anatek A50 integrated amplifier
StillPoints ERS cloth
The Cambridge Audio 640c V2 CD player
Arcam factory visit
Bristol 2006 hifi show report
The Arcam FMJ CD36 CD player
The Arcam Solo
The Eichmann Bullet plug v. the WBT Nextgen plugs
The Django transformer linestage
The ClarityCap SA Capacitors
The Audio Analogue Enigma
The NET Audio Sonance DAC
The 2006 Heathrow Hifi News show
Meridian factory visit
The ESound CD-E5 SE CD player
HIFICRITIC
The East West Audio CD player
The Anatek CM 0.5 Preamp & MB50 Monoblocks
The Naim CD5x CD player
The Aurousal A1 speaker
The Cambridge Audio Azur 740c CD player
The Naim Flatcap 2x power supply
The Shanling CD3000 CD player
The Audio Note CD1.1x CD player

© Copyright 2006 Maarten van Casteren - www.tnt-audio.com

[ Home | Staff & Contacts | HiFi Playground | Listening tests | DIY & Tweakings | Music & Books ]