[ Home | Staff & Contacts | DIY & Tweaks | Listening tests | HiFi Playground | Music & Books ]
Nick Whetstone
TNT-Audio UK
[Italian version]
My hi-fi journey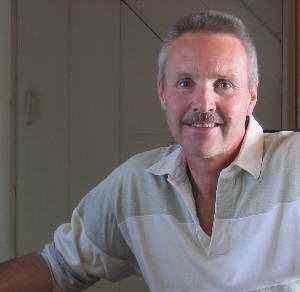 At the time of writing this biography, I am the 'new kid on the block' here at TNT. So perhaps I could impress everybody by saying that it is over fifty years since I hung around my first sound recording studio in London. But then somebody who knows me may write in and point out that I was hardly tall enough to see the keys on the grand piano that sat in the corner of that studio.
My father was co-owner of the studio and a keen electronics 'dabbler'. His brother was also a sound recording engineer, as is his son today. So perhaps this sort of thing is in the genes!
I was eleven when I got my first radio as a birthday present. I can't remember the make but it was valved and in a rather cheap-looking plastic case. How strange to think of valve equipment being seen as a 'cheap' item! A year later, I was given a Grundig portable reel-to-reel tape recorder. That was great because in those days, there was hardly any popular music on the radio. Radio Luxemburg did its best but reception was poor and it was unusual to hear a complete song without the dreaded fade. There was no commercial radio in the UK and about the only modern popular music was broadcast by the BBC on Sunday afternoons in a radio programme called 'Pick of the Pops'. They played the current 'top 20' and, like thousands of others, I recorded the whole programme to listen to for the rest of the week.
Around that time, some enterprising sixth-formers at my secondary school, got permission to borrow the school's record player and set up what they called the 'Folk Club' during a lunch hour once a week. I don't know what made me decide to go along but I'm glad that I did. It was there that I first heard Bob Dylan, Tim Hardin, Phil Ochs, and Ralph McTell, to name but a few.
After leaving school, I bought a 'music centre' but soon wanted something better. In 1971, I went to London's Edgware Road and spent a whole day comparing prices (having read all the hi-fi magazine reviews beforehand). I came away with an Amstrad IC2000 amplifier, Wharfdale Linton speakers, an Akai cassette tape recorder and a Garrard AP76 record deck. A couple of years ago, I found the receipt for that lot - 217.43 UKP which is close to 1900 UKP in today's money. So, my first real system which I now look back on as rather lo-fi, cost me much more than my current system that I am quite proud of!
There were a couple of upgrades before I sold all my hi-fi prior to leaving England in 1979 to back-pack my way around the world for a couple of years. When I returned late in 1981, one of my priorities was another hi-fi. This comprised an Ariston RD80 turntable, Arcam A60 amplifier, Mordaunt Short Pageant II speakers and an Aurex (Toshiba) tape deck (with the excellent ADRES noise reduction system).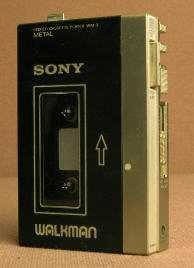 In between the two systems, I had owned a piece of hi-fi (and yes it was HI-fi) that had given me some of my most magical and enjoyable hi-fi experiences. While I was travelling around south-east Asia, Sony released their first Walkman. I was staying in a hostel in Malaysia and some other travellers were passing it around. I took little notice as I considered it nothing more than a trendy gimmick. That was until I had a chance to listen and was amazed at the quality of the music. So much so that I went to Singapore and bought the Walkman III (aside from the professional models, the best Walkman Sony ever made!) I often recall the hundreds of hours of pleasure that Walkman gave me and am reminded that enjoying music doesn't have to cost a fortune.
The system that I purchased on my return to the UK in 1981 served me well for quite a few years. I did add a CD player around 1987, a Marantz CD-65 that eventually packed up (laser). I can't bring myself to throw it away as it is so well built, a far cry from most of the budget CD players on sale today! Then around the mid nineties, I visited a friend with a more modern system, liked what I heard, and was once again hit by the 'upgrade bug'.
I was intending to just replace some, or all of my system with newer components. I wrote to Arcam to ask which of their then current range of amplifiers was better than the A60. Somebody there, very honestly, told me 'none of them'! The guy in the service department suggested that I keep the A60 and replace some of the components. One thing led to another and I was into DIY hi-fi and HOOKED.
So the last ten years or so has found me becoming more and more involved with the DIY side of hi-fi. This is probably due in part to being unwaged over that period and having plenty of time on my hands (but very little money). When I started, I found it very frustrating not being able to get the information that I needed. So when I did, I resolved to help others by passing on the things that I learned and Decibel Dungeon was born. I still consider myself a beginner in this game so have continued to update my web site in a way that I hope is easy to understand and makes this wonderful hobby more accessible to a wider audience.
What I listen with
| Sources | Amplification | Speakers |
| --- | --- | --- |
| Modified Philips CD723 CDP | SS buffered, LM3875 Gainclone | Open baffles (Ciare 250 and Goodmans 201) |
| Scott Nixon DacKit 1543 NOSDAC | Gainclone monoblocks + passive pre. | TL subwoofers (for above). |
| DIY turntable based on Rega Planet II | Valve buffered LM3875 Gainclone | IPL A2 kit speakers (used active & passive) |
| NAD 412 analogue tuner. | Discrete transistor pre-amplifier. | 'Cybergs' speakers with Pioneer drivers. |
| Modified Cambridge Audio CD5 CDP | Modified Arcam A60's (2 for biamping) | Modified Mordaunt Short Pageant II |
In fact, I have four or five Gainclones at my disposal with slightly different configurations and PSU's. There is also a DIY valve pre-amplifier that I have rather neglected and still needs some work to finish it properly! Nearly all my (DIY) gear is described on Decibel Dungeon.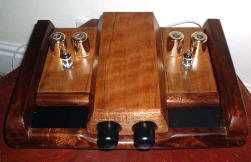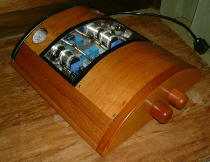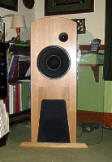 From left to right: Valve pre-amplifier, Valve-buffered Gainclone, open-baffle speaker, DaKit DAC.
I should state that I have nothing at all against commercial hi-fi! If I had been working during the time I have put my present system together, I would undoubtedly have bought most, if not all of it. But listening to something that you have built is an added buzz, no matter how good the music is!
What I listen to
So what music do I like? Well, I can honestly say that I will try anything and really enjoy a wide range of material. Obviously folk is high on my list, preferably performed live. I like rock, reggae, jazz, world and classical. If I had to say what I currently listen to most, it would be Nitin Sawnhey, Eric Bibb, Massive Attack, Diana Krall, Stacey Kent, Faithless, Leonard Cohen.... and I'm already thinking of a long list that just goes on and on. Obviously, I like to play well-recorded music, and that is more so since my hi-fi has improved over the years.
More about me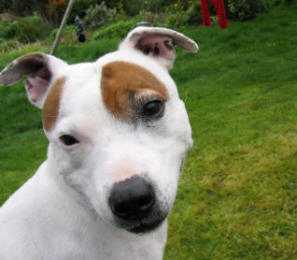 I live in the south-west of England, on my own and am currently out of work due to chronic ill-health. My job CV includes working as a buyer for an engineering company, driving coaches to Greece, lifeguard, working in a mine in Australia, and self-employed kitchen fitter (to name just some!).
I have done a little writing before. I contributed to a local newspaper where I worked in Australia, wrote for a Commodore 64 computer club newsletter, and more recently I enjoyed a spell as the editor of the newsletter for a local acoustic music club. I have also written a book of short children's stories that is yet to be published.
My health problems keep me pretty well pinned down but apart from my hi-fi activities, I do enjoy meditation, watching soccer on TV, short cycle rides, and a game with my best friend Shannon. She's my ideal 'girlfriend'; never complains about the hi-fi, doesn't live with me and I don't even have to feed her. What more could an audiophile ask for?


The ethics thing
I found it very encouraging to read the other biographies here on TNT and see the subject of ethics openly discussed. It's a subject I am rather hot on and I also pledge that what I write will be the truth, the whole truth and nothing but the truth! We all know that the world of hi-fi is much too polluted with hype and inacuracies and I don't intend to make it any worse!
&copy Copyright 2005 Nick Whetstone - www.tnt-audio.com
[ Home | Staff & Contacts | DIY & Tweaks | Listening tests | HiFi Playground | Music & Books ]