[ Home | Staff & Contacts | HiFi Playground | Listening tests | DIY & Tweakings | Music & Books ]
Roger McCuaig
TNT-Audio Canada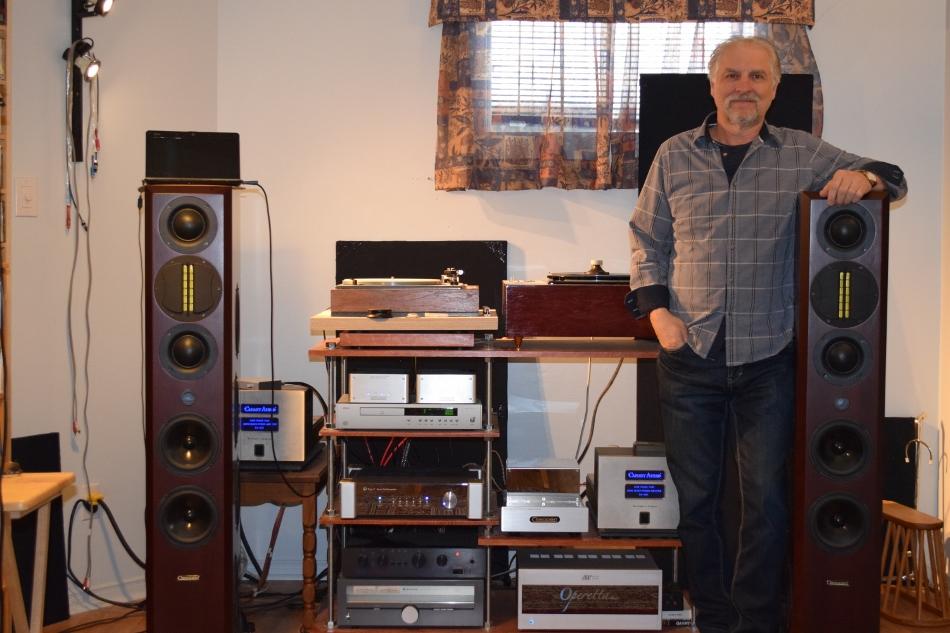 [Italian version here]
I live in Gatineau, Quebec, Canada with my wife of 41 years. I am an Electrical Engineering (power not electronics) and I also have a Masters degree in Project Management. I worked for 25 years in the pulp and paper industry and then 17 years in a consulting engineering firm where I eventually held the position of President and part owner. My professional activities have lead me to visit Sweden, Finland, France, Germany, Austria, Croatia, Saudi Arabia and the USA. I am now retired and am able to do a lot of the things that I didn't have time for while working and raising a family; golf, motorcycling, trumpet and trombone, travelling, DIY audio projects and of course listening to music, enjoying my audio system and chatting and writing about topics of interest to audiophiles.
I have been interested in acquiring a quality audio system since my university days. In those days I had very little money but some DIY skills and electrical engineering training. I worked as a DJ and engineer for the Ottawa University radio station and was able to acquire from them an old tube television camera that originally came from a local CBC-TV station. With a friend we salvaged the parts and built a low wattage stereo amplifier. That was my first venture into the realm of DIY audio. I also build two Heathkit receivers and a pair of two-way reflex speakers while in university. I have always owned a turntable; right now I have two in service and two ready for rebuilds.
When our 2 sons moved out I converted a room to my listening room and became serious about upgrading my audio system. Over the past 12 years I have gone through a gradual but constant turnover of components as budgets permitted and I now have a system that I a consider to be very high end.
I presently own about 2000 vinyl records and I purchase about 4 new and used records every month. I also own about 250 CDs, and a very large library of digital music files. Most of my digital music files are Red Book flac files. I also have many 24/96 and 24/192 flac files and some DSD files. I recently purchased a SHIIT Loki DSD DAC to explore this new direction in digital music. My collection is about 35% rock/pop, 35% Classical and 30% Jazz.
During the last 12 years I have seriously auditioned a lot of components for the purpose of upgrading my system and have developed skills in analyzing and comparing the characteristics of different components head to head. I have also done a lot of comparative testing of vacuum tubes in my own system. Last winter I spent an excellent evening at Arthur Salvatore's house listening to his famous system and talking about his system and mine, our favourite test records etc. He urged me to modify my Coincident speakers for bi-amping, which I did a few months later with significant, and pleasant, results.
I have been experimenting with various designs for interconnects trying to find a combination of ease of construction, low cost and high performance. I have come up with a design that I can build in a few hours for less than $200. a pair that are as good as anything I have ever heard in my system. I have rebuilt several Lenco L75 and L78 turntables using the Jean Nantais design as a baseline. I use a couple of variations to Jean's basic method that give good results. (Jean Nantais actually lives in Ottawa which is a 15 minute drive from where I live)
My audiophile trek has taught me a few things:
No matter how good your system is, there's probably something you can do to improve it.
Even the most seemingly minor change to a system can sometimes produce a surprising benefit.
Components can sound different and still be not better or worse. Sometimes its just a question of what characteristics one prefers.
Don't trust an audio salesman until you get to know that person very well.
My present system
Coincident speakers upgraded to Total Victory II and modified for bi-amping. Canary CA330 monoblocks; with NOS rectifier and driver tubes and TJ Full Music mesh grid 300B triodes. A Jaton Operetta amplifier is used for the woofers. Doge 8 preamplifier with 4 NOS 1960s Seimens 12AT7s and 4 pre-war NOS EI 12AX7s. The woofer signal volume is adjusted via a B&K Pro 10 MC in bypass mode so no active components are in the circuit.
My main analog source is a fully rebuilt and modified Lenco L75 with a 75 pound plinth. All work except top plate paint done by me. A Dynavector DV507 MKII tonearm, Zyx Universe cartridge and a Coincident Statement MC step up transformer complete the setup. My second analog source is a partly rebuilt L75 with the original tonearm and a Denon D160 cartridge into a Project phono box SE II. My digital sources include an Arcam CD72 CD player used as a transport only, running through a Musical Fidelity X-DAC V3 with X-PSU V3 power supply A Logitech Squeezebox Music streamer which I run with an external Powerwave HA-5 linear power supply also runs through the MF DAC.
All interconnnects are DIY cables designed and built by me with the exception of a Tara Labs RSC Vector 1 which I selected for its very low capacitance and the excellent Dynavector phono cable that came with the tonearm. Backup components include; B&W bookshelf speaker, Dynavector DV XX MK II, Bryston TF1 step up transformer, Lundahl DIY step up transformers.
Previously owned equipment:
Amplifier – Receiver – preamp: Cary Rocket 88, Yamaha CA2020 (2 of them), Marantz Model 2238B, Marantz Model 2245, Placette Audio passive linestage.
Turntables: Technics – 1980s belt drive, Marantz – 1980s belt drive, Project RPM 9.1
Tonearms: Graham 2.2. Rega RB300, Jelco SA250 and SA750
Speakers: Gallo Reference 3.1, Sonus Faber Concerto (I loved these speakers and was sad to see them go)
Analog components: Lyra Delos, Lyra Dorian, Grado Blue, a few others cartridges
I look forward to your feedback.
Written – February 2017
© Copyright 2017 Roger McCuaig - roger@tnt-audio.com - www.tnt-audio.com
[ Home | Staff & Contacts | HiFi Playground | Listening tests | DIY & Tweakings | Music & Books ]