[ Home | Staff & Contacts | HiFi Playground | Listening tests | DIY & Tweakings | Music & Books ]
A tale of ear-pleasing tube trials with Black Ice Audio:

new name, new product range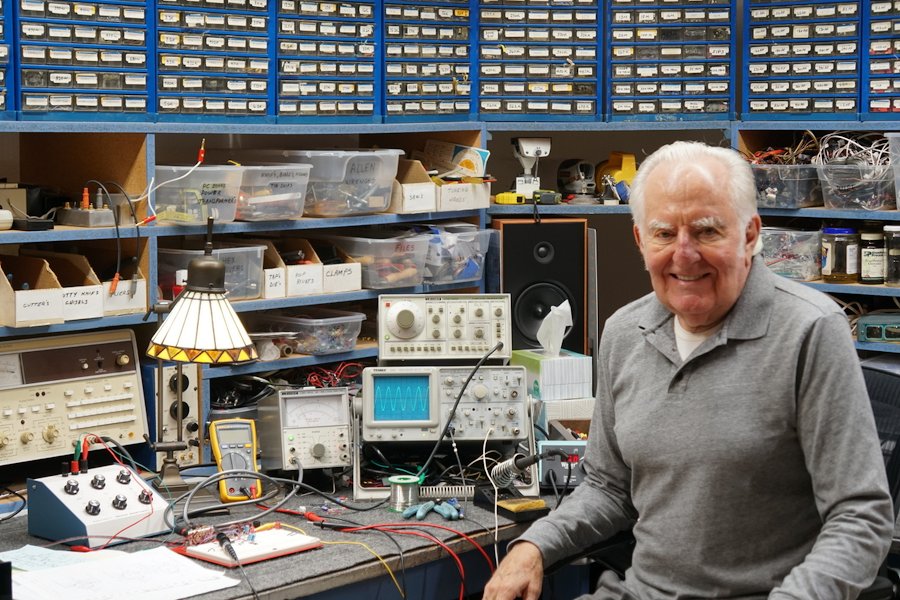 Part One - Interview with Jim Fosgate
[Italian version here]
Product: various
Manufacturer: Black Ice Audio (formerly Jolida) - USA
Reviewer: Richard Varey - TNT New Zealand
Reviewed: June, 2019
Introduction
This article is a little unusual, at least for me, as it was written in stages during an exceptionally extended auditioning period of almost nine months, as a series of new products became available. In this first part, I talk with designer Jim Fosgate about the initial batch of new products to carry the Black Ice Audio brand name. Part 2 is a review of an integrated tube amplifier. Part 3 reviews a tube DAC and tube phonostage, and the final part reviews a 'contemporary retro' tube pre-amplifier, then looks forward to several more new products in this range.
In search of tube euphoria
How's this for a story worth checking out? Affordable valve equipment that reproduces my music so it's sounding great, from a renowned and very experienced design team including a famous and highly reputed innovation whizz. There's a new family in town, and I've finally found a reasonably priced pathway for my first foray into musical tube sound. It started with my auditions of the JoLida Sound Stage Expander (SS-X) and Crosstalk corrector (XT-R). Thus I knew that Jim Fosgate's circuit designs are very effective and affordable, as well as innovative. I've been genuinely excited at the prospect of living a hi-fi life with tube sound with easy-to-use, great sounding, affordably and fairly priced tube components. Over the years of seeking euphoric musicality from playing music recordings, I've come to regard solid state equipment as essentially masculine in character: power, weight, etc. On the other hand, valve units seemed to have some of the feminine character: petite, soft, refined. Then I heard that the JoLida range was having a major update and I took the opportunity to try out the new models, two of which incorporate the SS-X and XT-R functions that I was already so keen to keep in my system.
I've long harboured a hankering for the sweet sound of valve-based listening. But with many big machines with big price tags, and dark tales of disappointing reliability and performance, it all seemed beyond my cost-risk threshold. Following on from my recent most gratifying encounters with the soundstage expander and crosstalk corrector, I jumped at the chance to try the new Black Ice Audio tube components. After all, it's valve products that JoLida are known for and in which they evidently invest so much energy to provide "high end tube performance at a value price". Of course, I wanted to hear that. And I was in for some delightful surprises.
JoLida has been making high quality, affordable, and great sounding tube integrated amplifiers since 1994. Their range is being updated with a number of new models and a name change. JoLida has become Black Ice Audio as the new products are rolled out. I asked owner Michael Allen about the new name and products. He told me the company is moving into its next chapter, and that we should think of them as "a startup with 30 years of experience which will keep bringing the values of high quality sound, reliability, fair pricing, and first rate service".
The prime movers of this new chapter are CEO Jerred Dunkerson and designer Jim Fosgate (known to many as Foz), the audio engineering genius. For me, his involvement upped the game considerably. He holds 19 audio-related patents, won an Emmy in 2003 for the development of surround sound for television, and has been honoured by his home state of Utah. He invented the first car amplifier, in 1973, and the Pro-logic® II sound technology for Dolby®, now found in more than 270 million sound systems.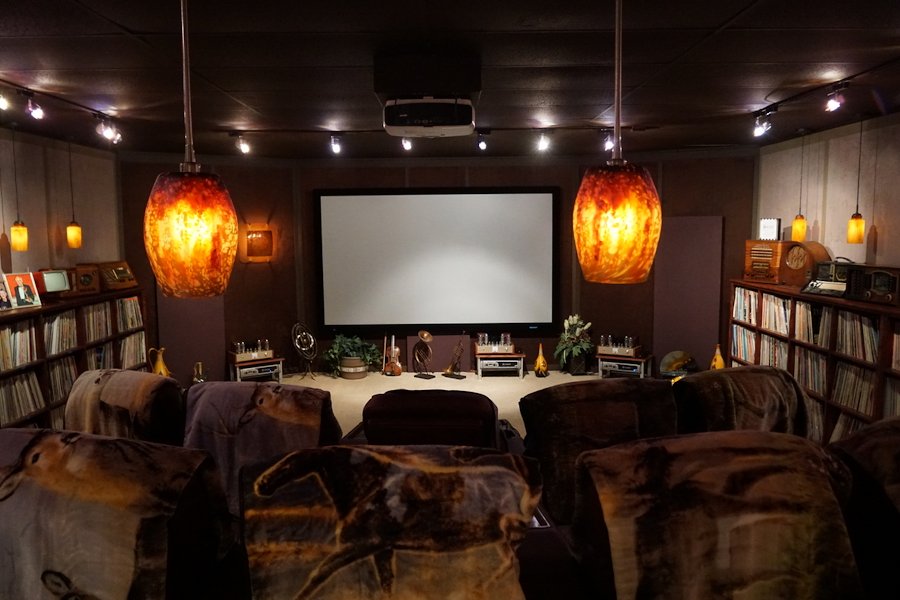 Fosgate's home-theatre
Chatting with Foz
I asked Jim about his career and partnering with Black Ice Audio.
«I grew up in Indianapolis, Indiana, working with my father Louie in his radio TV shop. I was exposed to the best sounding radios, Juke Boxes and Hi Fi equipment of the day. I learned to love good sounding audio. My father was a brilliant man, he could fix anything. He built the first working TV in Indianapolis from parts he purchased in Chicago. He taught me a lot about audio and how to figure things out for myself, I became an empirical designer, not college trained. I built tube circuits back in the 50s and 60s from parts. It's been my hobby/work for over 60 years. My wife Norma says it's my hobby, I tell her no it's my work. I guess it's both.
I have a musical ear and my gift has been the ability to think outside the box and design circuits that sound good. I was a pioneer in car audio with Rockford Fosgate. After that I went into Surround Sound, we actually came up with the phrase "Surround Sound". My name is on 19 audio patents. My efforts in Surround culminated in Dolby ProLogic II. Some of these circuits are included in our products. The dimension control, directional signal display, XTR crosstalk reduction and back ambiance channels.
During the 40 years I worked on surround I found it necessary to have the best sounding reference systems possible in order to hear into each circuit and optimize as required. I am a tube lover and let me say that tube audio does not give up her secrets easily. There are a mind-boggling amount of possible combinations in tube design. Which tubes to use, how much plate voltage and current to run, circuit topography, power supply, signal path, grounding, which components to use for the best sound as well as several other tricks. It borders on black magic. I am an absolute perfectionist in my work, I use this in every aspect of the designs, sound wise, appearance, PC layouts, diagrams, etc. Even though the user may never look inside our designs I consider them a work of art.
I chose to work with Black Ice Audio because we have similar beliefs and goals. We want to build the best sounding gear possible and make it affordable so more people may enjoy it. Our products are all great sounding with the necessary controls to adjust the sound to listener preference. I'm happy that Black Ice Audio and I are such a good mesh. Jerred and Michael are the greatest. It has taken us several years to get these products shipping, with more to come. We have put our all into each and every one.»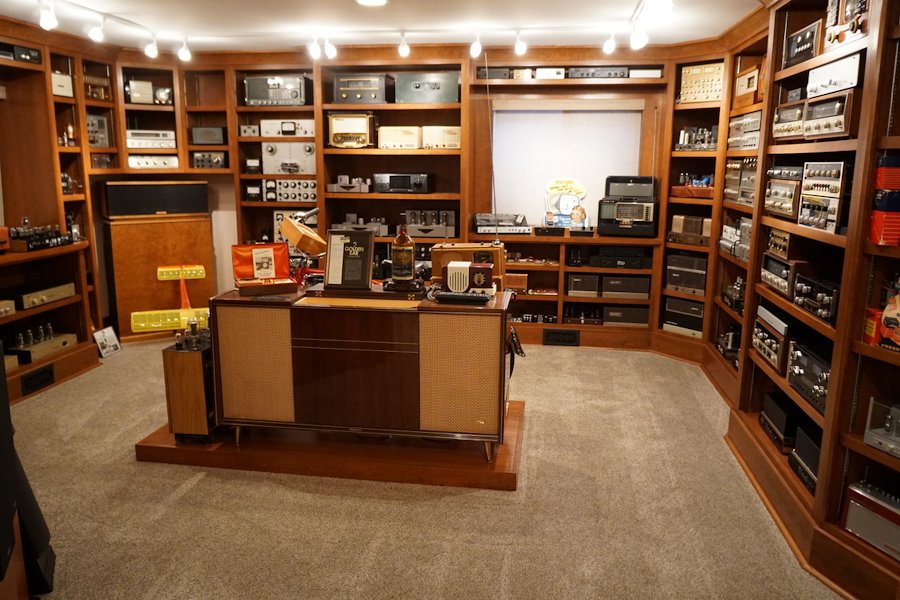 Fosgate's museum
I asked Jim about his design ethos for the new products.
«I spent many years on surround designs. During my work on surround I built reference tube systems to audition the circuits I was working on. This is empirical work and the reference system must be as good as possible to be able to hear all the subtleties of the surround processors so they can be optimized and sounding the best. I nailed the surround 18 years ago with the Dolby Pro Logic II. By then I had built so many tube designs you will not believe it. I have filing cabinets full of circuits. The Phono #159 is my 159th phono circuit I have built to date. My goal is to get all these circuits into production and share my sound with the music lovers of the world. I wanted to make them affordable, great sounding, good looking, easy to manufacture, and reliable. I chose the nice folks at Black Ice Audio and I think our products will set a new benchmark in the industry.»
I also asked him about incorporating crosstalk and sound stage treatments, and the surround sound function. This in light of the previous hi-fi trend in removing tone controls etc. from components.
«I have incorporated things I learned about signal cancellation including the Dimension Control I used in our surround processors. I believe in providing controls so the user may adjust his sound to their liking. As we age our high frequency response drops off and some folks have all sorts of hearing losses as well. Rooms and speakers sound different and listening preferences vary. It's nice to be able to adjust the sound to your liking and enjoy the music. The trick is not to compromise the sound with these circuits. This is no easy trick but we have pulled it off.»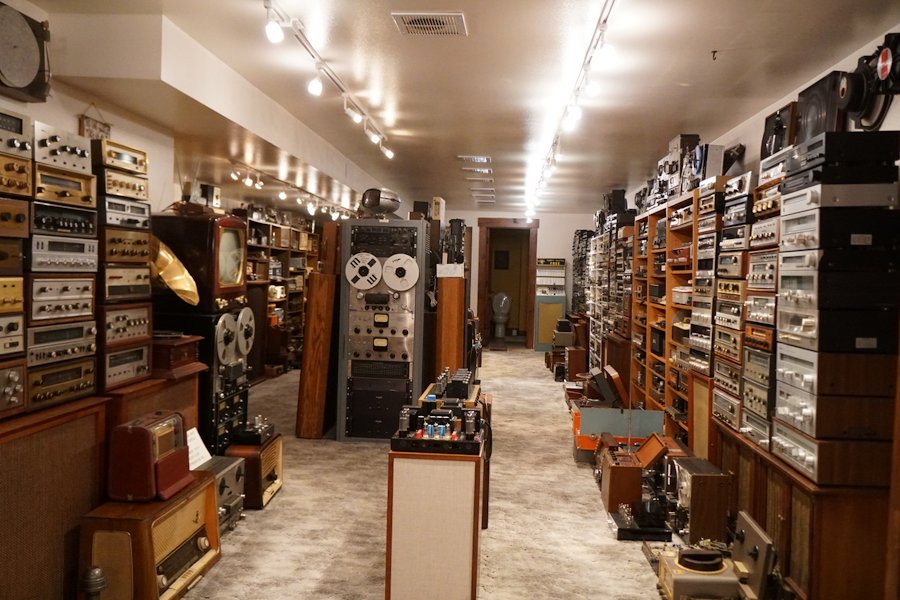 Fosgate's museum
I asked Jim what he listens to.
«I listen to all types of music because I want my designs to sound good on them all. My taste is very eclectic, I especially enjoy older recordings that were recorded with tubes. I have approx 10,000 records, hundreds of reel-to-reel tapes, excellent digital with a tube DAC (that will be added to the product line), and video. My surround reference system ay my Summer home in Utah is five identical channels tri-amped with large wall-mounted speakers with passive 6 dB-per-octave crossovers. All the circuitry in our products is running on the system. Audiophiles and audio professionals tell me this is the best system they have heard. I wish I could take it all to a show, but that's impossible.»
Jim also told me that he has 60 Watts driving the tweeters, 60 watts driving the mids, and 4,000 watts driving the four twelve inch subwoofers. That's 20,000 Watts of low end power. The surround processor is a hand-built all tube analogue modified Dolby PLII circuit. The electronic crossovers ahead of the power amps are passive with single pole filtering on all three bands. Jim has a smaller reference system at his other home in Arizona. Also shown in the photos is a small part of Jim's curated museum of equipment.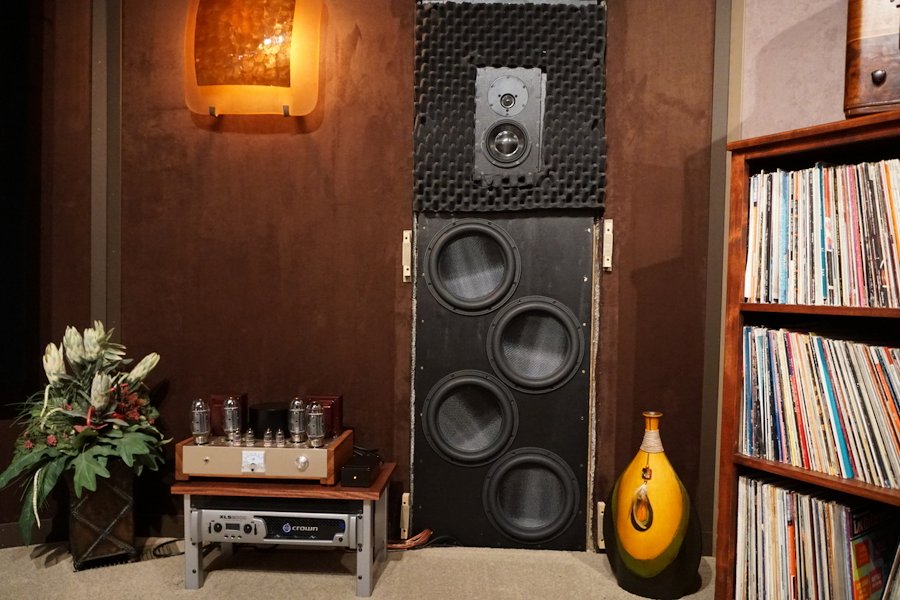 Fosgate's speakers
There's a 30 minute video of Jim talking about his products:
Further information is available at www.jolida.com which is about to be updated to www.blackiceaudio.net
In the next part of my article, I review the first of the four new products, the FX10 integrated tube amplifier.
At the time of writing, a new website is under construction at www.blackiceaudio.net. The old www.jolida.com URL will soon redirect to the new site.
DISCLAIMER. TNT-Audio is a 100% independent magazine that neither accepts advertising from companies nor requires readers to register or pay for subscriptions. After publication of reviews, the authors do not retain samples other than on long-term loan for further evaluation or comparison with later-received gear. Hence, all contents are written free of any "editorial" or "advertising" influence, and all reviews in this publication, positive or negative, reflect the independent opinions of their respective authors. TNT-Audio will publish all manufacturer responses, subject to the reviewer's right to reply in turn.

© 2019 Richard Varey - richard@tnt-audio.com - www.tnt-audio.com
[ Home | Staff & Contacts | HiFi Playground | Listening tests | DIY & Tweakings | Music & Books ]