[ Home | Staff & Contacts | HiFi Playground | Listening tests | DIY & Tweakings | Music & Books ]
by Lucio Cadeddu
[Italian version]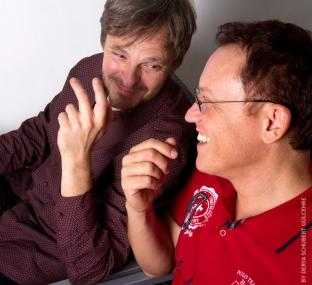 LC >
1) Would you please briefly introduce your Company and some of its history to our readers?
AF >
In 1993 I was searching for my first PC so to be able to measure my DIY-loudspeakers. One day, in 1993, I incidentally passed by a small computer shop. Peter Trenner, the owner of the shop, made me an offer: "Build me a loudspeaker, and I'll give you a computer". Just a few months later Peter encouraged me to build speakers in a professional way. A few months later, the brand Trenner & Friedl was born!
I dived deeply into research and it took me a whole year to release my first two way loudspeaker, called Parker. In 1995 we attended our first audio fair in Vienna with step two – called MILES. Very quickly the brand became quite well known in the German HiFi scene. In 1997 the first review of a T&F loudspeaker (the Gordon) appeared on Image HiFi, the most sophisticated German audio magazine. Since then, our speaker was a used as reference by this magazine. This was quite strange, considering our small Company was a newbie.
LC >
2) Reading your website I've had the perception you are approaching HiFi in a quite unique way: instead of releasing new products every year or so you prefer to do few things and eventually improve these step by step.
This is a complete departure from the usual cliché of the "flavour of the month" attitude we've always disliked. Aren't you afraid your customers could perceive your products as "outdated"?
AF >
One of our main goals is to create classics; to me it is very important to be surrounded by things which have a long lifetime!
It feels good to know that things are still in production after many years, and that there are replacement parts available. And if some things (chairs, lamps, motorcycles, hifi equipment...) earn the status of classic, this makes me even feel better. It is good for ecology and fo rour minds to stay with things for a long, long time. A product cycle for our loudspeakers should be 10 years or more.
This doesn't not mean that we don't go any further in development, we are always working on making things better. We try to apply the improvements gently. Such a thing does not happen very often! We offer our customers not just prototypes, which must constantly be improved (and praise this as brand new insights) ;-)
This may be an old fashioned approach, but if I look at the past I see many outstanding products: those which survived were products with long product cycles. Something like this makes initial investment wiser, isn't it? I like the idea that our customers, even after years, will have fun with our loudspeakers
LC >
3) We appreciate HiFi Companies that decide to build eveything "at home" without the help of Far East manufacturers. May you explain the reasons for such an "expensive" decision?
AF >
How can we keep the purchasing power in our country, when we move our jobs to low-wage countries? Just to make something cheaper, or increase our profits! This is a short-sighted way of thinking: no one here can buy our goods because there is no income!
Another very important thing is quality control! If something goes wrong I might take my car or motorcycle and drive to reach the problem within a short time. Finally, another good reason: I spend my time with people I know, people I like, with friends :-) Life is too short to think just in business terms – we are creating gems for joy – how could we, if we wouldn't have joy building them?
LC >
4) You seem to prefer building speakers cabinets following the golden ratio proportions. Being a mathematician, I've found this approach extremely interesting. Would you mind explaining to our readers the reasons for this choice?
AF >
Everything in this universe strives for a stable relationship; Be it constellations, snail shells, DNA chains ... And things become more and more interesting as they tend to golden proportions. In areas where golden proportions are preserved, the disturbing standing waves disperse harmonically. This results in a less coloured sound. The same is with loudspeaker cabinets. All resonances are distributed on a broad spectrum, with no specific peaks on certain frequencies.
LC >
5) Which are, according to you, the weakest areas in a loudspeaker design?
AF >
Coherence in time and phase is one of the most important aspects in designing loudspeakers. And, of course one of the hardest to reach ;-)
Tonality is not a big deal since we have excellent measure and simulation equipment. But humans are trained to react to impulses (a need to survive).
In music all it's about timing, rhythm...for example: it is not so important that a piano has a perfect tonality, but the relevant question is: who is playing that piano?!
Oh, bandwidth is also an important thing! Compared to amplifiers, loudspeakers are quite weak – but for good impulse response a wide bandwidth is necessary!
LC >
6) Have you ever planned to offer a factory-direct sales program with a "test before you buy" formula? This way more and more audiophiles could evaluate the quality of your products.
AF >
No!
We are old fashioned (as I mentioned), we believe in competent advice from dealers. Therefore we need skilled dealers with excellent listening rooms. I personally don't like this i-net concept for high end audio. This is something special, and therefore you need specialized structures.
It's the same with cars! Would you buy your car via i-net? What happens if you need support and service? Would you contact the manufacturer in China/Japan/USA or wherever, directly? Send your car back to them, just for changing lamps or oil? Isn't it much better to have a partner in your area, whom you can refer to?
From our side, we love to have contact with our customers, but we prefer local distributors and local dealers for local sales and support. A dealer can visit your home and listening room, help you with the setup, give advice on room acoustics and so on.
Courtesy Andreas Friedl for TNT-Audio.
Copyright © 2012 Lucio Cadeddu - direttore@tnt-audio.com - www.tnt-audio.com
[ Home | Staff & Contacts | HiFi Playground | Listening tests | DIY & Tweakings | Music & Books ]