[ TNT | Who we are | HiFi Shows | Factory tours | Listening tests | HiFi topics | Tweakings | Inter.Views ]
Sound & Vision
Bristol, February 24-26, 2001
[Italian version]
Author: Werner Ogiers
Sound & Vision, at the Marriot hotel in Bristol, is the UK's second most important audio trade show, after the London Hi-Fi Show in September. But while London has grown big, too big; crowded, too crowded; and way too cramped, leading to increasingly ambivalent feelings with the audience and with manufacturers, Bristol is small-scale, accessible, and sympathetic.
Sound. And vision. No, really: Sound and Vision. There's no escaping the proliferation of home theatre, at the expense of pure audio for music, and this year the show might has well been named The Annual Convention for the Onslaught of Ancient Germans and Romans, as nearly every room had the opening battle scene from Gladiator on.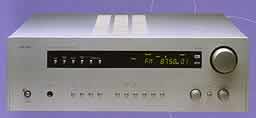 Nearly every room that did so also used the new Arcam Diva series of DV88 DVD machine, CD92 and '72 CD-players, and AVR100 receiver. These components seemed exceptionally well made, and stylish, and seemed consistently responsible for good sonic results.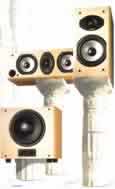 I tend to find most 'affordable' AV systems overbearing and a-musical. However, I was happy to find a few exceptions to that rule. Acoustic Energy presented the new Aesprit series loudspeaker: one floor stander, two stand-mounter, a center speaker, a powered sub, and tiny rear channel speakers. They churned out movie soundtracks with power, poise, and a nicely-warm tonal balance.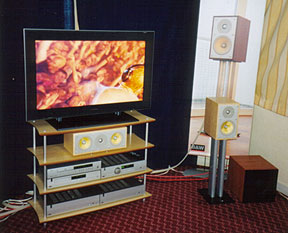 A very similar quality of sound was attained in one of B&W's many rooms with the all-new CM series. The CM4 floorstander (UKP900), CM2 bookshelf (UKP550), and CMC center speaker are new designs featuring the now well-known Nautilus tube-loaded metal dome tweeter and kevlar and aluminium bass cones. More fetching, however, was their drop-dead gorgeous styling with grey brushed-metal baffle (the colour mirrored in the cone surrounds and phase plugs!) and maple or rosenut housings. Absolutely fabulous, and luckily these loudspeakers had a sound to match (on video, I could never hear them with real music).
At the bottom of the range the DM302 has been replaced with the UKP180 DM303. This is now a much more expensive looking bookshelf, again with the Nautilus tweeter.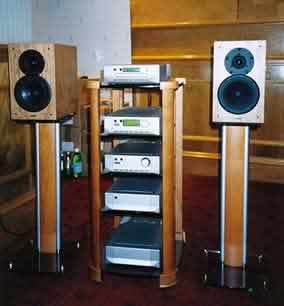 Cyrus showed of their range of electronics in the fetching new silver colour. There was also a growing series of loudspeakers that clearly marks the recent schism with sister-company Mission. Some of these speakers looked decidedly un-Cyrus-like!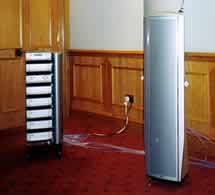 Let's balance this with something I hate to write. Alongside a pair of pretty and tiny bookshelf speakers, Cyrus finally unveiled the tall Icon floorstanding speakers with NXT panels for midrange and treble, aided by a conventional cone woofer. The sound? Brittle and grainy. NXT still has a long way to go.
Similar technology was used in Denon's SCAV-F100 flat-panel AV surround speaker set, and with similar results, although the much lower price here increases our tolerance somewhat. And remember that most conventional like-priced AV systems sounded just as bad. (Notable exceptions were the JBL XTis, driven by Rotel electronics, and the Klipsch Reference series: also not bad at all...)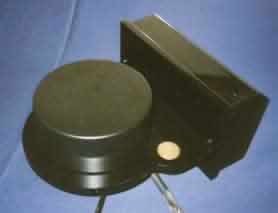 Michel Engineering and their electronics branch Trichord Research had some novelties. As you may know, the latest versions of the GyroDec and Gyro SE turntables now use a superior DC motor, as opposed to the defunct Papst synchronous motor of yesteryear. This means that the popular QC power supply upgrade is no more, but don't panic: there's now the VC in a similar housing, for the DC motor. A Gyro with DC motor is said to perform at a level close to an AC/QC combination, while a Gyro with DC/VC drive allegedly challenges the Orbe turntable.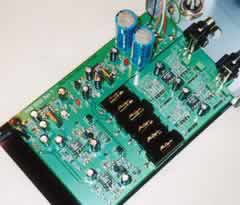 Coming in below the Delphini phono preamp, the new UKP300 little Dino is an mid-end phonostage for MM and MC cartridges that took a lot of Delphini's circuit, including the MCap signal capacitors, and even added a class A discrete transistor output stage. Normally fed from a 40VA toroidal transformer, Dino can be upgraded with the HR power supply, or it can be fed from a existing Orca's HR PSU.
Lastly there was a prototype in use of the Ace common-mode mains conditioner: a small and affordable line filter with an external design clearly showing John Michell's hand.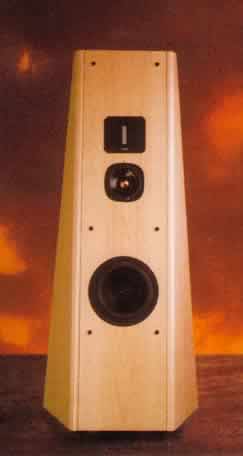 Logically a few doors removed from Michell was ProAc (they used to be virtually neighbours in the past). Two models were demonstrated, the entry-level Studio 125 floorstander (it sounded really good for its UKP1000 price), and the brand-new Future .5. This is of course a smaller sibling to the Future 1 and 2, coming at half the price of the 1, and sharing its concept of ribbon tweeter, open-backed dipole midrange, and reflex-loaded woofer.
Another housefriend of Michell's at the show was the relatively unknown Timbrestage with their amazing massive-aluminium and glass equipment stands modelled after the GyroDec's subchassis. Timbrestage also presented a new aluminium speaker stand. Prices are not for the faint hearted, but all who entered the room left drooling.

While we are at turntables, the Avid Acutus was demonstrated to good effect with the new Chapter Two power amplifier and ART tower loudspeakers. The sound was full, dynamic and very engaging at times. The Chapter Two is a 200W transistor amp with switched-mode twin-regulated power supply and a wide bandwidth. Chapter is presently working on a matching line amp and phonostage.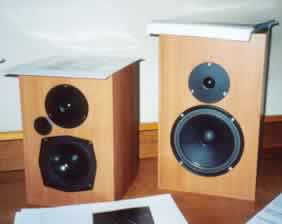 There was also real music in the Audio Note rooms. One featured the Systemdek-derived AN-TT1 turntable, Zero-series electronics, and the Zero speakers. In addition to this two new small models of AN speakers could be seen. In the other Audio Note room Peter Qvortrup was found playing records, without much comment, on a complete level-5 system. The room was an oasis, in a way.
Something else was Meridian. Rather disappointly their clocked 'demonstrations' were more of a company presentation/pep talk rather than a real demo. A few short excerpts were played using the DVD-A format, on the top of the range DSP-8000 speakers in the front line and smaller digital speakers for the other channels. No attempt was made to use serious recordings of classical music, but we were treated on re-mixed of seventies hard-rock classics. I am not entirely sure that this is the way to convince the audience of going multi-channel for music. Sad. The good news to report is that I found the Meridian sound considerably warmer and more musical than in the past.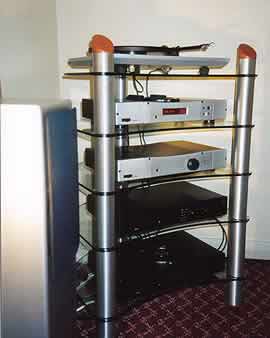 In Beauhorn's room the big Lowther-based Virtuoso horn speakers could be heard. I had never listened to a Lowther before, and I must say it was an intriguing experience. Treble was absent, deep bass was restricted, and while smooth, the midrange was rather papery. And yet, only tens of seconds were needed to be able to completely focus on the music itself and the message it carried. With this effect the very fundamentals of 'hifi' seem to lose their validity...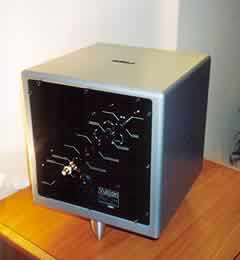 The big surprise of the event was Rega Research, with their (as far as I know) first-ever presence at an audio show. The whole new re-styled 2001 line-up of electronics was shown, alongside the cute little Vulcan powered subwoofer!
Magazine Hi-Fi World demonstrated their vast range of DIY tube amplifier kits and loudspeakers, the latter often based on Audax' aerogel cones and that funny gold oval piezo tweeter. The source was a Gyro SE with Ortofon cartridge.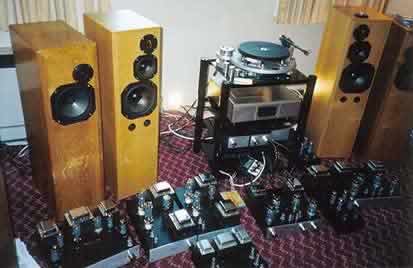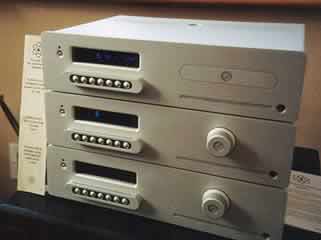 More than a bit outrageous was Tube Technology's claim on the world's first 64 bit DAC in their new Fusion CD64 vacuum tube CD-player. Outrageous, as a few meters further down the corridor Chord Electronics were claiming the same. And outrageous as, er, 64 bits is nonsense of the calibre of warp drive and time travel (maybe not impossible, but not for now, and most certainly not in the universe as we know it, Jim).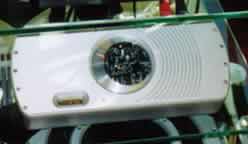 Some of you know that anything above 24 or 25 bits is physically impossible due to the presence of thermal noise in all circuits, and Chord's John Franks admitted that in their DAC 64's case the architecture was set up as such for aiding in digital volume control (which left me still a bit skeptical). That DAC 64 is a whole in-house development based on no commercial filter or DAC chips. Rather, Chord dreamed-up their own digital and conversion circuitry and implemented it in a cluster of four Actel and Xilinx FPGAs. The '64 is housed in the same exquisitely-machined small box that we know from the company's balanced phonostage, the lid sporting an amusing window with optical lens effect, making it easy to cast an eye on the hi-tech innards. Price is UKP1900: rather affordable compared to Chord's other offerings.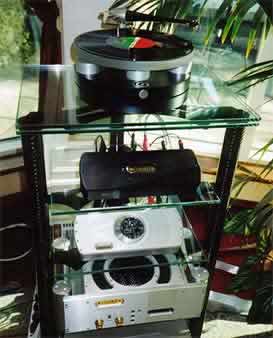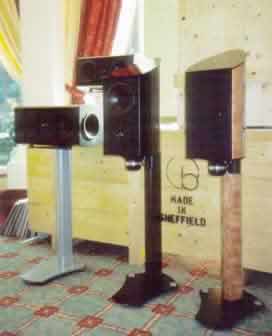 Chord Electronics were demonstrated alongside Wilson benesch turntables and loudspeakers, and the primeur of these was the 'small' Discovery: It looks like a truncated Bishop on top of an integral stand, with two Tactic woofers under the bottom. Impressive, and without doubt verrry expensive.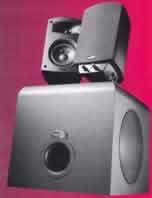 Back to something cheap and cheerful then. Klipsch surprised with a 'demo room' consisting of a desk, laptop PC with in-built DVD player (not theirs, of course), and the small ProMedia 2.1 active speaker system. This comprises of a woofer cube with three-channel power amps, and two satellites with horn-loaded tweeters. One satellite has control knobs and serves as preamp too. Normally I don't give a damn about such things, but the little Klipsch surprised and amused with good dynamics and headroom, a full and expansive sound, and a real bass end. Not bad at all for UKP200: people leaving the room invariably had a big ear-to-ear grin!
The lower floors of the hotel had been converted into bazar-like areas where smaller manufacturers of accessories, vinyl merchants, and magazines could do their thing. There was a lot of buying and selling going on, and even the 'regular' exhibitors were seen moving boxes around or avidly jotting down orders. This all contributed to a merry market atmosphere, and the sun shining through the windows probably something to the mix too!
As you see this was not an audio-only or a high-end show. But there was a big crowd, and I do believe that they had a good time. This report doesn't cover all that was there, but then, I didn't even try to: I was having a good time too, and I hope you forgive me for that.
© Copyright 2001 Werner Ogiers - http://www.tnt-audio.com
How to print this article
[ TNT | Who we are | HiFi Shows | Factory tours | Listening tests | HiFi topics | Tweakings | Inter.Views ]