[ Home | Staff & Contacts | HiFi Playground | Listening tests | DIY & Tweakings | Music & Books ]
A Visit to the High End 2022 show in Munich - Part IV
Reporter: Carlo Iaccarino
The show took place from May, 19th through May, 22th, 2022 at the M.O.C. facilities, in Munich, Germany
Originally written: May-October, 2022
Website with plenty of resources: High End Society

Here we are again
Now that we have arrived at the fourth part, I think my words need to diminish. When you are going to read this, half a year will be passed since the show, and many of the things that were announced and exhibited there will have already entered the magazines' pages or the shops' rooms, so I have little to add.
Allow me, then, to rely on the chronology of my pictures folder, to collect hints and memories and synthesize them for you.
Western Electric had already been back on the scene with its warhorse, the "mythical" 300B valve, newly built with better materials and updated techniques.
This year they exhibited the new stereophonic integrated amplifier 91E, a model that unites the traditional single-ended circuit topology with innovations in design (power supply type, chip-regulated bias current, optional output module for 4-ohm loads) and features (besides the 5 inputs, one of them a selectable MM/MC phono, and the pre-in/line-out loop, it also has a Bluetooth wireless input). This proudly "designed and assembled in USA" product offered an output power "more than double" than what can traditionally be squeezed out from a 300B.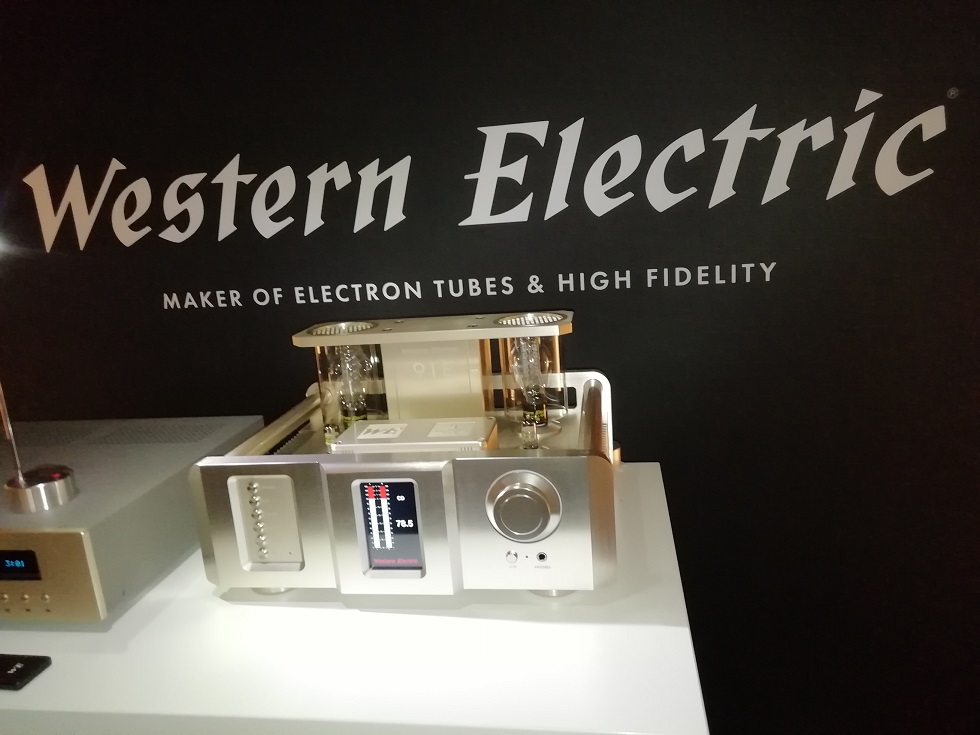 This amplifier is sold direct, at least in the USA, but I don't think this is to reduce costs, since the price asked is USD 50.000 (plus taxes).
Besides the "imperial" champagne version you can see above, ther's also a nickel one; plus a black one, whose input side is shown here.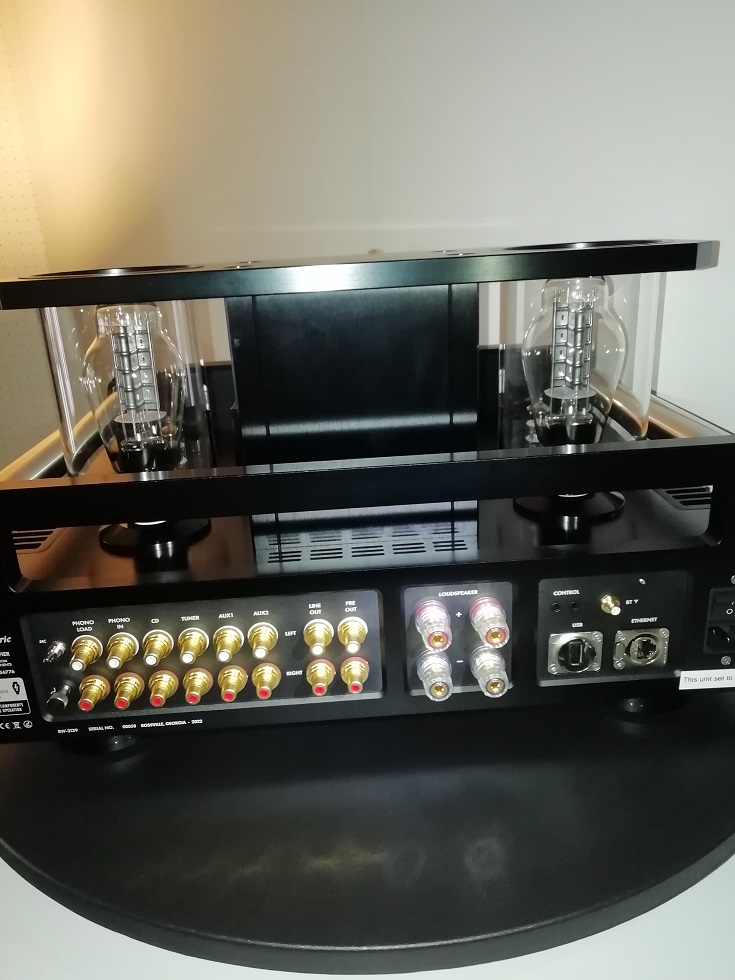 The Franco Serblin brand set up its usual, minimalist space in one of the Halles at ground floor.
The functioning loudspeakers were the Accordo Essence freestanders, for about 14.500 (VAT included).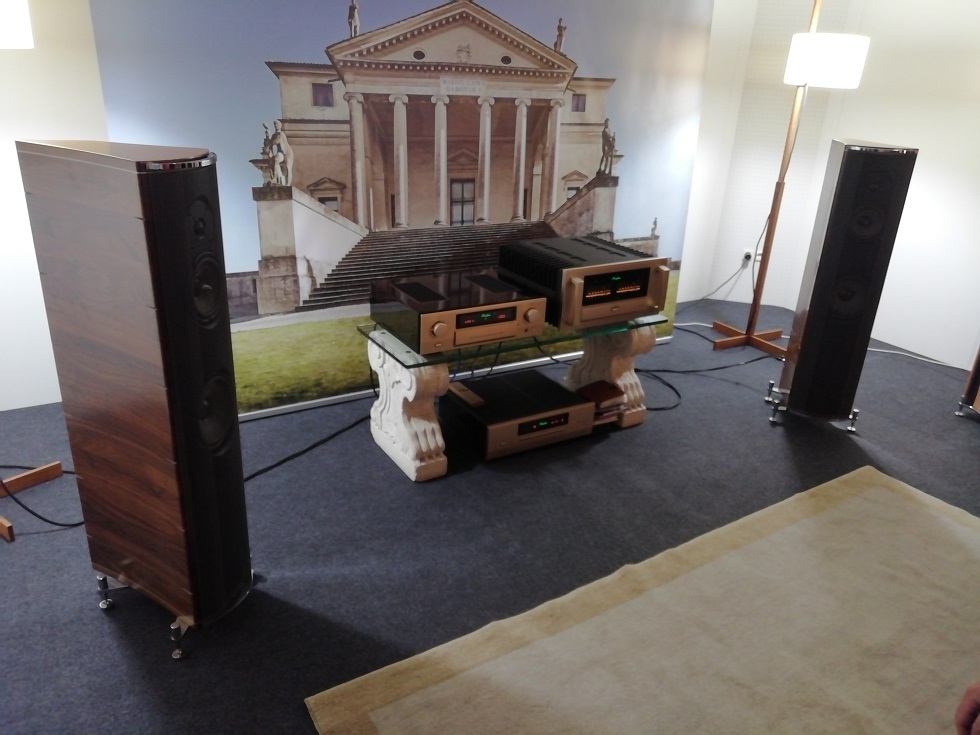 This brand presents itself as the keeper of the tradition of Sonus Faber's founder. Its space was furnished by their other loudspeakers: the two-way standmounted (integrated stand, here) model Lignea, for about Eur 4.500,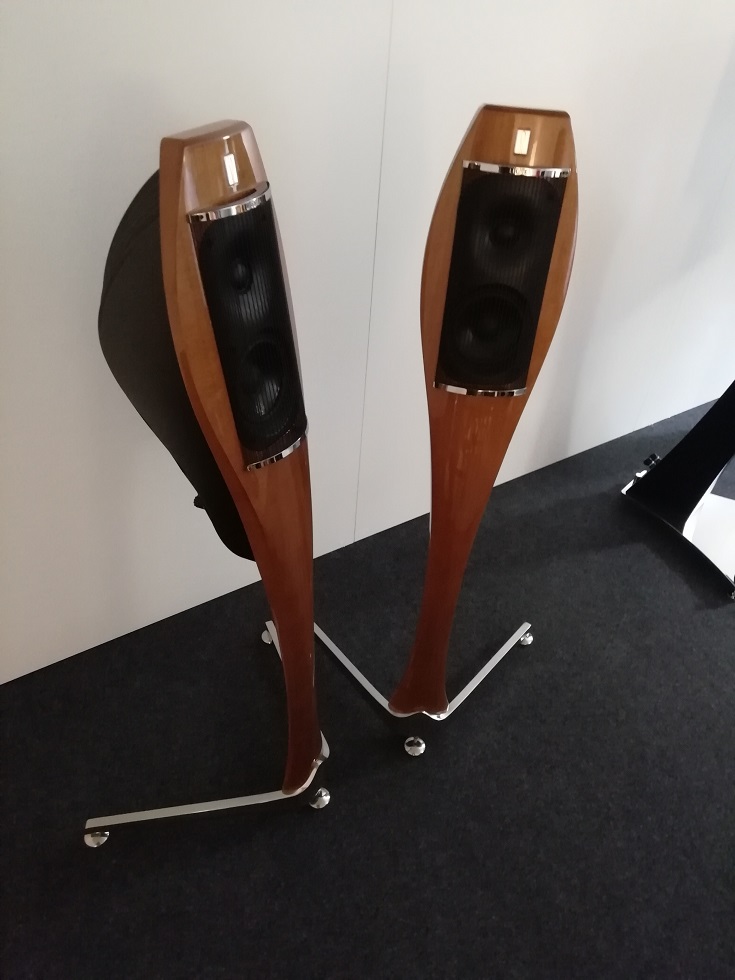 and their flagship Ktema, for about Eur 28.000.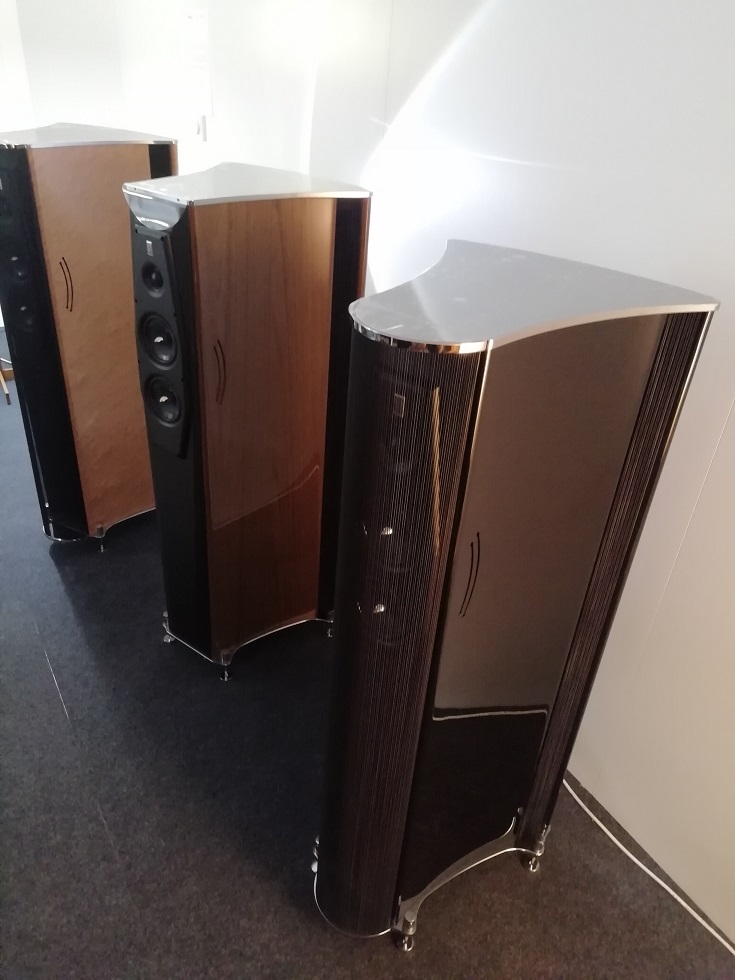 Mytek exhibited its whole array of DACs, power amplifiers, headphone amplifiers. Here we can see two models from the Liberty range, the DAC II and the THX AAA HPA headphone amp, each for about Eur 1.500.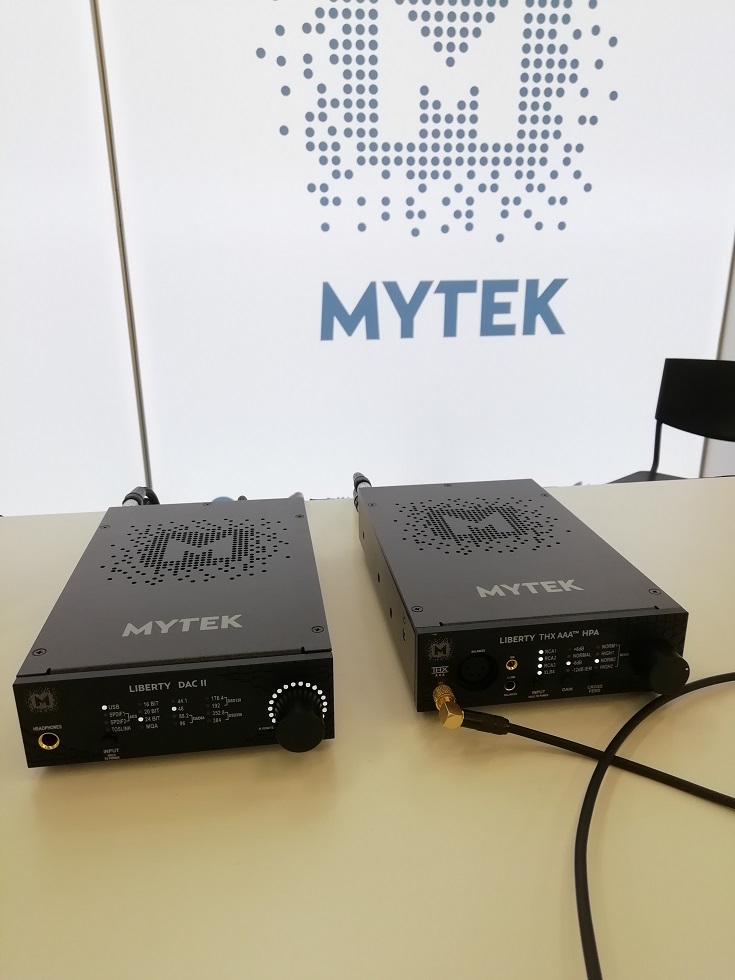 From their Brooklyn range, here is the new Bridge II, for about Eur 4.000 and scheduled to be shipped for the end of 2022; here it is pictured with the Amp+ stereo power amplifier, for about Eur 2.500.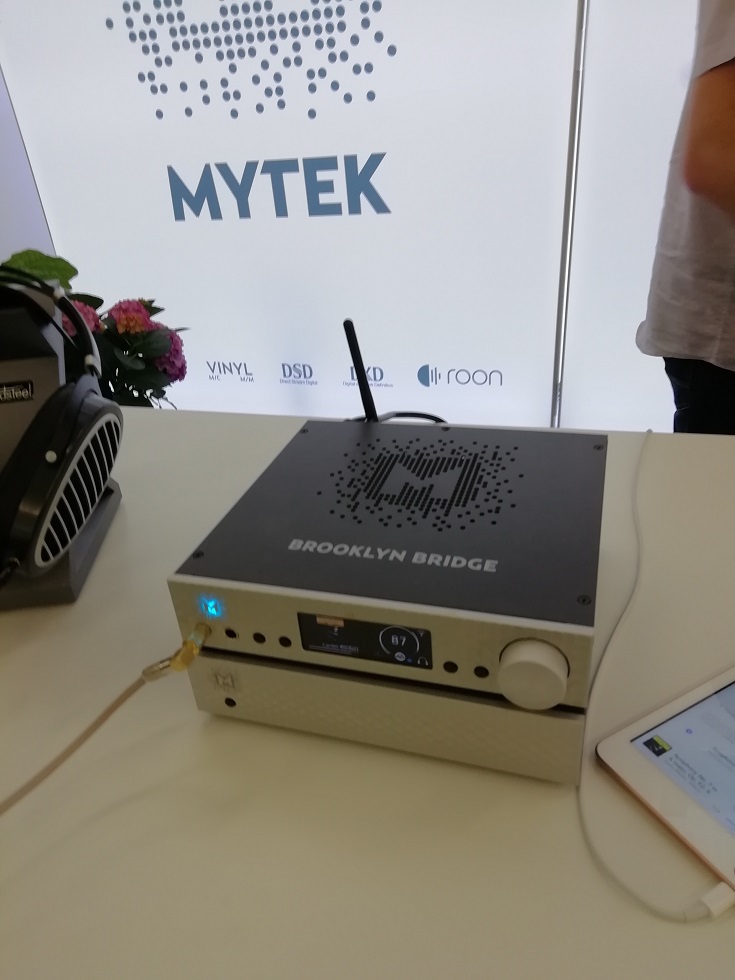 Penaudio was present with its complete offering of loudspeakers. Mr. Sami Penttilä setup a listening space with his flagships Karelia, for just Eur 100.000 the pair.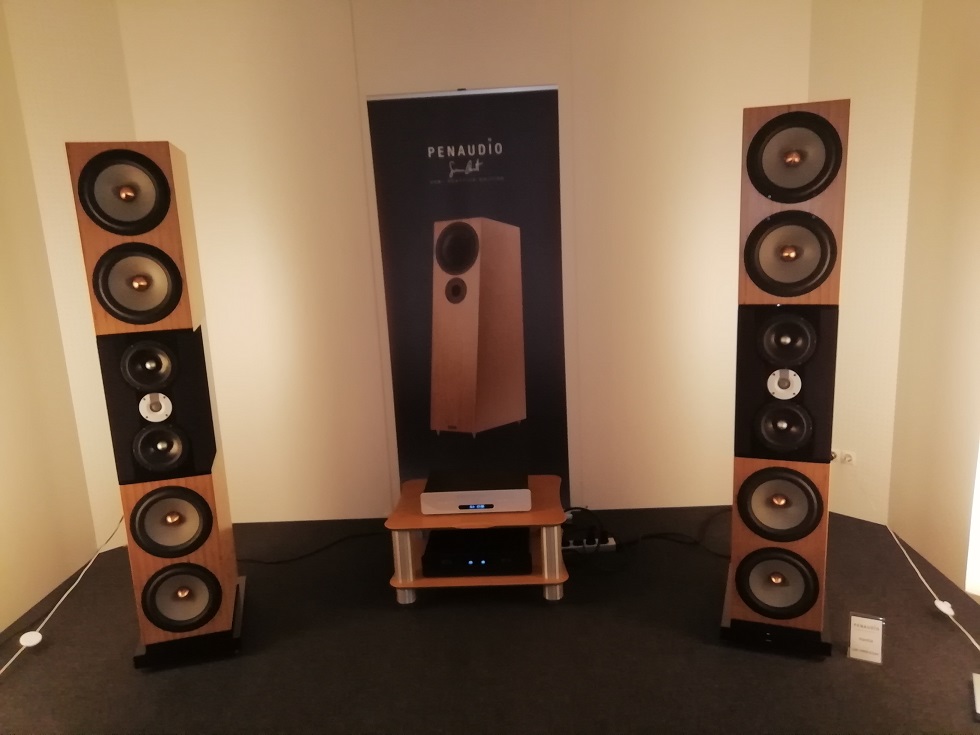 Here you can see its center section that takes charge of a big part of the audio spectrum.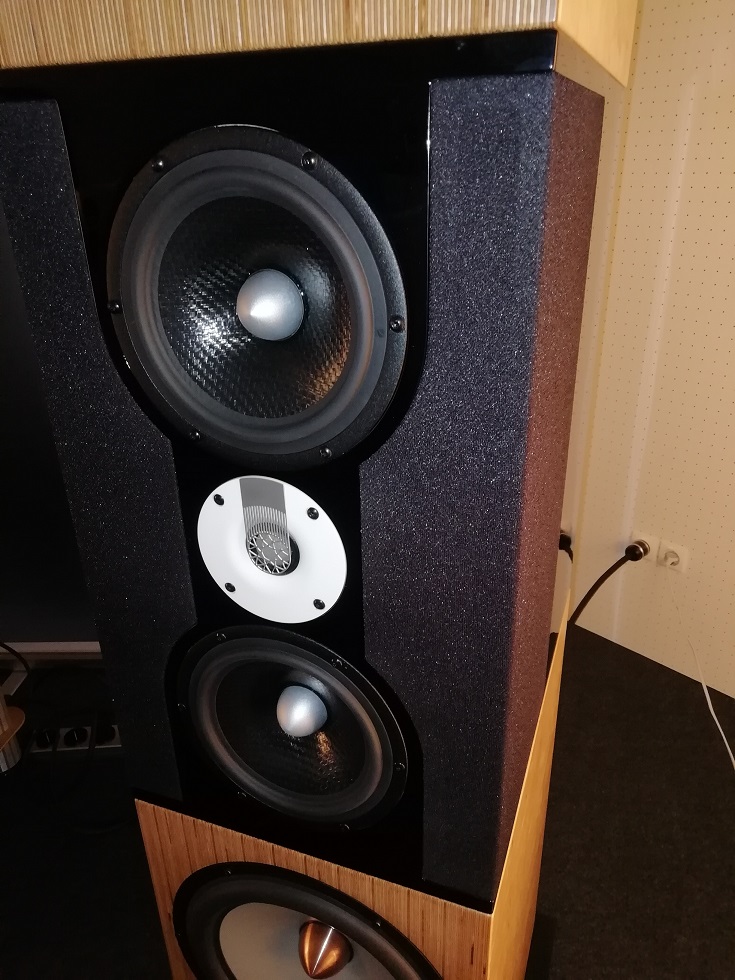 A static exhibition (ideal to appreciate the veneering of this brand's models) was choosen for many other models, among which their Sonata Signature, for about Eur 32.500 per pair,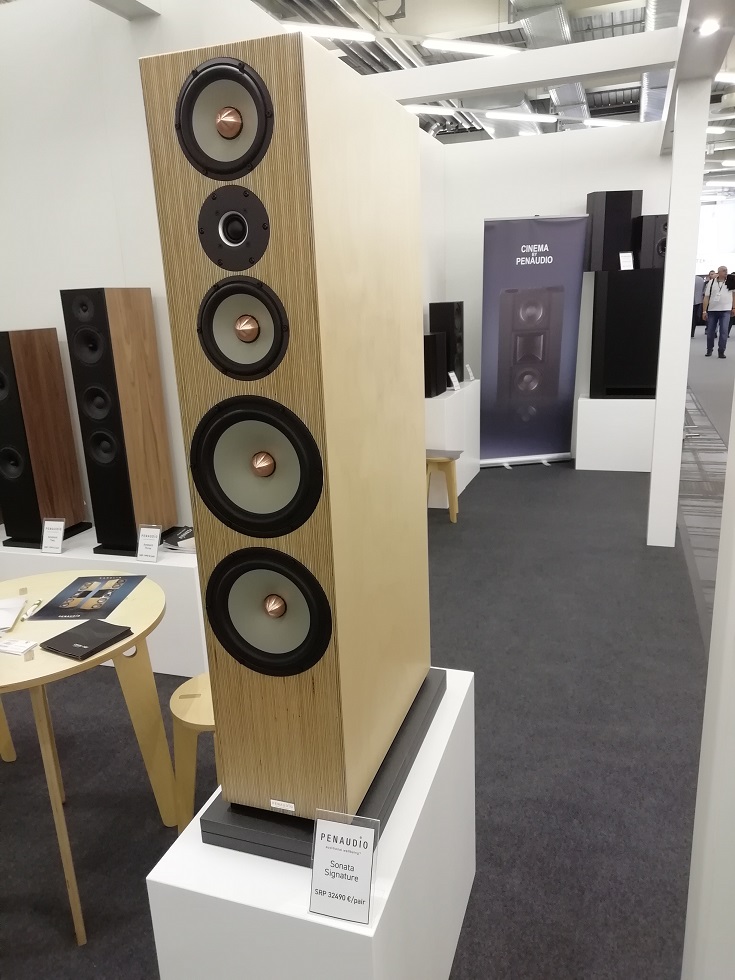 the Serenade Signature, for about Eur 16.000 per pair,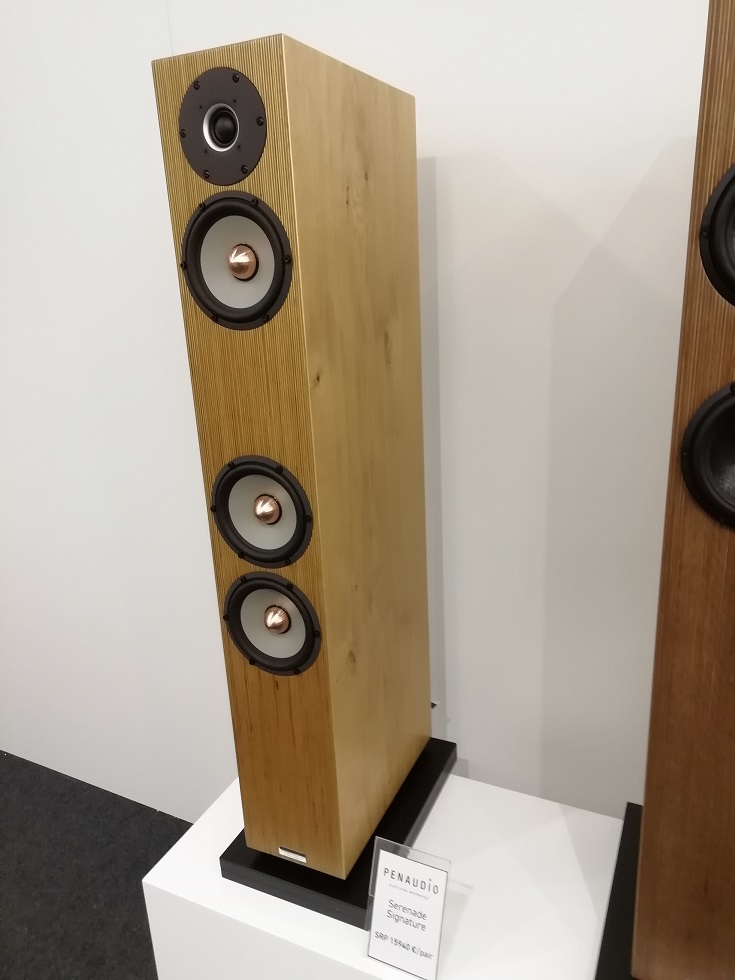 the Talvi, for slightly less than Eur 6.000 per pair,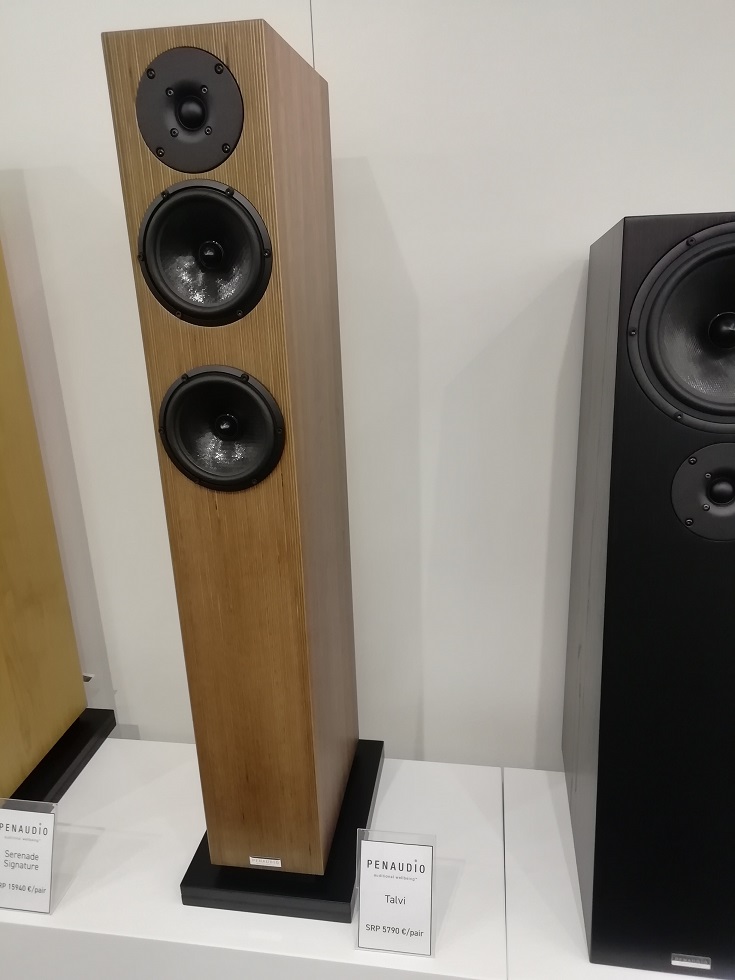 and lastly their Ambient range, between Eur 1.000 and 2.000 per pair.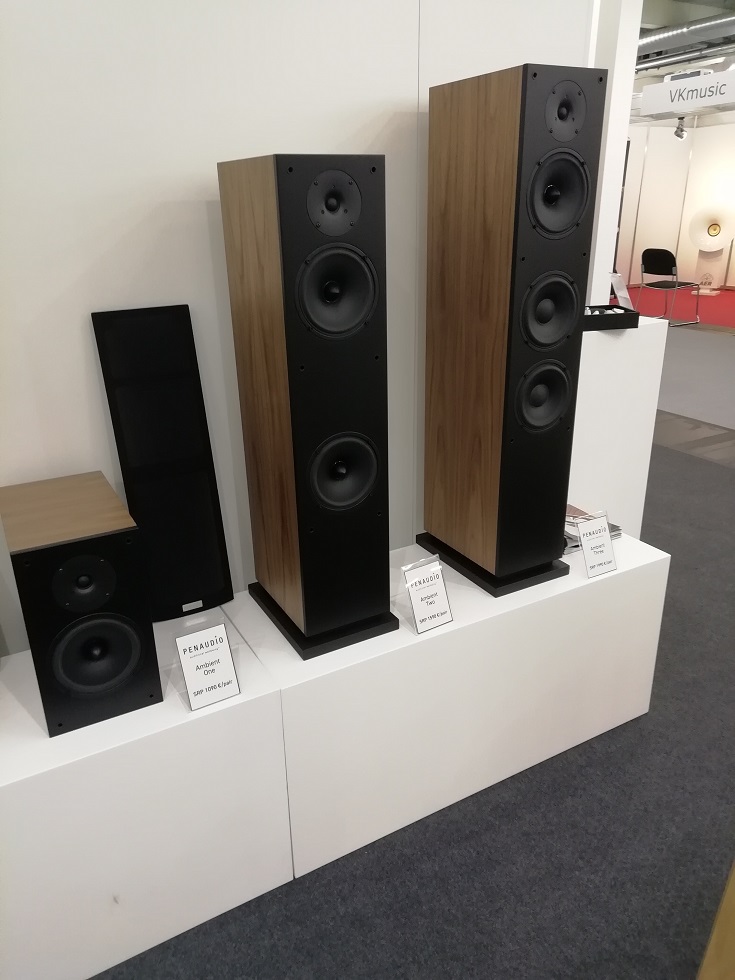 Aune exhibited its reduced-size electronics, ideal for our contemporary domestic spaces, or for a desktop system. Here we have a complete system for headphone listening (or to drive one pair of the now numerous amplified loudspeakers...). From left to right: the X7s 2021 headphone amp, with balanced and unblalanced output, for about Eur 300, the X8 XVIII Magic DAC with variable output, capable of decoding digital signals up to PCM 768 kHz/32 bit and DSD 512 and with user-changeable output op-amps, this, too, for about Eur 300; finally the X5s 8th anniversary edition music file player, for about Eur 350.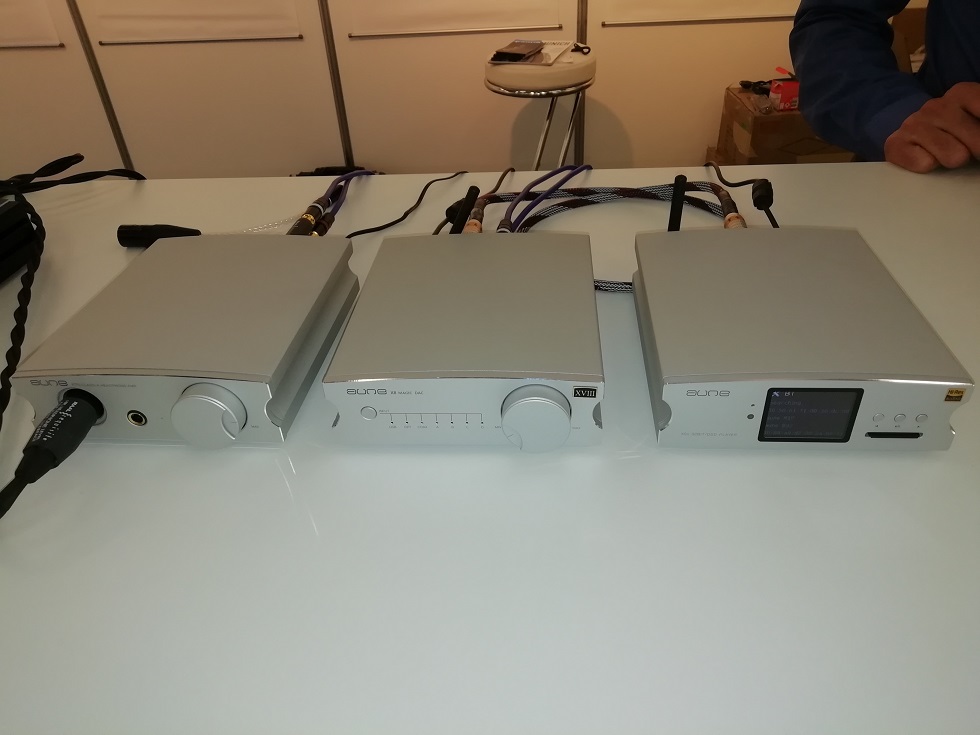 Here we have a superior system, this time in black, with the same source, X5s audio file player, but now connected to the X1sGT DAC and headphone amp, for Eur 300, this, too, capable of handling digital signals up to PCM 768 kHz/32 bit and DSD 512; both synchronised with the XC1 external clock, this, too, for about Eur 300,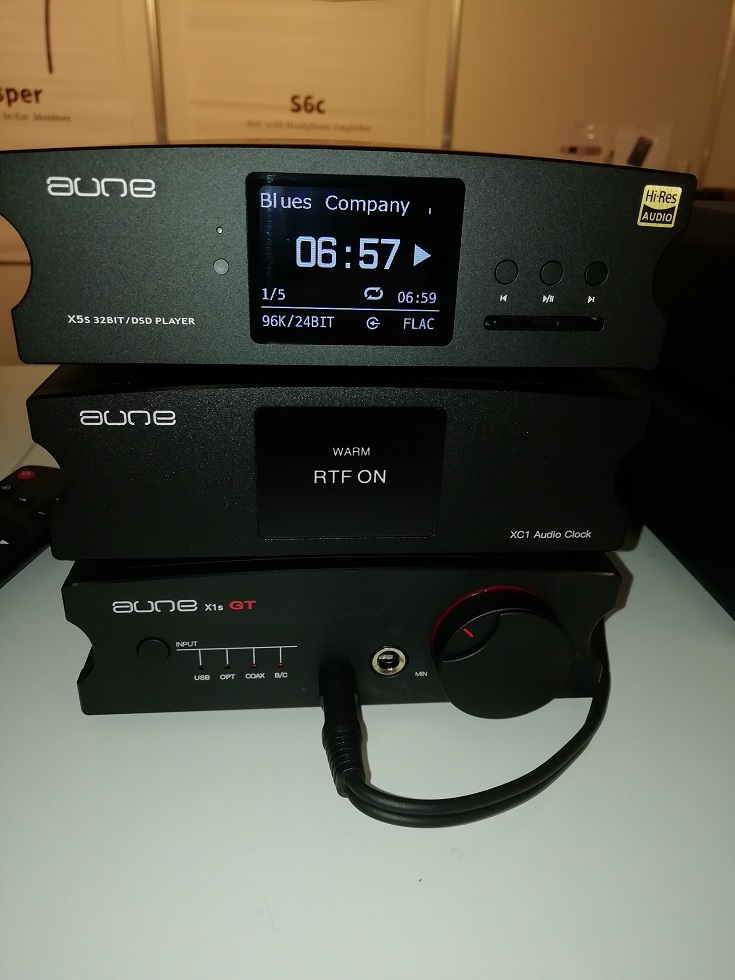 everything fed by their dedicated external PSUs.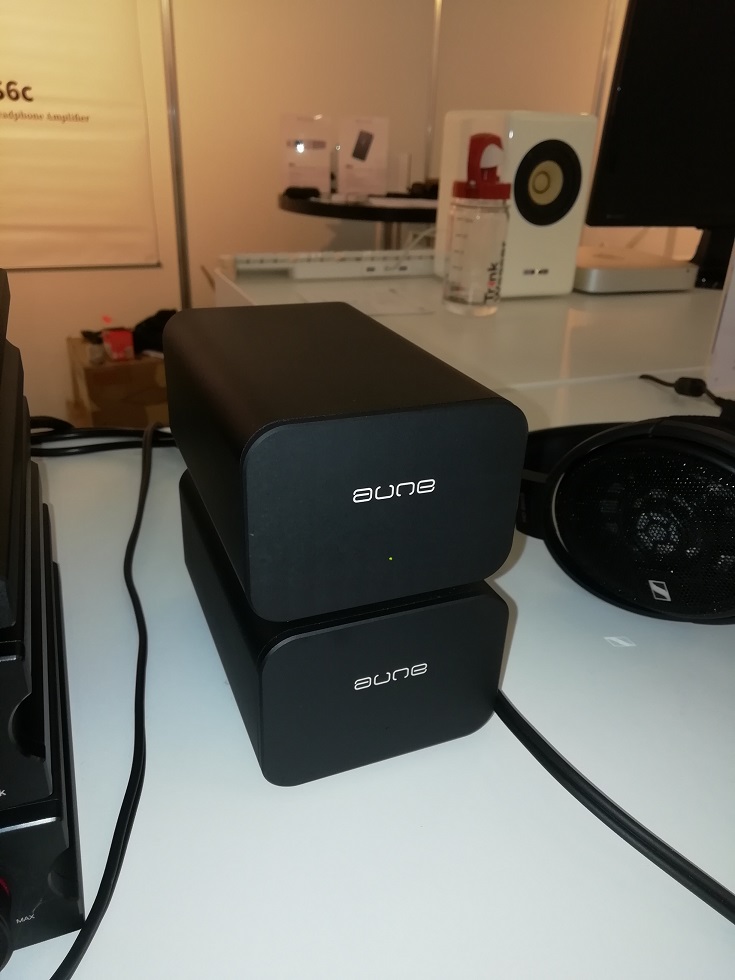 Lastly, Aune exhibited its T1 XVIII, a DAC/headphone amp with a valve output section: its shipping date was scheduled for summer 2022, for a projected price between Eur 200 and 300; its cabinet can be also had in colors, rather than the black one you can see here,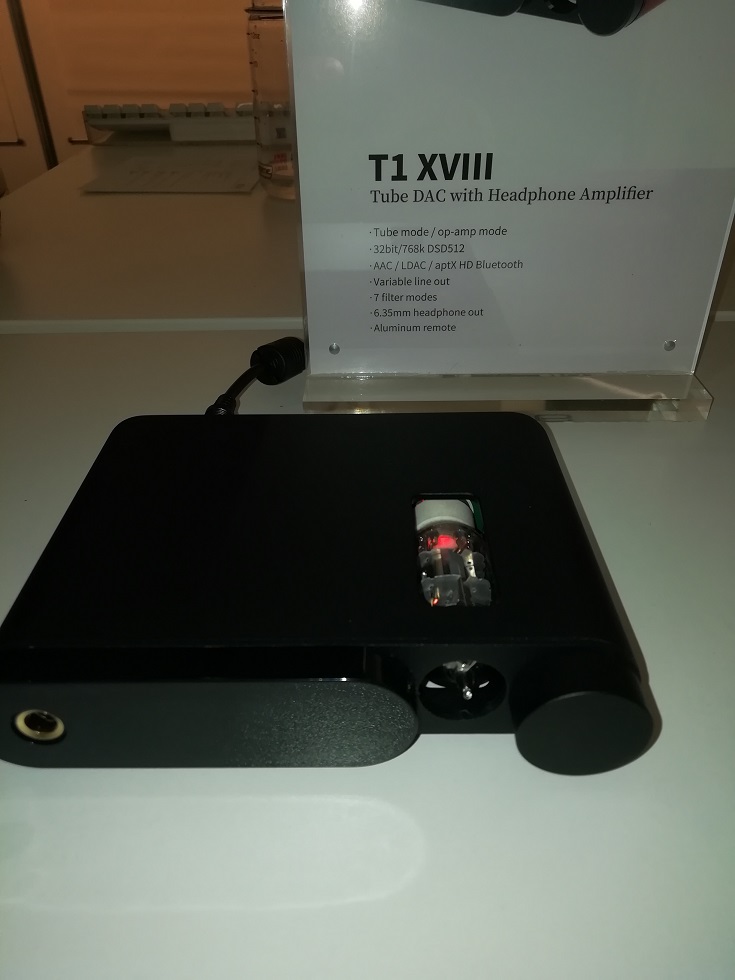 plus the S6c, another DAC/headphone amp, this, too, able to be slaved to an external clock and capable of handling digital signals up to PCM 768 kHz/32 bit and DSD 512, for about Eur 700.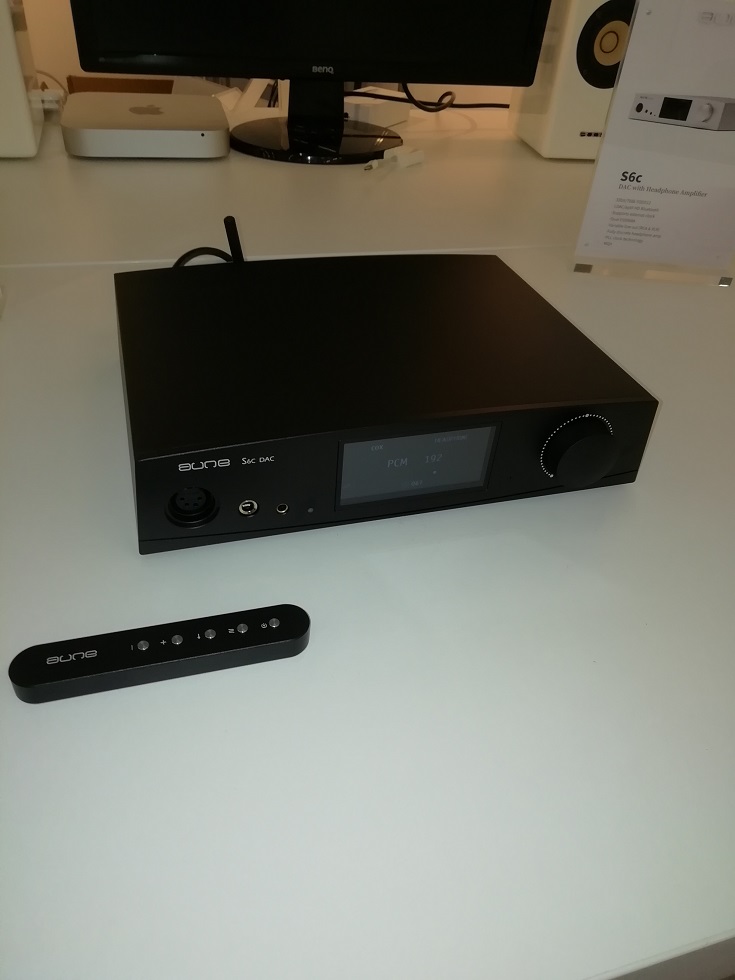 Let's stay in the East. In one of the Halles at ground level, a wide space was setup to exhibit many chinese products, if I didn't misunderstand, all sold by Shenzhen Audio, that has recently gained a good reputation thanks to reviews saying that they combine affordable prices with very good build quality and almost perfect measurements. Let's start with Topping's products.
Here is the M 50 audio file player, for Eur 230 (I put the show catalog near it, to give you a dimensional reference...)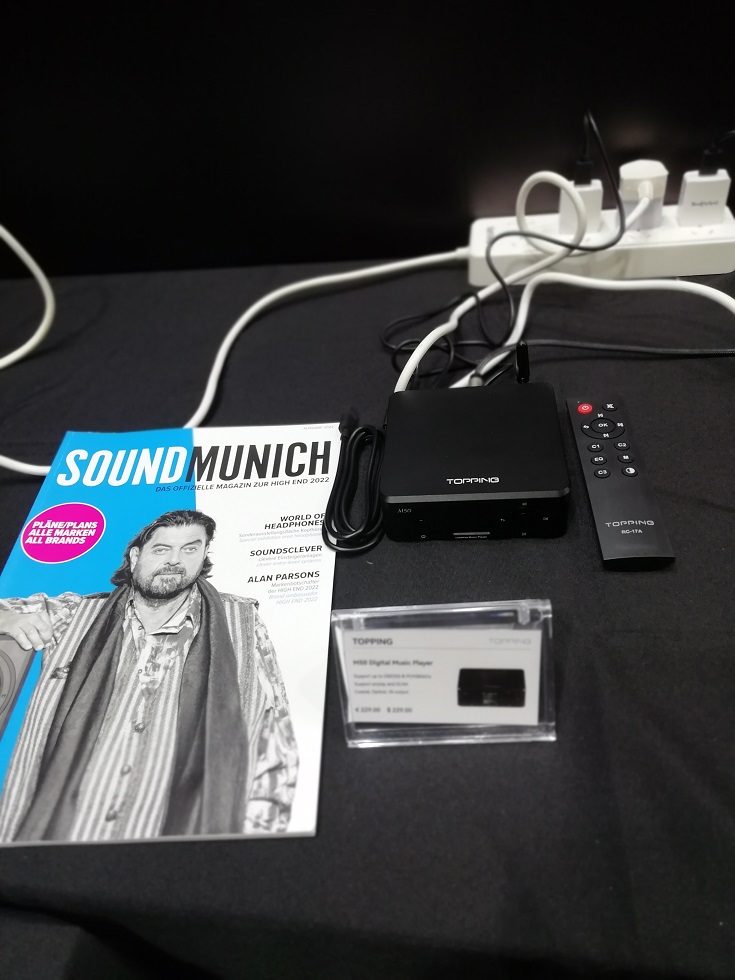 Here we have a Topping "family portrait", where we can see DACs, headphone amps, DAC/headphone amps, etc.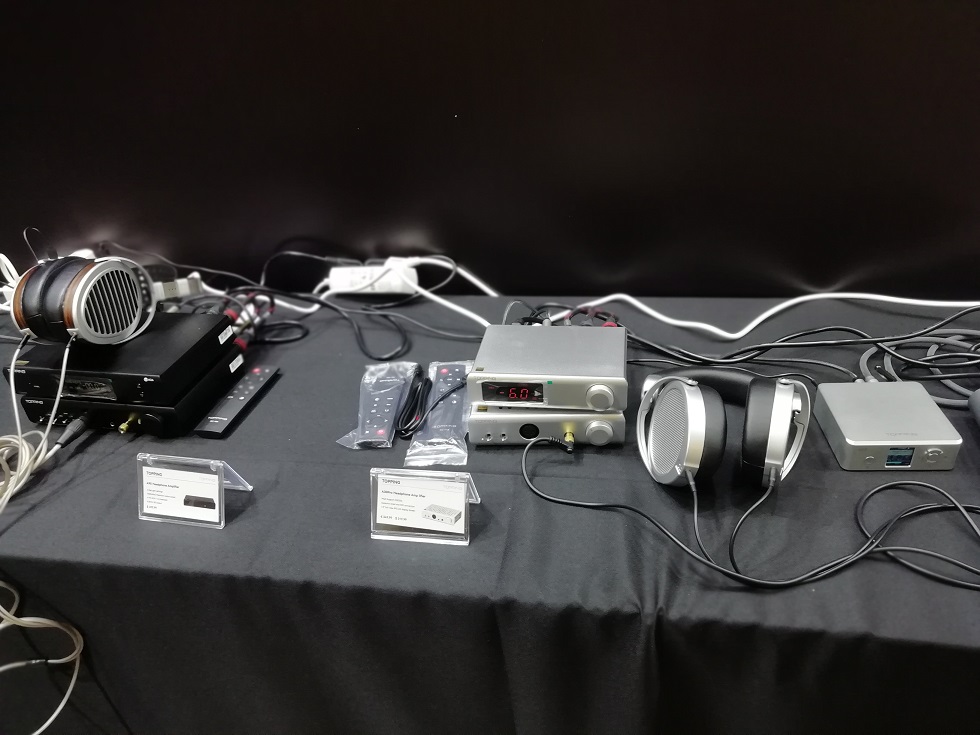 Sure, I saw also some gear whose existence I simply couldn't explain, like this product by Oriolus Japan, the DPS-L2, which I still think you must see, albeit my horrible photo.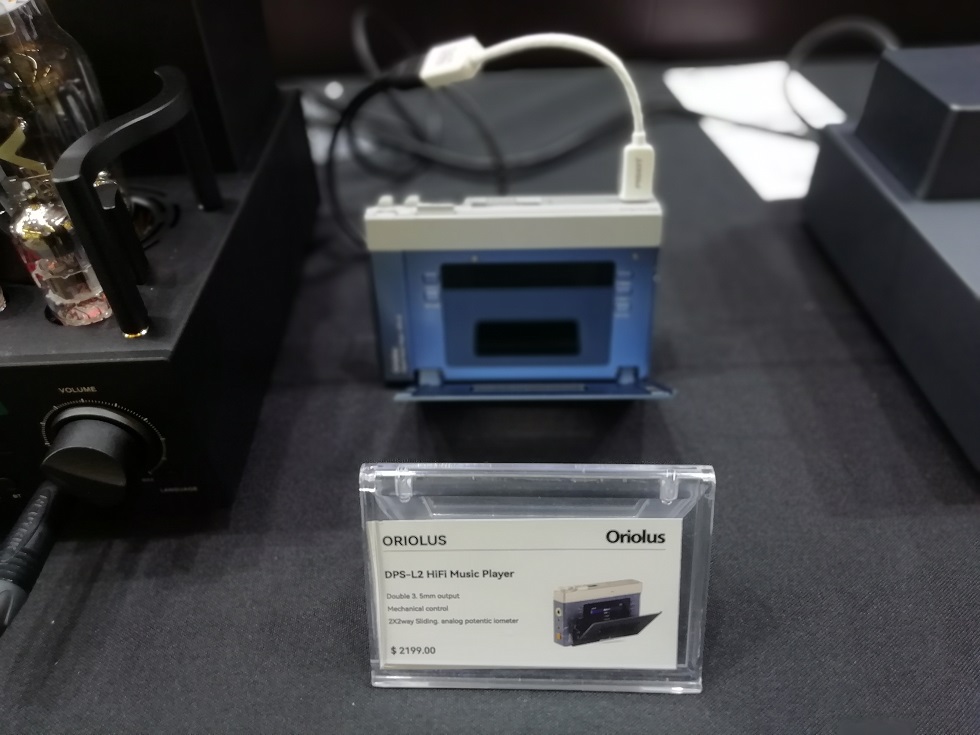 It's an audio file player, shaped like a Walkman, even with working mechanical buttons, that activate functions analogous to those of the original Walkman buttons; it contains an ESS ES9038 Pro DAC chip. Unlike what usually happens with such strange things coming from China, its price is stiff: Eur 2.200. Maybe everything (or at least much of it) is justified considering that it is NOT a Chinese thing, but a sino-nipponese product (on their website a window pops up alerting you that Shenzen Audio is not an official reseller of Oriolus Japan...); anyway, if you're interested, hurry up, since they made only 999 units.
In the same area there were also the products by S.M.S.L.. Among them here is the SD-9 network player, for about Eur 400.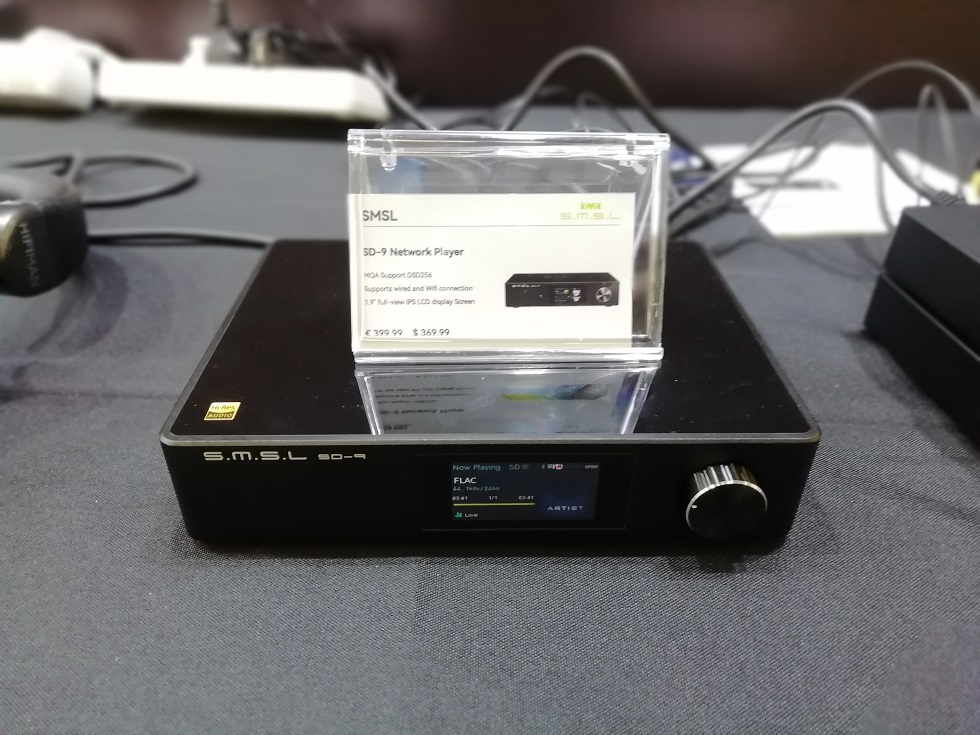 Or the M500 MkII, a DAC/pre/headphone amp for about Eur 440.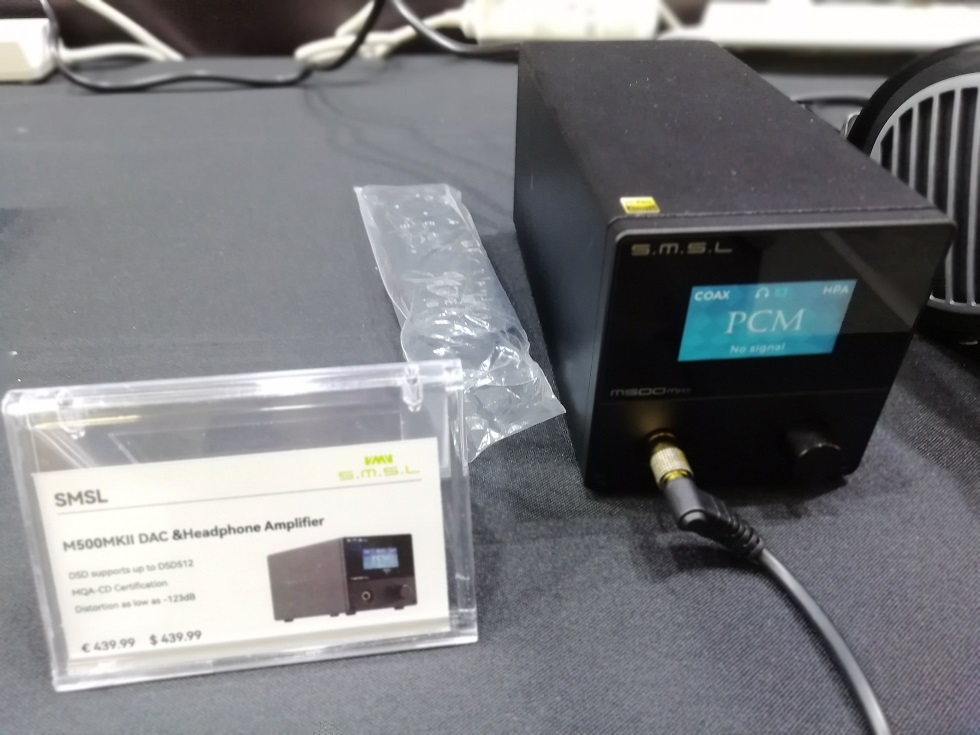 Here is a " dongle DAC ", for your cell phone: the Beam 3 Pro by Audirect, for about Eur 150 Euro.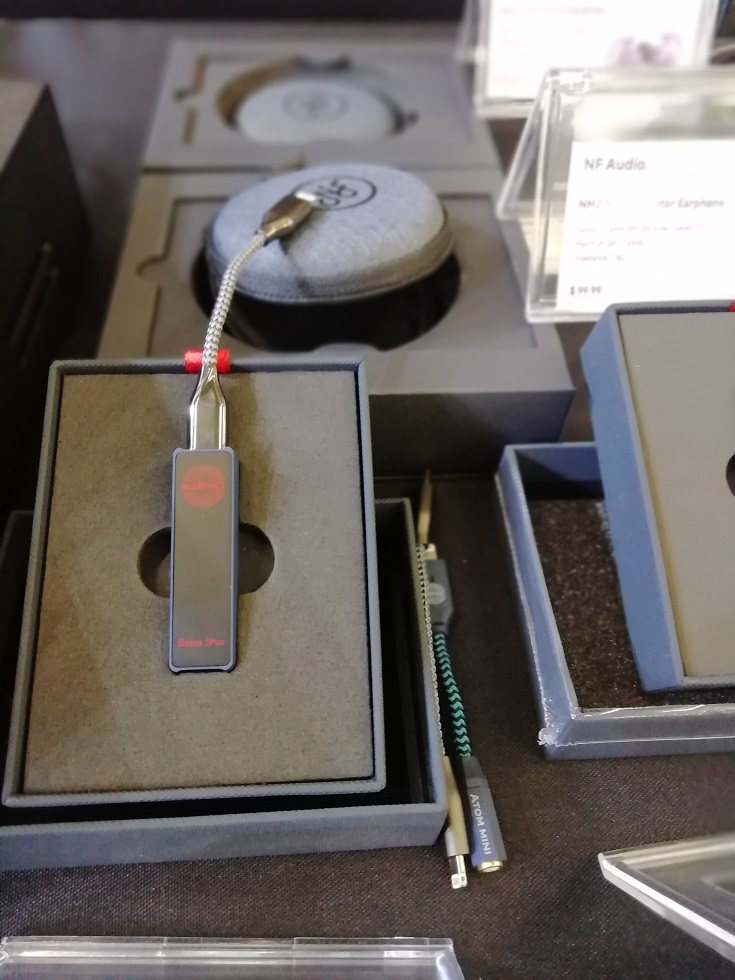 Another famous Chinese brand was exhibited, the Tone 2 Pro DAC/headphone amp by Khadas, whose price I forgot to scribble down, but I remember we were at absolutely affordable levels.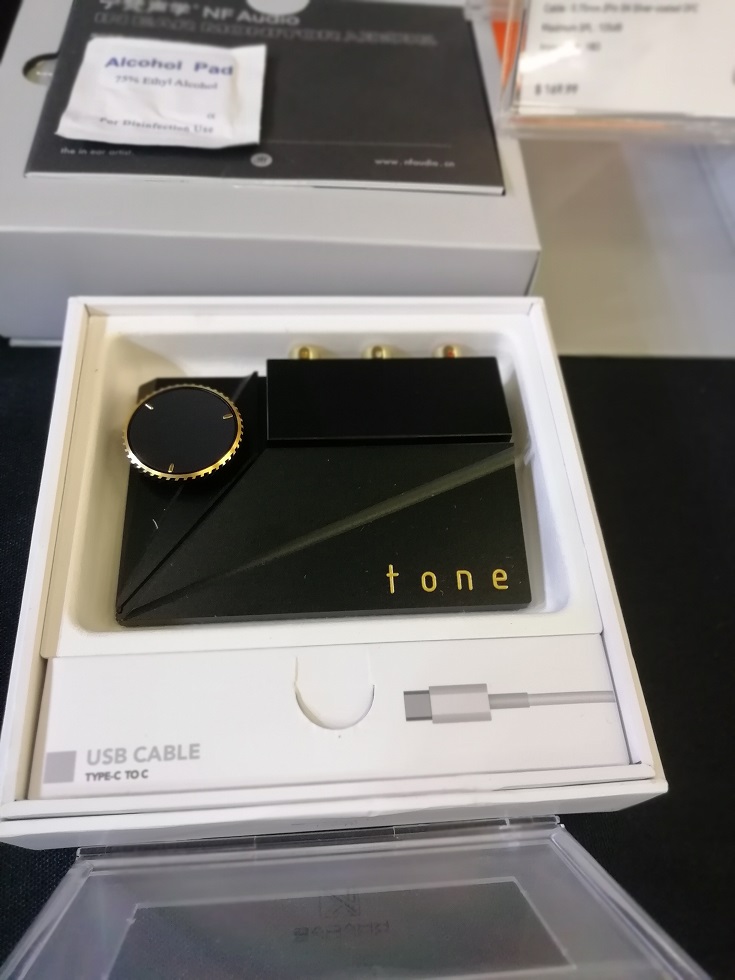 In an area dedicated the headphone amplifiers, I saw, amongst other things, the well known gear by EarMen, either the "tabletop" ones...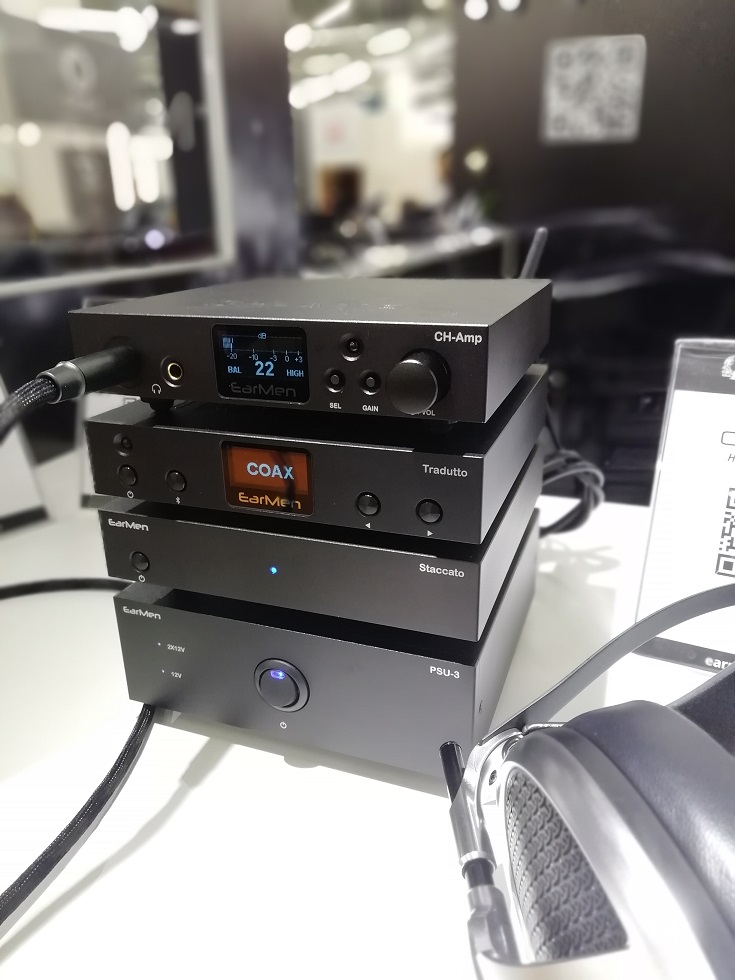 ...or the "outdoor" ones, like the Angel battery powered portable DAC/headphone amp; once again, I can't find any trace of their price, but I remember it was between Eur 500 and 1.000.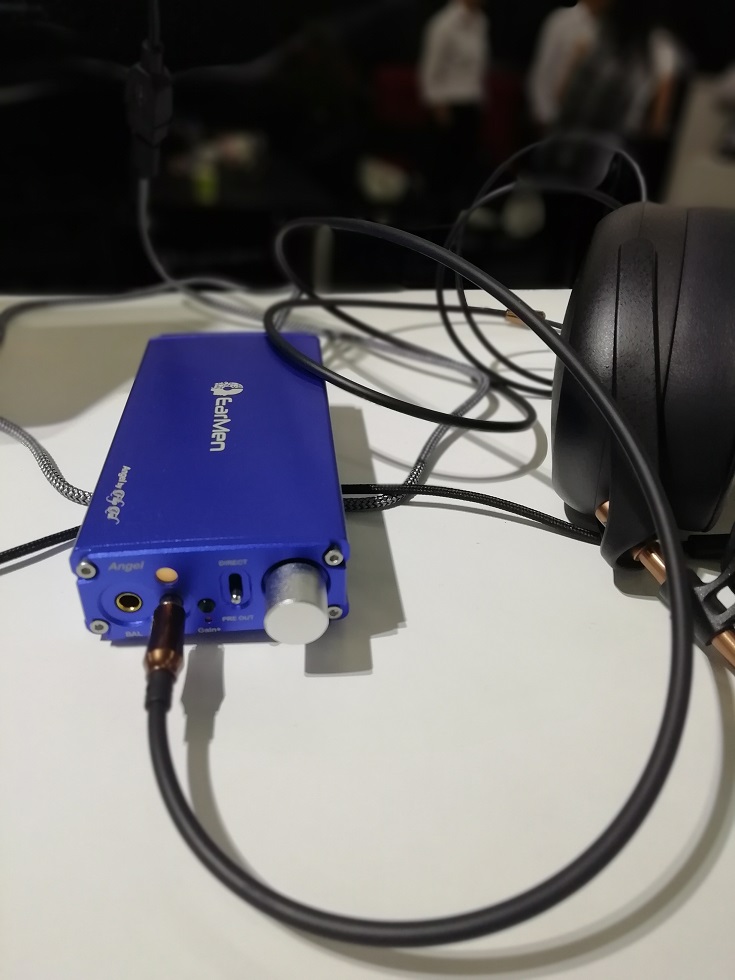 DeVore Fidelity, the famous USA loudspeaker builder, set up a very pleasant listening room.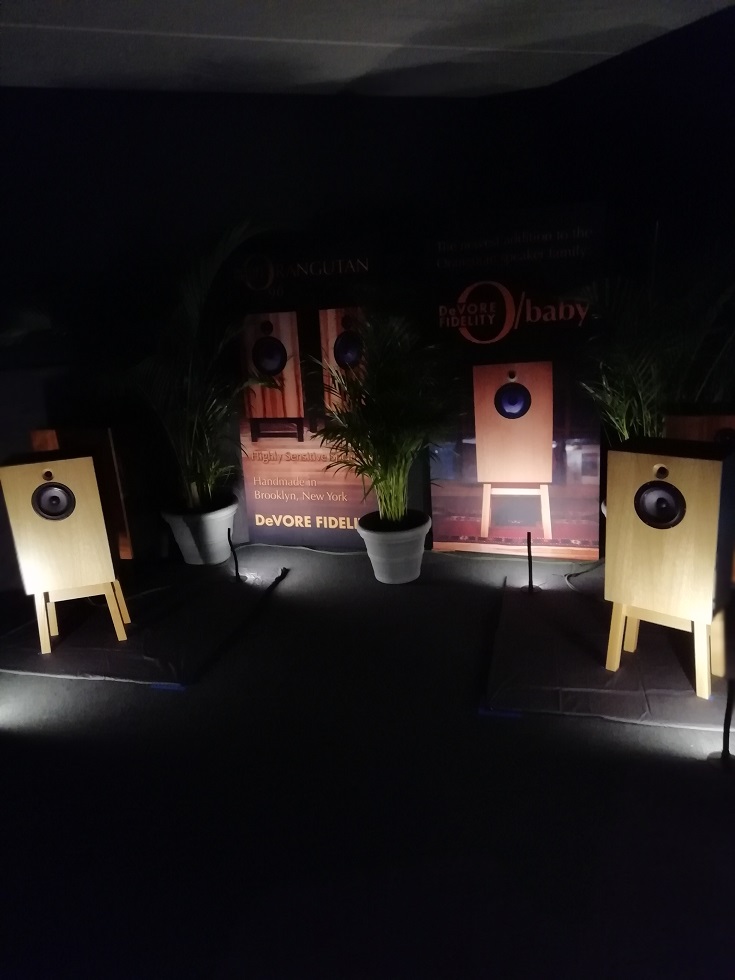 This year, the attention was on the new O/Baby, for USD 5.700; they are the ones at stage front...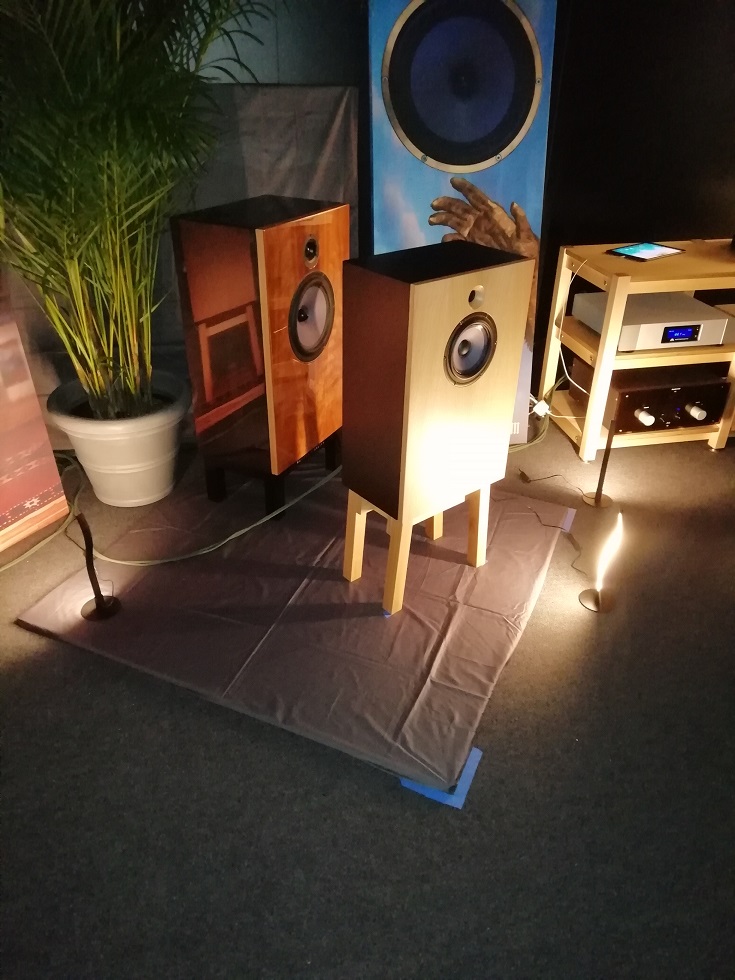 German T+A this year exhibited a massive system, but, in a sense, simple: Solitaire S 530 loudspeakers, for about Eur 35.000,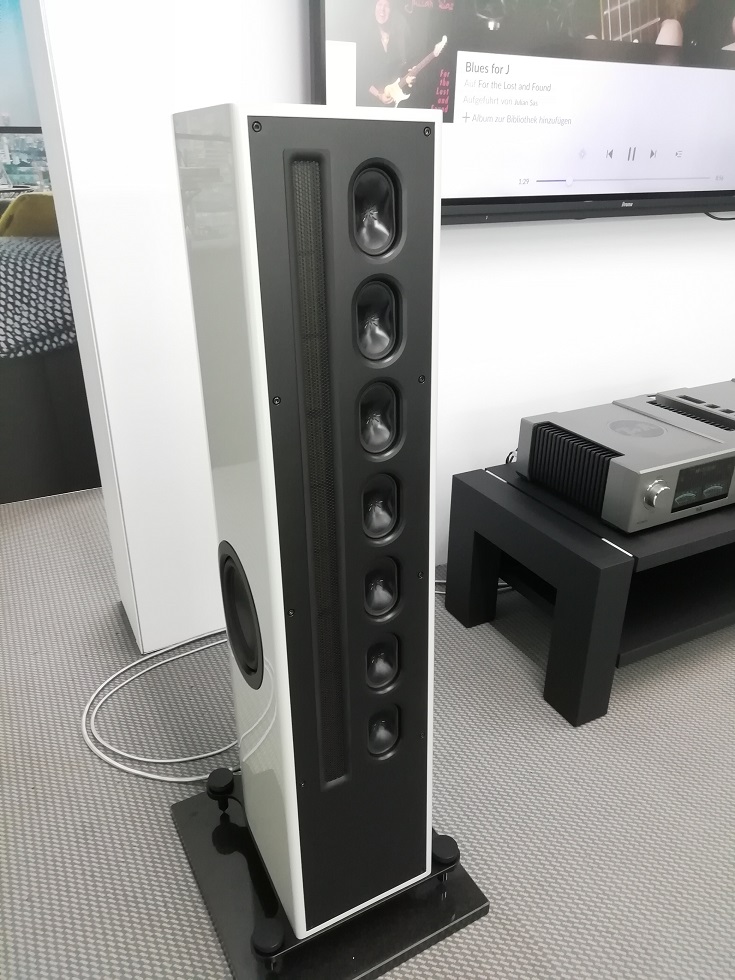 a tall feestanding loudspeaker with long planar tweeters; on its back there are switches to adjust its response in the bass, midrange and high regions.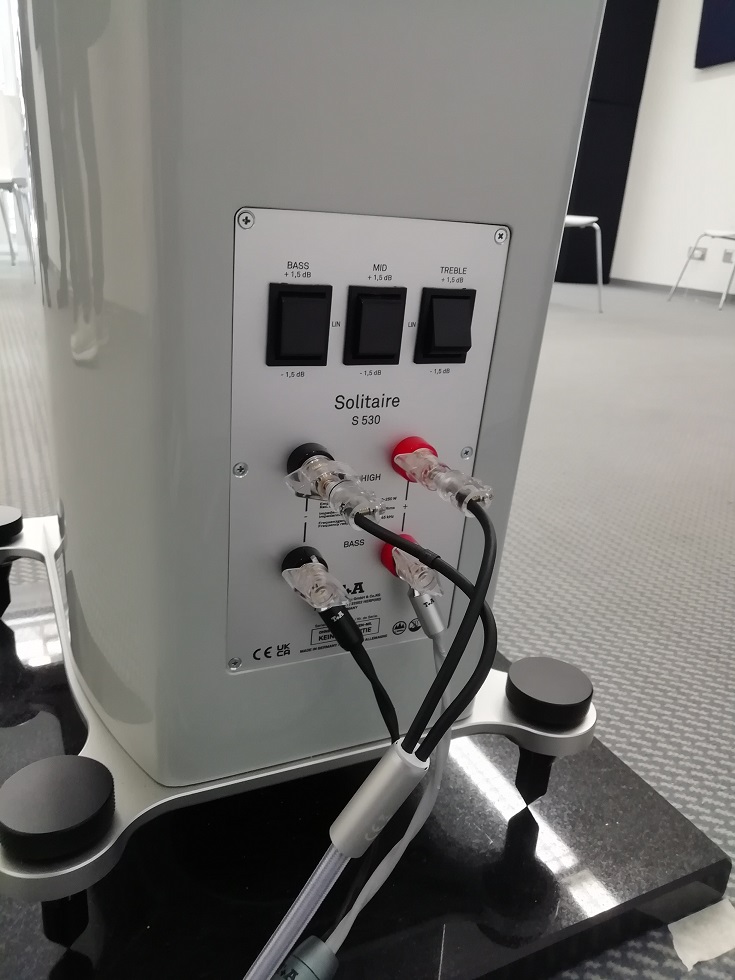 As a source there was their MP 3100 HV, a CD and SACD player, with an internal network streamer and a DAC section that can decode PCM and DSD natively, all for about Eur 17.500; amplification duties were carried by the PA 3100 HV stereo integrated amplifier, this, too, for about Eur 17.500.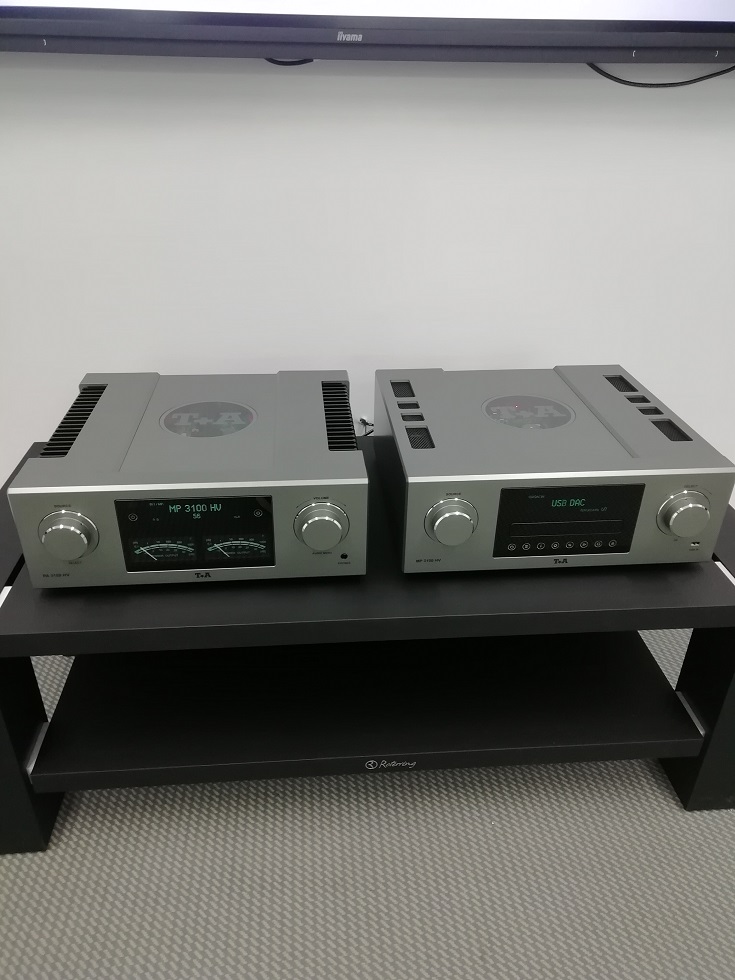 In my third part, I told you about the acoustic treatment producers. But I left out one, very well known and appreciated: GIK Acoustics. They make lots of products with different functions and, what counts a lot for me, with a look acceptable in domestic environments.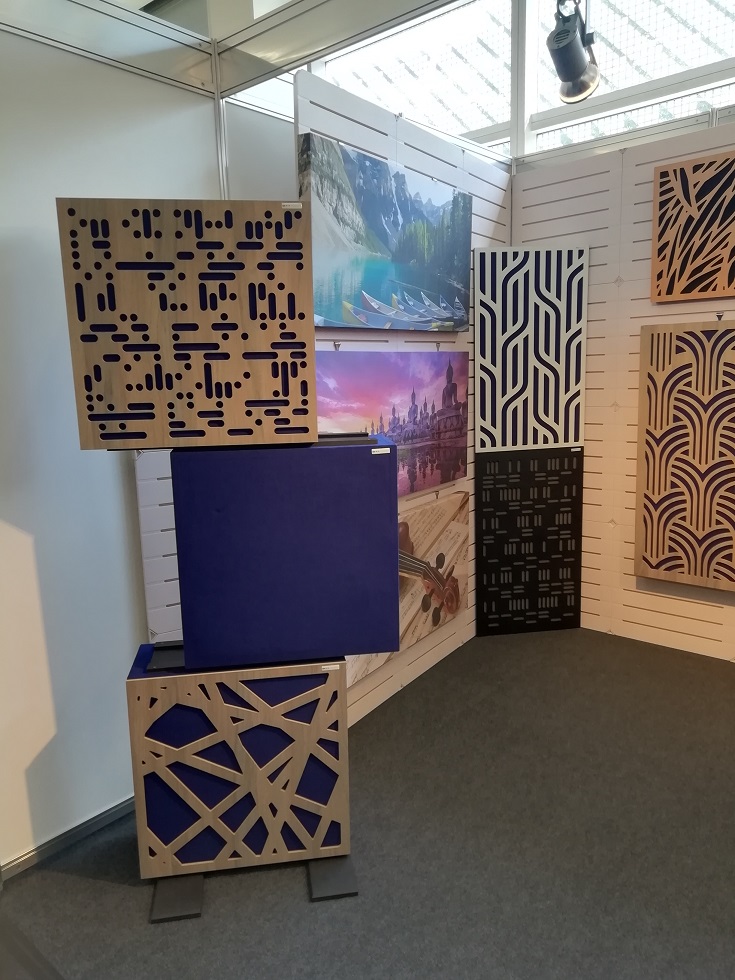 Gik Acoustics produces bass traps, absorbers, diffusers, etc.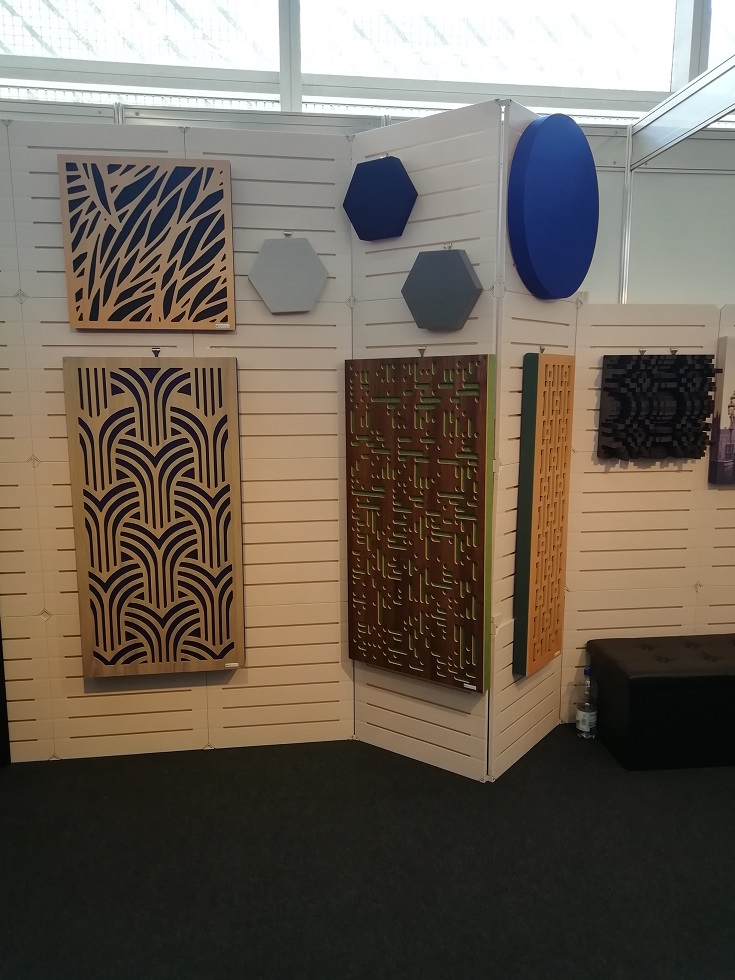 They offer also a consulting service, to provide the best treatment for your actual room, according to real world considerations (not everyone must setup a recording studio in his living room...).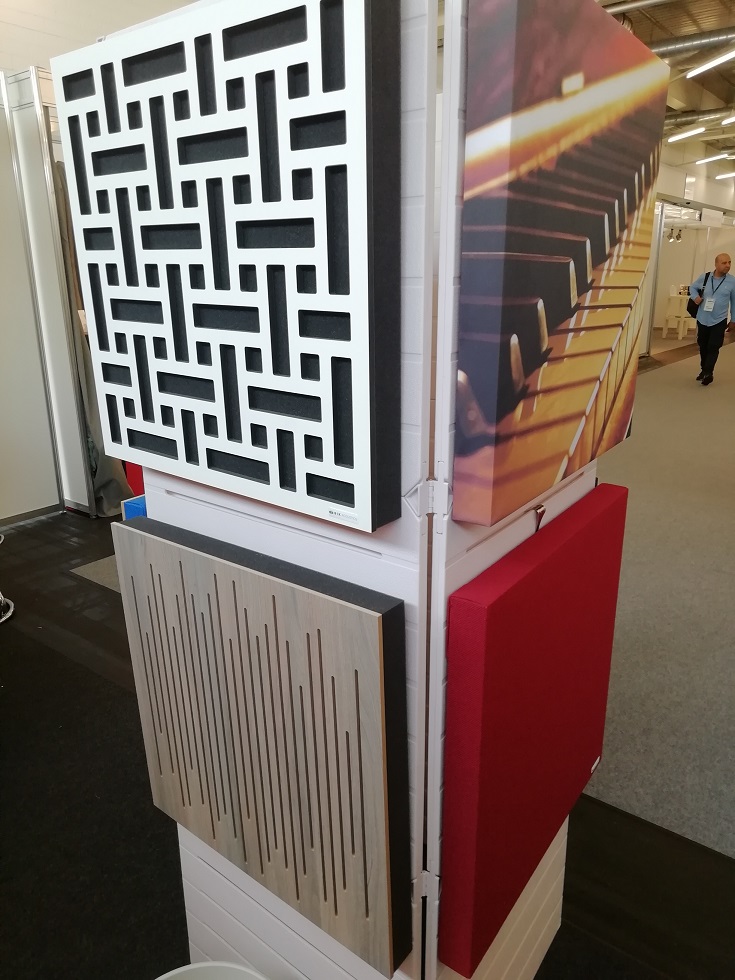 Some quick glimpses
There really was so much stuff that I could go on for longer.
Instead, I prefer to report some episodic memories, at risk of a fragmentary and episodic narrative.
Also the big German company Canton celebrated an anniversary: their first 50 years. They, too, joined other companies that build loudspeakers "with a system inside", making a complete series of Smart products. In particular, I point you to the active tower loudspeaker Smart Townus 8, for about Eur 3.300 per pair. It can digitally connect itself to your gear, with a cable, or via Bluetooth, or, more important, via the other gear belonging to Canton's Smart range, so that you can build a wireless system, even a multichannel one. In fact, with the controller built by Canton you can setup a wireless loudspeaker system up to a 5.1 configuration. This controller can be had in a preamplifier version, and it's called Smart Connect, costs Eur 600 and can wirelessly drive loudspeakers like the aforementioned Smart Townus (but it has also normal line outputs to connect it to the traditional system you already have); there's also its amplified version, called Smart Amp 5.1, that costs Eur 850 and can drive either the Smart loudspeakers (wirelessly), or normal passive loudspeakers (with the usual cables), of which Canton's catalogue is still rich: at the show it was driving the new Karat GS Edition (a commemorative version for the 50th birthday) tower loudspeakers, for Eur 3.500 per pair.
There you have a picture with both Smart controllers (placed nearby other AVM's gear),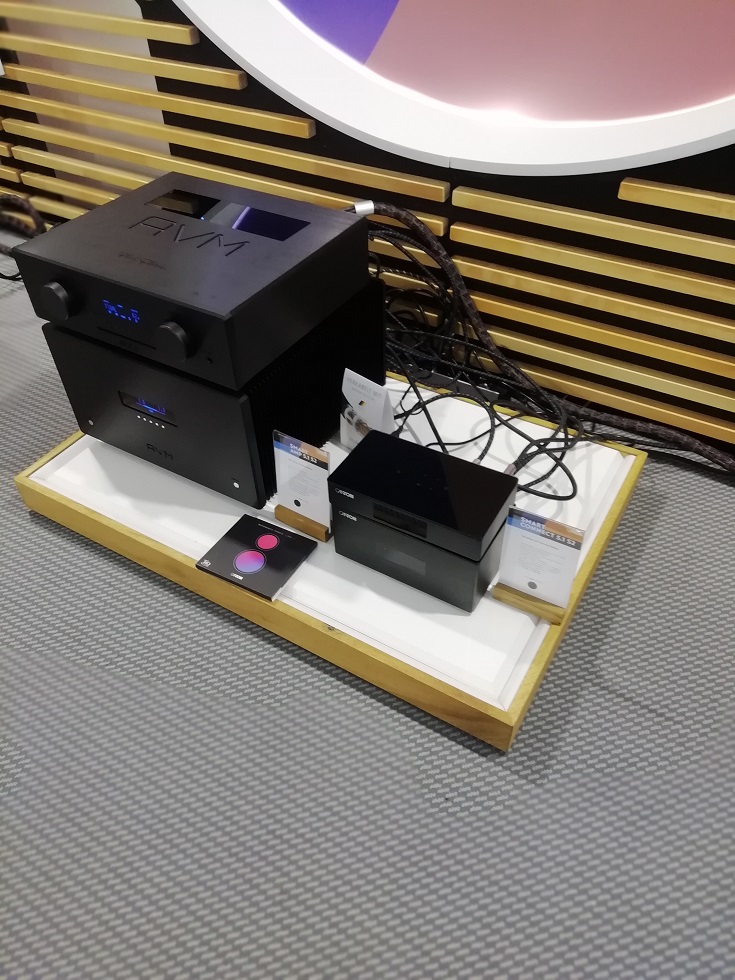 and here are, far left, a Smart Townus 8 and, far right, a Karat GS Edition; in the middle, a nice passive tower loudspeaker. the Vento 100, for about Eur 4.500 per pair.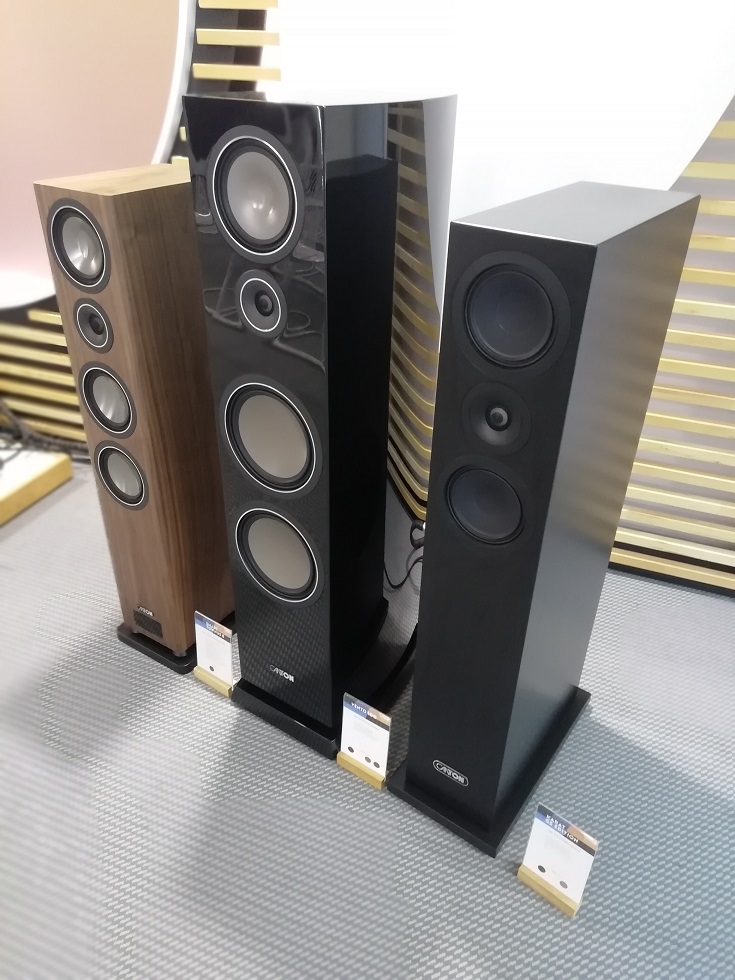 Also Dali brought to the show loudspeakers that can be driven wirelessly, even in a multichannel setup.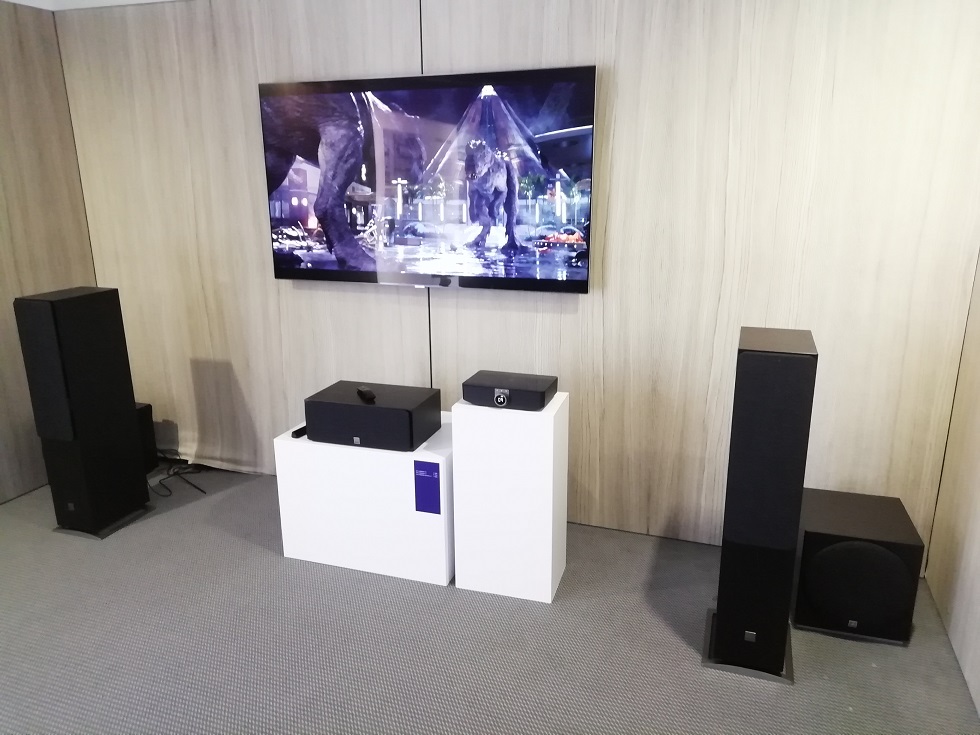 This is the controller of the wireless system, itself physically connected to the sources (and also to the video screen, due to the 5.1 configuration).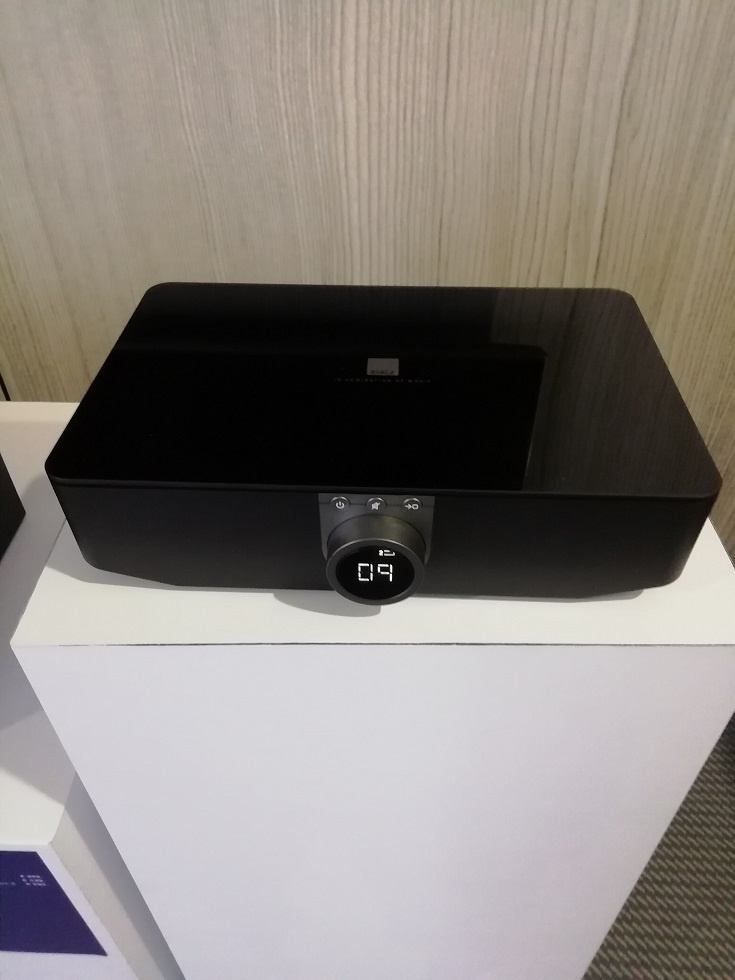 Dali put also big emphasis in presenting its flagship loudspeaker, the Kore, for about Eur 80.000 per pair (a price far above those, usually more affordable, typical for this brand), into which they poured all they learned in loudspeaker building over their 40 years (in 2023) in this business.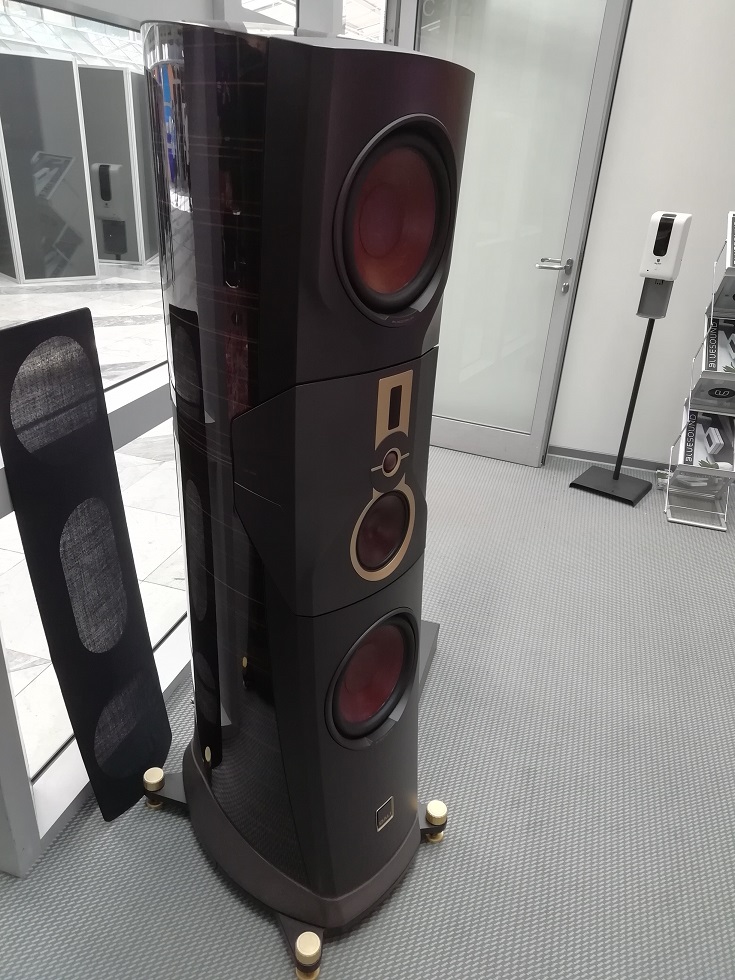 I found nice sound also in the room where Wilson Benesch played their Omnium loudspeakers, for about Eur 130.000, driven by Audionet amplifiers.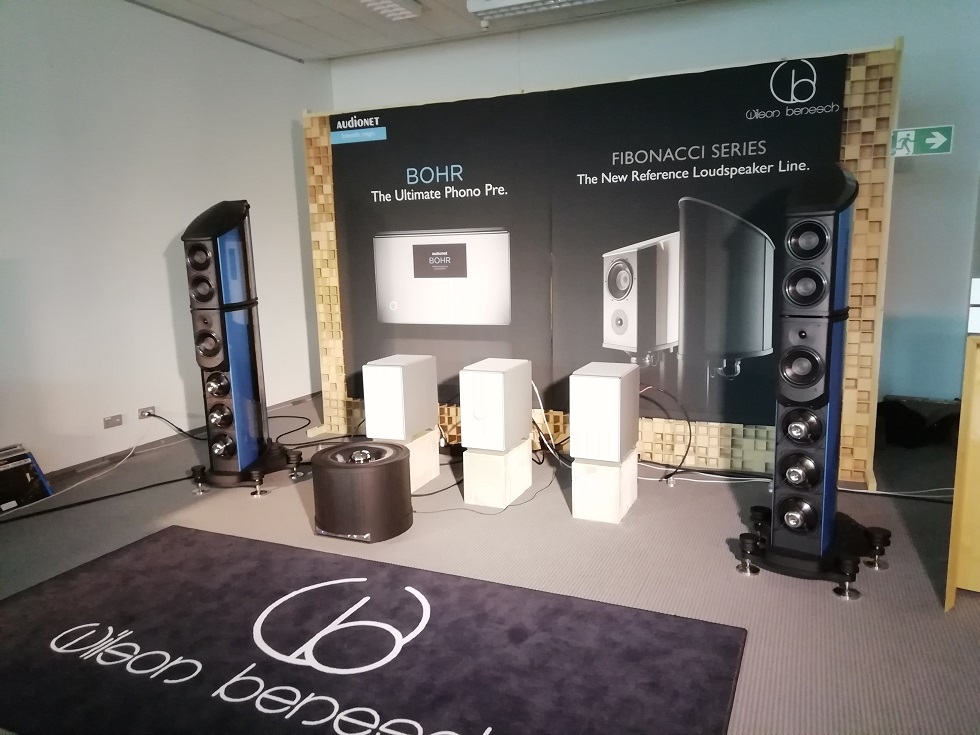 The source was worth mentioning, too. It was a turntable, then still to be introduced to the market and with a price then still tbd...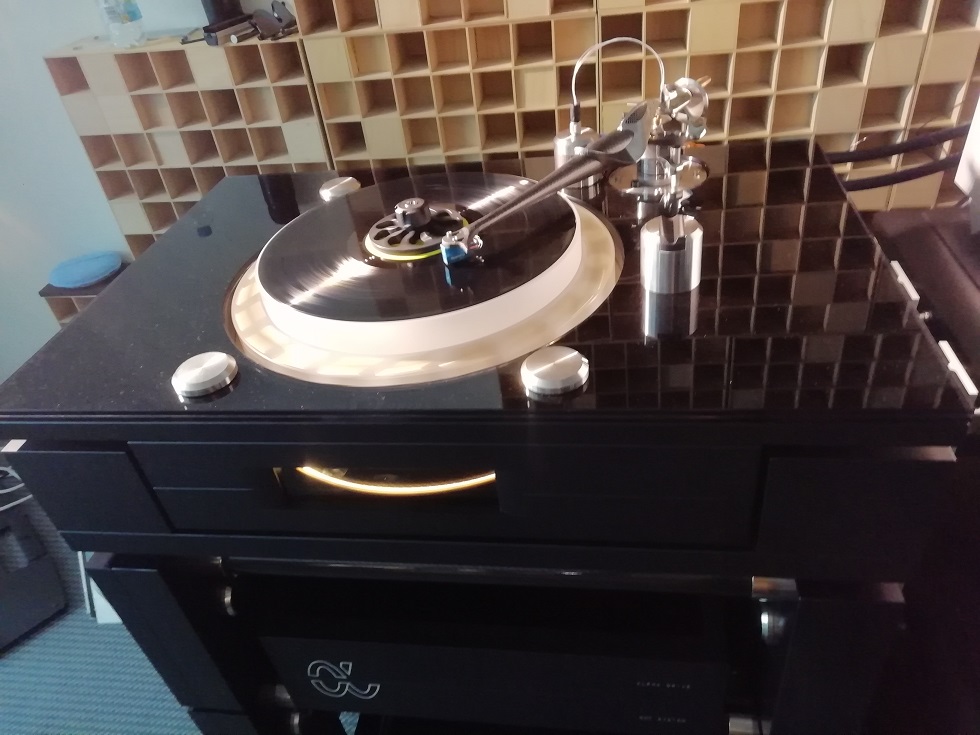 Q Acoustics was playing their Concept 50 tower loudsepakers, for Eur 2.600 per pair. At the show, they were driven by a pre/power combo Edge by Cambridge Audio.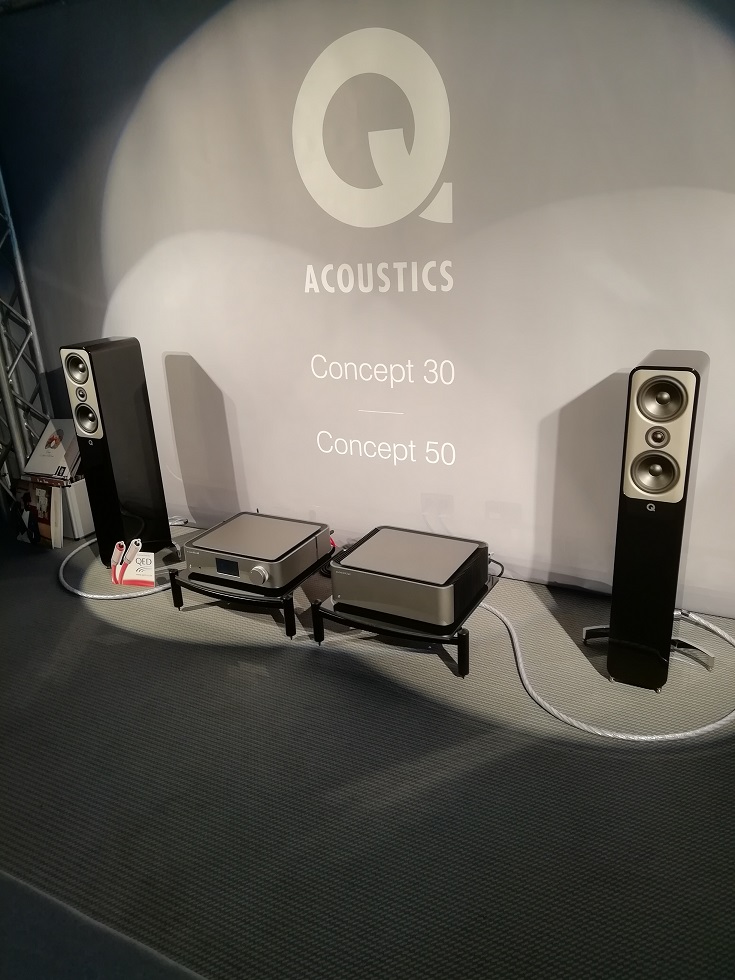 This loudspeaker model is entirely designed and produced in-house, without resorting to external consultants. The Concept range incudes also the Concept 30 standmounters, for Eur 1.200 per pair.
Another traditional British loudspeaker manifacturer, Epos, after several ownership changes, has now landed in the hands of the famous German designer Karl-Heinz Fink, who organized its coming "back to the future", by reintroducing a traditional model by the brand, the ES-14N, but realized with updated approaches and materials, and whose proposed price was Eur 4.600 per pair.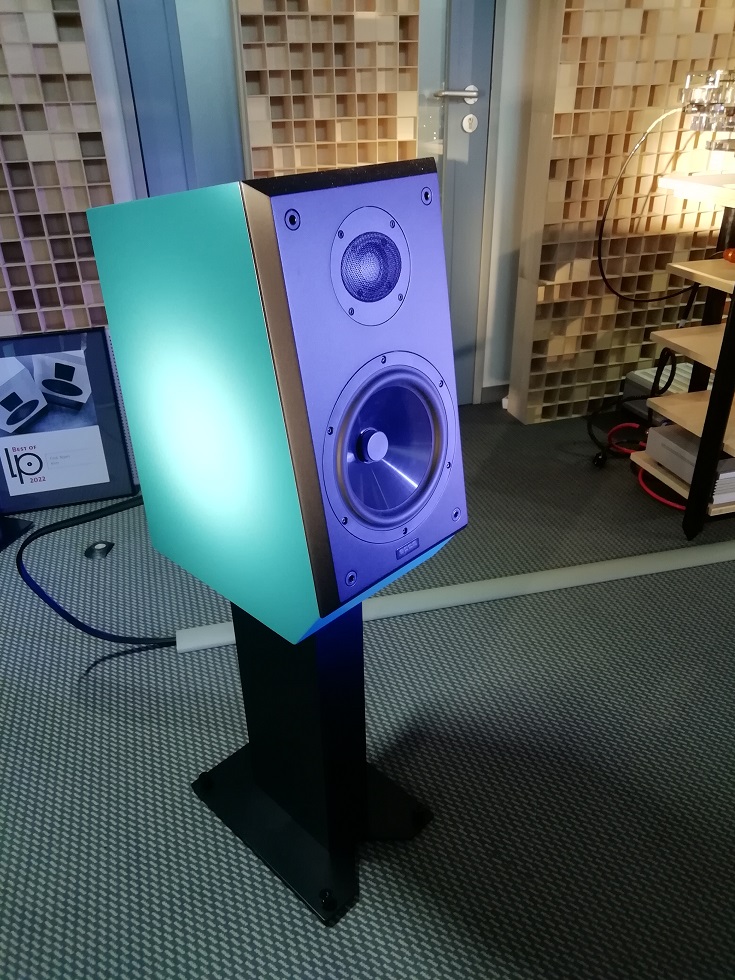 Another "back to the future" for another traditional British brand, Mission, the company founded by the late Farad Azima and now under the umbrella of the Chinese IAG company. This brand, in very good company, is now taken care of by Peter Comeau, a real British Gentleman.
This year, once again rich in anniversaries, this group concentrated on bringing back another classic by one of its brands, the Mission 770 standmounters, for Eur 4.500, stands included.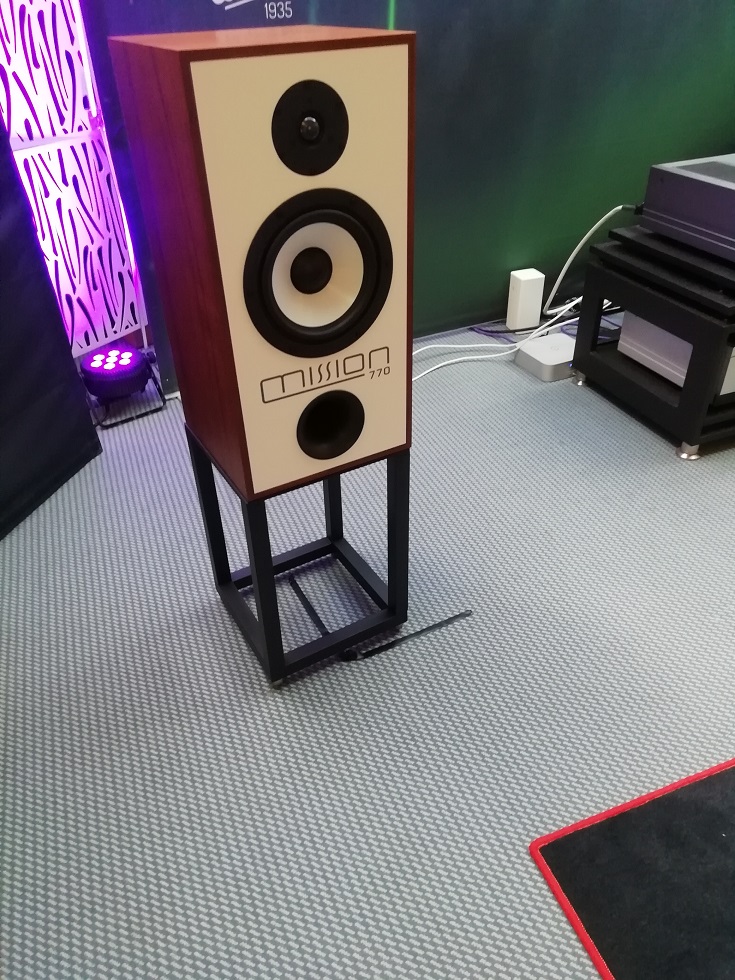 This loudspeaker has been revisited in every part: cabinet, drivers, crossover, but not to make a new loudspeaker in old clothes; rather, they aimed to update materials and technologies for a classic loudspeaker, but retaining its listening signature. Like at the last show, with the comeback of the Wharfedale Lintons (same group and same designer...), this year, too, the room resounded with a "familiar" voice, so I'd say that Mr. Comeau's efforts have been effective.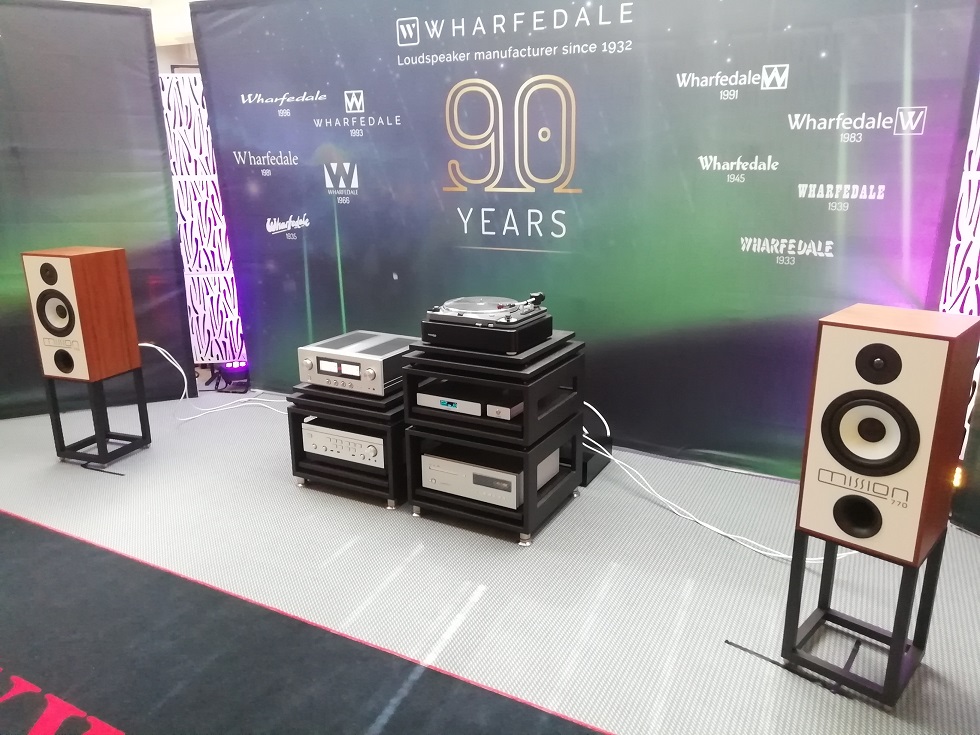 The canadian company Totem also this year respected its tradition, occupying the same room and setting up a system very similar to the ones used in past shows, of course with the updated version of their loudspeakers; and also this year our host was Totem's Boss, the volcanic Vince Bruzzese.
Starting with the "serious" system, setup to show new versions of the Element range loudsepakers, the Element Metal V2 freestanding loudspeakers and the Element Fire V2 standmounters (no, they really cannot be defined as bookshelf :-) ) , here mated by an old acquaintance of ours, the Tribe towers. As usual, correct and nice sound, often spatially extended beyond the room's boundaries.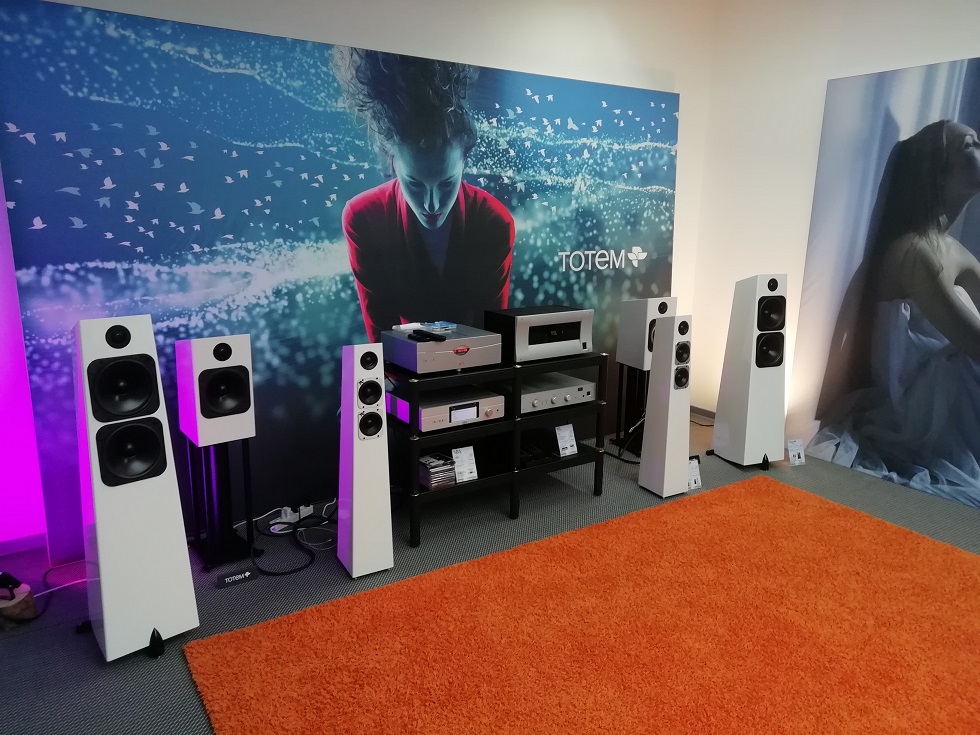 This year, though, I seem to have perceived a bigger attention towards the other gear they exhibited, those belonging to the KIN range, surely more affordable, but, I'd say, more in line with the offers by many other comnpetitors.
Their KIN AMP is an integrated amplifier with a Bluetooth input, one more input switcheable between line and phono, plus subwoofer out, for Eur 780 (as you see, Totem offered also a show discount). This amp was also the first half of the "cheap" system under the sounds clever moniker, that you already know everything about; that system consisted also of the Kin Monitor (little two-way bookshelf loudspeakers) and the loudspeaker cables. For a total price of Eur 1.450 Totem exhibited a system to play - well - what comes from "hip" sources, like vinyl and cell phone.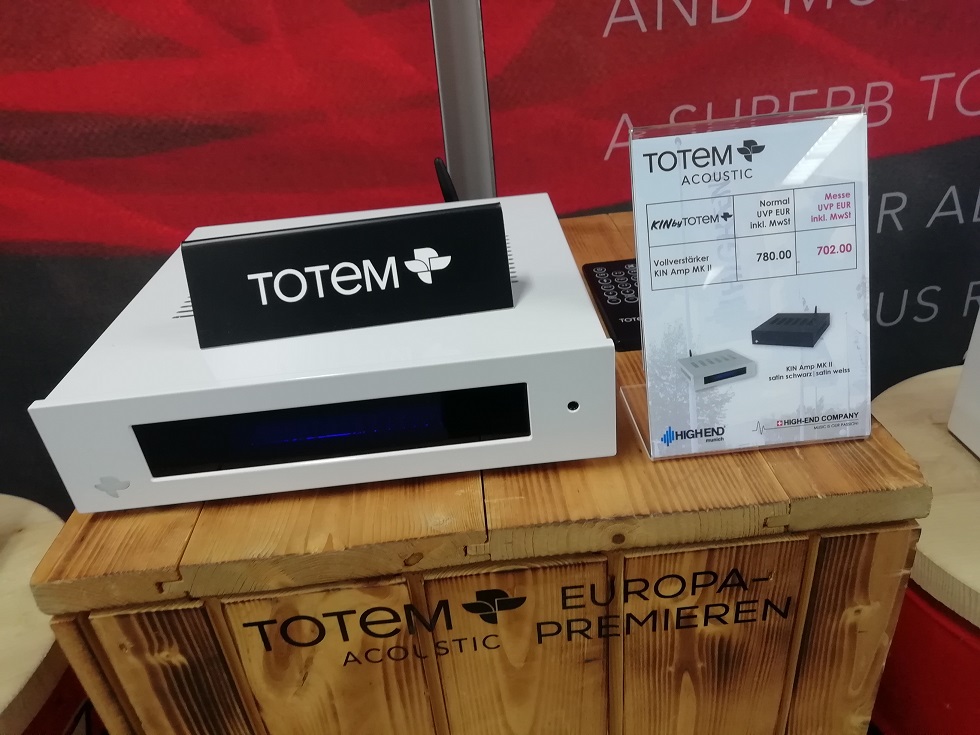 But, to achieve the same goal, Totem makes you spend even less. This brand, too, joins the now many builders of amplified loudspeakers, with its KIN PLAY series.
Here is a family portrait, with a tower loudspeaker (Kin Play Tower, for Eur 2.450) and two bookshelf loudspeakers (Kin Play Mk II, for Eur 1.450, and Kin Play Mini Mk II, for Eur 830), all with a Bluetooth input and physical inputs, one analogue (switchable between line and MM phono) and one digital (optical, unusually specified up to PCM 192 kHz/24 bit), plus a subwoofer output.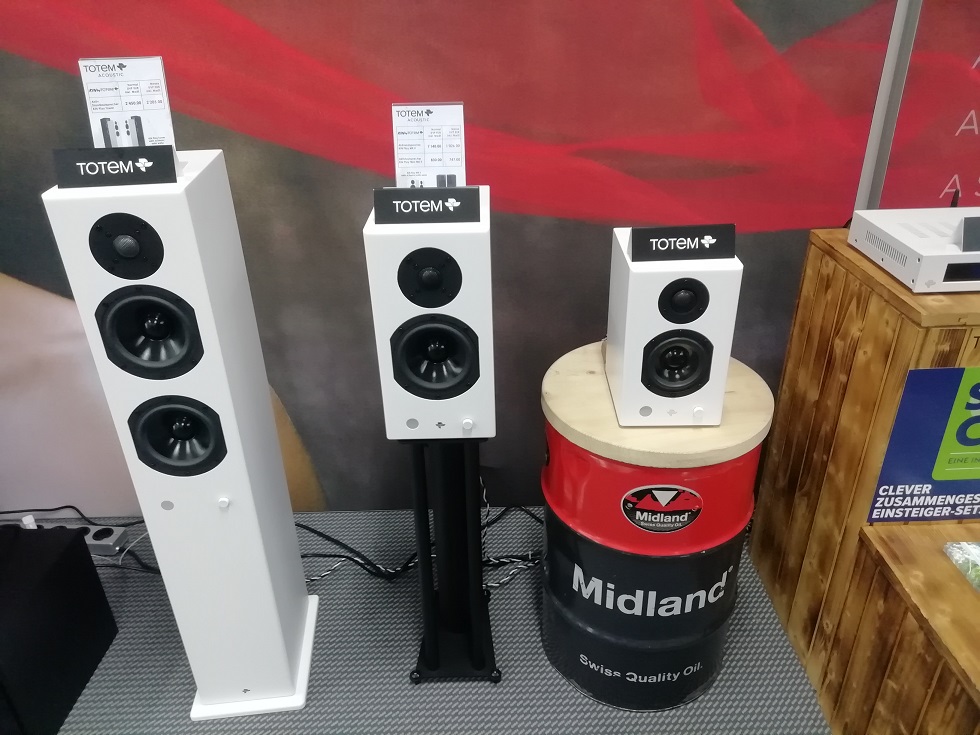 And not to miss anything, Totem exhibited also their Kin Force soundbar, for Eur 1.170, destined to reproduice the L-C-R channels in a multichannel system or, anyway, to improve the TV displays' voice, as the installation at the show seemed to suggest.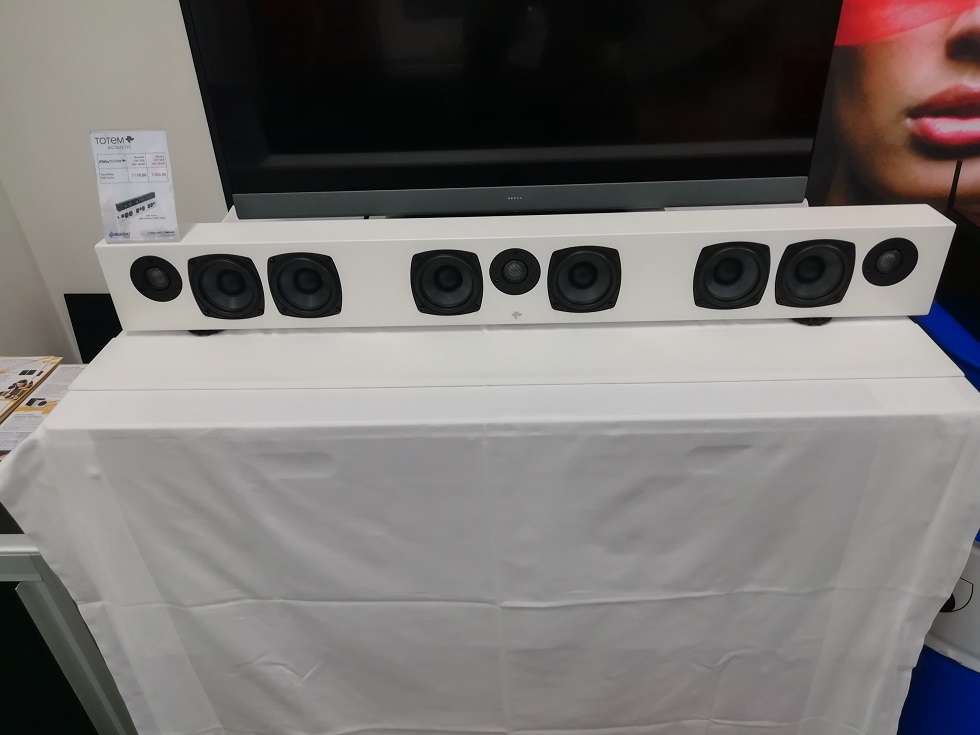 I heard nice sound also from the system setup in the room where Lansche Audio was playing their new No. 8.3 freestanders, whose price was tbd, but projected in the range between Eur 120.000 and Eur 190.000. The amplification was provided by Synästec Audio, with their Igniculus pre-phono, for Eur 47.000, their Fulcrum preamplifier, for Eur 39.000 and their stereo power amp Saxum, for Eur 59.000.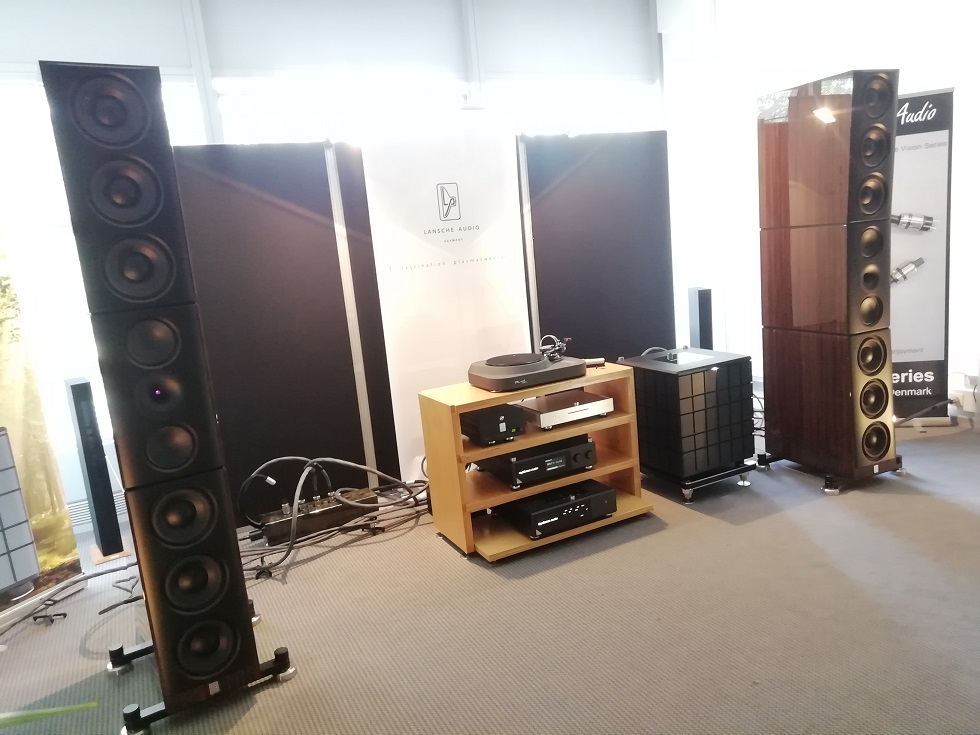 The usual forceful exhibition for Soulution, who relied on the voice of the loudspeakers by Magico.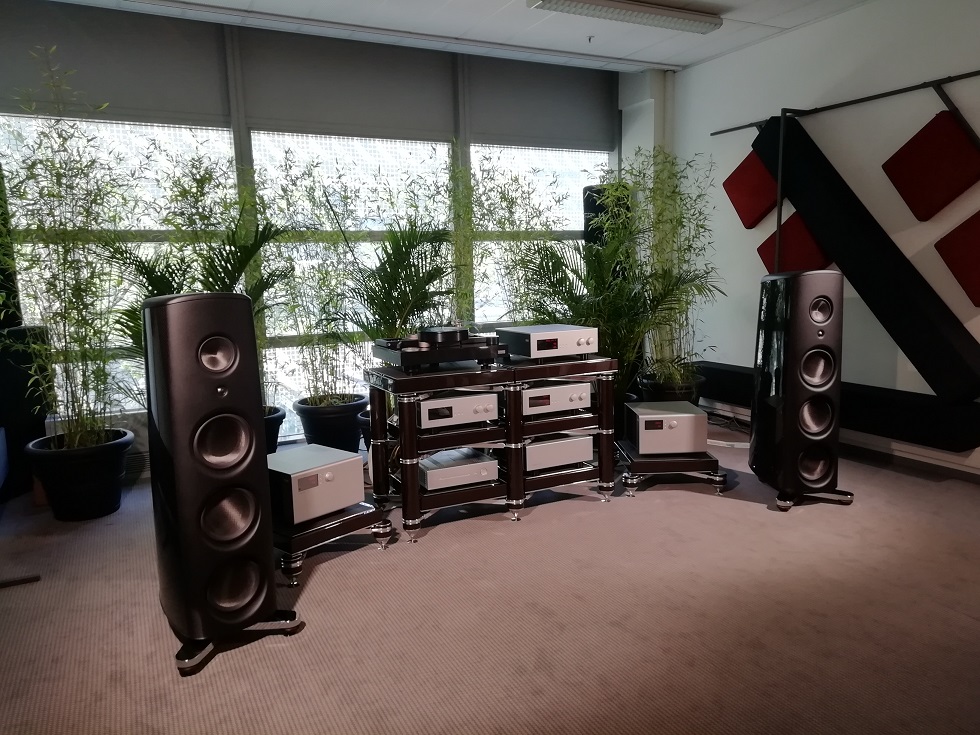 Magico also had their own room, where their A 5 tower loudspeakers, for Eur 34.800 were playing, driven by Pilium gear, the Alexander preamplifier and the Achilles power ampifier (yes, they're based in Athens, Greece...), each one for Eur 46.000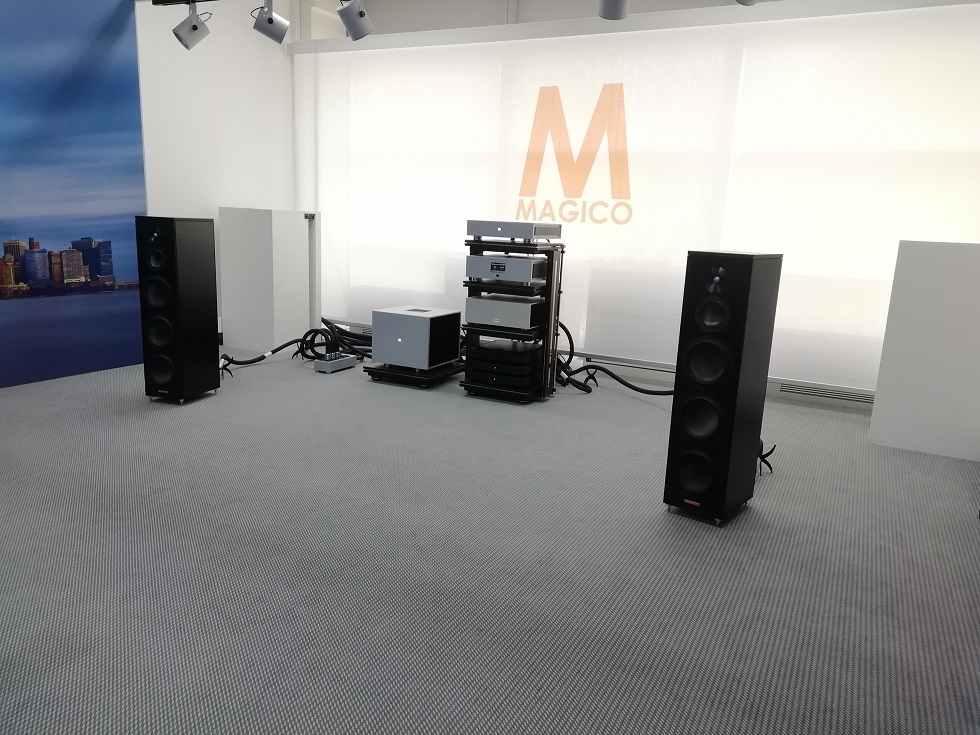 I also liked the sound coming from the room where Marten was playing their Quintet 2 freestanders, for Eur 62.400, driven by two big monoblocks by MSB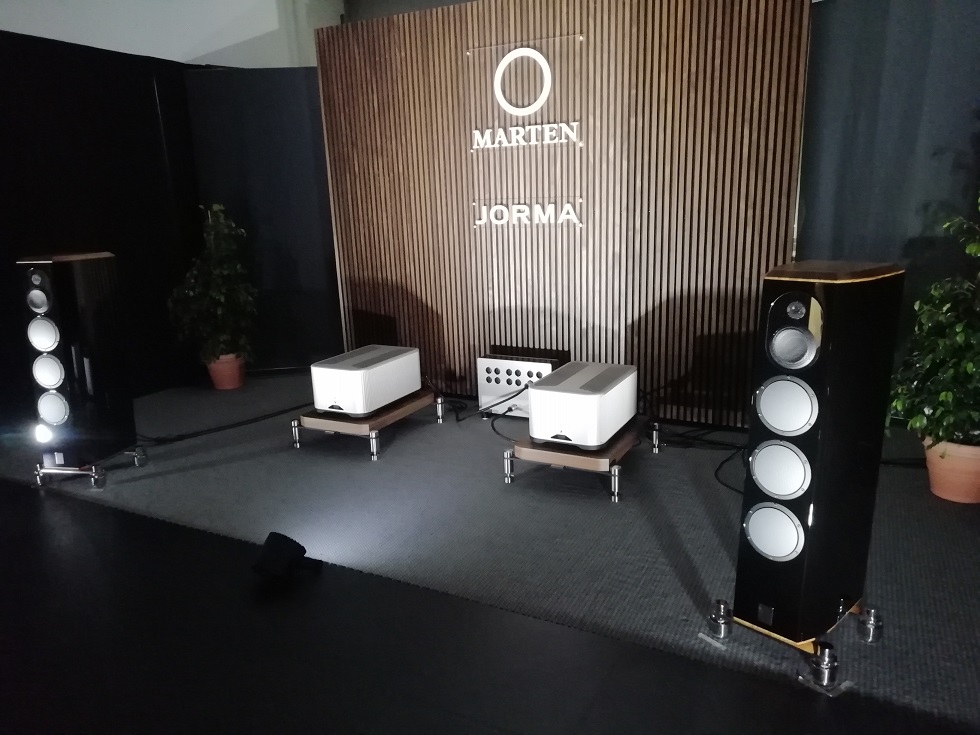 MSB itself setup a big system in their room, where they were driving a pair of Forza by Estelon. Please, forgive me for not having written down the prices; astronomical, anyway.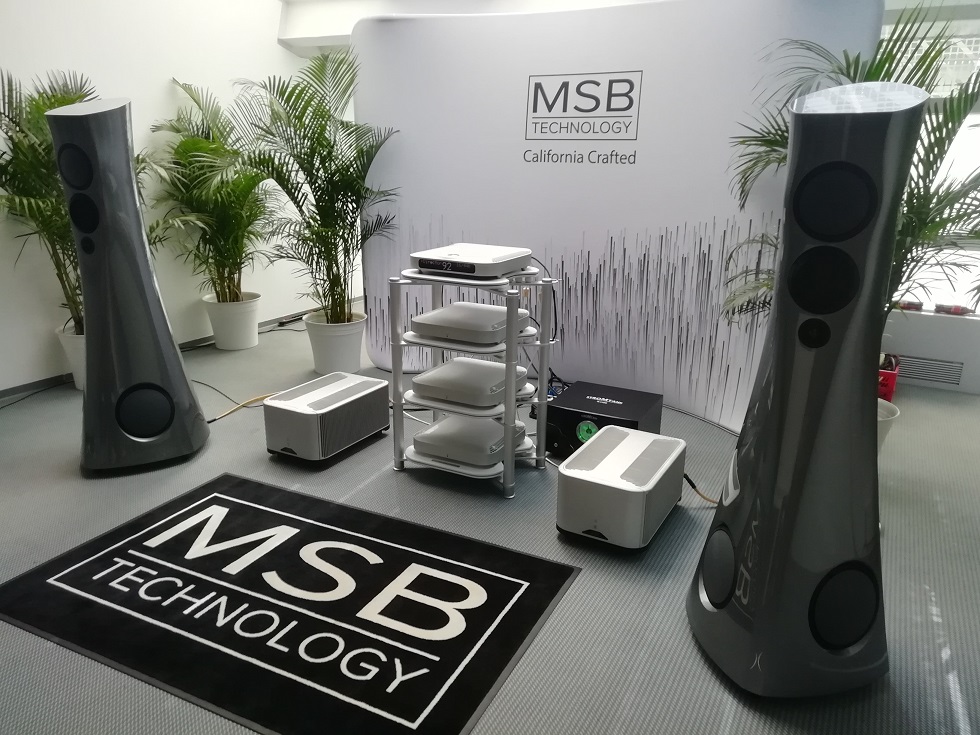 If I didn't misundertand, the big monoblocks were the same used by Marten, the M 500s, whose innards MSB also exhibited.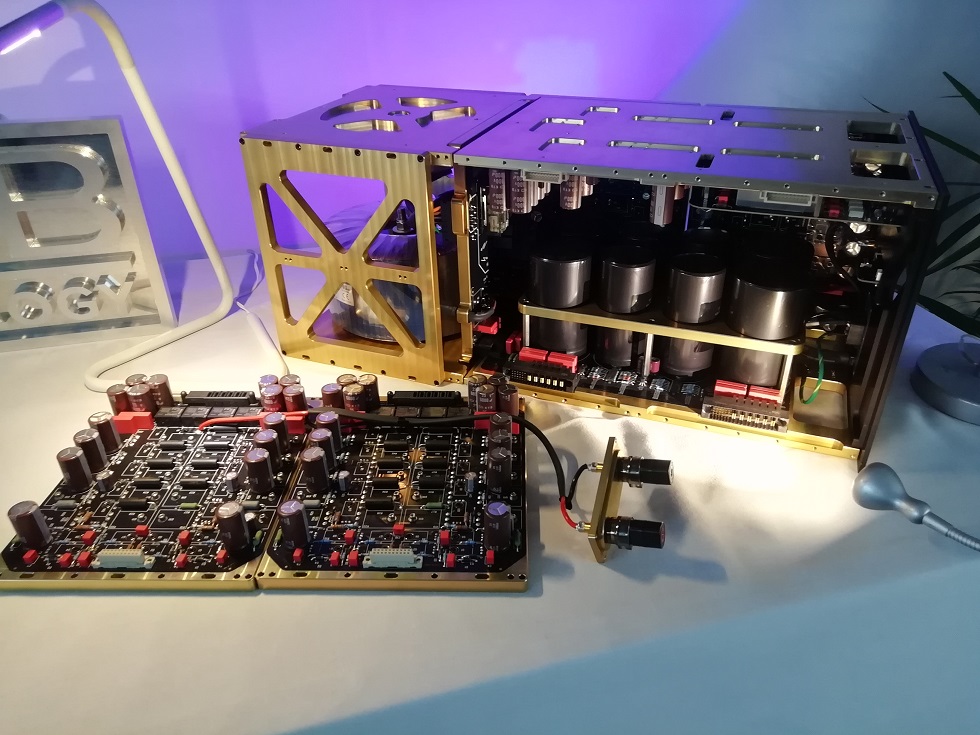 Fyne Audio is a brand that keeps the tradition of Tannoy (from which their founders came) and updates it with new developments.
At the show, this year, they exhibited a nice system at whose end they alternated their F 1-8 standmounters, for about Eur 9.000, and their Vintage 12 "little closets", with a projected price of under Eur 30.000.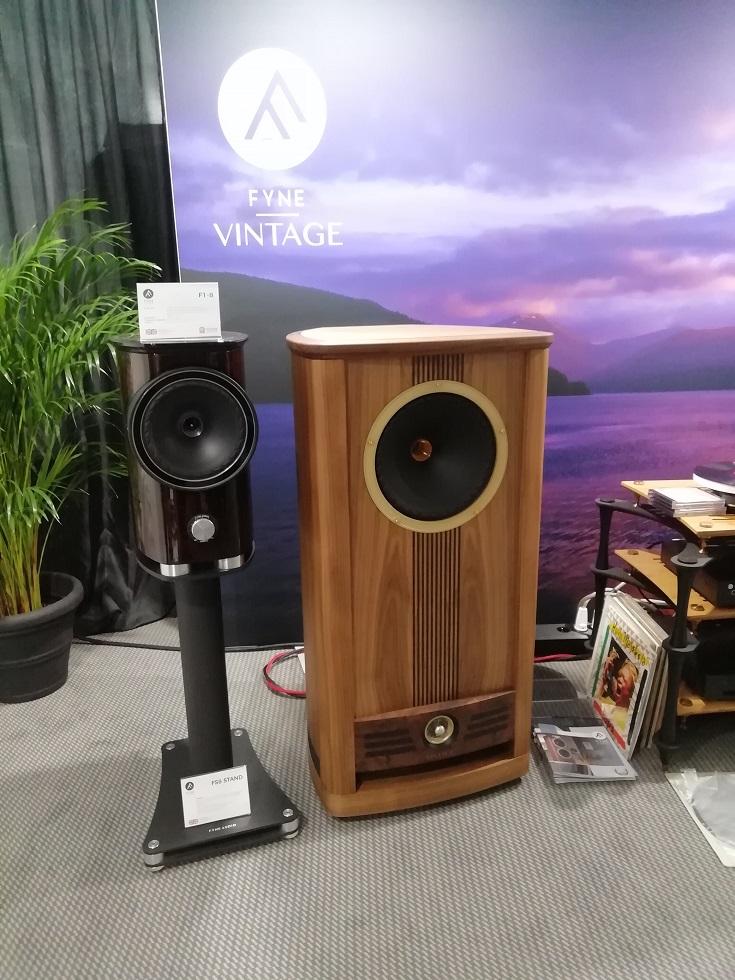 Please, allow me a patriotic shiver for the Unison Research's Performance integrated amplifier used in their system ;-)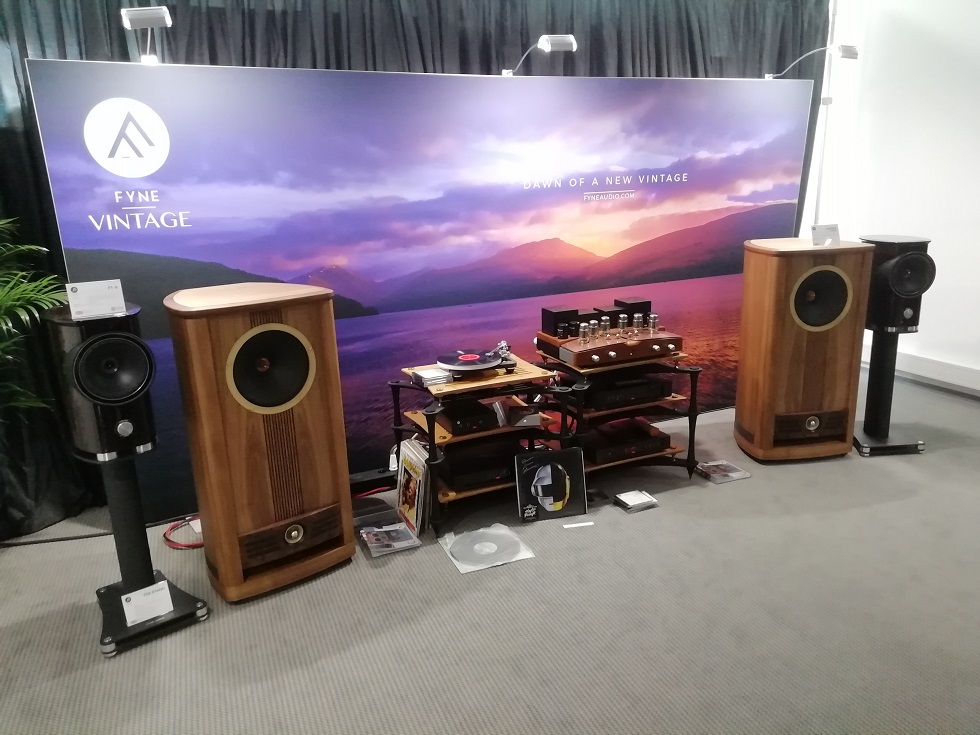 I found the usually good sound in the Living Voice's room, where they were playing their R 25 Anniversary loudspeakers, for UKP 6.050.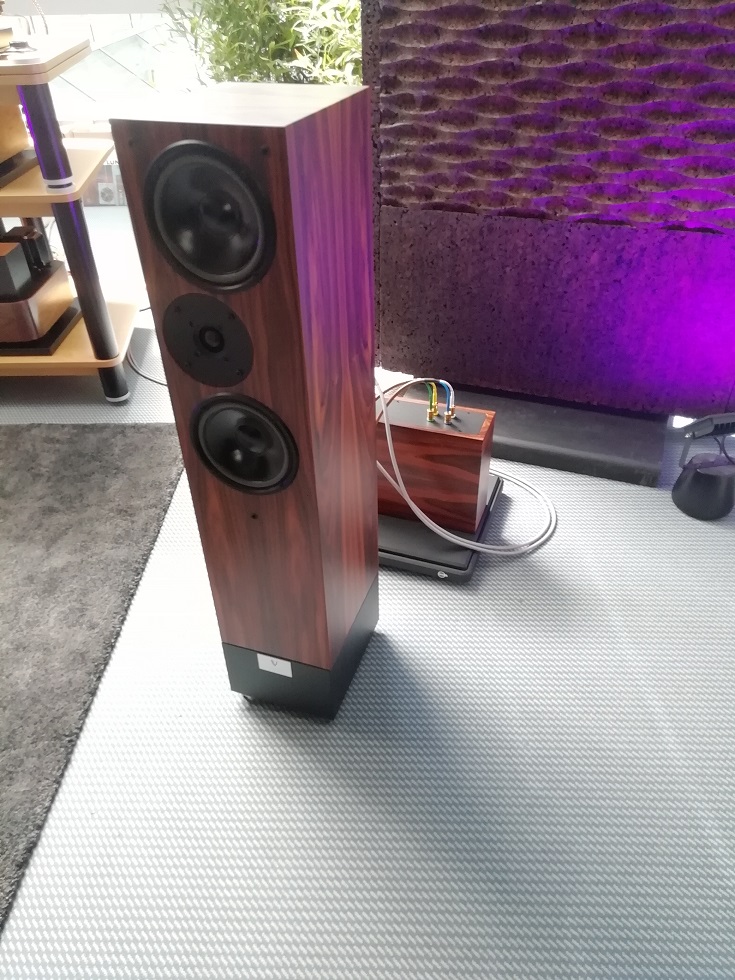 Moreover, I'd like to point you to a Spanish loudspeaker builder who exhibited in the Danish ZenSati's room. It is Lorenzo Audio Labs, from Granada, who, of course, exhibited their flagship loudspeakers. the big LM 1 freestanders.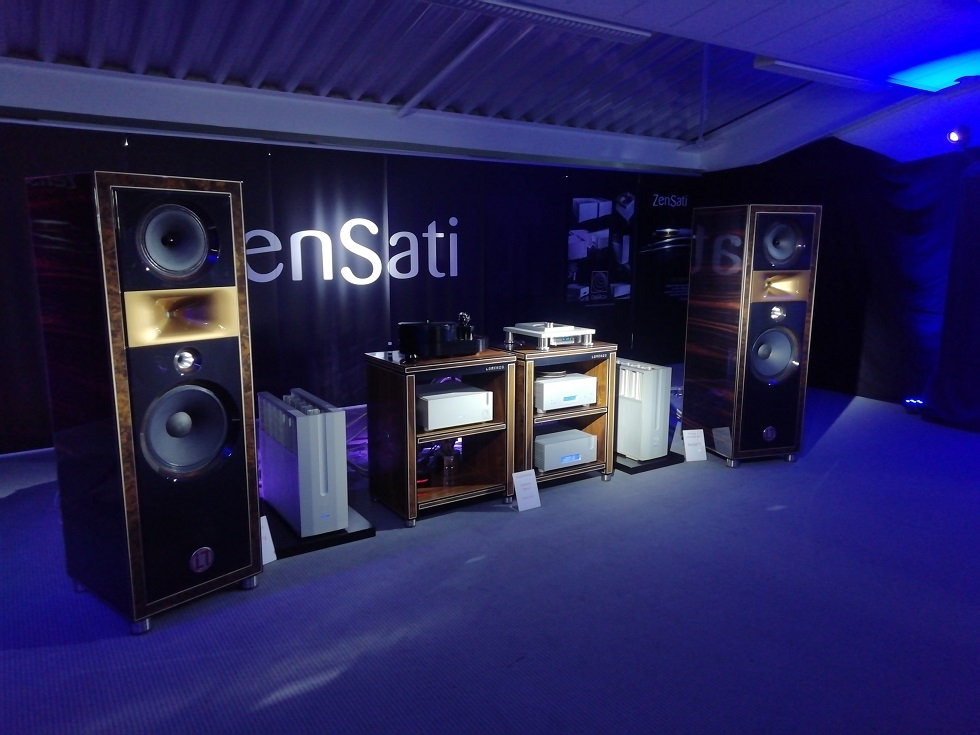 It's a huge loudspeaker, but aesthetically very pleasing, plus I thought the system was playing really well.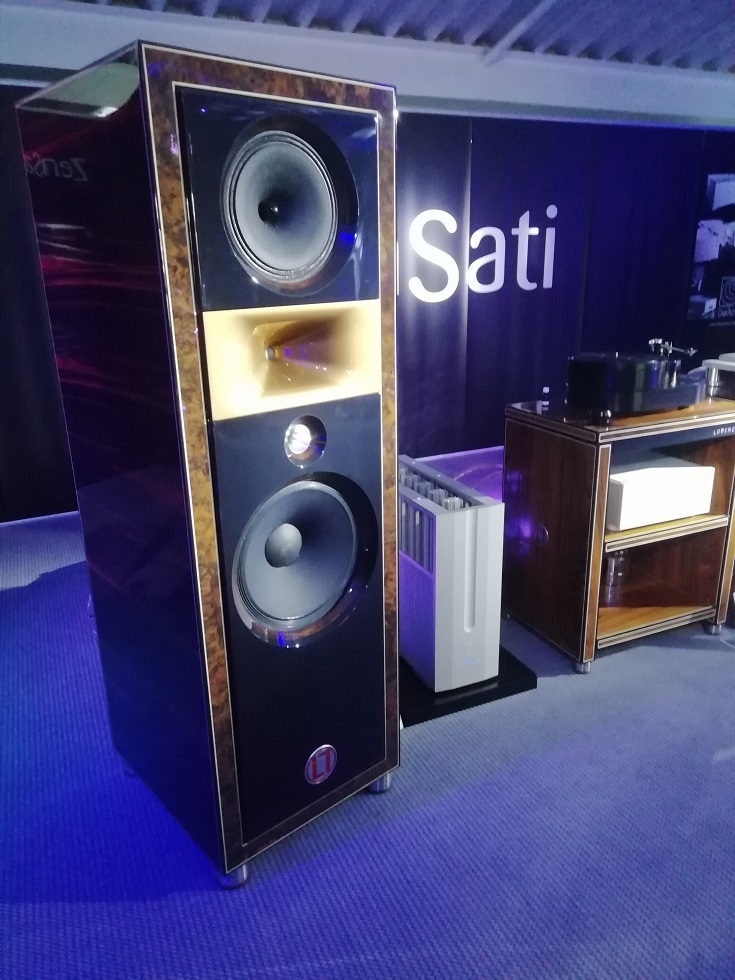 Unfortunately, this company also joins the group of producers that set prices so high that they speak only to very few lucky ones: for this model, they ask Eur 190.000 per pair. This company is direct-selling, if in your area there isn't a local distributor. They also told me they were developing a different, obviously inferior, two-way model, and with a projected price of around Eur 20.000 per pair, always high, but not astronomical anymore.
Let's finish with a voyeuristic anthology :-)
A little bit of Wilson Audio
Here with a VPI source and Dan D'Agostino electronics, for a high bling-factor system :-)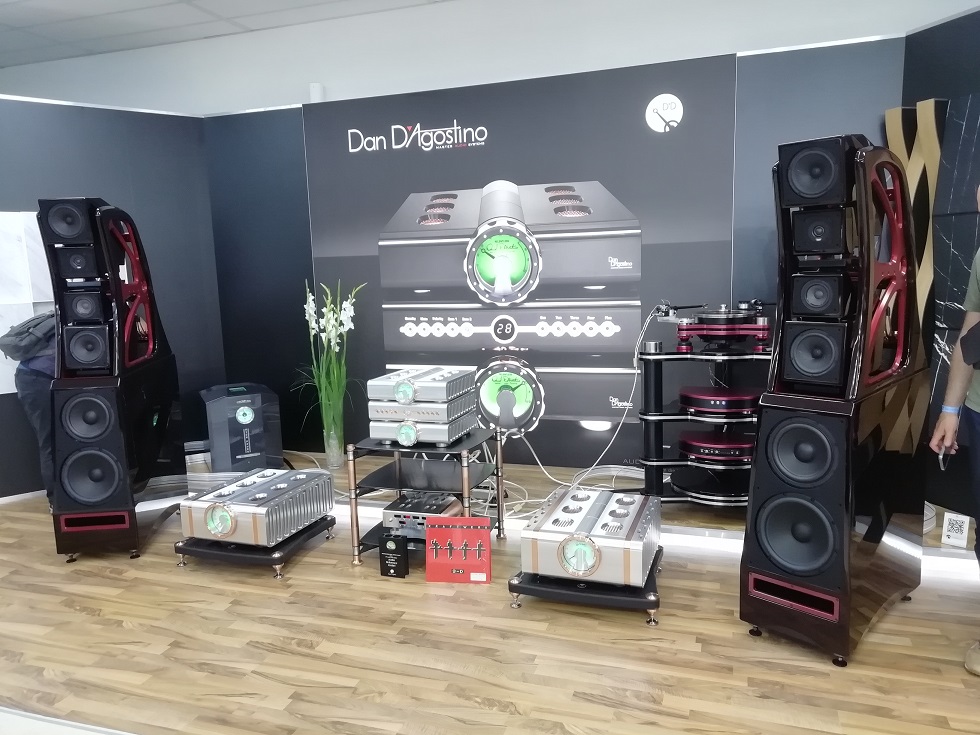 Here is a detail of the Wilson Chronosonic XVX loudspeakers.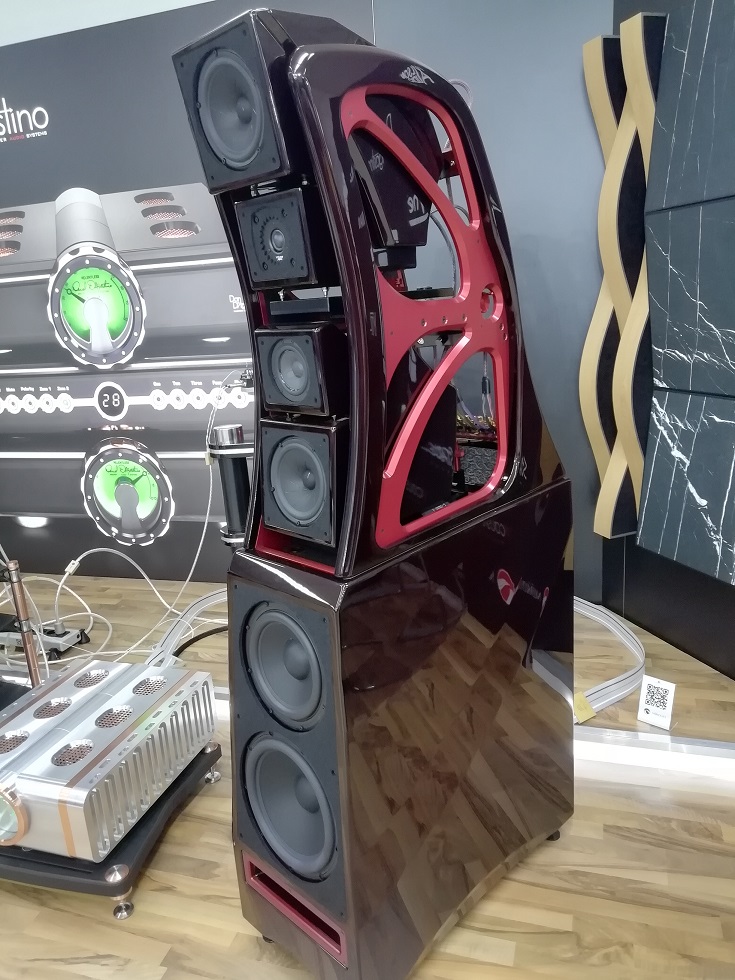 Here we have Wilson, again with a VPI source, but with amplification by Luke Manley's VTL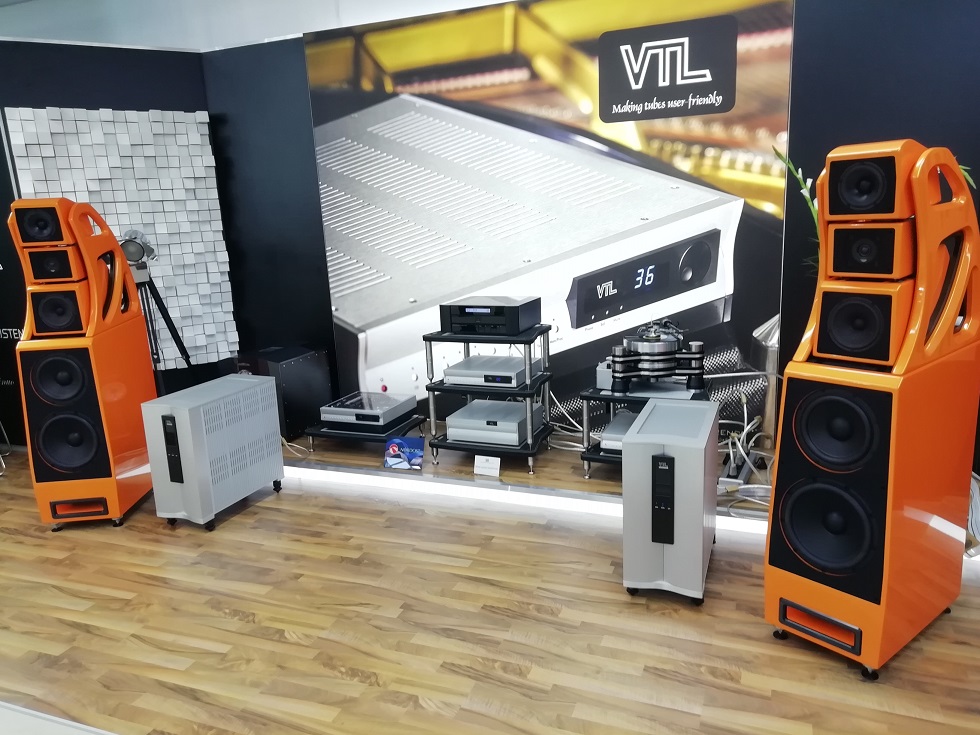 Here is a detail of the Wilson Alexx V with one of the two Sigfried Series II Reference monblocks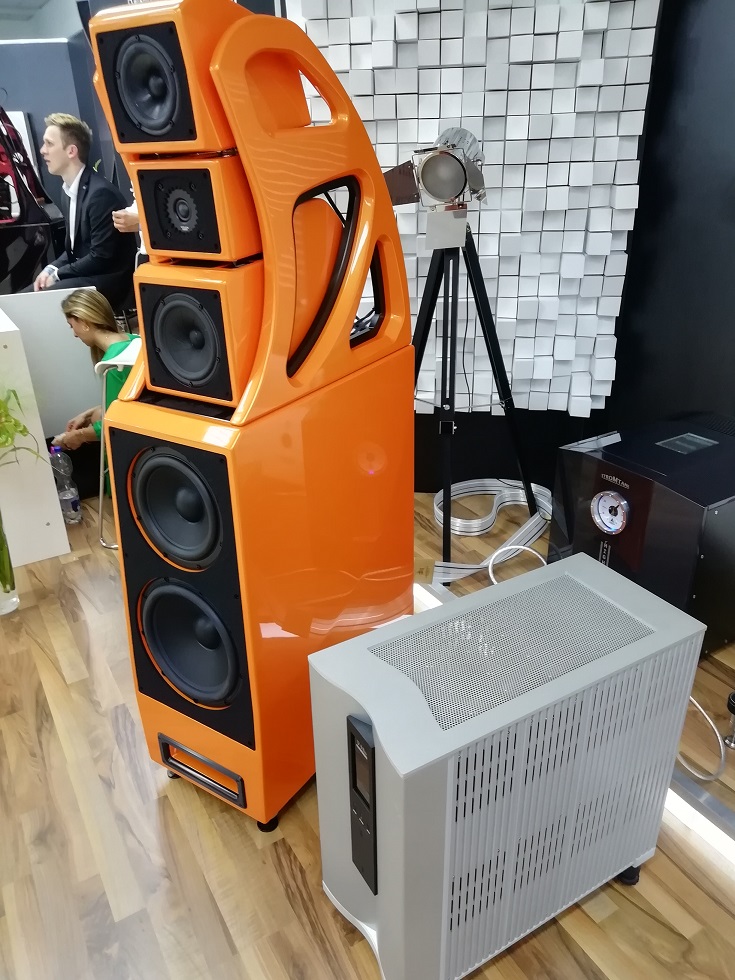 Here they are in a more sober version, with a dCS source and again amplification by Dan D'Agostino.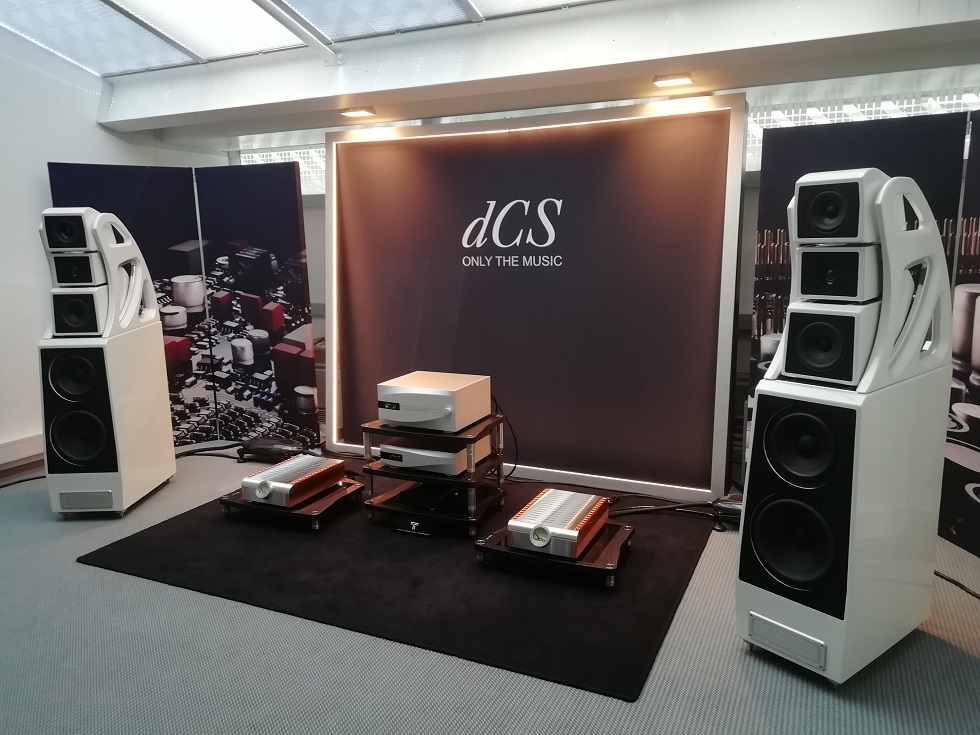 Here you can see a pair of Raidho's D5.1, driven by a powerful battery of electronics by Moon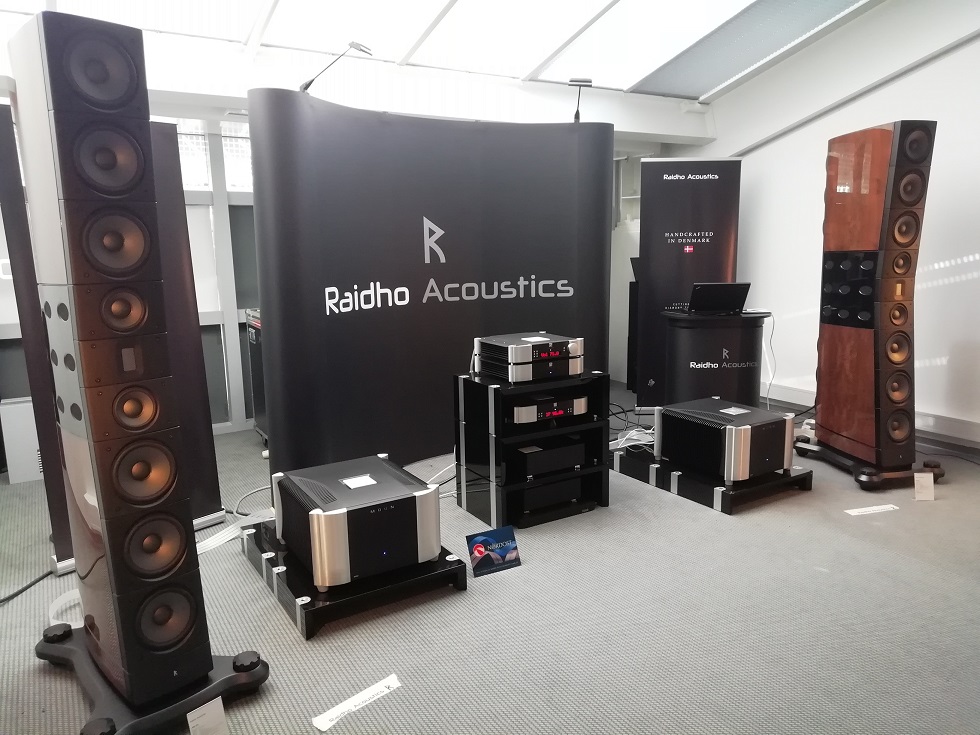 Let me close with Nagra, not only because this year they produced their first turntable that, obviously, could not be anything else than the Nagra Reference Anniversary Turntable,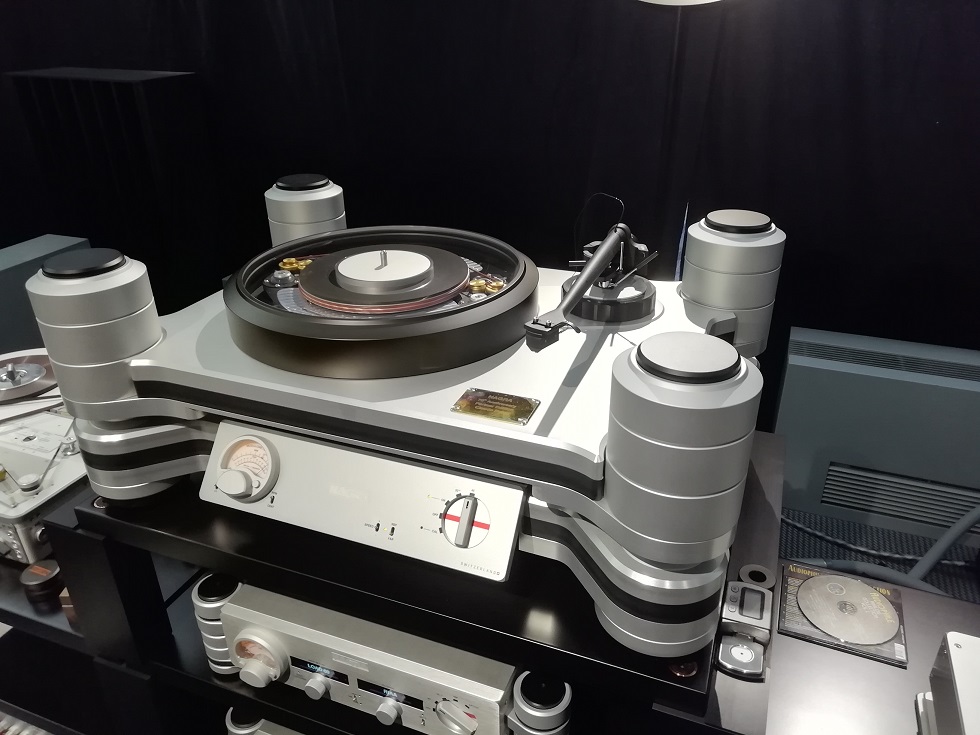 so called to celebrate the seventieth year since their foundation, whose celebration was delayed to this year by the pandemic. Here is a close-up of its driving mechanism.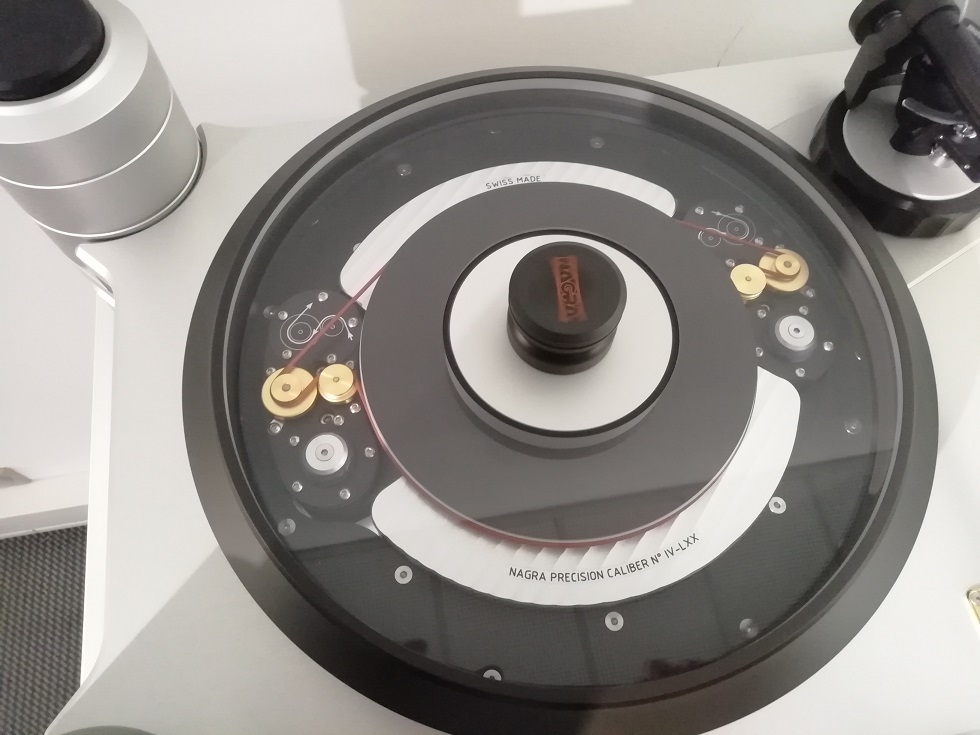 Actually, I'd like to leave you with the Nagra room because there I attended one of the best happenings at the show: the listening session of mother stampers and other rarities brought along by analog guru Michael Fremer (of former TAS fame, then of Stereophile and Analog Planet fame, and now back to TAS and editor of the webzine The Tracking Angle), especially called on duty by Nagra who, for this occasion, set up another "big rig" outside the economic reach of anyone present.
Think to a room stuffed with people nodding while listening at "proper" volume to old rock tracks. We may even have been all old nerds, but it seemed to me that during those short moments a kind of sense of community created, almost like when, during our greener years, we all went to that friend of ours who owned a really good system and listened together to the last LPs we bought...
My picture shows Mr.Fremer overlooking the first rows of the seated youngsters; keep in mind that I shot this picture while standing behind the last row of chairs, but with still many other people behind me...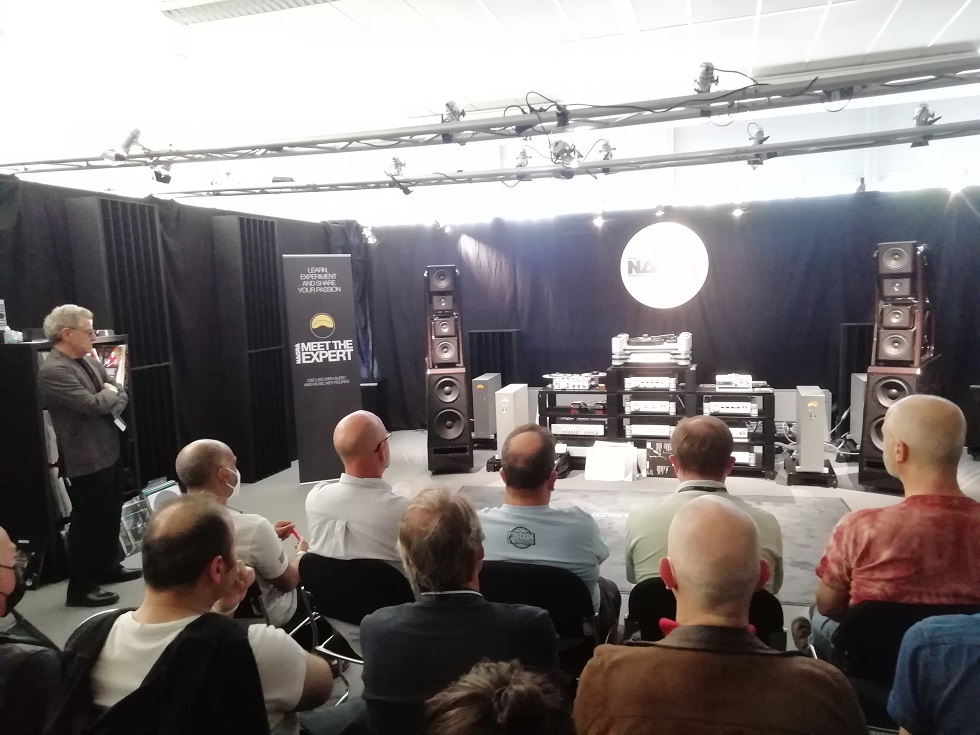 I'd say that, for this edition of the show, we can stop here. Half an year has passed since, as I wrote at the beginning, yet I didn't have major difficulties in completing this long narrative. Maybe it's because it was a hugely anticipated event, maybe it's because for us it's always like a huge toy store, or maybe it's because this year the need for a break was bigger than usual. I don't know. I only know that, as always, I had a lot of fun in attending the show and I hope I have been able to transmit it to you.
I can't help concluding with my usual exhortation to plan a visit to Munich for next spring. Dates are already set: from May, 18th through May 21st, 2023; but keep in mind that the first two days are reserved for trade visitors.
Anyway, Let me write here the link to the first part, to the second part and to the third part.
DISCLAIMER. TNT-Audio is a 100% independent magazine that neither accepts advertising from companies nor requires readers to register or pay for subscriptions. If you wish, you can support our independent reviews via a PayPal donation. After publication of reviews, the authors do not retain samples other than on long-term loan for further evaluation or comparison with later-received gear. Hence, all contents are written free of any "editorial" or "advertising" influence, and all reviews in this publication, positive or negative, reflect the independent opinions of their respective authors. TNT-Audio will publish all manufacturer responses, subject to the reviewer's right to reply in turn.


© Copyright 2023 Carlo Iaccarino - www.tnt-audio.com
[ Home | Staff & Contacts | HiFi Playground | Listening tests | DIY & Tweakings | Music & Books ]