[ Home | Staff & Contacts | DIY & Tweaks | Listening tests | HiFi Playground | Music & Books ]
Joe Jackson - "Body and soul"
Be my number one...
[Italian version]
Artist: Joe Jackson (official site)
Album details: "Body and soul" - 1984 - LP: A&M SP 5000 CD: A&M CD 3286 by A&R Records
Sample under test: Made in Germany
Genre: jazz & pop & latin &...etc.
Approx. price: 10 € (YMMV)
Reviewer: Lucio Cadeddu - TNT Italy
Reviewed: December, 2006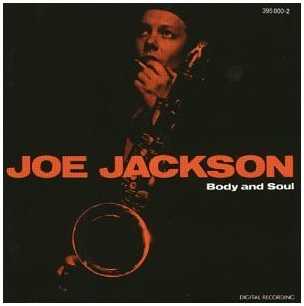 Joe Jackson "Body and soul"
Foreword
Twenty-two years after its first release here I am writing about one of my favourite albums of all times. We reviewed this album back in 2001 (see Scott Faller's review).
I've been a Joe Jackson fan since his very first album ("Look sharp!" 1979) and it is not by coincidence that I decided to cite an excerpt from one of his songs in the "subtitle" of this website (taken from "A slow song", Night and day album, see our Home Page)).
I'm not going to spend many words describing Joe Jackson's Art, just use these adjectives: witty, emotionally and mentally involving, caleidoscopic. His talent touches every aspect of Music: pop, rock, jazz and even Classical ("Night Music", "Will power", "Symphony No.1", "Heaven and Hell" etc.).
Body and soul
Released in 1984, after the worldwide success of "Night and Day" (1982), "Body and soul" was a very ambitious project. Entirely recorded in digital with 3M 32 and 4-track machines, this album took a long time to make. For example, the choice of a "good" music hall where to record the album was long and difficult. Finally an ancient Masonic Lodge used by Vanguard studios for classical recordings was chosen for its natural and "lively" acoustics.
Every attempt was made to pick up the sound and the live ambience of the hall. In "Be my number two", perhaps the most inspired track of the album, only a pair of vintage Neumann M-50 microphones was used to pick up Joe's voice and piano. The whole band was then close-miked to balance every instrument carefully and preserve, at the same time, the "ambience" of the stone-and-wood hall.
Joe Jackson has always paid great attention to the quality of his albums, even from a strictly technical point of view. Not surprisingly, many of his albums are still used as "references" by many audiophiles.
"Body and soul" is a real masterpiece, musically and technically. The witty mixture of jazz flavours, rock energy and latin rhythms is something too tasty to be missed. The album contains also an instant hit as "You can't get what you want (till you know what you want)" that is not hard to hear, from time to time, even nowadays on FM.
From a strictly "audiophile" point of view this album is a must-have. First of all, it is one of the few pop/rock albums that contain a real 3D soundstage. You can distinctly hear the sound of the Masonic Lodge, especially on tracks like "The Verdict" and the already cited "Be my number two". This is quite rare as, normally, electrified Music sounds geometrically "flat" or artificially 3-dimensional.
Then you have Earth-shaking dynamics. Take the finale of "Be my number two" as an example: the song is mainly based on voice and piano but when it approaches the finale the whole band explodes literally, with thunderous drums and horns...it is hard, for any HiFi system, to fully reproduce this terrific dynamic jump without compression or distortion. The amount of energy required to the amplifier is simply HUGE.
Another perfect example of "full bodied" drums can be heard in the opening track "The verdict" while an irresistible, precise, powerful and articulated bass groove can be enjoyed during "You can't get what you want". This is one of the tracks that should be listened at hilariously high volume. Make your neighbourhoods dance with you! :-)
One note about Joe's voice: it is always been difficult to reproduce but "Body and soul" is one of the best ways to fully enjoy it: expressive, powerful, sometimes harsh...your HiFi system should be able to follow all of his "inflections" without distortion.
This album is/was available both on LP and CD (I own both) and, guess what, the vinyl release sounds way better: fuller, more dynamic and groovy. Even the 3D image is wider and more realistic. The bass lines are fuller, deeper and better articulated. On CD they sound a bit more dry and sterile.
I know this may sound weird, considering the original master tape was fully digital, but don't ask me why vinyl sounds better. It simply does that :-)
I'm pretty sure vinyl copies of "Body and soul" are becoming rare and are available only on the second-hand market. On Ebay there are several copies of "Body and Soul" on vinyl and prices range from 5 to 15$. Choose carefully the item to bid on, as second-hand LPs can be damaged by worn out sylii or wrong tracking weights.
If you can find a decent one, buy it, you won't regret every cent spent on it. Otherwise, even the CD release is fine. A remastered version has been released in 1997 (UK) but I haven't had the possibility to audition it, so I can't compare this to the original one or to the vinyl one.
Conclusion
Despite the fact 22 years passed this album is still among my favourites when I have to test some HiFi component. I can't remember how many times I've played this record (CD and LP) but I truly enjoy it every time as it was the first time. Instead of using those boring test records, "Body and soul" is an extremely pleasant way to test HiFi.
Highly recommended.
Addendum (on remastered version)
Hi Lucio,
in your review you write that you haven't heard the remastered 1997 version. Consider yourself lucky ...
I have had this album for years on tape and have bought the remastered version last week. It sounds horrible. Loud, compressed and too much (distorted) treble energy. In my memory, the tape (recorded from LP on a Nakamichi 482) was much better. Today I was able to buy a used original Body&Soul CD, which is MUCH better. I have attached an image of the whole album's wave files. Compression (and clipping, if you zoom in) are clearly visible.
So: beware of the remastered edition from 1997! Needless to say that this is a real shame because the original is great music with excellent sound quality.
Kind Regards,
Thomas - E-mail: thomas.ludwig (at) min.uni-heidelberg.de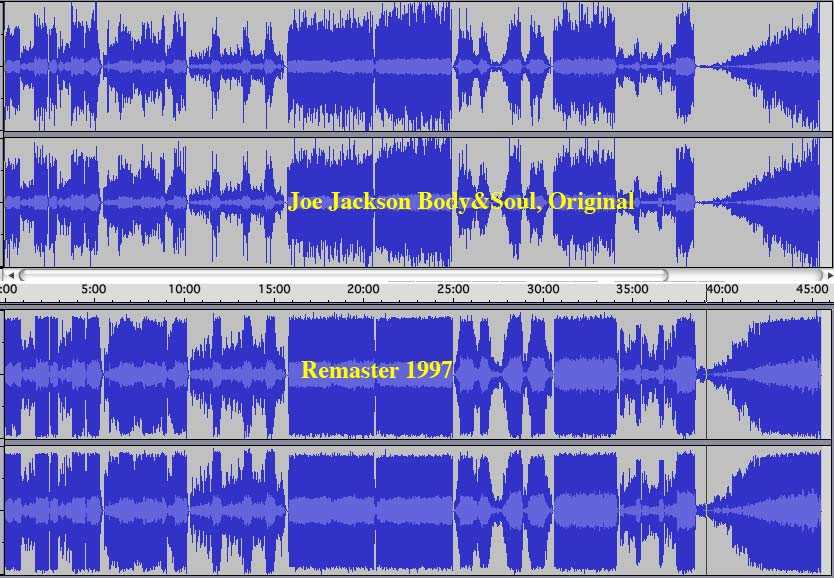 © Copyright 2006-2008 Lucio Cadeddu - www.tnt-audio.com
[ Home | Staff & Contacts | DIY & Tweaks | Listening tests | HiFi Playground | Music & Books ]