[ Home | Staff & Contacts | HiFi Playground | Listening tests | DIY & Tweakings | Music & Books ]
Emma Shapplin - "Carmine Meo"
À la frontière du rève (at the border of a dream)
[Italian version]
Artist: Emma Shapplin (official site)
Album details: "Carmine Meo" - 1997 - 823 - 838 2 by Pendragon Records - EMI Music
Sample under test: Made in Holland
Genre: opera + new wave + pop-rock (?)
Approx. price: 9-15 € (YMMV)
Reviewer: Lucio Cadeddu - TNT Italy
Reviewed: January, 2005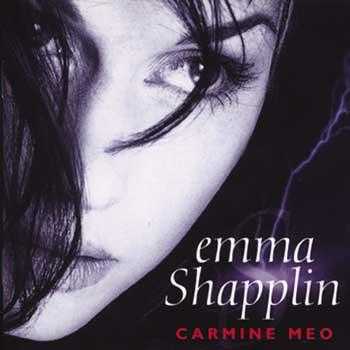 Emma Shapplin "Carmine Meo"
Foreword
You should be used to our "think different" approach. Our audiophile records section is crowded with unusual proposals, from Blue Man Group to Prodigy, Rage against the machine, Ozric Tentacles and many others. We're proud to be different. We park diagonally in a parallel Universe :-)
Simply put, we love all kinds of Music and we believe a good HiFi system should be "fed" with everything: Classical, Opera, Folk, Pop, Rock, Metal, Hip Hop, Jazz, Ethnic...just eveything!
During the years we have developed a kind of allergy to standard audiophile recordings: boring as hell, most of the times, it is hard to go beyond Track 2 without yawning.
If we really want to attract new "addicts" to this hobby we need to speak a different language. Teenagers do not listen (normally) to Classical, Jazz or Opera, right? Aaaaah, that word! "Opera"!!! Certainly one of the most "difficult" musical genres one can think of. Outside theaters, operas can really be painful to understand, especially for first-timers.
Hence, let TNT-Audio lend a hand :-) If youngsters stay far from opera let's bring Opera and Bel Canto closer to them. Let's use a language they can understand. What about a kind of crossover between opera and new wave/pop-rock? Sounds too extreme? Think again. The record I'm about to "evaluate" is a brilliant example that "extreme" crossovers can be meaningful and fun. Opera "die-hard" nuts please read carefully, without prejudice. In any case, I beg your pardon in advance :-)
Carmine Meo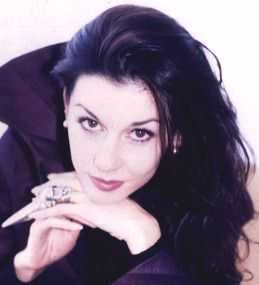 Emma Shapplin (a.k.a Marie-Ange Chapelain) isn't exactly what one expects an opera singer to be. She is an extremely nice (and sexy, dare I say this) French mademoiselle. Oui, that kind of irresistible beauty you normally see at a French or Italian Haute-Couture defilee.
Incidentally, Emma Shapplin studied Bel canto, met a pop-rock composer (Jean-Patrick CapdeVille) and issued a record that sold something like 2 million copies worldwide. How does it sound? Extreme enough? She is a soprano, though she won't describe herself as an "opera singer". She is well aware to lack some kind of formal perfection required to professional sopranos.
Nonetheless, her voice is charming, sensual and evocative...and this is absolutely sufficient for our purposes.
Carmine Meo is a very strange album: imagine 12 tracks (songs?) with ancient 14th-century Italian texts sung among modern Music atmospheres. Got it? No? Well, I'll try to help a little bit more. Before you make a (big) mistake, Emma Shapplin isn't a female version of Andrea Boccelli. And no, she isn't anywhere near a kind of "Rondò Veneziano" arias, that unusual mixture of pop-rock and Vivaldi you may have heard during the Eighties when travelling in Italy.
In some sense, it is hard to label Carmine Meo songs as...Pop Music. Actually, they are much more than that. First of all, besides bass, drums and samples (ehm...yes!) only traditional and "classical" instruments have been used: a small orchestra and even a real choir ("Choeur Francais d'opera", directed by Mariana Yotova). Then, not every track contains a rythmic section. The title track, for example, is a piece for piano, voice and orchestra.
Furthermore, one of the most inspired tracks of the album "...reprendo mai pił" is a piece for piano solo and Emma's voice. Still orchestral (plus choir and voice) is "Miserere, Venere", the track that closes the album.
The "intro" and "outro" tracks contain excerpts from the famous Francesco Petrarca's "Il Canzoniere", nicely mixed with electronic samples.
So, why did I label it as "opera-new wave"? Well, actually the "atmoshpere" of the entire album is new-wave-ish, "dark" and obscure, filled with pathos. If you are used to some of the "darkest" albums by The Cure, Cocteau Twins and This Mortal Coil you'll find this "Carmine Meo" extremely familiar.
Indeed, the first time I listened to it I had the precise feeling I already knew it. Something that was buzzing in my head ever since. Something pumping in my veins since my early days. "Carmine Meo" is a journey, a kind of an emotional trip. It is like one of your strangest dreams, those where everything seems absurd and still perfectly at the right place, at the right time. If you "click in" with the mood, you'll become addicted. Otherwise, you'll tend to steer away from it, quickly.
Musically, it is an exciting experience. Music by Jean CapdeVille (mostly), texts by Emma Shapplin (in French, then translated into ancient Italian by medioeval experts).
Anyway, this album isn't here because it "just" represents a bridge between Opera and modern Music. It is here mostly because it is an EXCELLENT recording. Especially with respect to certain "audio" parameters, it can be considered a perfect test disc. I use it to critically evaluate voices (female and choirs) and 3D imaging. Yes, despite the fact this recording is absolutely artificial (studio-made), it creates a stunningly good 3D soundstage, of incredible depth. Then, it is so "crowded" with effects, samples, dubbings etc. that it appears like a "treasure" one can discover little by little, listening after listening.
Among tracks, various fancy samples and natural noises have been added (wind, water etc.): this helps creating a very natural atmosphere that literally "surrounds" the listener. Also, it is so "rich" in details that you may find yourself discovering new "things" even after 100 listenings.
Speaking of 3D stage I notice the singer is placed centrally, is very stable and of natural height. The orchestra is well behind her, spread from left to right, well beyond speakers' area.
Undoubtedly this recording has been created "around" Emma's voice. Her tonal and dynamic variations can represent a real mine field for any amplifier and loudspeaker. Especially the aforementioned "...reprendo mai pił" is a killer track with piano and voice solo. Your system should be able to cope with the dynamic demands without adding distortion or harshness. This track made the T-Amp distort even at very moderate listening levels, because of the extremely high dynamic "jumps".
The voice appears to be closely miked so you should be able to hear every detail: Emma's breath, the opening of her lips etc. Also, you should be able to detect, especially on this track, the echoes of her voice crowding the recording studio.
Finally, you have some decent bass: deep, fast and articulated...it should add a lot of "pathos" to the atmosphere of the album. Drums aren't perfect, though. They're a bit dry from time to time and not 100% natural.
Conclusion
Perhaps you were already aware of this album. After all, it sold 2 million copies worldwide. And yes, I know there's also a more recent album published by Emma Shapplin and titled "Etterna" (2002), more or less of the same kind, perhaps a little bit "fresher" in terms of atmosphere. Audio samples can be downloaded from the official website.
One of the reasons why I'm suggesting this "old" one is because, being released in 1997, it can be found for few bucks almost everywhere. In Italy, for example, it can be found for less than 10 € (your mileage may vary, as usual).
Artistically questionable, perhaps (but, God, do I love it!) this album is technically intriguing. An inexpensive alternative to audiophile recordings, if you wish.
© Copyright 2005 Lucio Cadeddu - www.tnt-audio.com
[ Home | Staff & Contacts | HiFi Playground | Listening tests | DIY & Tweakings | Music & Books ]