[ Home | Staff & Contacts | HiFi Playground | Listening tests | DIY & Tweakings | Music & Books ]
Hail, Hail Rock'n'Roll
Chuck Berry 1926-2017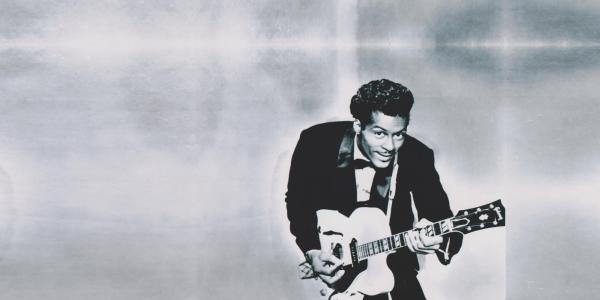 [Italian version here]
Published: March, 2017
Author: Andy Norman - TNT UK

The demise of the first generation of rock and rock and roll heroes continued on March 18th this year with the death, at 90 years of age, of the first great guitar hero - Chuck Berry.
With his red Gibson semi-acoustic and a handful of catchy licks, Berry pretty much invented rock and roll guitar. He melded blues and early rock and roll with country music to generate instantly accessible and memorable licks that lit up the late 1950s. With Bo Diddley, he was amongst the first rock and roll artists to use guitar solos as a major feature of his performances, and this, coupled with his famous duckwalk, helped pave the way for the extravagant guitar soloists of the 1960s and 70s.
Chuck Berry was born in 1926 in St Louis and had a colourful life before he moved into music. He was convicted of armed robbery at the age of 17 while on a youthful road trip to California with friends, and served three years in a reform school as a result. Returning to St Louis he helped out in his father's building firm and trained as a hairdresser as well as working as a part time photographer and a janitor at a car factory.
He had been introduced to music as a child, like many musicians of his era, by singing in the church choir from an early age. He picked up the guitar at school but took it up seriously in 1951 when he was invited to join a local band. He was performing regularly by 1955 when he met Muddy Waters on a trip to Chicago and Waters introduced him to Chess Records. Although Berry expected Chess to be interested in his blues repertoire, it was the livelier, country tinged sound that caught the ear of Leonard Chess. His first single, "Maybelline" was released in 1955 and it sold over a million copies taking it quickly to number one on the R&B charts and number five in the pop charts.
The rest of the 1950s was a golden time for Berry's creativity. He released a continuous stream of classic singles including the classics "Roll Over Beethoven" and, the ultimate expression of early guitar heroism, "Johnny B Goode".
Berry faced another period in prison in 1962 and 1963 following a conviction for sex with an under-age girl. On his release, he more or less picked up where he'd left off, with "No Particular Place to Go" and "You Never Can Tell" being stand-out recordings from that period.
The early sixties were pretty much the end of Berry's worthwhile original recordings. He continued touring regularly though, usually with locally hired musicians (and reputedly insisting on cash payment) and a number of live albums, of various quality, were released through the late sixties and early 1970s. In 1972 he had his only international number one hit with the novelty record "My Ding a Ling" which extended his popularity even at the expense of his musical credibility. In 1977 however, "Johnny B Goode" was immortalised by being included on a gold record sent into space on the Voyager space mission - as an example of best that earth's culture has to offer the universe! Then, as the 1970s drew to a close, he spent a third term in prison – this time four months for tax evasion.
Following years on the nostalgia circuit, Berry's reputation was restored somewhat through the 1987 film and live album "Hail Hail Rock 'n' Roll" featuring duets with Robert Cray and Eric Clapton, Linda Rondstadt and Etta James. This is by far the most listenable of his recordings since the early rock and roll days and a good starting point for anyone who wants to delve further than the dozens of 'greatest hits' albums that endlessly recycled his early work.
In his later years', Berry returned to performing locally in St. Louis where he played at the Blueberry Hill Restaurant and Bar, once a month from 1996 to 2014. And as his life drew to a close he returned again to the recording studio and has produced an album to be released posthumously. The single, "Big Boys", already released from that, suggests that it may prove to be a suitable finale to a classic rock n roll life.

Copyright 2017 Andy Norman - andy@tnt-audio.com - www.tnt-audio.com
[ Home | Staff & Contacts | HiFi Playground | Listening tests | DIY & Tweakings | Music & Books ]