[ Home | Staff & Contacts | HiFi Playground | Listening tests | DIY & Tweakings | Music & Books ]
Ella Fitzgerald sings the George and Ira Gershwin Songbook
[Italian version]
Artist: Ella Fitzgerald
Title: Ella Fitzgerald sings the George and Ira Gershwin Songbook
Genre: Jazz-big band
Edition: Verve Records, U.S.A.
Code: MG VS-6077 B
Medium: Box set of five black vinyl 180g records plus one 7" single format
Author: Mattia Bellinzona - TNT Germany
Reviewed: June, 2004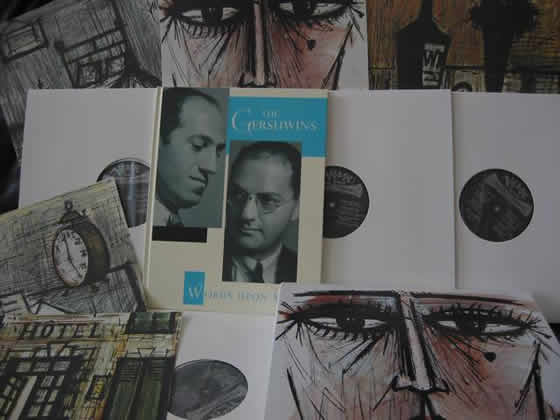 The presentation is very appealing. It contains five records of normal size plus a smaller one and includes a book with many pictures as well as descriptions of each song. The product is well designed and carefully manufactured. It could be used as a gift of some importance.
The predominantly white colour is not exactly exciting. The book included is very elegant; it has several illustrations and provides rich information about the songs, the authors and their lives. In my opinion, a more traditional description of the life and the activity of Gershwin would have been preferable, in order to help those who do not know much about Gershwin and Fitzgerald. The book, however, is well written and the graphic layout is excellent.
The box opens up like a book. Therefore, if you want to keep the records inside it, you have to open the "book" every time. I suppose that many people will choose to keep the records out of the box with their cover only. This is white and fairly stiff, with a window showing the titles of the songs recorded on one side of the record. The record is in a second semi-rigid cover, with a plastic sheet inside. The solution looks very elegant but it is all in white without any information. It is impossible to see the contents when the records are on the shelves. Using different colours and/or printing some information would make the product easier to use. As an example of a different approach, you can look at "Echoes" by Pink Floyd .
The Music
Here there are no surprises. The songs are well known and the singer as well. However, this is certainly not the reason for deciding to purchase or not to purchase the product. I simply mean that the potential buyer should not assume there is something new or revolutionary in this collection, the recordings, the mixing or whatsoever. If you like this type of music and these performers you will like this box set. If you are looking for something "different", like a remastering of some "original" versions ("naked"), then you should buy something else.
Vinyl quality is very good, no background noise, no waves, just rock solid 180g heavy black vinyl. The use of 180 g is no guarantee of quality but everything here looks, feels and sounds audiophile.
Recording quality is generally outstanding but some songs are better than others. Analogue background noise is mostly absent, but in a few cases quite audible. Ella's voice is well reproduced, although sometimes a little "darker" that usual. Articulation and focusing are excellent. The soundstage is balanced and well developed in three dimensions. Bass is good to outstanding, always well controlled. Instruments are in focus and stay in focus (no "trembling").
Some songs deserve special attention. Just compare Ella's version of "It is wonderful" with the recent Diana Krall version. Some CD maniacs will be surprised about what comes out of the black grooves. "The man I love" allows you to focus your ears on Ella's voice, simply irresistible. "Slap that bass" will gently slap your woofers.
Is it audiophile? Yes, indeed. Fantastic performers in excellent recordings. Good dynamic range, great soundstage and focusing. Voice recording is sometimes "better than live" and vinyl quality is also very good. This is a chance to hear great music at its best.
The audiophile value of this recording is the possibility to hear a truly great orchestra together with a solo voice of outstanding quality. Therefore you can test your equipment as it reproduces a female voice with enormous extension. Although the orchestra does not have the same size in all recordings you can appreciate the performance of different instruments, their sound and dynamics, as well as a large soundstage. The nature of such music does not include dynamic extremes (such as gunshots, drums, amplified instruments) but this recording can be reproduced (and sounds good) at any volume.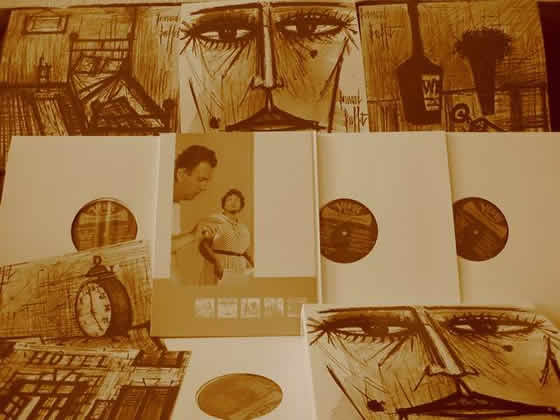 Conclusion

We have here a great product and a wonderful, timeless music collection. The "big band plus soloist" format, Ella Fitzgerald's interpretation ability, the repertoire and the recording level make this album an outstanding product. This is a living object, not a melancholic collection. Definitely, I am not a necrophile.
The cost is certainly in line with an "audiophile" level product. In Germany, the price for the six records ranges from €130 to €180. A fair price, in my opinion.
© Copyright 2004 Mattia Bellinzona - www.tnt-audio.com
Translation supervisor: Andrew Brown
[ Home | Staff & Contacts | HiFi Playground | Listening tests | DIY & Tweakings | Music & Books ]