[ Home | Staff & Contacts | DIY & Tweaks | Listening tests | HiFi Playground | Music & Books ]
Markus Schwartz and Lakou Brooklyn - "Equinox"
Uncompressed Haitian jazz
[Italian version]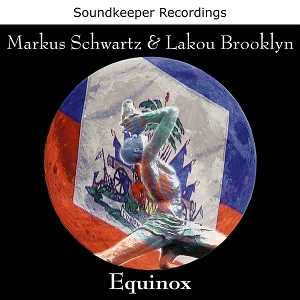 Equinox
Artists: Markus Schwartz and Lakou Brooklyn
Album details: CD "Equinox" - 2010 - by Soundkeeper Recordings
Sample under test: Made in the USA
Genre: jazz
Price: 15$. It can be purchased directly at Soundkeeper Recordings (there you can also download free MP3 samples)
Reviewers: Nick Whetstone & Lucio Cadeddu
Reviewed: December, 2010
Foreword
Our editor, Mr Cadeddu, had already reviewed a Soundkeeper recording back in 2007 (Work of Art's "Lift") but this was my first experience of one of their recordings. Having been offered a choice of formats, I chose a standard CD. It's all well and good to review the higher resolution formats but most of us still use the CD format for the vast majority of our listening and I wanted to audition the album supplied in that context.
There's not much point in repeating the details about Soundkeeper Recordings, or Barry Diament who runs the organisation. As regards the album, it would fall into the 'World' genre, and is a meeting of jazz and Haitian styles. Some of the music and particularly the rhythms reminded me of music from Africa, and in particular Mali. I found myself drawn right into the music on the first play, and my foot was soon tapping away. For the less adventurous, I would say give this album a go. It's not difficult to like or enjoy.
The tracks are mainly traditional Haitan music, arranged by Markus Schwartz, although the title track was written by John Coltrane. Some tracks use very traditional instruments such as the conch shell, while less conventional items like a recycled car leaf-spring can also be heard. Double bass, trumpet and guitars also feature on most tracks, as well as the inspirational percussion of Mr Schwartz
But it's the recording itself that is most on trial in a review on a hi-fi site such as TNT. Using their standard method of recording, something that they call "recording sound without a net", Soundkeeper recordings produce music that is as unprocessed as it can be for recorded music. Using only two microphones, the music is recorded live, in one take. There is no post-processing to alter anything, you get to hear how it sounded while it was being performed in the studio. It is simple stereo but done perfectly.
For me, not only does this method of recording result in a very accurate portrayal of the music and instruments, but it gives the music a sort of intimacy that I hardly ever notice with more processed recordings. Quite often while I am listening to music, I think as well. The Equinox CD ran right the way through on a couple of occasions that I played it with hardly a thought entering my head. Almost trance-like I suppose, and all the more enjoyable for it.
Great recording, excellent performance, and fascinating music. Highly recommended, and at only 15 US dollars for the CD, quite affordable.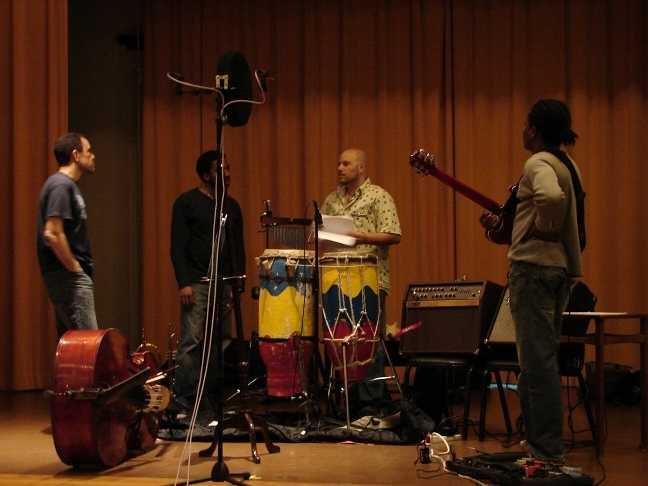 Markus Schwartz and Lakou Brooklyn on stage with mics!
Here's the screenshot of the DR software applied to this recording. I remind you the DR software measures the amount of (average) dynamics contained in a recording, for more details please refer to our list of records analyzed via this software.

----------------------------------------------------------------------------------------------
 DR   	   Peak     	   RMS      	 Filename
----------------------------------------------------------------------------------------------

 DR17	  -0.45 dB	 -20.85 dB	 Track01.wav
 DR15	  -6.02 dB	 -23.99 dB	 Track02.wav
 DR16	  -0.36 dB	 -20.65 dB	 Track03.wav
 DR16	  -8.10 dB	 -26.21 dB	 Track04.wav
 DR16	  -0.36 dB	 -21.64 dB	 Track05.wav
 DR18	  -0.31 dB	 -20.48 dB	 Track06.wav
----------------------------------------------------------------------------------------------
 Number of files:    6
 Official DR value:  DR16 
==============================================================================================

Even according to the DR software this is an excellent recording, with a HUGE dynamic range. For this reason the CD booklet contains a bold warning that reads as follows: Please use caution in setting playback volume in order to avoid equipment damage resulting from too loud a signal during the musical peaks. Actually, considering the average output level of this recording is lower than usual, listeners might be forced to turn the volume up to dangerous levels (because of peaks). If you like dynamics, percussions and bass, look no further than track #6, Gede Drum-n-Bass, as it is a real pleasure for the ears (it achieves DR18!). The title track (by John Coltrane) opens up with an explosive percussions solo that shows all the benefits of a truly uncompressed recording. If your system is capable of handling the huge dynamics contained into this track, you should be able to distinctly follow the percussions work throughout the song, even when the other instruments play all together. As for soundstage, have a look at the pic above, with the band playing together in front of the recording mics. This image, I mean the position of the players, is EXACTLY what you should get from your HiFi system, there, right in front of you! This is the magic of Real Stereo!
Follow up on 24/96 and 24/192 formats
When I tried the 24/96 version it was quite noticeable that the sound was slightly better focussed, and detail was improved. With the 24/192 I had to listen very carefully to hear that things improved still further, but by much less of a margin. After listening to the 24/96 and 24/192 versions of the album, goings back to the 16/44.1 version sounded a little de-focussed for want of a better term. But to be honest, after a minute or two, it sounded quite normal again. The 24/96 and 24/192 sounds more real.
Conclusions
Another excellent recording from the hands and the mics of Mr. Barry Diament! We hope more and more recording engineers will learn a lesson or two from his discs as listeners need more Music with a realistic dynamic range. Equinox a very nice recording which proves, once again, that keeping things as simple as possible is the way to go.
© Copyright 2010 Nick Whetstone - nick@tnt-audio.com & Lucio Cadeddu - editor@tnt-audio.com - www.tnt-audio.com
[ Home | Staff & Contacts | DIY & Tweaks | Listening tests | HiFi Playground | Music & Books ]