[ Home | Staff & Contacts | DIY & Tweaks | Listening tests | HiFi Playground | Music & Books ]
Work of Art - "Lift"
Real Stereo for real...!!!
[Italian version]
Artist: Work of Art (Art Halperin group)
Album details: CD "Lift" - 2006 - SR1001 by Soundkeeper Recordings
Sample under test: Made in the USA
Genre: acoustic folk/rock
Approx. price: 15$ (YMMV depending on version)
Reviewer: Lucio Cadeddu - TNT Italy
Reviewed: April, 2007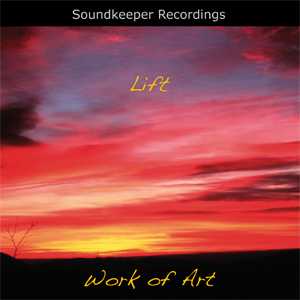 Work of Art "Lift"
Foreword
Perhaps many of you are already familiar with Barry Diament, a renowned mastering engineer who worked on many famous records of World-class artists like Emerson, Lake and Palmer, AC/DC, Aerosmith, Enya, Bob Marley, Simply Red and many others you can discover by yourself on the impressive list he has published on his website. You may also have read some technical articles from him on The Absolute Sound and on MIX Magazine.
For sure, his CV is impressive! He has now founded his own label Soundkeeper Recordings in order to release only the best stereo recordings he can do. "Lift" (by Work of Art) is the first album which has been released. It is available in three different formats: standard CD, a more refined 16/44 one-to-one CD-R mastered directly from the digital master (no multiple copies) and a 24/96 DVD-R. I'll report my findings on the worst of the three, the basic 16/44 standard CD.
Real Stereo gets....real
You might already be aware of our Real Stereo campaign in defense of pure, simple stereo recordings (and HiFi components). If not, take a minute to read and eventually divulgate :-)
This album has been recorded with a simple stereo array comprised of only two microphones where each mic feeds its own channel of the stereo pair: yes, no overdubs, mixes or multitracking. The band itself adjusts playing levels accordingly. This means all the players play together at the same time in a strict "direct to master" fashion. If the "take" is good then it goes into the record. This also means no dynamic limiters have been used, so the differences between quiet and loud moments are exactly "like live". For this reason the volume knob should always be kept within hands' reach :-)
Two words about the Music in itself. Work of Art is an ever-changing ensemble built around Art "Ski" Halperin, gifted composer and guitarist. The band of five players includes Al Maddy (vocals, banjo, guitar), Jon Rosenblatt (vocals, mandolin, percussion), Carver Blanchard (lute, guitar), Sue Williams (bass) and Nat Seely (drums, percussion). Lift is a collection of ten inspired tracks, and could be classified as acoustic pop with many different influences (mainly country, rock, folk).
This is - by no means - a classic audiophile recording. You couldn't use it to impress friends and HiFi dealers...unless they know what to listen to. Let me clarify a little bit: many "audiophile" recordings are made to impress, use larger than life dynamics, Earth-shaking bass and so many "details" that it seems your ears are glued to the instruments. Lift belongs to a completely different league.
First of all, it is "natural". Oh yes, you might have heard this many other times, when referred to a record. What does this mean exactly? Simply, this recording picks you up and brings you into the hall where the Music has been recorded. The "being there" sensation is perhaps the strongest I've ever felt while listening to a disc. Everything happens in front of you and you can feel the Music and the musicians breathing together inside the hall. And you seem to be there, just few meters away. This "presence" is also aided by the realism of the soundstage, wide, deep and stable as we'd always wish it to be.
I hope you have experienced, at least once in your lifetime, the emotion of sitting close to an acoustic band playing live in front of you, in a club hall, for example. You'll discover the very same feeling when listening to this recording.
And, correct me if I'm wrong, while you're listening to a "live" acoustic performance you don't ask yourself about bass, highs, mids or dynamics. Everything happens naturally. The same applies to this recording: the bass is thunderous only when it is needed (watch out! Big woofers needed!) while details aren't spit "in your face" as it happens with many "audiophile" recordings. Perhaps you might find better vocals on some audiophile record but the difference here is that voices are "real"...and real vocals aren't always perfect!
In other words, this is a real "live" recording, it will bring you oh so much closer to Music.
Conclusion
Real Stereo rulez! This recording is simply excellent and, in my opinion, represents a complete departure from the usual "audiophile" records. Impressive, just like a live event can be. Now, what about a high quality vinyl pressing???
© Copyright 2007 Lucio Cadeddu - www.tnt-audio.com
[ Home | Staff & Contacts | DIY & Tweaks | Listening tests | HiFi Playground | Music & Books ]