[ Home | Staff & Contacts | HiFi Playground | Listening tests | DIY & Tweakings | Music & Books ]
Norman Granz
A Music Industy Giant is Gone

Editorial By: Scott Faller
Published: December, 2001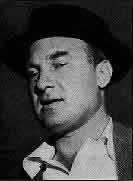 Norman Granz
If you guys read me carefully enough you will have noticed that I am a huge jazz fan. I've got a special hankering for the jazz recorded and produced from about 1935 to 1960. There is just something about this era of jazz that I find spellbinding.
Thursday, November 25, 2001 (Thanksgiving day for those of us in the States), an absolute giant in the jazz music industry died. Norman Granz, at age 83, got called home.
For those of you who aren't familiar, Norman Granz probably did more to promote Jazz than probably any other person who ever lived. Let me give you an idea of what I am talking about.
First a little history
Norman Granz was born August 18th, 1918 in Los Angeles, California. Like most Americans that grew up in the depression era, he fell in love with music. During the early 1940's, Granz started promoting Monday night jam sessions at the 331 Club in Los Angeles. He used local musicians and invited famous sidemen to sit in when the touring big bands came to town.
When the big war (WWII) came along, he joined and ended up serving in the Army Air Corps and got a transfer to a special branch charged with entertaining the troops. After returning from the war, Granz went to work at Metro-Goldwyn-Mayer films studios as a film editor. In 1944 his love of Jazz sparked him to join with photographer Gjon Mili to make the short film Jammin' The Blues. This is regarded as one of the best Jazz short films ever.
In July of 1944, Granz organized a fundraiser to benefit Mexican youths that were wrongly convicted of murder and sentenced to San Quentin prison in the (then) notorious Sleepy Lagoon case. After borrowing $300 to promote this fundraiser, he ordered posters. The posters were supposed to read Jazz Concert at the Philharmonic Auditorium. They came back from the Los Angeles printer reading Jazz at the Philharmonic. Granz accepted the posters as they were printed and the show went on.
That first lively jam session included performers like Nat King Cole who, at the time, was an aspiring pianist rather than the singer we now him as and Les Paul who, at the time, was a jazz guitarist. That evening, the fundraiser netted $500. This concert was the cornerstone on which he would build the jazz empire we know today.
Over the next ten years of promoting Jazz at the Philharmonic, Granz turned over four million dollars. From 1946 to 1949, Jazz at the Philharmonic (JATP) had two national tours each year. Late in 1948, Granz entered an agreement with Mercury Records to produce and distribute the JATP sessions plus a new series of studio recordings. The first of these new recordings was The Jazz Scene, a deluxe, limited edition 12" 78 rpm album.
Literally decades before anybody was thinking about desegregation here in the States, Norman Granz was a pioneer. Granz is quoted as saying, "Black musicians were playing all over Los Angeles in the early '40's but almost entirely to white audiences. This was because there were very few places that welcomed blacks as patrons." Realizing this fact and prompted by complaints by Billie Holiday, Granz began only accepting bookings from clubs that paid the black musicians at the same scales as their white counterparts. Maybe more importantly, Granz insisted that black patrons not be barred from attending.
He was one of the first prominent people who publicly pushed for integration. Granz has often said that his three goals were to promote integration, present good Jazz and to show that good money could be made from promoting good Jazz.
In 1947 Granz told Downbeat Magazine that he had lost more than $100,000 by turning down bookings at segregated halls across the US. That shows just how much he believed in his goals.
In 1953, the agreement with Mercury Records ran out. Granz went out on his own establishing his first record label, Clef. The Clef record label was the home to all of his JATP stars. Then Granz introduced the Norgran and Down Home labels for modern and traditional jazz.
During this time, Granz assembled a stable of Jazz artists like no other. It will remain absolutely unmatched probably forever. This is the short list of performers he had signed;
Charlie Parker, Lester Young, Flip Phillips, Illinois Jacquet, Bud Powell, Oscar Peterson, The Count Basie Band; Gene Krupa, Billie Holiday, Stan Getz, Dizzy Gillespie, Ben Webster, Lionel Hampton, Buddy DeFranco, Louis Bellson, Tal Farlow, and Sonny Stitt.
You don't have to know anything about Jazz to recognize those names.
Then, in 1956 Ella Fitzgerald arrived. Granz had been managing her for a number of years, but when her contract with Decca expired, she came on board. He used this occasion to consolidate all of his labels into one, Verve. With the new label, Granz re-mixed many of his previous recordings and released them in the (then) new format, stereo.
In late 1960, Granz sold his holdings in Verve to Metro-Goldwyn-Mayer, the film company. After a long hiatus from the music industry, in 1973 Granz decided to re-enter the business. He started a new label called Pablo.
Granz re-signed most all of his old musicians that were still alive and began cutting new albums. During the next 14 years, he would record over 350 albums. In 1987, Granz called it quits for the last time. He sold the Pablo label to Fantasy Inc. and retired to Switzerland with his (surviving) wife Greta.
Funny, in 1994 Granz turned down a Lifetime Achievement Awards from one of those self-important organizations with a profound name. He said to the association "I think you guys are a little late."
Commentary
What this guy did in his career for a single form of music is just incredible. When you look at the artists he managed, promoted and recorded, it is literally a who's who of Jazz. These performers (with Granz at the helm) are the absolute pioneers of modern Jazz music.
Jazz has influenced so many modern performers in so many ways, it is literally incomprehensible.
If you subscribe to our list, no doubt you have probably seen a few of my posts promoting the Pablo label and Jazz music in general. I am lucky enough to have a rather large vinyl collection and a pretty nice two channel rig. Of all the records I have collected over the years, there are very, very few that I consider worthy of being classified as an "audiophile" release. By audiophile, I mean the lifelike quality of the recordings.
There are few out there now that provide us with really good recordings but they tend to get pretty expensive to buy. Usually $20 to $30 USD for a typical release on vinyl.
The Pablo label isn't that way at all. Granz did a tremendous job recording his artists and releasing them on vinyl. I probably have 40 - 50 of the Pablo releases and the quality usually surpasses those new "audiophile" releases on vinyl.
One minor exception, the releases after about 1980, Pablo began using color photos on the covers rather than the original black and white photos. The recording quality is still extremely good but the vinyl went from being nice and thick to, well, kinda thin. It still sounds awfully good though, far better than most of the vinyl out there. I (personally) consider the Pablo and Verve labels to be some of the finest recordings out there.
The best part, music on Pablo is cheap, really cheap. I am still able to find factory sealed albums for less than $10. Used ones sell for under $5. Think about it, that's three pieces of premium vinyl you can buy for less than the cost of a new CD.
Now, Jazz. There is nothing to be afraid of here. The vast majority of Jazz is not this weird, unintelligible, art form that is only listened to by college professors and beatniks.
Most of the music that Norman Granz recorded is very rhythmic and full of life. Once you give Jazz a chance, you, like me, will be hooked.
That being said, I still don't understand or listen to avant-garde Jazz myself. That form of Jazz is still a little too weird for me, sorry.
Do yourself a favor, go out an find a Pablo release or two. Pick one of the big name artists like Count Basie or Duke Ellington, or better yet if you like acoustic guitars, Joe Pass. Buy them on vinyl and give it a listen. You will be amazed at how good it is, seriously. If you are not sure which pieces to chose from, drop me a line, I'd be happy to help you make your selections. You won't regret it.



© Copyright 2001 Scott Faller - http://www.tnt-audio.com
[ Home | Staff & Contacts | HiFi Playground | Listening tests | DIY & Tweakings | Music & Books ]