[ Home | Staff & Contacts | DIY & Tweaks | Listening tests | HiFi Playground | Music & Books ]
Rage against the machine - "I"
An audiophile-non-audiophile recording
[Italian version]
Band: Rage against the machine (official website)
Album details: "Rage against the machine" - 1992 - 01 472224 2 by Epic - Sony Music Entertainment
Genre: 100% explosive Funky-Metal (?)
Approx. cost: €/$ 10-15 (YMMV)
Reviewer: Lucio Cadeddu - TNT Italy
Published: June, 2004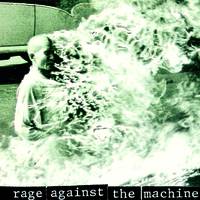 Rage against the machine
Rage against the machine published their very first album back in 1992 and it immediately became a milestone. The powerful mixture of funky/hip-hop/metal they were able to put together was something that couldn't be overlooked.
Influenced by the politically "against" US hip hop scene (Chuck D. and Public Enemy above others), Rage against the machine cite, for inspiration, also Gil Scott Heron, Joe Strummer, A Tribe Called Quest, Porno for Pyros and many others. This means they grew up listening to many different musical genres and then wisely blended those together, producing an explosive mixture that - in my opinion - has never been surpassed.
Lyrics, exclusively by Zack De La Rocha (lead vocals), are strongly against the political status quo in the USA ("Bam, here's the plan, Mother Fuck Uncle Sam!" as in "Take the Power back") and generally against any form of government control over the masses.
Rage against the machine published other albums but in my opinion this is their best one. "Evil empire", for example, doesn't even come close. So many ideas, so much devastating sheer power, so primitive and genuine tracks...this first album is - IMHO - one of the best rock (???) albums ever made. Nowadays Rage against the machine have joined SoundGarden's vocalist Chris Cornell in a joint project called AudioSlave.
Take the POWER back!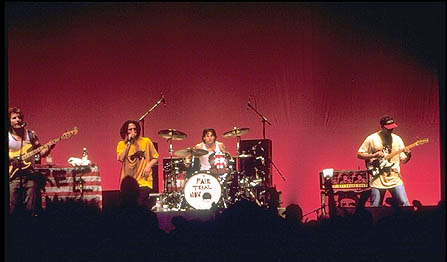 Certainly NOT everyone's cup of tea, this album is pure musical violence so you need to be "used" to a certain kind of "sound". Ah, the sound! Now for the interesting bits....!!! Reading the booklet any seasoned audiophile may begin to suspect this isn't just a run-of-the-mill rock recording. Nope. This is an EXCELLENT recording.
Why? Well, first of all, no samples, no synths nor keyboards have been used to make this recording, as claimed on the CD booklet. Just an electric guitar, an electric bass and a standard drum kit. The mixing has been made by Andy Wallace and the final mastering by Bob Ludwig (yeah, HIM!) at the glorious Masterdisk in NYC.
Before playing this CD, a couple of warnings: if you think rock recordings sound dynamically compressed you have to be careful with that volume knob. This recording is explosive! Then it has BASS (read: balls!). Small woofers won't appreciate it much. Be extremely careful, again.
Certainly it is one of the best electric bass and drums recordings I've ever come across, real audiophile recordings included. Consider "Take the Power back", for example. It opens with the electric bass and the kick drum beating in unison, with a precision and a clarity that needs to be heard with bass-capable loudspeakers to be fully appreciated. Turn the volume as high as possible and pray your woofers will survive. Dudes, that's what I call a test for real HiFi systems! Surprisingly, there's even a kind of 3D virtual image. You can precisely locate the position of the drum kit into the soundstage. There's not much in terms of depth but there's a lot of focus and stability of the image.
All the tracks are highly demanding, in terms of bass frequencies and especially transient response. Attacks of the drums and of the electric bass are razor sharp: your system should be able to cope with the dynamic power demand. Overall, the level of perceived distortion should be very low and this means your system should be able to play loud, at very realistic levels.
At least, this is a recording that will allow you to test your speakers power handling and your amp driving capabilities.
Even better, this recording is an incredible test for evaluating PRaT (Pace, Rythm and Timing). Being mostly funk-ly tempoed, a correct reproduction of these three parameters is of paramount importance. If something into your systems sounds slow or dead, this recording will undoubtedly reveal it. Just focus your attention on the electric bass patterns, supported by the drums (as in "Bullet in the head", for example): you should be able to follow the rythmic section throughout the entire track.
Finally, the recording should let you appreciate Tom Morello's talent when playing the electric guitar. He's such a gifted guitar player!
Not exactly a good test for vocals, this album can be a tough minefield for any HiFi system, in any other "audiophile" parameter (imaging aside, perhaps).
What else to say? Buy it! If you're not used to this kind of sound, you're gently invited to listen to it with patience, a track per day or so. Sooner or later you'll be able to "understand" this is nothing else than a real rock masterpiece.
For rock aficionados always in need of good sounding (hard) rock recordings (as these are quite rare, I admit) this is the album to purchase and use to test your HiFi with. You won't regret it, trust me. It was also released on vinyl though my notes refer to the CD release only.
Conclusion
Good sounding rock albums are rare. This is a BRILLIANT and jaw-dropping exception. Explosive dynamics, state of the art electric bass and drums recording, sheer power for your amps and loudspeakers. Not for the faint of heart, not for the SET crowd with low-sensivity loudspeakers, NOT for minimonitors fans. This albums deserves just the best, in terms of bass extension and power, articulation and dynamics. Be prepared for a shock and, of course, PLAY IT ABSOLUTELY LOUD!!!
© Copyright 2004 Lucio Cadeddu - www.tnt-audio.com
[ Home | Staff & Contacts | DIY & Tweaks | Listening tests | HiFi Playground | Music & Books ]