[ Home | Staff & Contacts | HiFi Playground | Listening tests | DIY & Tweakings | Music & Books ]
Erik Satie - Early & Esoteric Piano Works
Aevea/OnClassical audiophile recording
Recording: Erik Satie "Erik Satie: Early & Esoteric Piano Works" - AE16019 - CAT. N. 634065037185
Label: OnClassical/Aevea - Italy
Reviewer: Roger McCuaig - TNT Canada
Published: June, 2017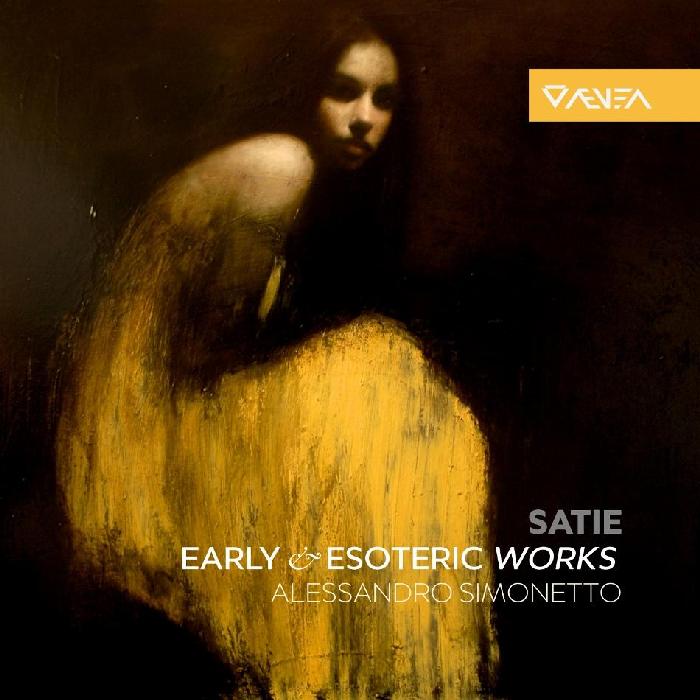 [Italian version here]
Introduction
The 3 CD package under review comes to us on the Aevea label which is a sub-label of OnClassical. The following is taken from the OnClassical web site:

OnClassical is a small independent recording label focused on solo and chamber music (non-copyrighted) repertoire rendered by extraordinary artists. A pioneer in the digital music — the very first classical music label appearing on internet — OnClassical has garnered accolades from critics around the world for its recording quality. Aevea is a new record label dedicated to 18th and 19th-century repertoire. Aevea is distributed in Canada and the USA via Naxos of America (NOA). Aevea/OnClassical is based in Italy and offers their music in several formats; CD, MP3, WAV, Flac 88.2/24 and 176.4/24 however NOA does not offer the Flac format.
The recording under review was produced and performed by Alessandro Simonetto.
You can read more about OnClassical in the article published here on TNT-Audio by Nick Whetstone in 2009.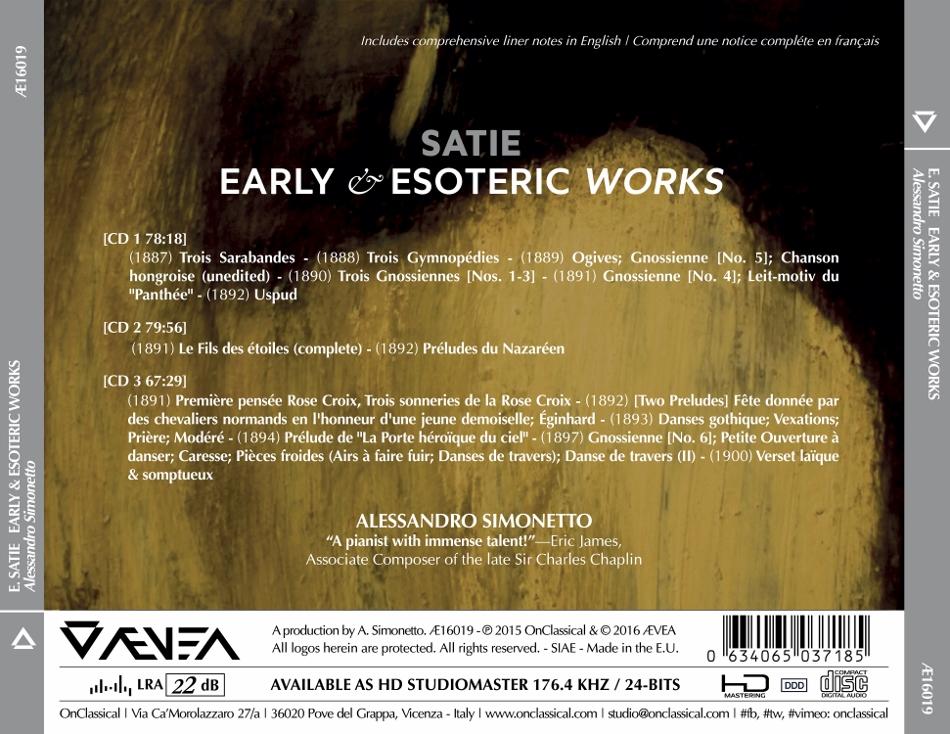 About Satie
Satie has been described as independent, rebellious, non-conformist and eccentric. He rejected the romantic style of the time and set out in a different direction. His music can be described as simple, repetitive, using short melodies (sometimes no melody!) and little development. In one of his works, Vexation, he instruct the musician to repeat a section 840 times! Thankfully Mr. Simonetto did not follow that instruction on this recording.
Satie's music departs from the idea of composition based on a story,a poem or an event and presents music that derives it's direction from feelings and mood. Despite the simplicity of his music it's noted as having some influence on the beginnings of the impressionist mouvement and composers such as Debussy, Ravel and Stravinsky. Clearly Satie had an impact on John Cage many years later. While listening to one of the Sarabandes I discovered a chord progression that seemed to be right out of Stravinski's Firebird!
One of the salient features of Satie's music is his use of silence, the space between the notes, as an integral part of the composition. This makes me immediately think of Ahmad Jamal who has a wonderful talent for using less notes and more silence to convey his jazz message. This in great contrast to the Bebop style of his contemporaries in the '50s. This was a trait that Miles Davis admired in Jamal's music and incorporated into his playing with magnificent results.
Listening
The recording provided to us for this review was in WAV format. The recording quality is excellent, with beautiful clear tone and deep and natural left hand notes. The sound is considerably richer and more natural than the CD of Satie's works that was used as a comparison. The CD states on the cover 32 Bit Digital Sound / High Quality Audiophile Edition. Possibly some of the difference can be attributed to the Arcam CD player used as a transport, however both recordings were played through the same Musical Fidelity DAC!
Clearly the microphone setup was very close to the source as one can hear from time to time the sound of the key action on release of single notes that have a silence after them.
This was particularly noticeable on disk 3 which contains many very slow and sparse pieces.
Simonetto's interpretation of Satie is quite pleasant, and more interesting than others I have heard in two ways.
Musical phrasing refers to the way a musician shapes a sequence of notes in a passage of music to express an emotion or impression. Simonetto's phrasing of many of the pieces adds to the feeling of the music. Something that is often absent in recordings of Satie's works, which I have found to be somewhat impassionate. Secondly, there is a very interesting application of dynamics; crescendo, diminuendo and accent are used very effectively and add some complexity and interest to works that are inherently short on melody and development. When one thinks about it, it's quite surprising that pianists would play such compositions with a steady metronome pace and absence of phrasing and dynamics when they are so calling for it. Satie would place instructions written with the music like "wonder about yourself" or "open your mind", how is it that the recordings of his music miss the mark? Well, Simonetto has done very well at following Satie's instructions.
On this recording, the pieces are often slower than what I have heard before. Although this certainly adds to the drama and the emotion of the music, it feels sometimes a bit too slow for this listener and leaves the feeling of a funeral march. This is particilarly noticiable on the third disk which contains several pieces (ex. Gothic Dances) with long sparsely placed notes. The slower the pace, the harder it is to find a melody. However, certainly one could make the case that in fact in many instances Satie has no intention to create melody.
Satie often created a series of pieces under the same title, for example there are seven Gnossiennes, nine Gothic Dances, six Pieces Froides. In some cases the pieces in a series are so similar they are hard to distinguish. One can't help but ask the question why include nine Gothic Dances on this set of 3 disks when they all sound the same? The simple answer is that this set includes all known piano works between 1887 and 1900 with the exception of a few cabaret pieces and 2 waltzes.
Conclusions
For those new to Satie, this set will provide a very extensive exploration of his works during a very productive period. For all those who know and enjoy Satie, this 3 CD set is certainly worth consideration for its quality of recording and the interesting and dynamic performance given by Alessandro Simoneto. Some may find CD #3 a bit slow and repetitive as I did however that doesn't take anything away from the quality listening pleasure of the other CDs in the set.

© Copyright 2017 Roger McCuaig - roger@tnt-audio.com - www.tnt-audio.com
[ Home | Staff & Contacts | HiFi Playground | Listening tests | DIY & Tweakings | Music & Books ]