[ Home | Staff & Contacts | DIY & Tweaks | Listening tests | HiFi Playground | Music & Books ]
A Practical Guide to Akihabara
The Audiophile's Dreamland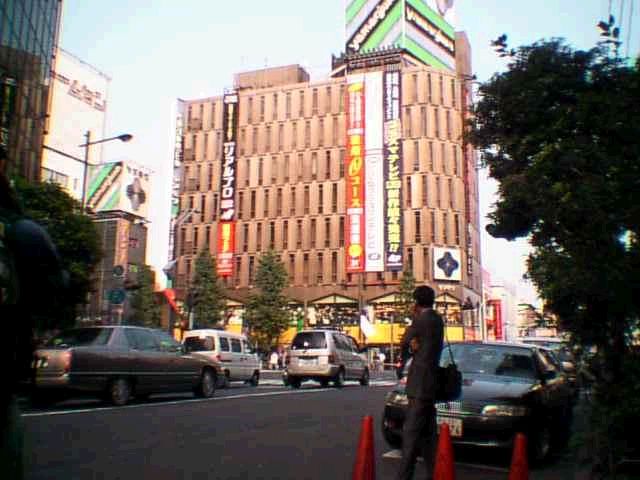 [Italian version]


Reporter: Hiroshi Iwata - TNT-Japan

What is Akihabara?

Imagine a small town (about 500m square) that's filled with audio shops, showrooms and parts shops where you can take a good look at or audition those super-expensive hi-fi components, listen to the sound they reproduce, and buy necessary parts for tweaking. That's what Akihabara (a.k.a. Akiba) is - a truly unique one-stop shopping area or audiophile's dreamland.

The registered member of Akihabara Merchant Union is 76 with about 250 stores, but the figures don't reflect the status quo - in fact, there are numerous shops in Akihabara that sells almost anything from audio, personal computer, Manga (cartoon and/or animation film) to porno.

Of the many shops, pure audio dealerships have diminished to only a handful in the last decade. Akihabara's first golden age came in 1960s with the boom in home electronics appliances such as TV, washing machine and refrigerator. And in the '70s Japan's audio business saw the golden age and thousands of shops in Akihabara and other areas sold hi-fi components. Around 1990, the boom has gone with the burst "bubble economy," and the Akiba shops were filled with the new rising star -- personal computers. Since the late 1990s, another new spooky stuffs are gradually increasing in this area: the Manga shops that sell books and the animation-mania's shops selling plastic "figures" of the characters.

Akihabara is rapidly changing with the "redevelopment" plans that are intended to vitalize the local economy. Therefore, the town will keep on changing for years, so take a careful look at the resources provided here and elsewhere if you are interested in getting there.

OK, let's wrap up boring introduction and explores the audiophile's dreamland - enjoy !

Where is it ?

Around 3'o clock on the Yamanote line which runs around the rim of downtown Tokyo. You can find the Tokyo metropolitan railway map at the following site: http://www2.neweb.ne.jp/wd/anime/shop/tokyorail2.html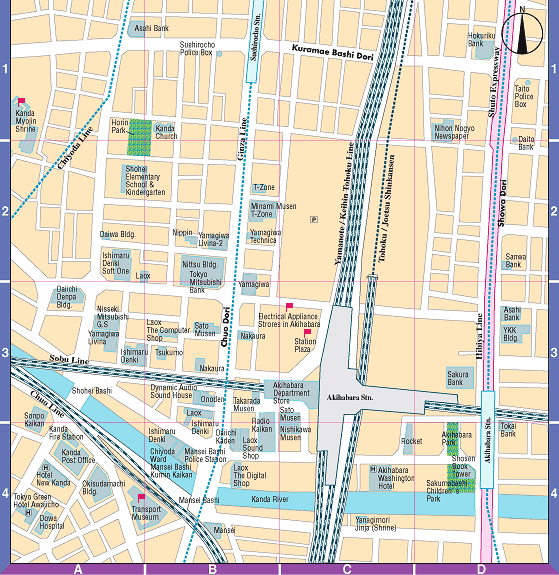 Our Akihabara exploration starts with the JR Akihabara station. I'll show you the map written in English at NTT (Japan's leading phone service provider) for your convenience:
http://english.itp.ne.jp/content/disc/18_tokyo/m_aki.html
The NTT site also carries various tips for travelers and its index page is worth paying a visit. There are other Akihabara maps available on the net, but one thing you have to be careful concerning the Akiba maps is that most of them are 90 degree turned clockwise to save the space. Make sure the directions on the map you are looking at.
Well, going down to Akihabara depends on where you are staying at, but all you have to do is to find "Akihabara." Also Kanda and Suehirocho stations on the Asakusa-line subway are within walking distance (see the railway map).
Places to go
Yamagiwa (at the border of B2 and B3 on the NTT map)

Boasting more than 50 years of history, Yamagiwa is one of the oldest electronics dealerships and sits on the center of Akihabara (the picture of building can be confirmed at the upper left corner of the Yamagiwa home page http://www.ishimaru.co.jp/y-i/tokyoten.htm. Hi-fi equipment is scattered on the entire 4th floor of the building and high-end and import stuffs are concentrated at the far end of the floor. The floor suffers from low ceiling and the "noises" that component-stereos generate, so you can't expect the best-possible sound reproduction here, but anyhow it is filled with gorgeous import (from our point of view) stuffs. You can confirm this by listening to the Dynaudio speakers on demo here. Because of the poor room acoustics, those Dynaudios sound like cheap forgeries. Yamagiwa has tied-up with Ishimaru (an old, big dealer chain) and started over as a new entity, so the audio floor possibly could become better in the near future.

Dyna 5555 (A2; next to Ishimaru Denki Soft One)

This shop epitomizes the new era in Akihabara; pure audio is no more omnipresent but concentrated to some select and mostly pricey premises. Anyhow, Dyna 5555 (called "four-five" according to the shop master) is a large-scale hi-fi dealer consisting of 7 floors that are completely dedicated to pure audio, from cheap accessories to super-expensive equipment. The shop's highlight is its 7th floor where super-expensive high-end audio equipment are on display, such as formidable Halcro dm58s, 47 Lab's Pitracer, two-inch diameter "snake" speaker cables connect the stuffs.

The items on demo can be checked at the website http://www.dynamicaudio.co.jp/audio/5555/top.html by clicking "hearing lineup" (just ignore the lousy English - most people living in our islands don't speak, read and write foreign languages). Like Yamagiwa, the four-five showrooms suffer from too "dead" acoustics. Combined with the low ceiling, the place isn't good enough for serious audition. Nevertheless, it is utterly enjoyable just watching the classy stuff and the guys in audition.

Radio Kaikan (at the border of B4 and B3)

Since it is difficult to find this building no matter where you came from, the first thing you must try is to find an escalator (moving staircase) that can be directly seen from across the street. You can confirm how the entrance looks at the Radio Kaikan website -- http://www.radiokaikan.org/
In addition to the following shops, there is a used hi-fi shop and car-audio specialist shop on the far end of the 4th floor. Wakamatsu, a parts shot at the farthest end, sells several tube-amp kits and tube CD player kit that are quite attractively priced (note that all are designed to work with 100V AC).
Tomoca (2nd floor)

Although this shop sells pro-audio equipment, I recommend you to pay a visit - it's really worth visiting. You'll find cables, microphones, amps, CD recorders, equalizers, monitor speakers, huge consoles and so on. It will be a rare chance to take a peek at the recording studios and live concerts. If you are not familiar with the pro-use stuffs like Marantz CD recorder, Yamaha mini monitor and Fostex active monitor, ask the sales stuff for demo.

Kimura Musen (4th floor)

If you are interested in the full-range speakers, you can't miss Kimura. Because the shop carries the complete line of Fostex units (woofers, full-ranges and tweeters) and rear-loading horn cabinet kits. Also you can find exotic (mostly means high price with dubious effects) accessories such as insulators, treatment fluids, mains outlet and inlet plugs, various cables and so on. Japan-made cables such as Acrotec and S/A Lab could be a good souvenir, and Kimura sells most cables by the meter. Most of them are affordably priced, so you don't have to worry about budget.

Sato Musen (4th floor)

Although the shop sells everything from the cables to huge speakers, the shop's specialty is the tube amplifiers. The amps on display range from Japanese, Chinese and American, but all of them offer one common thing: peace of mind. You can forget the noises and fatigue when you look at the tubes' dim light and the sound.

Tokyo Radio Depart

The place is much more difficult to find than the aforementioned Radio Kaikan. The biggest clue is Oyaide (a cable specialist shop) right across the street. Once you've found the "suspect," proceed one of the two array (they are connected at the far end of the building), and if you find an escalator at the midpoint, Bingo.

* Kounan Denki (1st floor)

A tube specialist shop. Lots of tubes ranging from 300B to KT88 decorate the tiny showcase. Because the tubes belong to the world of antique rather than practical audio, their prices are mostly outrageous except for those Japan-made tubes such as 12AUX7s.

* Kaijin Musen (2nd floor)

Go upstairs with the escalator, get off at the 2nd floor and turn right. Watch out for the signboard near the ceiling, and you'll find Kaijin Musen at the left bank in front of a bookstore. I'm pretty sure that you'd be amazed how tiny the shop is (about 2m x 2m; take a look at the picture of the shop's website - it shows 98% of the shop. http://www.tokyoradiodepart.co.jp/KAIJIN/. The point is not its size but the high-quality capacitors, resistors and other parts that fill the tray. In fact, Kaijin is world-famous among amp builders and heavy tweakers for selling the parts at quite reasonable prices.

Oyaide (B3)

A landmark for finding out aforementioned Tokyo Radio Depart - watch out for the yellow façade. Oyaide is a cable specialist selling almost any sort of cables from internal wiring leads to heavy-duty mains cables. Most of the products are shown on the panels hang at the storefront. Also you can find interesting gadgets such as hospital-grade wall outlet sockets, matching plugs for the sockets, clio-treated plugs, SF tube "stocking" for cable, etc. For more details, visit http://www.oyaide.com/d_shop/index.html

Akizuki (A3, near Dyna 5555)

An epitome of Akihabara. To DIY aficionados the place is a heaven, but is surely a nightmare to crowdphobias. Akizuki's tiny shop is literally filled with parts, kits and "completed" items, and most of them are not visible because of terrible crush. The best part of Akizuki is not the traffic jam, but the amazing prices. Even the website is quite interesting, but is written in Japanese language only. http://www.akizuki.ne.jp/

Sengoku (A3, near Dyna 5555)

Another DIYer's heaven is in the same block as Akizuki, for some reasons. The two shops share almost everything but for only one thing - with its two-floor premise, Sengoku is larger than Akizuki. Its Japanese-only website is: http://www.sengoku.co.jp/

Dynavector (not shown on the map)

Yes, this world-class cartridge manufacturer's headquarters/showroom is in the neighboring Iwamotocho, and it takes about 15 minutes walking down the streets from the core area of Akihabara. Unfortunately, to get there is not easy especially when you can't read Chinese characters indicating the street names, I strongly urge you to talk to the staff at the showroom. You can get the phone number at the Dynavector website: http://www.dynavector.co.jp/english/index.html

Ishimaru Soft 1 (at the border of A2 and A3)
Ishimaru Soft 3 (at the border of B4 and B3)

Since there's no Tower Record, HMV and Virgin Megastore in Akihabara, these are the largest CD/DVD/video store in the area. The Soft 1 shop, right next to Dyna 5555, consists of two large floors, while the Soft 3 shop has five rather small floors; all of them dedicated to music and video. CD prices start from 10 USD, and those albums "imported" from Japan could be a good souvenir.

Sound Park Dyna (at the border of A2 and A3)

A large CD/DVD store of Dyna (its official name is Dynamic Audio) empire, neighboring Ishimaru Soft 1 and 5555.
Places to eat, drink and take a rest
McDonald's (at the border of B2 and B3)

Situated right next to Yamagiwa. The "M" billboard can be seen from the main street (Chuo Dori), so you can't miss the bite. Mac burgers in this country were one of the most expensive ones in the world, but recently the prices have been considerably reduced (a plain burger is now about 1/2 USD) thanks to our sluggish economy. Sodas and fries are, however, priced with Japanese standard, so watch carefully the menu there.

Jonathan's (A1 on the corner of Shinobazu Dori and Kuramaebashi Dori)

An American-style restaurant like Denny's. Serves average-quality meals and drink (don't expect decent stuff in this sort of restaurant) at comparatively reasonable prices. The best thing, however, is that you can sit down relaxed in a place without the noise and heat or chilly wind. Unfortunately, this is rather a rare quality in Akihabara.

Segafredo (B1 on Kuramaebashi Dori) As the name suggests, this is an Italian-style street café offering first-rate espresso and various kind of drinks. A cup of espresso costs you about 2 USD, but you can't get better stuff anywhere else in these islands, especially in the Akihabara area.
Mister Donuts (B2 on Chuo Dori)

An American-style donut shop. If you are starving for weak coffee and sweet donuts, this place is for you. Quantity and prices strictly follow Japanese standards, so watch out the price tag and the size of coffee mug.

Pronto (B2, behind Yamagiwa Livina2)

Perhaps the place isn't easy to find because the café faces back street, but if you happen to find this shop, you can have a drink and light meal at a reasonable price.

Food court at Akihabara Department Store (B3 and C3)

If you are interested in typical Japanese meals at typical shops (means that they don't expect overseas customers, so don't expect them to speak your language), try the 1st floor of the station building. Most of the shops offer light meals or snacks including Sushi, around 5 to 10 USD. There are several restaurants on the 2nd floor of the building, with somewhat higher prices but you can expect better quality, space and quietness there.
Caveat Emptor
Language

Most salespersons do not speak anything other than Japanese, especially those at pure audio shops.

Souvenir

Avoid buying AC-powered equipment such as amps and DVD players that are designed for Japanese domestic market - they operate with 100 volt AC and won't work properly in your home under different mains conditions.

Never on Sunday

If possible, avoid going to Akihabara on weekends. Literally all the shops, streets and restaurants are filled with numerous PC manias, Manga-manias and a handful of pure audio aficionados.

Tax-free shops

Unless you want to buy a tiny radio or a boombox, these shops have nothing to do with audiophiles. In the case you are buying these stuffs, make sure that the radio is for export and its frequency band (range) fits your country.

Schedule

Don't try to visit everywhere in a single day. There are too many interesting things in Akihabara and walking through the people and noises will surely be quite exhausting. So, relax and enjoy your day in the fantasyland.

Koban

This is literally your last resort - police station. In spite of their poor language ability, the police officers are kind and helpful (well, generally they are !). If you have a problem, ask the person next to you where the Koban is.
As I've explained in intro, Akihabara is rapidly changing. Many truly unique shops (such as OTEC where we could buy almost any sort of op-amps) have already gone, and the large parking lot right in front of the JR station will soon be replaced with anonymous skyscrapers. We lose something, but we do achieve another new thing at the same time. In Akihabara, both are quite exciting for some reasons. I'm sure that you'll love to be in Akihabara. If you are a real hi-fi aficionado.
© Copyright 2002 Hiroshi Iwata - http://www.tnt-audio.com
HTML editing: David Malloch
[ Home | Staff & Contacts | DIY & Tweaks | Listening tests | HiFi Playground | Music & Books ]