[Italian version]
Product: Lots of High-end Hi-fi
Approx.cost: varies wildly worldwide
Reviewer: Mark Wheeler - TNT UK
Reviewed: April-August, 2004
One should never buy on price.
One should always buy on QUALITY, UTILITY & BEAUTY
This should be our mantra in all that we buy & surround ourselves with. The analytical psychologist James Hillman writes that our environment affects our quality of thinking. Thus if we consistently encounter items and experiences of low quality, our quality of thought will be undermined too. This may be a motivator in the quest for great audio, as we become more familiar with good sound we recognise those qualities that make it good and then desire more of them.
Having made that clear, I now turn my attention to price and value. We should buy those items that fit our values and if you are reading this I might assume that good audio is one of your values. Everytime I play music at home I want to enjoy it as fully as I may and I place a high value on this experience. It is foregrounded in my consciousness, not background to fill the silences. But I do object strongly to the market prices charged by manufacturers & importers that vary dramatically from market to market. Former TNT writer Thorsten Loesch has recently argued on another webzine that manufacturers must vary prices according to local conditions, citing the varying price of retail real-estate & wages. While I usually find myself agreeing with Thorsten, on this occasion I believe this is a falacious argument. It assumes that it is OK to pay people appalling wages in some parts of the world so that people in other parts may enjoy cheap luxury goods. It is not ethical or morally justifiable for some parts of the world to be exploited at all, and much of the luxury of our lifestyles is based on cheap goods produced under conditions we would not tolerate ourselves. Furthermore, the local price variations in audio & music do not truly reflect local costs, merely what the local market is dumb enough to bear.
I don't buy the variable price argument just as I won't buy at artificially fixed prices. Real estate & wages are much higher in Manhattan than in Manchester, so why do cds cost much more in Manchester, making it a viable proposition for Mancunians to buy British cds from New York and pay postage to Britain and still save over the local UK store price? The G7 & G8 apologists argue that in a true free-market wages & prices should tend to level-out globally whereas what we witness is an increasing gulf between rich and poor countries. The absurd price differentials across markets could be a symptom of this.
I have bought components manufactured nearby (Northern Europe) that have travelled to North America and been mailed back to me for less than I may buy them in Britain. There is no logic to this, the shipping contributes to the destruction of the environment and the only reason that the British price is so high is that the market will bear it just enough for a few people to make a lot of additional profit to subsidise more competitive markets. My friend bought a Mercedes car over the Internet from a dealer in Holland who delivered it to her house in Northern England for better than 20% less than the cheapest price offered by a British dealer.
Some of the highest real-estate prices in the world are in Hong Kong and wages should reflect this, so in theory audio-gear should be very expensive there. However, I have just returned from Hong Kong where it is possible to buy the latest digital cameras for 30-50% less than Britain. While there I also noticed that many products from global companies that are manufactured in China are available for as little as one-third the British price. Some of this difference can be explained by their local origin, but not all of it. A typical fare to Hong Kong (booked via Amsterdam because it was much cheaper than direct from Britain) is in the region of £700-£900 (including taxes etc). This means you could buy your £2000 (UK price) product for £700 and buy it its own plane-seat home and still spend less than you would in Britain.
So it was that I went hifi shopping in Hong Kong. I was surprised to find that a British turntable (not the easiest product to ship worldwide) can travel to Hong Kong and lose pounds in the process (just what the diet industry are seeking). American high-end was significantly less expensive than in Britain even in the fancy boutiques of Central District but it is to the Mong Kok area on the Kowloon Peninsula that we must travel for more unusual stuff. I printed out these pages from the web and went shopping.
You can't stand still with a map for more than couple of seconds before the friendly locals are offering to help. So it was as we gazed, one Monday morning, at the listings in the foyer of Prosperity Building (called "Tak Fat" in Cantonese, at 61 Tung Choi Street, Mong Kok) which was entirely in Chinese characters. A charming woman approached and asked if she could help us find our destination. We showed her the printed webpage we had brought with us and she immediately offered to take us to the premises we sought on floor 3. When we reached the shop it was closed and our companion explained that it was probably because the annual hifi show had been that weekend and the proprietor might be collecting his stuff. He may be along soon so would we like to wait in her store just down the corridor (room 2). We thanked and followed into Audiotronics, coincidentally the second store on our list to visit.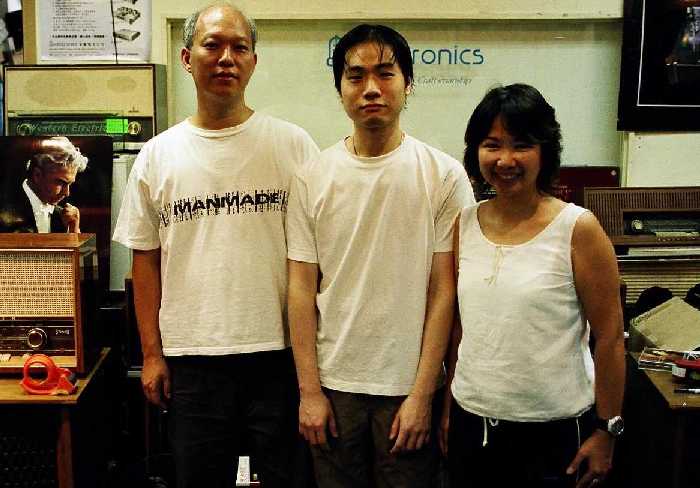 Audiotronics family Simon Lee, Jackie Wong & Eliza Lee
Our guide transpires to be Mrs Eliza Lee, one of the proprietors of Audiotronics, synchronicity in the all-thermionic collective-unconscious must have united us. Mrs Lee now chatted to us about the Hong Kong show that we had missed that weekend while her husband & co-proprietor called a greeting from a back-room where he was unpacking the weekend's stock.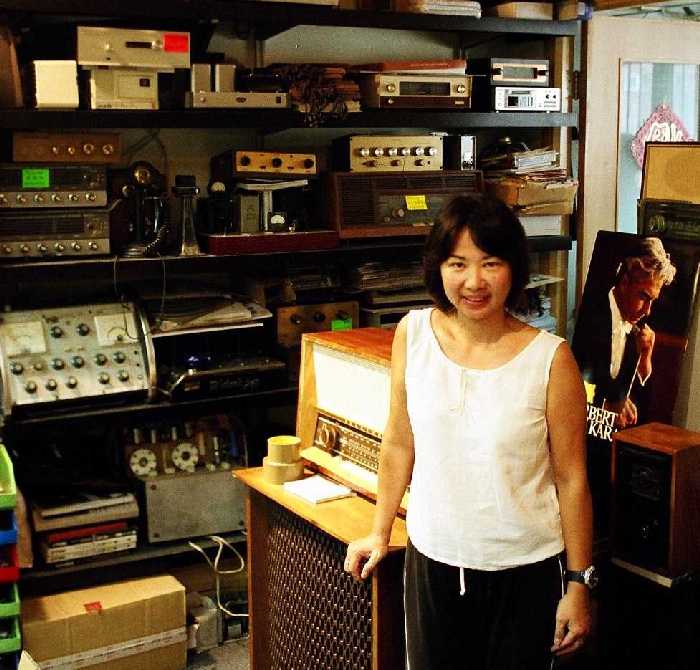 Mrs Eliza Lee surrounded by tube-o-phile's dreams
It also transpires that Audiotronics are the agent for Shanling in Hong Kong (virtually the importer as the China - Hong Kong relationship is "one country, two systems"). Mr Lee emerged from the back and they were joined by their son. This is truly a family business trading for 15 years in vintage audio. They explained to me how the latest CDT100c differs from the more familiar CDT100a that has been extensively positively reviewed elsewhere on web & in comics.
Shanling have an admirable global pricing policy that ensures that their products are priced approximately equally in all markets (as near as currency exchange-rate fluctuations make possible) and the only exception to this is their local market where transport, currency and lack of intermediaries, allow understandably lower prices.
Most obviously the casework is now constructed from slabs of aluminium. These billets replace the folded & welded stainless-steel chassis of the CDT100a. The stainless-steel apparently had some problems on the welded joins in some humid climates. As a byproduct of this change, I imagine that slabs of billet aluminium will resonate less & store less energy than a folded steel sheet.
The 3 gold-plated feet & spikes option have been replaced by four composite feet, one on each corner. I prefer 3 points of support but these seem reasonably even between left & right in contact pressure, although much more weight is to the rear due to the transformers & chokes. The gold plating has been replaced by much-more stylish & tasteful blue-grey anodising.
The unit is supplied with an impressive looking mains cable marked for direction & "OFC". Curiously this is fitted with a USA type connector in all markets, despite the fact that Hong Kong uses the same 13A square-pin plugs as Britain, although this cable proved a serious disappointment on audition back in England. In the store a very ordinary IEC cable was used instead. The unit was powered up connected directly to a pair of most impressive looking Altec Lansing valve (tube) metallic-green monoblocks driving a pair of BBC LS3/5a. These are the legendary 15ohm little-beauties made under license by various approved manufacturers, including Rogers, Spendor, Harbeth and Audiomaster. I am familiar with their sound and even more so with the later, less venerated, 8ohm versions that my father still uses. I wonder if the amplifiers' origins were for driving the legendary Voice of the Theatre speakers in cinemas.
The audiophile stalwart Jazz at the Pawnshop was the only familiar cd to hand, although it is the vinyl cut that I know best. Too well some would say, as I heard it repeatedly all weekend when a pair of my speakers were used with Concordant amplification at the Chesterfield HiFi Show in '91 & I went through a period of using it as a quick check on system set-up. Cold from the box the sound was OK, which was good enough for me as I am considering this player as a basis for further development as it has already received so much tweaking attention by so many enthusiasts. Once back home & fully run in I will write a more detailed report on the CDT100c version.
Meanwhile, looking around Audiotronics I realised that I was in valve heaven. My tao fulfilled by ancient NOS boxes (including the possibility of a set of Western Electric 396 for my Shanling), various radios of American origin so all new to me, Leak and Rogers amplifiers from Britain's hifi heyday and classic slabs of vinyl. Oooooh.
Hong Kong does seem to have one of the healthiest vintage audio scenes in the world. Here in Europe we often hear about the scenes in USA & Japan, but Hong Kong's location & role as a trading-hub between orient & occident has left a legacy of great audio names from the whole world. There are numerous specialist dealers throughout the area. There is a thriving club, the Hong Kong Tube Audio Club founded by Tim Yung. I'm sure it would be useful to get in touch with local enthusiasts before travelling, I wish I had,because I would have been able to attend the show.
If you are going to buy products manufactured in China, take a short holiday in Hong Kong and buy it there. Shanling have achieved ISO9001, which is the highest manufacturing quality standard I know of and so their products are likely to be well-built and long-lasting. The money you save might exceed the cost of the trip and if it goes wrong you can just pay an engineer to repair it (who is unlikely to charge the 1000euro you will save on a 1500euro purchase). My Shanling came with a worldwide guarantee which would be my first repair attempt. If you have any doubts about your ability to obtain future service for your personal imports, Shanling have this warning on their website and I leave it up to your judgement to decide whether this warning is worth paying 2500euro at home or 1000euro in Hong Kong.
© Copyright 2004 Mark Wheeler - www.tnt-audio.com
Warning for Shanling Customers
"Shanling does not approve of any discount online websites or auction sites offering our products. These units are often of dubious origin and can be second-hand, older models or do not match the local voltage/safety requirements of your country.
By buying a Shanling product from an unauthorized Shanling dealer, retailer, mail-order outlet or Internet site, you will void your warranty and you are likely to receive goods that are not in keeping with Shanling's high standards. Shanling will not service or provide support for any units of these origins or where the serial number has been tampered with. Shanling is a high-end quality product and is sold only through reputable dealers with the product knowledge and back-up service. Safeguard your warranty and peace of mind and buy only from an authorized dealer. By buying Shanling hifi only in your country you will be assured of a product that meets the local safety standards and has service backup".
[ Home | Staff & Contacts | DIY & Tweaks | Listening tests | HiFi Playground | Music & Books ]