[ Home | Staff & Contacts | HiFi Playground | Listening tests | Music & Books ]
Speaker/Amplifier Switching Unit

How to negate the plugin blues
[Italian version here]
Product name: Speaker/Amplifier Switching Unit
Manufacturer: 77 Manufacturing - South Africa
Cost: € 1,000 (Currency conversion)
Reviewer: Chris Templer - TNT South Africa
Reviewed: December, 2019
Introduction
Years ago, when my focus was on the organ being installed in my listening room, I commissioned a large cabinet to hold my audio gear plus accommodate CD's and have space for some of my LP collection. In retrospect this was a mistake, as I have been plagued by difficult access to the rear of the various bits of equipment, hence switching between amps, speakers and tape decks was something of nightmare. Had I been fitted at birth with tentacles and eyes on stalks with built in illumination, things would have been better!
I have looked at various offerings on the pro market for speaker and line input switching, but they held no real appeal as they were all cheaply made and had limitations. For example see https://audiodesign.co.jp/HAS/HAS-33S.html; these units are 280 x 90 x 230 mm. The one under discussion here is 440 x 120 x 290 mm with a 12 mm Faceplate. When I reviewed the LP12 Starmap I was very impressed with the quality of work and decided to commission what I call a Switching Unit, and 77 Manufacturing have named the Templer Junction.
Technical
The brief was to give me the facility to swap between three amplifiers, three sets of speaker systems, have inputs to accept my Cambridge 851n streamer/DAC and a couple of tape decks. Having dispensed with my click and pop machine along with 3,500 LP records, and all that goes with that perversion (joke!), three inputs were agreed on. At the suggestion of the resident boffin at 77 Mfg. it was decided to include the sub active crossover into the switching unit. At the same time the crossover was slightly simplified and new high quality level potentiometer and frequency cut in selector switch sourced direct from Japan. As can be seen from the picture above there is also a line level attenuator if needed. The inclusion of the sub crossover allows me to use the thing with all of the speaker systems whereas before I was limited to the Altec Clones unless I sat and knitted with wires! All switching, line level and speakers are via relays and in the case of Input A and Speaker A, double relays with 16 Amp capacity.


As an indication of attention to detail the serial plate is made from brushed stainless steel and held on with domed cap screws. The On/Off switch/IEC socket is fused which is also a nice touch.
Some details of the 12 mm Aluminum face plate after milling.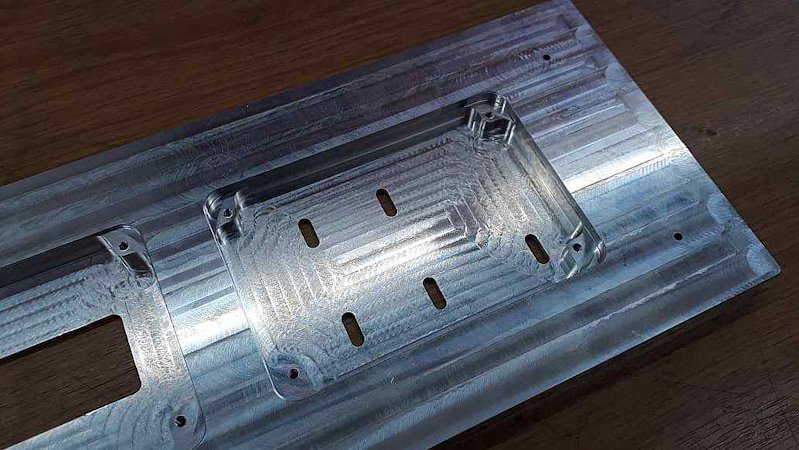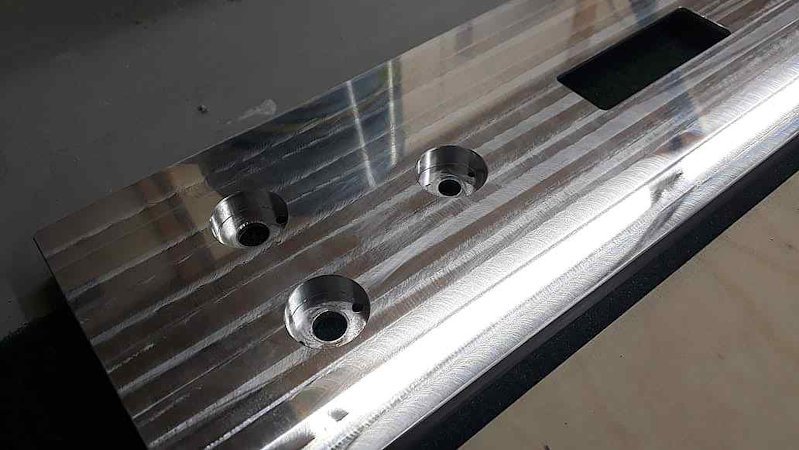 The faceplate after being brushed before anodizing and printing (on the left). The graphics were printed on using an EFI H1625 printer (on the right). This is an ink jet printer with UV curing capable of photographic quality.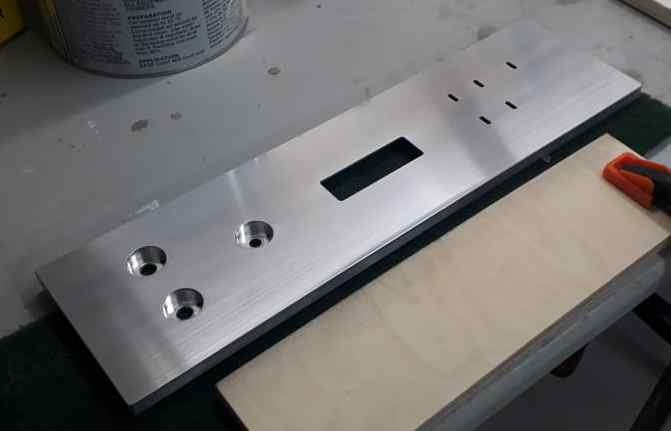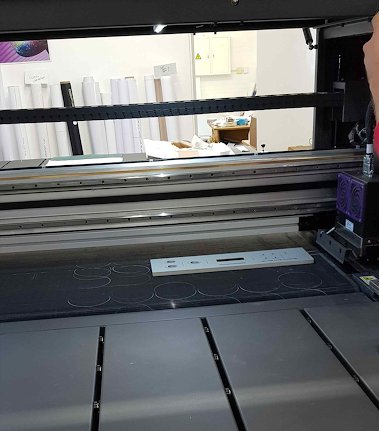 In progress pictures.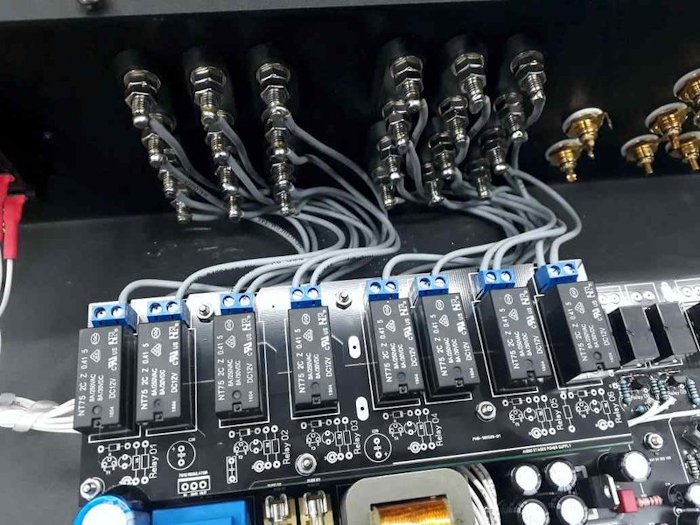 Momentary Toggle Switches are used which activate relays.The function cycles through A, B, & C for Source, Amplifier and Speaker. The LF is either On or Off. The display dims after a preset time.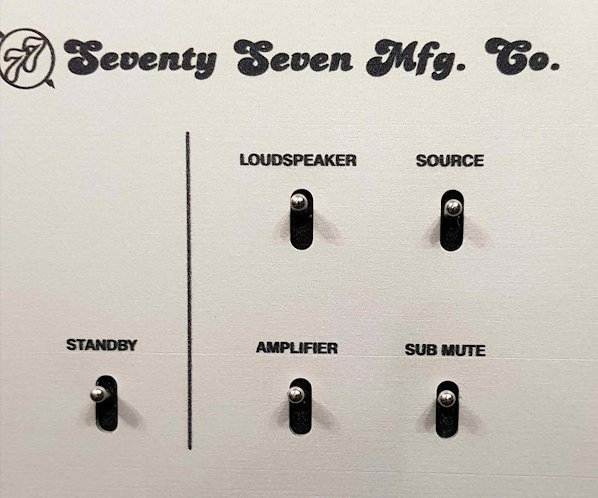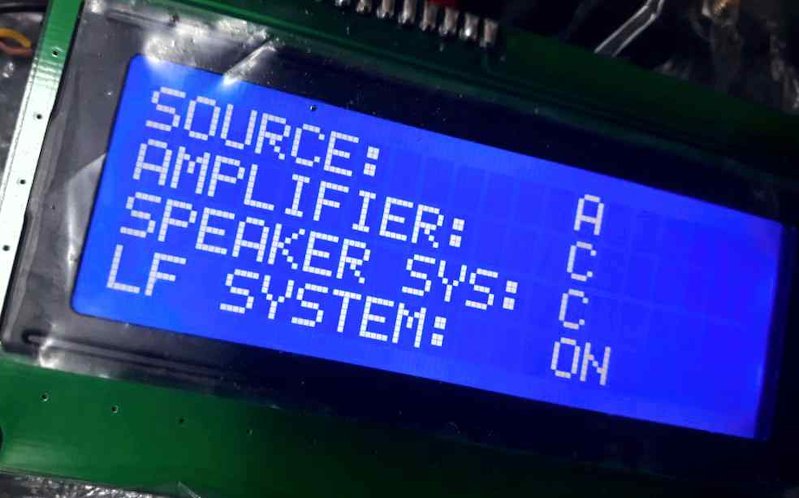 The installation was free of charge and included making up of new interconnects and fitting new banana plugs to the speaker leads - this because Dewald from 77 Mfg. obviously felt that something connecting to his unit had to be perfect..... Cables are Mogami (cheap and flexible) with Amphenol RCA plugs. Banana plugs are Nakamushi but wires soldered into them, only because I got a good price on 18 pairs via the local forum.
Listening & Conclusion
Despite all views to the contrary, provided the switching is via good contacts, there is no appreciable sound degradation. It is now a pleasure to, at the flick of a switch, to enjoy music via which ever amplifier/speaker combination I want. The only fly in the ointment as it were, is that the TacT/Lyngdorf like any Class D amplifier has voltage on the speaker terminals, so that amp needs to be turned off before switching to stop any surge.
The reason for this switching unit.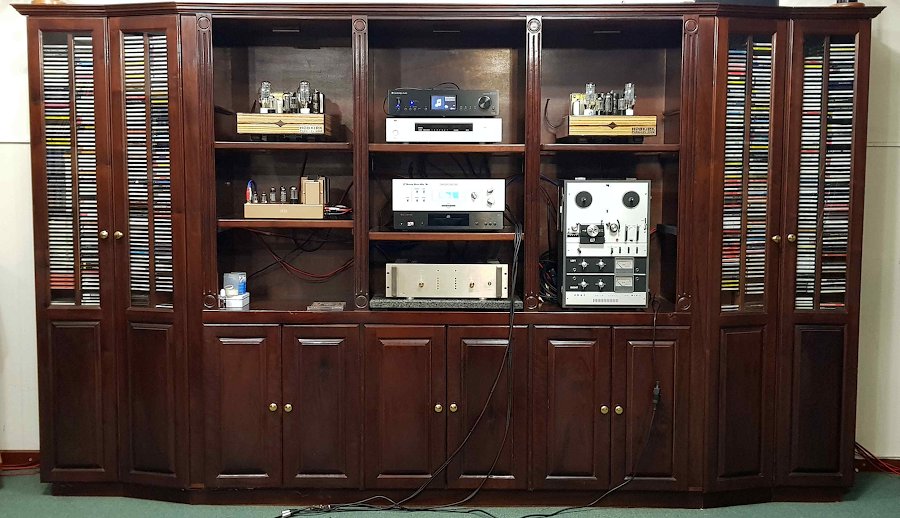 Equipment
Amps: TacT/Lyngdorf 2175 SDAI, Leak Stereo 20, Parallel SE 300B Triodes.
Speakers: Altec A7 stacked clones 105 dB/Watt/meter, Vitavox DU120 in Onken cabinets, Goodmans Axiom 80 97 dB/Watt/meter in Coral based rear loaded horns. Sub Woofer 100 dB/Watt/meter.
Inputs: Cambridge 851n Streamer, Studer A80, Otari MX50, Fostex E2, Akai M9.

DISCLAIMER. TNT-Audio is a 100% independent magazine that neither accepts advertising from companies nor requires readers to register or pay for subscriptions. After publication of reviews, the authors do not retain samples other than on long-term loan for further evaluation or comparison with later-received gear. Hence, all contents are written free of any "editorial" or "advertising" influence, and all reviews in this publication, positive or negative, reflect the independent opinions of their respective authors. TNT-Audio will publish all manufacturer responses, subject to the reviewer's right to reply in turn.

© Copyright 2019 Chris Templer - chris@tnt-audio.com - www.tnt-audio.com
[ Home | Staff & Contacts | HiFi Playground | Listening tests | DIY & Tweakings | Music & Books ]