).

One might need to move loudspeakers and power amps (or even racks) to periodically remove the dust surrounding 'em :-) or just to making cables testing way easier.

One might need to mechanically de-couple the loudspeakers (or whatever) from the floor in a semi-rigid way, hating either spikes and soft feet.

Tipically, these needs are only partially satisfied by those ugly circular felt (or rubber) discs one normally uses under chairs. These discs have some serious drawback: they attract dust like magnets and they do not like heavy loads: when a large loudspeaker or power amp sits onto these disks, instead of slipping gently on the floor they tend to stay glued to it.
Forcing 'em to move may cause any kind of damage, both to the floor (scratches and scars) and to the HiFi component itself. Not good.
Smarter audiophiles have then started to use ball bearings: these slip easily but are unstable and normally require screws to be safely fixed to the component. This means you can hardly use them under metallic cabinets. Plus, when a very heavy load is applied, the pressure on the ball bearing becomes excessive (the same mechanical principle that applies to spikes) and moving them around can damage the floor, after all it's steel against a softer support, your floor.
If you have a wood floor (parquet) you can forget them even with the lightest of the loudspeakers. Finally, they also attract dust like magnets and when the dirt becomes excessive the ball bearing ceases to work.
So you may end up needing something softer, smoother, dust-free and as slippery as ice. I've got it.
The solution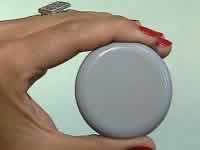 What about Teflon® coated disks? Introducing you the Glisdome, Teflon-coated disks normally used to move heavy furniture easily without damaging the floor. These are used, for example, for moving large and heavy shelves, beds, sofa's, desktops etc.
These Glisdome disks are made by a French Company (Erels) and are easily available worldwide at furniture and DIY stores, in several different "versions", one for any specific application.
The choice of the model depends only on the weight you need to "move". Available diameters for circular disks are: 20, 25, 30, 40, 50, 60, 70 e 100 mm while rectangular ones sizes are: 24 x 24, 30 x 30 e 24 x 100 mm. A "cut to fit" version is also available.
Erels also makes the Stabidome (35 and 60 mm), designed especially to reduce vibrations in HiFi components, washing machines, fridges etc.
Slippery when dry :-)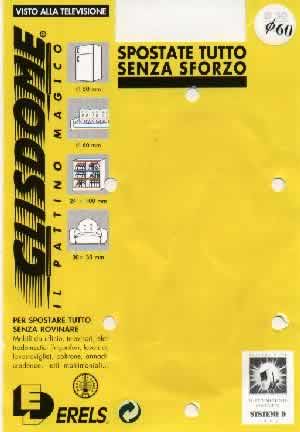 The Glisdome disks work excellently well. Just glue 3 or 4 of them under the loudspeakers ...et voilà!!! Pushing gently the heavy load will make it slip effortlessly.
The kind of mechanical interface with the floor is harder than a common rubber foot but softer than a metallic spike so it works fine to reduce vibrations (as a soft foot does) and in the meanwhile it is hard enough to avoid the speaker rocking back and forth.
Thanks to the mechanical properties of the the Teflon-coating, these feet tend to remain dust free and clean longer than any other similar device I've tested (felt and rubber disks, Vibrapods, SD feet etc.)
Obviously enough, the Teflon-coating is floor-friendly....even the softest wood floor will be free from scars and stratches - provided it is CLEAN before moving the loudspeakers around.
If you are wondering which size you may need, consider the biggest disks are meant for moving furniture of several hundreds kgs/lbs.
Sonically, being the missing link between a soft foot and a spike, they are quite interesting: good performance in the bass, no trace of harshness in the highs (as sometimes happens with spikes) and an excellent 3D image (not the sometimes blurred one we get with soft feet).
From the point of view of overall dynamics, since the loudspeaker doesn't rock back and forth (as with soft feet), the Glisdome disks help to deliver a sound which is vivid, lively and punchy.
And no, I'm not saying they are THE solution for every audiophile's needs, I'm just reporting they work damn good for the purpose they've been designed for...and they can be a good sonic compromise between soft damping feet and spikes. If you use felt or rubber feet, these Glisdome disks will represent a vast upgrade. Incidentally they are also damn inexpensive.
Some advice and complaint
How to glue them: the manufacturer suggests using a cyanoacrylic glue (for example the one they sell :-)). This is the best solution from a mechanical point of view but please remember they will be HARD to remove then. You can try with blue-tac or bi-adhesive tape instead.
They are quite easy to find, at least here in Europe, but I can't tell you where to search for (so, don't ask). The manufacturing Company does not have a website yet so your best bet is searching extensively at furniture and DIY stores. Forget HiFi dealers :-)
A cheaper alternative can be DIYed as follows: search a DIY store for big Teflon washers. Not as good as the Glisdome's (and definitely uglier) but quite effective as well.
Just two remarks about their cost. If you are used to felt disks...well, you'll find this stuff utterly expensive :-) Anyway, please consider the materials which have been used, the good level of craftsmanship and the way they work (excellent). I've succeeded moving, effortlessly, two large floorstanders whose weight exceeded 70 kgs (150 lbs) each with just 4 x 60 mm diameter disks per loudspeaker.
Conclusions
I'm pretty sure many of you feel the need to place the speakers into that "sweet spot" quite often because of WAF and/or living room restrictions. I can hear you panting and sweating every time, terrorized by the idea of a new scar on the floor.
Also, I'm pretty sure many of you are unsatisfied both with spikes and soft feet and are looking for a better compromise. Give these things a try, if they will not satisfy you, you can easily use them to move, all alone, that heavy wardrobe/cupboard into your bedroom :-)
In any case, you'll never lose, though I'm quite sure you'll be surprised by the effectiveness of these Glisdome feet.
N.B.: I do not know if the idea is new or not, I've extensively searched the web and found nothing. Anyway, it is possible some audiophile has been using these devices for years (though they are quite new). Usual disclaimers apply.
© Copyright 2001 Lucio Cadeddu - https://www.tnt-audio.com
[ Home | Staff & Contacts | HiFi Playground | Listening tests | DIY & Tweakings | Music & Books ]