[ Home | Staff & Contacts | HiFi Playground | Listening tests | DIY & Tweakings | Music & Books ]
Highend City Gyrotension VEGA Isolation feet & NAMOO NS-101B Binding Posts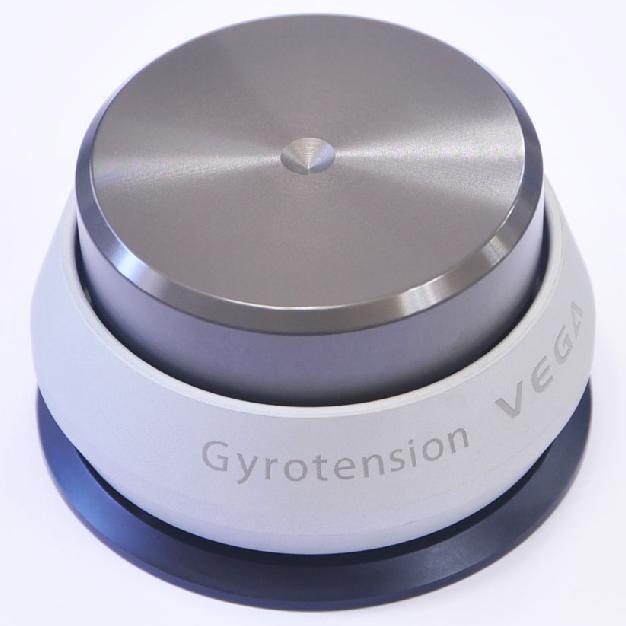 Isolation feet & Binding Posts from South Korea
[Italian version here]
Product name: Gyrotension VEGA & NAMOO NS-101B Binding Posts
Manufacturer: Highend City - South Korea
Cost: Vibration isolators from $288 & binding posts $189.50 (Currency conversion)
(YMMV)

Reviewer: Mike Cox - TNT UK
Reviewed: March, 2015
So far, in my brief career writing for TNT-Audio, I have not reviewed anything from South Korea. South Korea does not normally feature on my radar as a supplier of audio equipment, this may be about to change. Recently I received some isolation feet and speaker binding posts from Highend City who are based in Seoul, South Korea. When the items arrived I was completely surprised, the packaging was immaculate, something not all manufacturers get right. On openning the boxes it was as if I was unpacking a Swiss watch, the quality of the items is a joy to behold.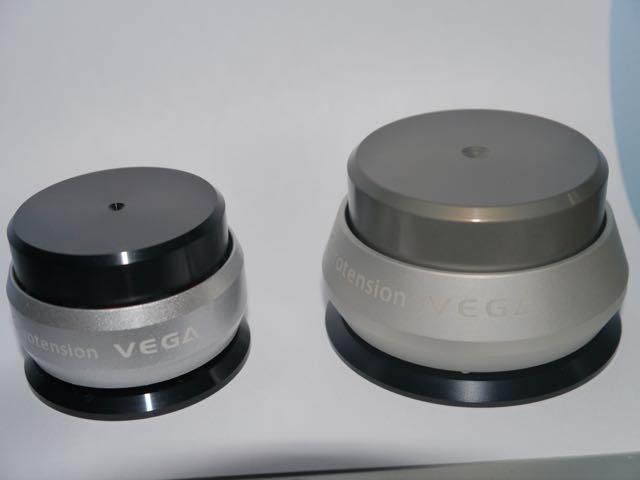 The two sizes of VEGA isolators
The fit and finish of the Gyrotension VEGA isolation feet is splendid, as good as anything I have seen from any manufacturer. The isolation feet are in two sections, the base is separated from the main body by three ceramic balls to provide the first level of isolation. The top plate, which is height adjustable, is suspended from the main body by a series of of silicon rings. The user can configure the number of silicon rings to alter the suspension characteristics to match the weight of the item being supported. There is a very good exploded diagram on the Highend City website that shows this clearly.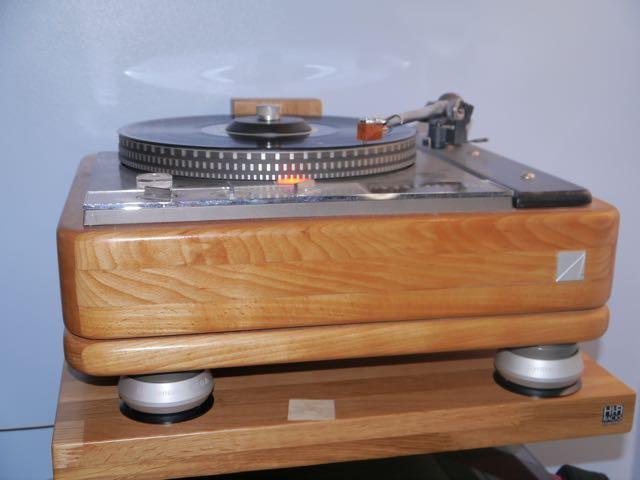 My Garrard 401, custom plinth, rega arm and Benz Micro Wood cartridge with the VEGA isolators
As a first trial I used the larger of two sets of isolation feet under my Garrard 401 turntable. This immediately solved a problem I had with the turntable, the lack of hight adjustment on the regular feet to set the turntable up level. I had been using some packing pieces under the existing feet that whilst functional did not look good. These packing pieces are now redundant and I hope you agree the turntable looks the part. Looking good is one thing but do they improve the sound quality, something we all strive for?
The effect on the sound of my vinyl collections was to reduce the background noise and improve the tracking. The sound seems more relaxed, I have never been completely happy with the Benz Micro Wood cartridge but with the isolators in situ I could relax and enjoy the music. The smaller set of isolators I am going reserve for an amplifier project I am working on so will write an update later.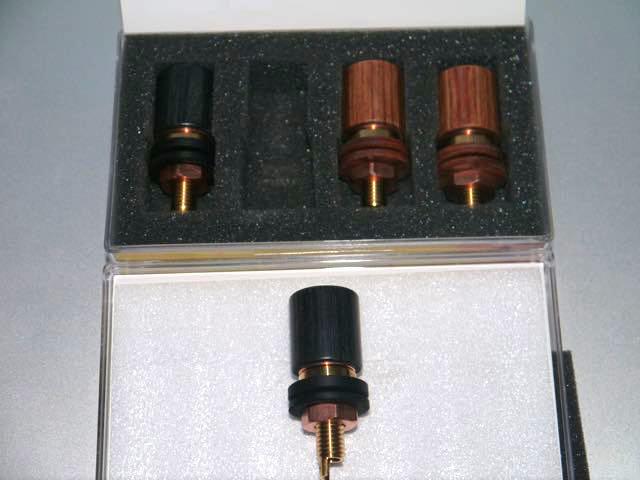 Namoo Binding posts

Another item from the same supplier are the NAMOO NS-101B Binding Posts. If you are working on an amplifier project, a restoration or even a new build you should take a look at these binding posts.

The metal is gold plated copper with the insulation provided by compressed birch ply. Again the fit and finish is the best I have seen and the materials used should give the best sound possible. I am working on an amplifier project where I will use the binding posts so will report back when that is finished.

© Copyright 2015 Mike Cox - mike@tnt-audio.com - www.tnt-audio.com
[ Home | Staff & Contacts | HiFi Playground | Listening tests | DIY & Tweakings | Music & Books ]