[ Home | Staff & Contacts | HiFi Playground | Listening tests | DIY & Tweakings | Music & Books ]
Platinum Power PP-1 - Balanced Power Line Processor
Product: Platinum Power PP-1 Balanced Power Line Processor
Manufacturer: Platinum Power
5326 East Sheridan Street
Phoenix, AZ USA
Price: $2500
Reviewer: Nels Ferré
Reviewed: September 2001
Background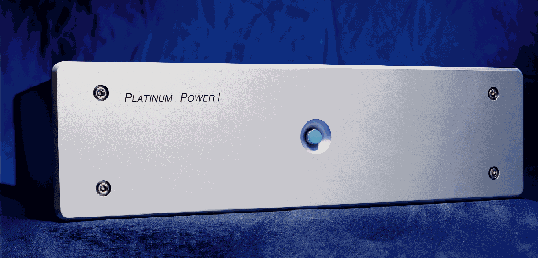 The quality of incoming power being fed to a system from the electrical outlets didn't enter most people's minds years ago. Indeed, even as little of 10 years ago, power conditioners were rare on the marketplace, and only the most fanatical of music lovers considered their worth and subsequent purchase.
I didn't purchase my first "real" power conditioner until six years ago, where the concern of damage from electrical surges prompted the purchase of a Panamax Max 1000 power conditioner/ surge protector. For those who may be unaware, Florida, where I live, is the lightning strike capital of the world. Every summer, during the height of storm season, repair shops are inundated with surge-damaged components and televisions, and insurance companies are buried in paperwork for the replacement components whose damage is too extensive to make repair worthwhile.
A few years ago, the merit of owning a power conditioner became quite obvious. One night, upon returning home from work, I went to the listening room, and the entire system was dead. Upon closer examination, I discovered that the Panamax was dead. After sending the unit back to Panamax for repair, their technician discovered that the unit had been damaged due to a lightning strike, and was subsequently repaired. The good news was that the Panamax had worked as intended, and had saved my entire system. I wouldn't consider running my system without such a device.
When Frank Klink, President of Platinum Power contacted me for a review, I was intrigued. I was curious to hear whether the PP-1 would enhance the performance of my system. For all of the claims of most companies that manufacture power conditioners, I had never heard an improvement, or even a difference, with any kind of conditioner. To me the only reason to own one was the suppression of electrical surges. Could the pricey PP-1 be a good value or even worth the money? Read on.
Why Power Conditioning?
A few very good arguments exist for power conditioning. Let's face facts. Your local power company has a couple of goals: reliable service and generation of profits. I am confident in saying that your local power company doesn't concern itself with the ultimate performance of their customers' music systems. In my own home, I have observed a variance of voltage from as low as 108 volts and as high as 122 volts. Your mileage may vary, but my point being that most of us have spent thousands of dollars on our systems and are really at the mercy of the quality of our electric providers.
Additionally, give some thoughts to the internal wiring in your home. All of the electrical wiring residing inside the walls acts as a large antenna, picking up loads of radio frequency interference. The suppression of this interference is very beneficial.
The downside of power conditioning can be "over regulation". Many manufacturers recommend power conditioning for source components and pre amplifiers only, believing that using power amplifiers with power conditioners result in a reduction of dynamics. The PP-1 is designed for use with all components, including power amplifiers.
The PP-1
Upon unpacking the shipping box for the PP-1, the first thing that I was struck by was the sheer weight of the PP-1, a hefty 55 pounds. Fit and finish are jewel like, befitting the price of the PP-1. I connected all of my components to the PP-1.
On the back panel are 8 hospital grade duplex outlets, 3 of which are dedicated for digital components. The 3 digital outlets are gounded seperately from the other outlets, to enhance the performance of sensitive digital components. The remaining outlets are designed for all other types of audio and video gear. To the left of the power outlets are the master circuit breaker, and high quality power cord, with a 20 amp plug.
This cord requires the use of a 20 amp electrical socket in the home. For those who do not have a 20amp receptacle, Platinum Power can substitute a "regular" 15-amp plug. The review sample finished in matte black, had the 20-amp plug. A satin silver finish is also available.
What makes the PP-1 really special is its design. As I find myself unable to explain the design better than the manual, I will quote it here:
"The PP-1 supplies two equal voltages of opposite phase (2 phase 60VAC) which outputs 120VAC. This balanced output cancels 60Hz hum and other reactive currents. Additional interference is then effectively reduced with high quality passive filters. With audio and video equipment connected both power line noise and equipment generated noise become inaudible".
The specs speak for themselves:
Interference and Noise Reduction: Greater than 65dB from .5 Hz to 20Mhz
3 Electrode 10,000 Amp Surge Protection
2500 Watts continuous duty power supply
In other words, the PP-1 does reduce noise by a large amount, while providing a large amount of protection from damaging electrical surges.
The design is simple, yet very effective, and nearly revolutionary. I was amazed at the improvement that the PP-1 made in my system. I had thought previously that my system was quiet, but the substitution of the PP-1 for the Panamax Max-1000 made music emerge from a background so black as to be almost eerie. Additionally, the music, no matter what I was listening to, had more texture with the PP-1 in the system. It was as if the PP-1 acted as a "richness intensifier", for want of a better description. The sound was smoother, more dynamic, and yet free of any type of glare or harshness. I also found that I could not only listen to music at a much lower level than I normally do, and still hear everything, but I could also listen to music at extremely high levels without any indication of strain from my system, or my ears. This is the only time I have ever heard any of the claimed "improvements" so often touted by manufacturers of power conditioners. This one works and works very well indeed. I did not detect any negatives at all, sound quality wise, during the review period.
Dislikes
As much as I like the PP-1, I do have a couple of beefs with the PP-1. First I would have preferred that the power switch be located on the front panel of the unit, to allow the unit to be powered down for extended periods, while away for vacation, for example. An IEC receptacle to allow the use of custom power cables would definitely be a plus. Additionally, considering the price of the PP-1, while I do feel to be reasonable, I would expect a 5-year warranty, if not "lifetime", like other conditioners on the market.
Conclusion
For those who consider the conditioning of incoming power to their system to be of prime importance, and can afford its cost, I highly recommend the Platinum Power PP-1. Considering the performance and obvious build quality, the price of the PP-1 is more than justified.
Federal Express is due to pick up the PP-1 for return to the manufacturer in a couple of days, and I will be doing as much listening as possible until then. The PP-1 will be sorely missed.
© Copyright 2001 Nels Ferré - https://www.tnt-audio.com
Manufacturer's Comments
Editor:
Thank you for taking the time and effort to give your readers insight into Platinum Power's model PP-1 AC power line processor. Your analysis is very complimentary. I hope this was a labor of love.
Ten years ago the unit was born out of necessity when we first had challenges connecting 6 mono amplifiers in a high-end two channel stereo system. Relocating to a new listening room and having the desire to improve on that first idea lead to the development of the PP-1. So one idea lead to another and the PP-1 was born.
Our goal was to make a product that would outperform any of the units we listened to while maintaining the musicality of the system including those with multiple amps. We have listened to numerous designs on the market only to find many of them lose rhythm and melody. The heavy weight mentioned is a massive special design toroid transformer built to Platinum Power specifications.
Unlike the unit you mentioned the PP-1 was developed for high-end stereo/video systems. Many devices remove the noise very well but take the emotion out of the playback. It doesn't take a high-end system to hear this. A comment we often hear from customers is they didn't realize they could have so much bass response and control until they tried the PP-1.
The over regulation you talk about is likely the result of insufficient current capability. Solid state equipment isn't as fussy about voltage as it is about current source. That's why we wind our toroid with 10 gauge wire instead of 12 gauge to help keep the source impedance low and improve the toroids saturation voltage. So simply our design criteria was to take the transformer from power pole or the ground and put it next to you're stereo system allowing for better current performance, voltage regulation and a lower noise floor.
We could reduce our cost by using standard parts, but we selected each component for its performance and reliability even down to the custom designed blue LED rated for 100k hours of use.
As to the 20A 120VAC plug supplied this is necessary to obtain the full 2500 watt continuous duty capability of the unit. A 15A service can be used without degrading the performance as long as the load is not severe.
We have tried IEC connectors and find they degrade the sound of music.
The idea behind the rear mounted AC switch is to allow for face down operation so the outlets and the AC switch are readily accessible and convenient. Consult the owner's manual for proper installation.
As for specifications, I have yet to read specs and have them determine performance. They have limited use. Let your ears be the judge and if your not sure find a reputable dealer who will spend a few hours with you. There is no substitute for learning how to listen to recorded music.
The PP-1 is available in a black or silver face panel and special order for all silver.
Technical inquires may be e-mailed to fklink@qwest.net
For orders call Sounds Like Music 602.993.3351 MST
Frank Klink
Platinum Power
HTML: Michael McDonald
[ Home | Staff & Contacts | HiFi Playground | Listening tests | DIY & Tweakings | Music & Books ]