[ Home | Staff & Contacts | DIY & Tweaks | Listening tests | HiFi Playground | Music & Books ]
Slappa HardBody CD Storage Case
High Value Disc Storage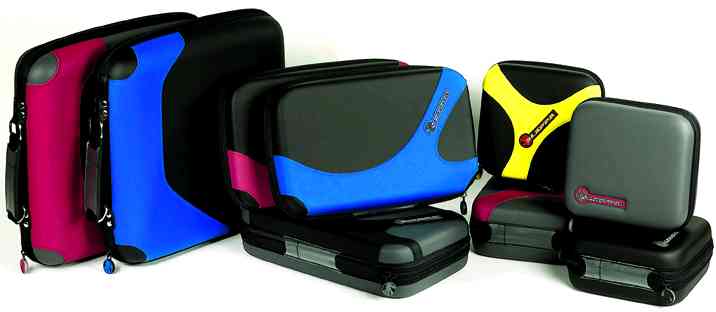 [Italian version]
Product: Slappa HardBody CD Storage Case
Manufacturer: Slappa - Hong Kong
Price: $14-29 plus shipping depending on model
Reviewer: Nels Ferré - TNT USA
Reviewed: May 2003
They're Everywhere, They're Everywhere
As you may suspect, I'm a music junkie. Let me paint a not so pretty picture for you. I have a closet where I could initially store my CDs and LPs. I've outgrown it. Inside the closet, on the right side, is one of those big wooden CD racks that hold 550 CD's. It's full. To the left of that, is a bookshelf, pressed into service as an LP rack. I should have known I had a storage problem when the shelves collapsed…three times. Nope, I just reinforced the shelves with metal L brackets, and continued to collect. There are CDs stacked on the floor in the closet, and on the table opposite the closet. I have a smaller metal CD rack outside the closet, also full. There are more CDs on my stereo rack, coffee table, and at least 2 in my car. There may be some CDs in my wife's car, I'm not sure. There is a box of LPs to the left of my system, which is full as well, with LP's flanking the front and both sides of the box, and more CDs in front of the LPs. You get the idea.
I have realized for quite some time that I needed to do, well, something about CD storage. My wife generously suggested that I use a spare bedroom to store all of my recordings, but soon afterwards came up with an alternate use for the room. She probably figured that sooner or later, I'd fill the entire room. Smart lady, she is probably right.
The Problem
The problem with CD storage isn't the CD itself, it's the jewel case. Being far thicker than the actual CD, it naturally consumes valuable real estate. While I have realized the source of the problem, I've been loath to ditch the jewel cases for another form of storage. You see, I actually like the jewel case. Like the spine of a book or LP, it's easy for me to locate a disc. OK, it's not easy now, but in a perfect world, with enough shelves, it would be.

I have investigated other options. There are a lot of CD storage "wallets" out there, but haven't liked any of them. Either they didn't have enough protection for the disc, didn't hold enough, or they didn't have capability for storing the CD artwork. The ones that held enough CD's to make them worthwhile were too bulky. Those that were slim didn't give me a way to identify the discs inside. Let's not forget money. For what they are, I haven't come across anything I felt was a good value, until now. I felt like I was in a bad version of Goldilocks and the Three Bears…"This one is not built well. This one is too fat…this one is too thin……."
Slappa HardBody Disc Storage
Slappa is a new company, specializing in CD and DVD storage, as well as cellular phone accessories. Located in Hong Kong, they ship worldwide from warehouses located in Hong Kong and Florida.
The team at Slappa sent me a few pre production samples, and I have to say I am quite impressed. The CD cases are very well thought out. They are available in a variety of sizes, constructed in a very durable hard shell material called EVA.
There is plenty of room inside for both the CDs as well as the artwork. The artwork fits behind a transparent plastic cover, with a soft sleeve behind it to hold the disc. In a pinch, one could use one slot to hold a double CD set, by putting the first disc behind the artwork. The case itself can be zippered shut, to keep out dust and reduce humidity. Each case includes a soft dust free CD cleaning cloth, a very nice touch. The other really cool thing about the cases is that there is a transparent plastic sleeve on the outside spine, so that you can slide a label in to indicate the contents inside. Slappa's website even has a label making template, so the label can be changed as often as the contents of the case. As an example, I (try) to keep my CDs in alphabetical order, as well as chronological order by date of release. As my collection has grown (and grown), I've had to shuffle discs from here to over there (and yet over there.) I'd still have to shuffle some with the Slappa system, but could label, say, the first case "A-B", the second "B" (lots of Beatles) the third "C-D" and so on. Of course, the 128 CD model, at under $29, would greatly reduce the shuffling as well.
I can't even grouse about the styling. They are available in a variety of colors to suit any taste. (I liked the Black/Gray combo.)
As far as shipping, Slappa has kept the cost down here as well. I can't ship packages myself for their shipping charge.
All Slappa models are covered by a 6 month warranty against manufacturing defects.
Conclusion
Count me in for a bunch of 128 HardBody CD models. The Slappa CD cases are the best, most versatile CD cases I've seen to date. Highly recommended. I would like to thank Team Slappa for providing the review samples.
Manufactuer's Comment
Slappa will introduce a new 192 HardBody CD holder in early July 2003. MSRP is $37.99 US.
© Copyright 2003 Nels Ferré - www.tnt-audio.com
[ Home | Staff & Contacts | HiFi Playground | Listening tests | DIY & Tweaks | Music & Books ]