[ Home | Staff & Contacts | HiFi Playground | Listening tests | DIY & Tweakings | Music & Books ]
SlipMat - felt turntable mat
Dirty deeds, done dirt cheap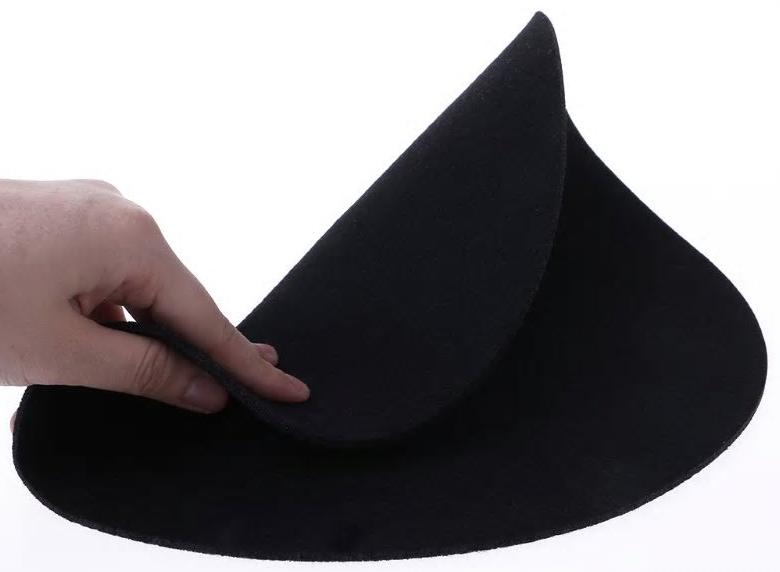 Product: SlipMat - felt turntable mat
Manufacturer: Unknown - China
Seller: Global-PC Store on Aliexpress.com platform
Approx. price: 3.5/4€/$, including shipping worldwide (YMMV)
Reviewer: Lucio Cadeddu - TNT Italy
Reviewed: March, 2019
What is felt?
Felt and music have an old and strong relationship. Indeed, many musical instruments use felt! Thanks to its damping properties it is used on drum cymbal stands (it protects the cymbal from cracking and gives it a clean sound) and to wrap bass drum strikers and timpani mallets. Pianos use huge amounts of felt: piano hammers are made of wool felt wrapped around a wooden core. The piano's tone heavily depends on the density and springiness of the felt. As felt ages, the sound of the piano changes. Felt is also placed under the piano keys to control touch and key noise. And, you know that, it is the most used material for making turnable mats!
You might think felt is a natural material. This is not always the case. It started as made from wool of different animals, something like 6,000 years ago, and this makes it the oldest textile known to mankind. Nowadays, it can be made of different natural fibers such as wool or animal fur, or from synthetic fibers such as petroleum-based acrylic or acrylonitrile or wood pulp-based rayon. Blended fibers are also common. For a treatise on different kinds of felt and on how they differ one from the other, you might refer to this article.
Felt mats for turntables are #1 choice of different manufacturers. Many classic British turntables, such as Linn Sondek, Axis, Basik, Rega Planars etc., are equipped with felt mats. Even ProJect rely on felt mats for many of their turntables and platters. Felt is a wise choice, indeed: it's inexpensive, lightweight and it offers a soft damped platform to vinyl records. The mechanical interface between LP and platter is easily improved using a felt mat with a clamp, possibly of the lightweight kind, such as the old See The Pig, the Michell clamp or the KAB Super Record Grip we reviewed almost 20 years ago (and still available).
Felt mats have some cons, as well: in certain cases they attract dust and create electrostatic build-up. This notwithstanding, they have always been #1 choice for decades, before acrylic, cork and silicone mats appeared on the market.
The most popular felt mats are the Linn mat, the Rega mat and the ProJect mat, and they slightly differ one from the other. More or less, the diameter is the same (295/300 mm) but thickness and weight may vary.
The Linn felt mat one is nearly 2mm thick and its weight is 20 grams. Anyway, if I remember well, thickness of Linn felt mats slightly varied over the years. And, of course, older ones might be thinner because felt tends to "sag" over the years.
The Rega felt mat is slightly thinner and softer than the Linn mat. Also available is a 100% wool Rega mat, in almost any color you like. It is part of the Rega Performance Pack upgrade for entry-level Planars.
The Project mat weight is 13 grams and it is pretty thin, around 1mm!
Weight and thickness do have some technical relevance: the first influences rotational inertia of the platter and modifies spring suspended chassis behavior. A heavier platter gains momentum slowly but, once rotating at the right angular speed, it remains more stable. Thickness influences VTA, the Vertical Tracking Angle of the stylus. These two aspects should be taken into account when choosing a new turntable mat. Differences in weight for felt mats are usually negligible.
The one thing to avoid when cleaning a felt mat that has attracted too much dust is...washing it! Water will simply destroy it. Use a brush and a vacuum cleaner and you'll be home and dry.
There are several reasons why you could decide to replace your turntable mat. Felt changes its damping properties with age, as it becomes stiffer. Hence, a new felt, from time to time, isn't a bad idea. Secondly, you might need a lighter mat: older suspended chassis turntables might suffer from sinking as springs become older and softer. Replacing a heavy rubber turntable mat can give some relief to the springs. Finally, you might need a new felt mat for a second-hand turntable that comes without mat (it is more frequent than you might imagine). You can choose popular felt mats (Linn, Rega etc.) but you might want to spend as little money as possible. And here's a possible solution!
Dirty deeds, done dirt cheap!
Enter the SlipMat, the least expensive felt mat I've ever come across. While many branded felt mats will cost you something between 10/20€ (plus shipping!), this China-made SlipMat will cost you just 3.5/4€, shipping worldwide included! Now beat that :-)
Oh yes, it takes ages to arrive - more or less 30-40 days - but I can assure you this is an unbelievable bargain! Of course you can choose different shipping methods, but they will be too expensive. The default shipping is by Yanwen Economic Air mail (don't ask me what it is) and it is slow, but it works (and no, there's no tracking available!). Of course, there might be differences in delivery times from one country to another, depending on customs. In any case, there won't be customs fees to pay because the item costs almost nothing. I paid 3.6€ (yes, 3 euro and 60 cents), shipped right to my door in Italy. You can pay with your credit card or even via bank transfer. Paypal not allowed, at least not as of March 2019. A full refund is also available and you can even open a dispute if you receive the item too late or if you don't receive it at all.

Payment options for your SlipMat
This embarassingly inexpensive mat is well made, perfectly round, and is as good as those branded felt mats around. Its diameter is 295mm (11.6"), hence it is the usual "standard" for most turntables, and it is 3mm thick. Its weight is 31 grams. It is slightly more compact and a tad stiffer than the usual Linn and Rega mats. Hence, it provides a slightly higher damping factor. Given the price I guess it is not entirely made from natural fibers as wool, for example, but it gets the job done for peanuts. And, guess what? It sounds like any other good felt mat around.
Being 3 mm thick, that is slightly thicker than other felt mats, you might need to adjust arm height accordingly, in order to not modify the VTA. Of course, you might not be able hear VTA differences as little as 1 mm! Before ordering, check the diameter of the platter of your turntable. A mat can be slightly smaller but, definitely, a larger mat isn't a good idea.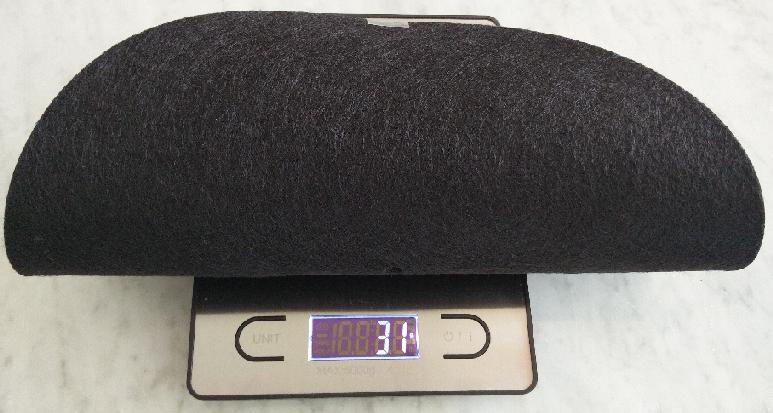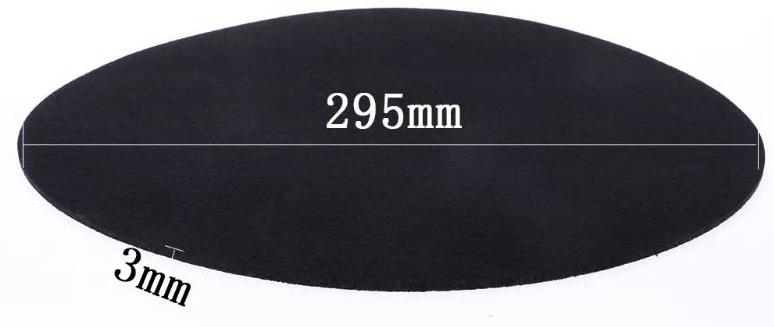 Conclusions
Perhaps there are less expensive felt mats out there that I'm unware of, but I suspect this one is hard to beat, considering the shipping is included! It is well made, works exactly like any other felt mat and the seller seems reliable. What else can I say? Hurry up while stocks last!
DISCLAIMER. TNT-Audio is a 100% independent magazine that neither accepts advertising from companies nor requires readers to register or pay for subscriptions. After publication of reviews, the authors do not retain samples other than on long-term loan for further evaluation or comparison with later-received gear. Hence, all contents are written free of any "editorial" or "advertising" influence, and all reviews in this publication, positive or negative, reflect the independent opinions of their respective authors. TNT-Audio will publish all manufacturer responses, subject to the reviewer's right to reply in turn.

© Copyright 2019 Lucio Cadeddu - direttore@tnt-audio.com - www.tnt-audio.com
[ Home | Staff & Contacts | HiFi Playground | Listening tests | DIY & Tweakings | Music & Books ]