[ Home | Staff & Contacts | HiFi Playground | Listening tests | DIY & Tweakings | Music & Books ]
Winyl Cleaner Record Cleaning Products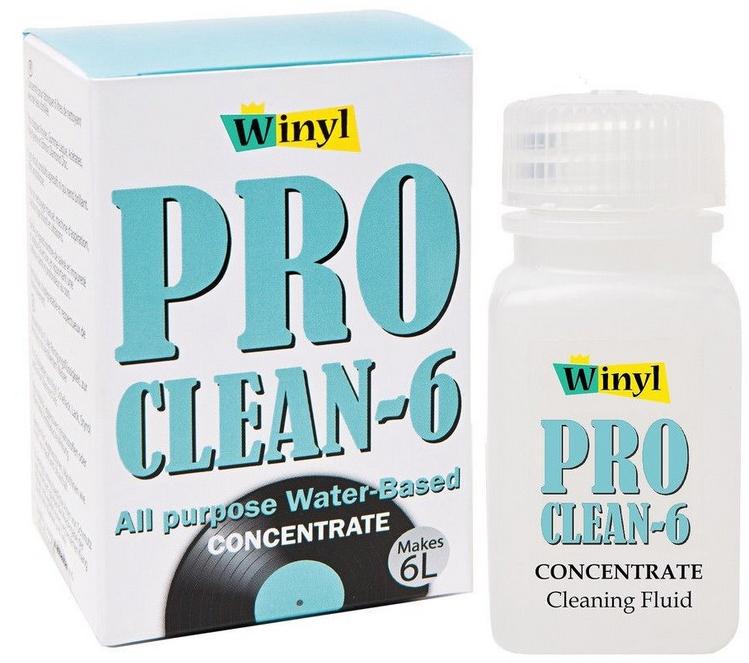 Time to make those records shine
[Italian version here]
Product name: Winyl Cleaner Pro Clean 6 Fluid and Advanced Cleaning Gel
Manufacturer: Winyl Cleaner - Spain
Cost: Fluid €28.90 Gel €19.90 (Currency conversion)
(YMMV)
Reviewer: Graeme Budd - TNT France
Reviewed: January, 2019
Despite many years of the record buying public just buying and playing records with scant regard for their well being the rarity of vinyl and reliance on second hand purchasing and the ever increasing price of quality cartridges led to the introduction of ways of cleaning those black discs. In the upper end of the market there are all the automatic machines complete with vacuum systems but for those on a lower budget excellent results can be had with manual machines such as the Knosti Disco Antistat. I own such a contraption and I was running out of cleaning fluid so when our good editor mentioned this product I put up my hand and said Yes.
At the same time Juan from Winyl Cleaner (yes it's spelt with a W before anyone asks) also suggested trying their Advanced Cleaning Gel which is designed to really get the crap out of very dirty records. Anyway enough preamble and on with the product description. Winyl Cleaner hails from Spain and (according to their website) their (highly laudable in my opinion) mission statement is the following:
Winyl is a brand specialized in gramophonic record cleaners created in Spain in 2015. We are vinyl collectors, and so we strive in offering quality products at a reasonable price.

When this project was born, we defined our goals, which are:

Our products are manufactured in Spain, we do not sell or import products by other manufacturers or from other continents.

All our cleaners must work without leaving any trace on the groove, so they do not contain any unnecessary components like artificial brighteners or unwanted contaminants.

All our suppliers are Europe-based; many of them located in Spain, and are leaders of their respective fields, such as our chemical reagents provider. Moreover, we perform quality tests to all components before using them.

Each cleaner is designed for a specific use case, so we only create unique products, and we do not produce a single multi-use formula and change its label and name.
The Cleaning fluid comes in the form of an alcohol free concentrate which has to be diluted with de-ionized water to make 6 litres in total. De-ionized water is the same stuff that is sold in auto stores for the purposes of topping up batteries so it's easy to find and pretty cheap. The fluid is compatible with manual, automatic and even ultrasonic cleaning systems making it pretty universal should you upgrade your machine or have several different ones. It's also environmentally friendly and is said to leave no residue on the records post clean (always a good thing). The design of the Knosti allows the fluid to be filtered and recovered after use so 6 litres is going to go a long way.
The Advanced cleaning gel comes in what looks like a plastic jam jar and is supplied with a pair of measuring syringes to ensure you use the right amount depending on the size of record you intend to clean. As you can read in the picture below it's designed to remove dirt and debris and leave the records free of static. What it won't do (and to be fair they don't claim it will) is to remove surface noise due to pressing faults.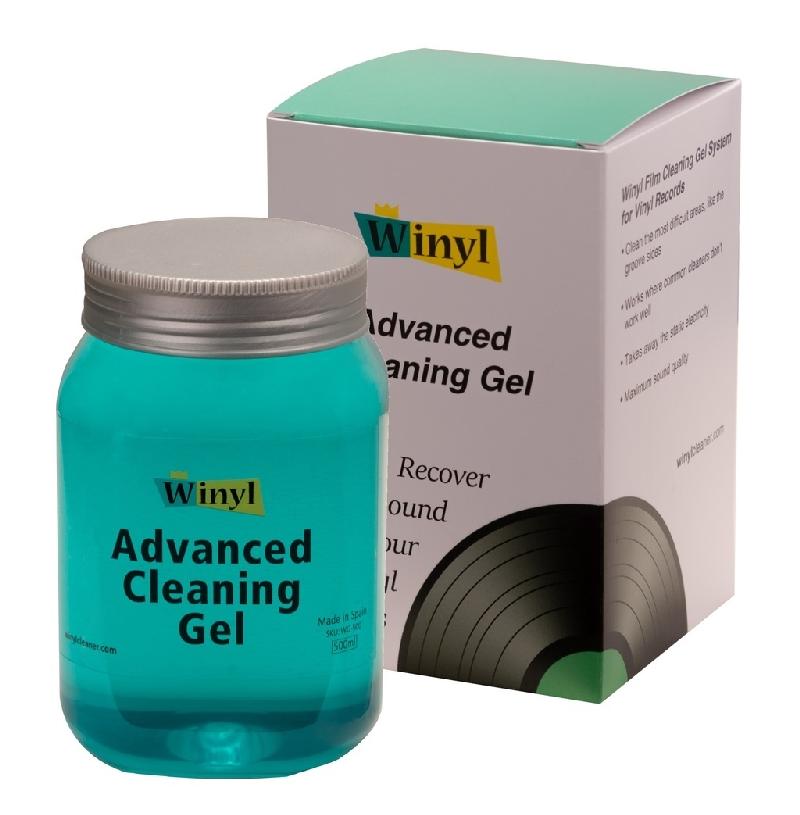 So how do we go about using these products? We'll start with the easier and quicker of the two which is the fluid. Measure out the right quantity of concentrate using the supplied syringe, mix it with de-ionized water. Leave to settle for a bit and then it's Knosti time (or Okki Nokki or Moth or whichever machine you may have)
The Record Cleaner Gel is more time consuming as it requires the gel to be applied onto one side of the record in a flower like pattern (see picture) with the supplied syringe and then leveled as best as possible. This can be achieved with the Mk1 human index finger but I'd recommend one of those icing spreaders from your local cooking emporium for better and more consistent spreading. I'd politely suggest not pinching the one your better half has in the kitchen for icing birthday cakes.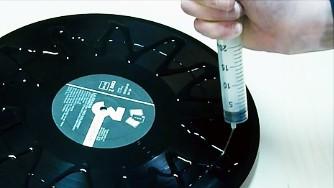 The record then needs to be left for 5-6 hours until the fluid becomes solid and then peeled off taking the crap with it. You can then do the second side.
Testing
So how do we test cleaning products bearing in mind it's difficult to compare a record in it's clean and dirty states? Fortunately I have a couple of records where I have 2 copies which are of similar vintage and pressed in the same plants allowing me to clean one record and compare it with the uncleaned version. The albums in question? Dire Straits Love over Gold and Joe Satriani's Flying in a Blue Dream. I started by liquid cleaning one copy of each with the Knosti and running them back to back in my main system. I roped my Mum and Dad who were at the house at the time to corroborate my findings as I was scared of the old A/B testing trap. I needn't have worried as the differences were blatantly obvious. So I cued up Joe and the track Flying in a Blue Dream on the uncleaned version. It was frankly fairly unpleasant and made me question the functioning of the ears of whoever had produced the record or had cut the master lacquer. The guitar was harsh, bass was thin and the whole thing sounded a mess. The Mystical Potato Head Groove Thing continued in the same vein and despite my father being a guitarist I could see he wasn't enjoying himself. Having heard Mr Satriani play both of these songs live I know he's capable of better. So out came the cleaned version and onto the deck it went. To say it was better is a huge understatement. The tone of all the instruments was vastly improved and the music actually sounded more like music rather than cacophony. Relief for everyone's ears all round
The more scientific and critical among you could at this juncture point out that it could be down to two different records - and that I've been misled as to the effectiveness of the fluid. To which I would reply that you're totally right and that's why we have control record number 2. Now I'll freely admit my N°1 copy of Love over Gold was cleaned when I bought it second hand about 10 years ago but hasn't been cleaned since so could be considered "dirty". I therefore decided to clean my N°2 copy and see if the Winyl fluid can improve on things. Again the results were of the same order - better tone all round and a track that's just more musical. No cleaner is going to improve Mark Knopfler's singing voice on Telegraph Road but you'll better hear what he's singing. Similarly the bass will clean up and you'll hear it's character an pitch better.
By writing the above I'm not saying that the Winyl fluid is necessarily better than the original Knosti stuff. It might well be but frankly a comparison is going to be pretty difficult to engineer without buying a whole load of duplicate copies of the same record. What I will say is that it works and it works well.
Which brings us neatly onto the cleaner gel. For this I used my non cleaned version of Flying in a Blue dream with the intention of comparing it with the freshly fluid cleaned version. The results are pretty similar - I'd say the Gel is marginally better especially in the area of low end clarity but that the fluid holds its own from a practicality point of view. The gel will get the crap out of dodgy second hand records but won't remove all the surface noise if it's due to pressing imperfections. As a case in point I liquid and then Gel cleaned Joe Jackson's I'm the Man. The Gel cleans the sound up even further but the crappy 80's pressing is revealed in all it's crappy 80's pressing glory. Bloody good record though...
Conclusion
Frankly if you are even a semi serious vinyl buyer there's no excuse to no have some form of wet cleaning system. The combination of the Knosti and the Winyl fluid provided a thoroughly convincing result and comes highly recommended. The Gel is something I'd reserve for cherished pressings or really dirty second hand acquisitions. It is marginally better than the fluid but at the expense of some time constraints. Both are worth the money for record buyers and audiophiles alike and (for any partners or siblings that may be reading this) make ideal and worthwhile gifts for the record collector in your life. Now I wonder if the stylus cleaner they make is any good?
DISCLAIMER. TNT-Audio is a 100% independent magazine that neither accepts advertising from companies nor requires readers to register or pay for subscriptions. After publication of reviews, the authors do not retain samples other than on long-term loan for further evaluation or comparison with later-received gear. Hence, all contents are written free of any "editorial" or "advertising" influence, and all reviews in this publication, positive or negative, reflect the independent opinions of their respective authors. TNT-Audio will publish all manufacturer responses, subject to the reviewer's right to reply in turn.

© Copyright 2019 Graeme Budd - Graeme@tnt-audio.com - www.tnt-audio.com
[ Home | Staff & Contacts | HiFi Playground | Listening tests | DIY & Tweakings | Music & Books ]