[ Home | Staff & Contacts | HiFi Playground | Listening tests | DIY & Tweakings | Music & Books ]
HiFi Market Segmentation
Segments and price brackets for HiFi components
Author: Piero Canova - TNT Italy
Published: February, 2021
The theory behind market segmentation
I believe that all Hi-End audio fans will have noticed that, in the last 20 years, vinyl records are having a second spring. Even the non-specialized press publishes, twice a year, statistics that show this rejuvenation. As always happens, this increase in demand carries with it some evident effects: all of a sudden, all vintage pieces of audio equipment have become synonymous with high performance (sadly this isn't true in most cases) and there's a booming offer of related components like turntables, tonearms and phono stages. In recent times, the appearance of these items has become so wide that it is now really complicated to understand what's going on. Frequently new manufacturers advertise their products, and existing ones broaden their offer without canceling older models increasing substantially, the possible choices.
Forgive me then, if, to make sense of these circumstances, I have tried to find some common characteristics in the products being offered (my Marketing Manager will say I have segmented the market). For those who aren't familiar with these processes, to segment a market is an attempt to simplify the understanding of something very complicated. It is an approximation and there are several ways of looking at the data, generally, all correct: the only really important thing is to apply coherently and consistently the same method. I have chosen to segment the market using the purchase price as a reference; I could have done it through technology (solid-state, tubes, IC, etc). My results are summarized in the table here below.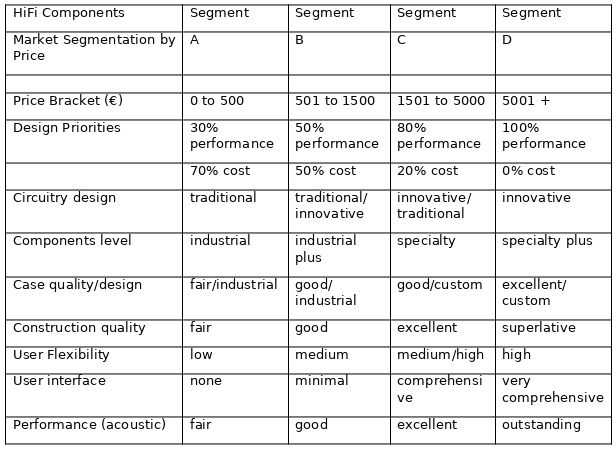 As you can see, the price brackets are arbitrary, but in my view, they do correspond well to the prices in the market. The letters used to name each segment are those used by the car industry and they don't automatically reflect the performance. I think this table explains well why some products are very appreciated by reviewers or by customers: this happens normally when they belong to a certain price bracket, but the performance is that of the next higher segment.
Let me give you an example. Among my phono stages, one that has received widely positive comments is the Aqvox 2Ci (now MK II). By price, it is in the "B" bracket since it retails around 950€. Its performance, in my system and my room, the Aqvox is on a par with my other two phono stages (Parasound Halo JC 3 that in my segmentation is a "C" and Burmester 838 that when sold was a "D"). The circuitry is very innovative and it is very flexible since it is both MM and MC, single-ended and balanced. You can see it belongs to "B", looking at the case, which is a standard 1U rack. Similarly for the internal components, which are mainly standard industrial parts, without special selection, and it appears that there is a concentration towards economy of construction. So, it is appears at first to be a "B" product that in terms of performance is in "C" and consequently both reviewers and customers are very happy. In a similar way, we might find from time to time products that perform below their price bracket. The best example I can imagine is a product that is sold for several years: at the time of first sale it could have been innovative and an excellent performer, but progressively the technology has advanced and the performance level of competing products has increased making your original purchase seemingly overpriced.
Let me add a further consideration: how old or young is the product and the company offering it? Everybody loves a "deal", intended by the seller to be the purchase of goods which vastly over-perform the price paid. Generally, this happens for very clear commercial reasons (i.e. a new model is due in a short while): talking about mobile phones where lifecycle of the product is one year, in the first three months the price is high and producers have a payback worth the investments. In the following six months the price stabilizes and they make the profit and in the last three months the sales happen so they try to empty the stocks and be ready for the new model.
In the Hi-Fi world, where the end of life of a product can be protracted and obsolescence negligible, the deal happens very often when the company offering a product is a newcomer and needs then to be seen, recognized, and quickly recover some cash to sustain their activities.
Perhaps in the future I will try to extend this method to the products I review. Of course your suggestions are more than welcome to better tune the study.
DISCLAIMER. TNT-Audio is a 100% independent magazine that neither accepts advertising from companies nor requires readers to register or pay for subscriptions. After publication of reviews, the authors do not retain samples other than on long-term loan for further evaluation or comparison with later-received gear. Hence, all contents are written free of any "editorial" or "advertising" influence, and all reviews in this publication, positive or negative, reflect the independent opinions of their respective authors. TNT-Audio will publish all manufacturer responses, subject to the reviewer's right to reply in turn.

Copyright © 2021 Piero Canova - piero@tnt-audio.com - www.tnt-audio.com
[ Home | Staff &Contacts | DIY & Tweaks | Listening tests | HiFi Playground | Music & Books ]