[ Home | Staff & Contacts | HiFi Playground | Listening tests | DIY & Tweakings | Music & Books ]
Jurassik (S)park! B&O Beomaster 1900 - vintage receiver
Too cool to be true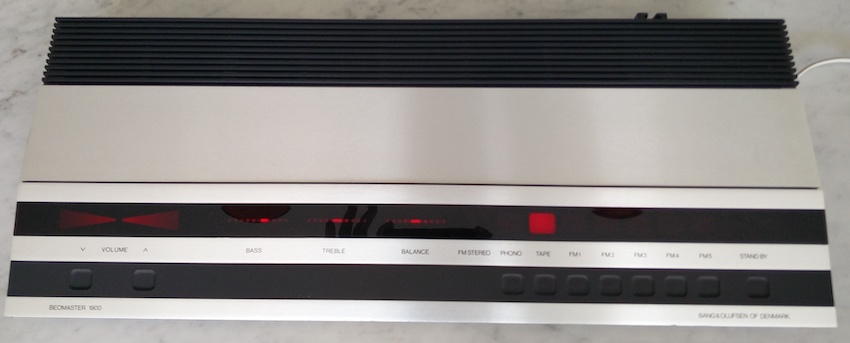 Product: B&O Beomaster 1900 - receiver (amplifier & tuner)
Manufacturer: Bang & Olufsen - Denmark
Approx. price: highly variable, depending on conditions. 250€ in 1979
Reviewer: Lucio Cadeddu - TNT Italy
Reviewed: November, 2020
Foreword
Bang & Olufsen (B&O) is a high-end luxury Danish consumer electronics company that designs and manufactures not only HiFi and audio products, but also television sets, telephones and lifestyle components. Founded in 1925 by Peter Bang and Svend Olufsen, the company has recently decided to suspend the manufacture of separate HiFi components, but they continue to develop and market loudspeakers (known as Beolab), headphones (Beoplay), a revamped version of their vintage Beogram 4000 turntable and Class D power modules (via IcePower subsidiary).
By 1960, B&O had begun to release outstanding components designed by star designers like Henning Moldenhawer and Jacob Jensen. David Lewis, another famous designer, became involved with B&O in 1965 and designed most of the company's products after 1980. In 1978, the Museum of Modern Art in New York City held an exhibition dedicated to Bang & Olufsen designs. The 1900 receiver I'm about to review won the Industrial Design Award in 1976.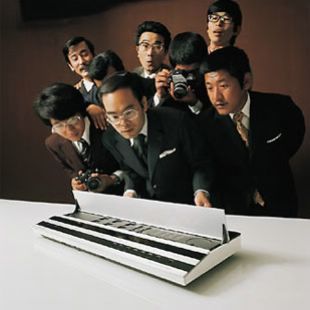 When I was a kid, B&O HiFi components were all the rage, but definitely too expensive for me to afford one. One of those dream components was indeed this Beomaster 1900 receiver. Another highly desired component was the Beogram 1400 turntable (1972). Beomaster was the model name for all receivers made by B&O. The most famous Beomaster is the 1900 model from 1976, as it was the first consumer electronics product with touch controls, called "Sensi-touch". It has been manufactured between 1976 and 1982, and its designer was Jacob Jensen.
Jacob Jensen's masterpiece?
The Beomaster 1900 was a receiver way ahead of its time. Its most attractive and innovative feature was the presence of touch-sensitive controls for operating all the most frequently used switches. All the secondary features and adjustments were protected by a hinged lid, but a glamorous illuminated readout panel showed the receiver's operational status at a glance.
The Beomaster 1900 was a 2 x 20 watts RMS (@ 8 ohms) amplifier with THD distortion of less than 0,07%, a tuner with five pre-set FM stations and comprehensive connection facilities. The volume level was adjustable via three pre-sets (low, medium or high). It had connections for two pairs of speakers, headphones, turntable (with built-in RIAA stage) and cassette recorder. The sensi-touch controls were unique! When one touches the panel, one's whole body becomes an antenna, which couples random electrical noise into a plate just beneath the Beomaster's front panel. This switches on a sensitive transistor which then activates the desired function. Too cool, even by today's standards!
The Beomaster 1900 became so popular and highly demanded that its remote controlled version (the Beomaster 2400) had to be delayed.
The unit under review has been carefully restored and now belongs to my personal collection of vintage HiFi components. It is one of the earlier 2903 units (1976-1979), with serial number 15812.
BeoMaster 1900/1900-2 tech specs
Types: 2903 (1976 - Dec 1979); US 2904 (1976 - Dec 1979); US 2904 (1976 - June 1980)
Power output at specified distortion 1000 Hz RMS: 2 x 30 watts @ 4 ohms; 2 x 20 watts @ 8 ohms
Peak power: 2 x 50 watts @ 4 ohms; 2 x 30 watts @ 8 ohms
Speaker impedance: up to 4 ohms
Harmonic distortion: 1000 Hz 50 mV DIN 45,500: < 0.07 %
Intermodulation: DIN 45,500 < 0.13 %
Bass control (40 Hz): ±18 dB
Treble control (12,500 Hz): ±15 dB
FM range: 87.5 - 104 MHz
RIAA amplifier: built-in
Features: Sensi-touch controls
Connections: Phono DIN
Tape: DIN
Headphone: jack
Power supply: 110 - 130 - 220 - 240 V
Power consumption: 25 - 185 W
Dimensions W x H x D: 62 x 6 x 25cm
Weight: 7.6 kg
Colours: Rosewood, Teak, White, Oak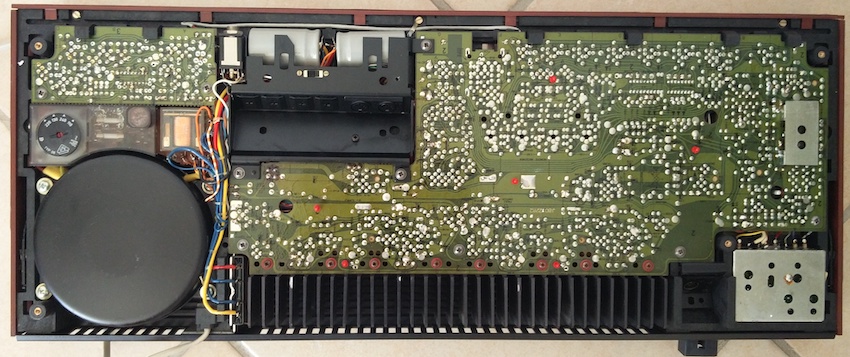 Beomaster 1900 - inside view. See the unexpected toroidal transformer!
Too cool to be true?
Oh well, I confess I wasn't expecting much. B&O components, among expert audiophiles, are considered just cool design components, which incidentally can play some music. This isn't always the case (modern Beolab speakers are incredibly good, as IcePower power modules!), but prejudices are hard to defeat.
Being a mid-Seventies component, I was expecting a muffled sound, with no highs or bass to speak of. Instead, the 1900, after proper warm-up (at least 30 minutes), delivers a sound which can still be considered good, up to modern standards. It might appear rather dry and poor in harmonic content, but the tonal balance is substantially correct, with decent bass and well extended highs. The first octave isn't as powerful as it should be, though bass control is good, as is articulation.
The mid range lacks some presence, but voices are substantially clear and natural. Some trace of harshness can be detected from time to time, especially when the unit is pushed to its limits. Clearly, simpler music programs (jazz, acoustic music etc.) are highly welcomed by the 1900, though it can reasonably play heavy rock and classical as well.
The high range is defined and extended, though its harmonic content isn't up to modern standards. Cymbals or highest piano notes, for example, appear almost monochromatic and rather dry.
You shouldn't forget it is a 20 watt per channel unit but, if driven within its limits, the 1900 is quite dynamic and involving. The foot tapping effect is guaranteed! With complex musical programs, traces of compression can be heard, on voices and drums, for example. Anyway, I was able to get emotionally involved by the tracks of Rage Against The Machine debut album quite easily. Attacks and decays are quite good, and make music lively and involving. Certainly, the 1900 isn't as boring as other Seventies amplifiers, which sound warm, muffled and dull.
You shouldn't expect any realistic 3D soundstage. At that time, audiophiles didn't care much about that. The stage, indeed, is flat, 2-dimensional, with no depth to speak of. Rather, the 1900 creates a sort of wall of sound that is quite standard with HiFi components of that era.
Summarizing, the Beomaster 1900 is surprising, and certainly it can still be used nowadays in a modern system. Back in its day it didn't have a good reputation, because loudspeakers were harder to drive, and its modest 20 watt per channel power output (and current limitation) wasn't up to the task most of the time. With modern (and easier) speakers its virtues come to life quite unexepectedly.
Availability, some advice & complaints
Many Beomaster 1900 have been sold worldwide, so these are not impossible to find. Price range is very wide, depending on country and conditions: from 150 to 400€ for a mint condition unit. Sometimes they can be found for less, but they might be tricky to repair, as some components are no longer made and hard to find. My advice is to purchase a working unit, at least.
The 1900 uses 2-pin DIN connectors as speaker terminals, hence you need to use adapters or build a short cable with 2-pin DIN at one end and standard speakers binding posts at the other (see pic of mine, custom built for the purpose). This way you can both use your standard speaker cables and, more importantly, you can avoid the hassle of plugging the cables beneath the unit, in a very recessed slot. The same applies for the 5-pin DIN input connectors: you need to use DIN/RCA adapters (see pic). There are just two inputs: phono and tape, hence any external line level source (CD player etc.) has to be connected to the TAPE input.
When listening at high levels, the unit can become quite hot, so be sure to allow proper ventilation, behind and above the unit.
Proper warm-up is mandatory, my unit starts to sound at its best after 30 minutes of playing at high levels. It seems it needs to get very warm to perform better. Do not judge it before this period of time, or you'll be missing its virtues.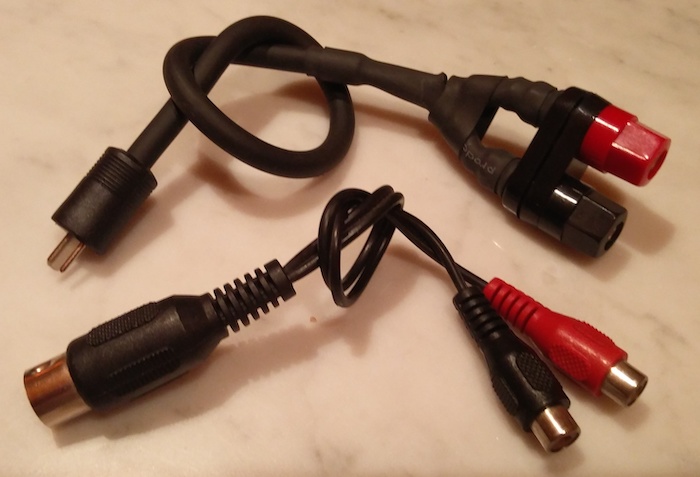 Conclusions
The Beomaster 1900 is a piece of history, both in design and HiFi. Perhaps not the ultimate from a purely audiophile point of view, but definitely a component which is a real pleasure to use and see, even when switched off. You definitely will need one as soon as slide your fingers over it. Soundwise, it performs lively and involving: with sensitive and easy to drive speakers it can be a nice surprise.
DISCLAIMER. TNT-Audio is a 100% independent magazine that neither accepts advertising from companies nor requires readers to register or pay for subscriptions. After publication of reviews, the authors do not retain samples other than on long-term loan for further evaluation or comparison with later-received gear. Hence, all contents are written free of any "editorial" or "advertising" influence, and all reviews in this publication, positive or negative, reflect the independent opinions of their respective authors. TNT-Audio will publish all manufacturer responses, subject to the reviewer's right to reply in turn.

© Copyright 2020 Lucio Cadeddu - direttore@tnt-audio.com - www.tnt-audio.com
[ Home | Staff & Contacts | HiFi Playground | Listening tests | DIY & Tweakings | Music & Books ]