[ Home | Staff & Contacts | HiFi Playground | Listening tests | DIY & Tweakings | Music & Books ]
Black Ice Audio F360 Tube Pre-amplifier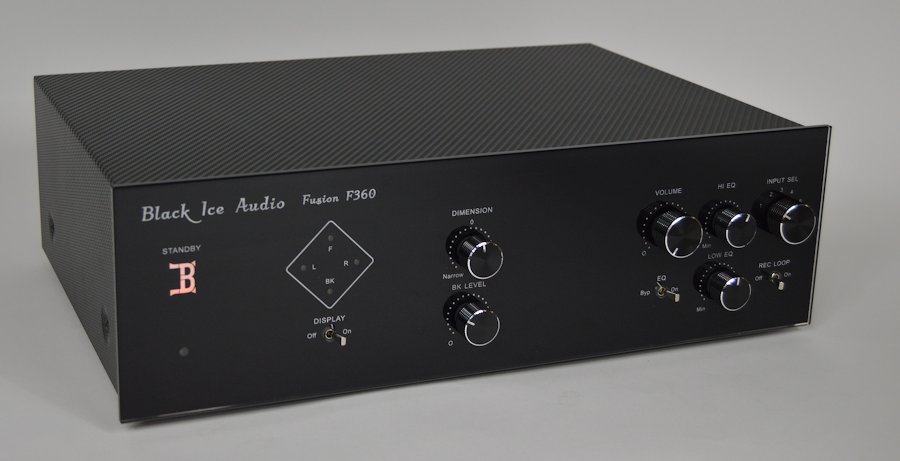 It's designed to deliver musical accuracy
Part Four
Product: F360 Vacuum Tube Pre-amplifier
Manufacturer: Black Ice Audio (formerly Jolida) - Maryland (USA)
Price: US$ 2,000 - The prices shown below are for USA sales by selected dealers. Overseas sales are direct with Black Ice Audio and will be subject to shipping charges and local taxes. ((Currency conversion))
Reviewer: Richard Varey - TNT New Zealand
Reviewed: November, 2019
This is the fourth and final part of my multi-product review project. The other new product I've been privileged to audition in this first batch is the Black Ice Audio F360 Tube Pre-amplifier with built-in Sound Stage Expander ("panorama control") and equalisation for contouring the musical presentation (the former, as previously auditioned in the SS-X stand-alone unit). The first striking thing about this unit is it's stylish glass 'updated retro' fascia with control knobs and toggle switches. The next striking feature is the range of onboard options: bass and treble equalisation, record loop, image dimension, rear channels output with level adjustment, mono/stereo sub-woofer output, and output display.
Following the very positive experiences with the other new products, I anticipated this one with great excitement, as it offers quite extensive scope for experimenting with the sound. Jim Fosgate uses an upgrade to the classic Cascode circuit design (high gain, moderately high input impedance, high output impedance, and high bandwidth) and adds a mosfet which gives the musical performance of tubes but with the speed and detail of current solid state designs. It's a 6SN7 dual triode tube-solid state hybrid preamplifier that addresses signal/volt buffering, high and low frequency control, focusing or expanding three-dimensional image, and analogue surround sound. It's able to produce a perfect square wave, when the equalisation is by-passed, which is beyond the capability of most tube equipment. It has a heli-arc welded chassis and weighs approximately 10 kg. Frequency response is 5 Hz-200 kHz on the 100 K load, with low THD and noise floor, and high S/N. The equalization controls subsonic frequencies that enhance the presentation.
One feature especially grabbed my attention. When the equalisation is switched to bypass, there is no negative feedback in the circuit. I asked Michael Allen why this is significant in this circuit. Isn't negative feedback highly beneficial by stabilising gain, and by reducing distortion (mostly non-linear), noise, and sensitivity to external changes, as well as by improving system bandwidth, and input and output impedances? He told me: «In some cases, especially with solid state, it is, to control oscillations and distortions. Also beneficial when you have cascaded several gain stages together and the cumulative distortions need to be tempered. And since it is used so widely in amplifier design, the assumption is that negative feedback is a necessary feature. But tube amplifiers were originally designed without feedback. For the F360, the cascode design has such low distortion and oscillation that it does not need feedback. This makes a great deal of difference. The sound is more organic and natural. The image is larger and fuller. These are elements of sound we consider critical to music presentation. A tube amplifier with high negative feedback has the sound characteristics of solid state. Cheap relays, high negative feedback, and cheap potentiometers lead to a suppressed three dimensionality.» I also learned that negative feedback creates higher order distortion harmonics and thus increases distortion complexity. Many audiophiles don't like the sound of amplifiers with high negative feedback. No negative feedback sounds better.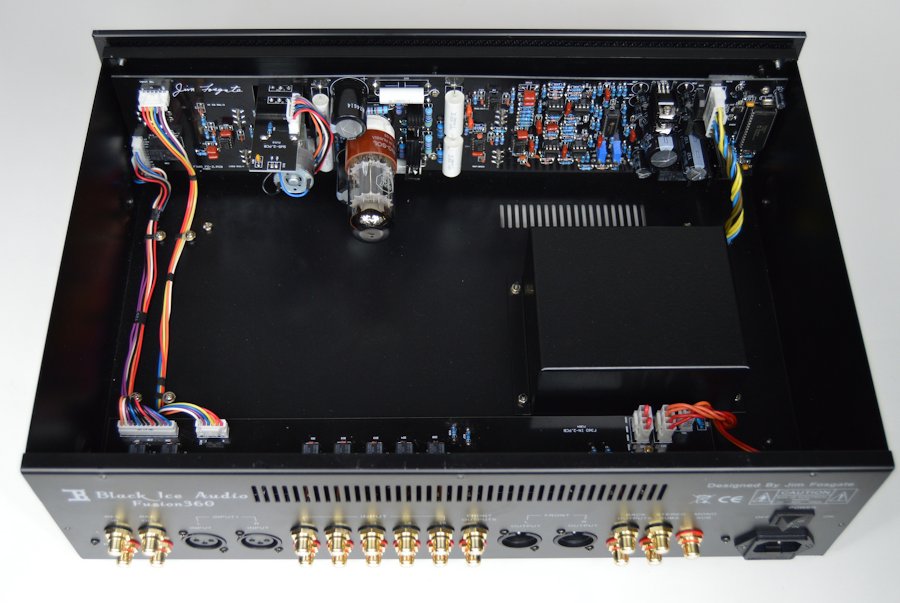 The F360 is built with state-of-the-art components, including ALPS audio potentiometers, gold-plated RCA input and output sockets, custom-made polypropylene capacitors (for best dissipation factor (DF) and dielectric absorption (DA)), audio grade ESA ClarityCaps, and HEXFRED diodes (for ultrafast, ultrasoft recovery). Custom wound audio transformers have German grain-oriented silicon steel cores (they have low loss, high permeability).
It's been in my system now for several months, and I haven't been disappointed. Sound quality is superb, and the degree of sound tailoring is very appealing, especially the sound stage expansion that enhances the sense of depth and space, and the ability to add rear speakers for image reinforcement. The bass equalisation increases impact without boom, and can reduce any booming. I'm a big fan of the sound stage expansion which makes my listening more enjoyable, and I've enjoyed the ability to switch in or out the equalisation to tailor the presentation of the very wide range of recordings I have. The logic display visualises the signal phasing, revealing in phase and out of phase components, as well as left and right channels. When in stand-by mode, the unit can conveniently be switched on/off by touching the illuminated logo on the front panel, or with the remote handset. On this model, the remote control is a much more serious proposition - it's a substantial metal unit with a size and form factor that sits nicely in the hand (it weighs a reassuring 255 g, and is cold to the touch). I especially like that the preamplifier can be put into standby or muted from the handset. The pre-amp has a generous five inputs, and both unbalanced (RCA) and balanced (XLR) outputs, as well as a balanced input. It's designed to deliver musical accuracy, and driving my Viganoni & Viganoni Sachem V2 monoblocks into my floorstanding speakers, I have been enjoying a superbly clean and detailed music presentation that's big and spacious. It's a bit unusual nowadays to find a pre-amplifier with so much control, and having lived through the era of minimal controls for "purity", I must say that having choice over using a range of presentation controls is a strong added-value part of the F360's appeal. So is the 'classic' look of the front panel and knobs. I find it surprising that this unit isn't priced more like $ 3,500-4,000. But, then, what I've learned from my time with these products is that tube listening is delightful and that's the reality of the distinctive high performance-price ratio offer of the Black Ice Audio brand and its JoLida tube technology heritage. With Jim Fosgate's designs, that is a great proposition.
Stock-take
So far, I've been able to try out the first four components of the new range from Black Ice Audio. Without exception, these are impressive and affordable high performance components that have been carefully designed and constructed to delight the budget-conscious audiophile. The name Black Ice Audio conjures a sense of power and mystique, yet these products are no mystery to me now, they are familiar dependable friends (they've been in my system for several months). There's no nonsense, and a whole lot of enjoyment. All of these products have been in regular use for my listening pleasure - I'm very reluctant to stop using them. Finally, I've found tube electronics I can feel comfortable with as they convey me to my music happy place.
And the designs keep coming as Jim Fosgate and the team continue the journey. I am getting even more excited about the latest product concepts. I've been converted to tube by what I have tried so far. I knew by reputation that the tube sound could be engaging, but didn't know how it could be so affordable and fun to use - and Black Ice Audio are evidently working hard to make it that way. Forthcoming are an innovative integrated amplifier, an innovative DAC, and a ultra-high-resolution DAC CD Transport. I plan to audition each at the earliest opportunity. There's also a headphone amplifier currently in design and testing.
My thanks go to Michael Allen for facilitating an extended auditioning over several months of these products, for patiently fielding my barrage of questions, and for introducing me to Jim Fosgate. Technical support from Jerred Dunkerson on navigating DAC software drivers for Windows 10 is also much appreciated.
DISCLAIMER. TNT-Audio is a 100% independent magazine that neither accepts advertising from companies nor requires readers to register or pay for subscriptions. After publication of reviews, the authors do not retain samples other than on long-term loan for further evaluation or comparison with later-received gear. Hence, all contents are written free of any "editorial" or "advertising" influence, and all reviews in this publication, positive or negative, reflect the independent opinions of their respective authors. TNT-Audio will publish all manufacturer responses, subject to the reviewer's right to reply in turn.

© 2019 Richard Varey - richard@tnt-audio.com - www.tnt-audio.com
[ Home | Staff & Contacts | HiFi Playground | Listening tests | DIY & Tweakings | Music & Books ]