[ Home | Staff & Contacts | HiFi Playground | Listening tests | DIY & Tweakings | Music & Books ]
Black Ice Audio FX10 Tube Amplifier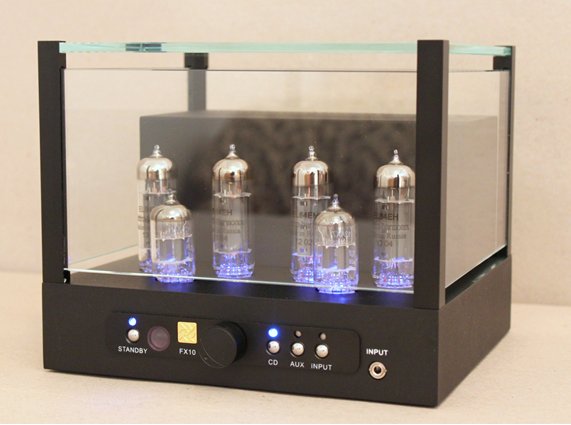 Its striking appearance is the first attraction
[Italian version here]
Part Two
Product: Glass FX Series Integrated Stereo Tube Amplifier - FX10
Manufacturer: Black Ice Audio (formerly Jolida) - Maryland (USA)
Price: US$ 700 (the price is for USA sales by selected dealers. Overseas sales are direct with Black Ice Audio and will be subject to shipping charges and local taxes) - (Currency conversion)
Reviewer: Richard Varey - TNT New Zealand
Reviewed: June, 2019
Introduction
This is part 2 of my investigation of what's on offer from Black Ice Audio, following my conversation with Jim Fosgate. I asked what was new at Black Ice Audio. So began a journey over the past few months as each new unit has come on sale. The first to arrive for audition was the FX-10 integrated tube amplifier, followed by the DSD DAC with Wi-Fi, and then the Fusion F159 tube phono preamp. Finally, the new F360 tube preamplifier was put to work for my daily music listening. As I write this, I've heard that the next batch of four new products is about to come on sale, having been demonstrated at AXPONA 2019. I plan to follow-up on that story, so will have further reviews soon.
The Product
There is indeed a new kid on the block, and she looks nothing like the others, and sounds different too. But don't worry, this is no 'stranger rant', more an appreciation of a refreshing and enchanting encounter with a new friend. The Black Ice Audio FX10 integrated stereo tube amplifier is one of the Glass FX Series. Its striking appearance is the first attraction. Very compact at just 200 x 180 x 170 mm, it has a welded metal chassis and a heat-resistant safety glass cover over two matched pairs of Russian Electro-Harmonix EL84/6BQ5 power output tubes and a pair of Tungsol 12AX7 pre-amp tubes. It has CD, Aux, and line inputs, and is rated 10 W per channel into 8 Ω over 26 Hz to 50 kHz. The circuit is self-biasing, so no manual adjustment for tube change is needed. As a valve novice, I like that. It's an ultra-linear Class AB1 design producing less than 1% THD with a signal to noise ratio of 81 dB below rated output from 10 Hz to 200 kHz. Despite its diminutive size, it weighs in at 6 Kg. It's labeled 'Made in the USA'. The striking blue glow of the tubes comes from LEDs mounted in the tube bases.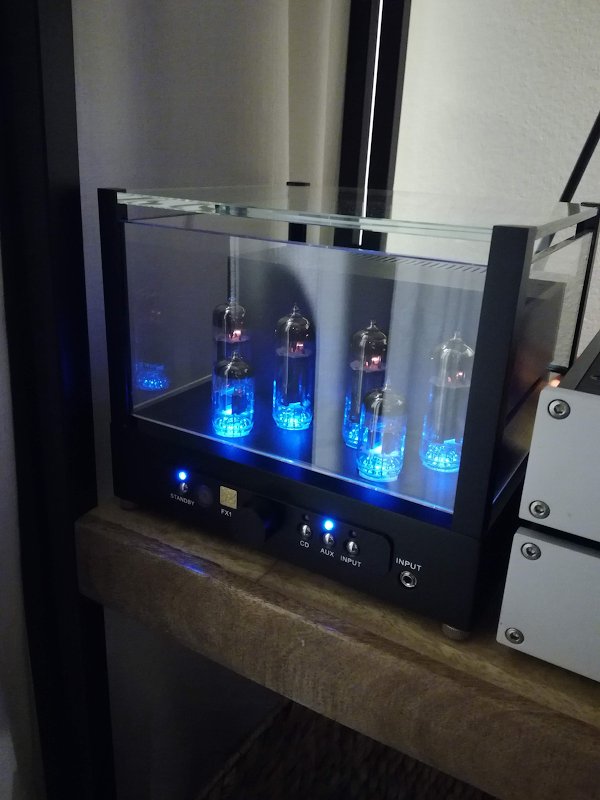 This amplifier was designed for sonic purity with reliability approaching that of a solid state unit. It delivers a smooth, rich and holographic sound, can easily push 89 dB speakers, and yes, it does come with the blue tube lights, which look great in a darkened room. The FX10 is both eye-catching and ear-pleasing. Sonically it is a truly remarkable conveyor of recorded music.
You know the saying / adage. Big is beautiful (but not always, and not excessively over-sized). I'm learning that petite can often be sweet. This has happened with several products I've tried in recent years as new technology and innovative design thinking enable exceptional performance in different ways. It's happened again with the Glass FX10.
I'm hearing a big sound from this small cube; the sound stage is presented behind the loudspeakers! It's very solid and coherent. I was advised to expect it would need 300 hours use to settle in to its characteristic sound - but I didn't have to wait long to get a lovely sound quality. If it's going to get even better, then I am wowed by the sonics and the performance-price achieved by this design. It was highly enjoyable right out of the box, and after much daily listening with a diverse set of music sources, I'm mightily impressed. At a few weeks in to my audition, with around 4-5 hours listening most days, it plays my music gloriously, producing a warm fuzzy feeling - it's the sound stage presentation, and that rich blue glow. I have been engrossed by the valve sound, and with my Audio Pro Avanti A100DC floorstanding speakers, have had plenty of power for 'realistic' volume and dynamics in my listening room.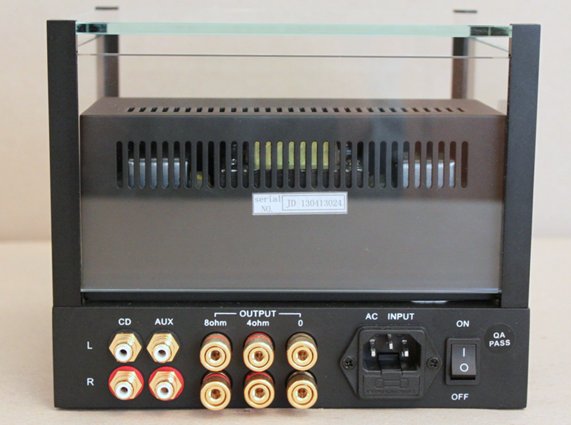 Conclusion
There are just a couple of minor disappointments with this outstanding amplifier. The remote control unit is basically functional, but feels inconsequential and looks cheap. The volume knob feels insubstantial, and I would prefer a solid turned Aluminium knob. I raised this with Michael Allen, and he reassured me that behind that knob is an ALPS Black motor-driven potentiometer. They spend on critical parts where it matters to sound quality and durability.
In the next part of my auditioning project, I try out a versatile tube DAC and a tube phono pre-amplifier.
DISCLAIMER. TNT-Audio is a 100% independent magazine that neither accepts advertising from companies nor requires readers to register or pay for subscriptions. After publication of reviews, the authors do not retain samples other than on long-term loan for further evaluation or comparison with later-received gear. Hence, all contents are written free of any "editorial" or "advertising" influence, and all reviews in this publication, positive or negative, reflect the independent opinions of their respective authors. TNT-Audio will publish all manufacturer responses, subject to the reviewer's right to reply in turn.

© 2019 Richard Varey - richard@tnt-audio.com - www.tnt-audio.com
[ Home | Staff & Contacts | HiFi Playground | Listening tests | DIY & Tweakings | Music & Books ]