[ Home | Staff & Contacts | HiFi Playground | Listening tests | DIY & Tweakings | Music & Books ]
Canor Audio PH 1.10
Teaching new tricks to old dogs?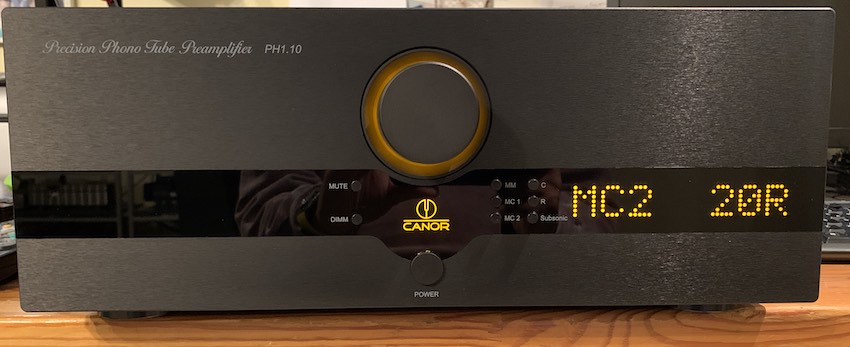 Product: PH 1.10 MM/MC Tube Phono Stage
Manufacturer: Canor Audio - Slovakia
Recommended retail price: 5500€ + local VAT
Reviewer: Piero Canova - TNT Italy
Reviewed: October, 2020
Foreword
When, in mid July, the TNT-Audio editorial board contacted me asking for a review of the Canor PH 1.10 phono stage I was a bit reluctant: in the end I felt it was another iteration of an old concept. A tube phono stage that, in order to have enough gain, uses two step up transformers. To use an old saying, an old dog.
I begun then to gather some information on Canor Audio and what I found started to increase my curiosity. This was my introduction to equipment from this manufacturer, and their history is quite interesting: for many years, and to this day, they are OEM manufacturers for some well known European brands that have the need to extend their product offer with some tube equipment. I personally have worked in other industrial sectors as an OEM producer and, trust me, it is a tough game. In front of you, most of the time, are professional people and you have to be very good in your business to offer them the performance demanded, the quality expected and all this at a competitive price. In short, Canor Audio knows the tube business inside out and they have a great track record to prove the point. Add that they are based in Slovakia, which is the homeland of some fine European engineering, and there is something worth investigating.
Finally, in the technical presentation of the PH1.10 they mention "8 tubes in the gain stage, 4 per channel". I don't know why, but the first image that came into my mind was a nice American V8 engine, rods and rockers: we do consider this, in Europe, old technology, but the latest pushrod V8s put out more than 600HP with fuel injection and a supercharger so why not test their latest achievements? I did contact Canor then and, in early September, the phono stage arrived.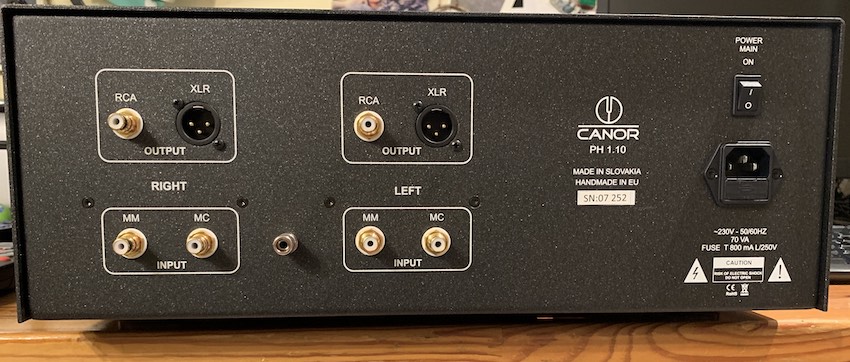 A closer look
When the shipping company called me saying they were delivering, I was out for business, so I asked my daughter to meet the deliverer and carry it inside. She asked me if it was a big parcel and I replied, "Don't worry, it is one of my usual pieces of equipment". Ten minutes later she called me back shouting and saying she could not even lift it because it was too big and heavy!
It was true, the first thing you notice when you remove it from the packaging is that it is huge and heavy. If you take in consideration the large knob on the front panel and the rear connectors it exceeds the 50 cm depth of my rack. It weights 17kg and inside the case I could easily find room for my Sinergy preamp and both my Nu Force power amps (opening the case later, I understood why it is so big). Wow, not only it is a V8, but a big block V8!!
Packaging is well built, double brown cardboard and PE foam inside: well protective, but also green (if possible always prefer brown cardboard, whitening chemicals for paper are some of the most polluting agents today in industry). Inside there is, of course, the PH1.10, a computer grade power cord, a small Canor brochure, the user's manual and a white cardboard box with some white gloves and the housings for some tubes, but without the tubes. I did ask Canor if this was wrong and they replied that the four tubes are supplied separately in one of their integrated amps and that they use the same packaging for several models.
Design like this preamplifier follows some current trends: gunmetal epoxy powder paint for the box (of excellent quality), the front panel black anodyzed aluminium. The front panel is dominated by a very large backlighted knob, with below, a large button for the on-off switch and some small ones; small switches allow selection of the desired function, while the large knob allows navigation inside each function. On the right of the knob there is a large monochromatic display giving information on the cartridge load or capacitance choosen. Recently these large knobs, with a backlighted edge, are becoming common in many appliances like thermostats, washing machines, coffee machines and so on and in lots of Hi-Fi equipment. I remember BMC with a similar look, but if you look around you will see several examples of this design.
The case is made with 3mm thick steel plate and the front panel is made in aluminium of 10mm thickness. It is well built, precision machined with no sharp edges that could be harmful. In spite of being so big it is reasonably dampened. To remove the upper cover you need to undo 16 screws and inside there are several partitions but, if it was my phono stage, I would add some dampening material on the walls. The rear panel is standard for the type of equipment: a main on-off switch, IEC socket for mains, RCA connectors for input and both RCA and XLR for output. It is possible to connect two cartridges at the same time providing one is MC and the other MM. In this we are a bit lagging behind the best competition: in this price bracket there are several phono stages that allow users to connect several cartridges of the same type at the same time. Since all functions of PH1.10 are controlled by a microprocessor in the front board you'd think it would be possible to have some control of the inputs from the front panel or even better a remote.
Opening the top cover you find a very clean and well disposed layout. It is divided in three main areas: behind the front panel we have digital controls and the user interfaces, top area is for power supply with the transformer encased in a metal box and in the bottom part the gain area with two separate boards and two step-up transformers also boxed to reduce interferences. Each sub-assembly is connected to the others through ribbon cables: it is the first time I see so many and so long ribbon cables in a High-end product, but, if the quality of flat cables is correct, they allow an outstanding layout in terms of cleanness.
Concentrating on the technical aspects, Canor Audio claims some very interesting features:

Both channels are true differential amplifiers so we have a true tube balanced phono stage.
Printed Circuit Boards are produced through mechanical processing and not the usual chemical etching. Canor calls this "CMT technology". In short, for those not so much familiar with PCB production, normally a PCB is produced starting from a plate made by laminating copper sheet with a glass reinforced plastic base (FRP). You then, with specialist software, design the pattern you need, the pattern is printed or silk-screened on copper and then the whole is dipped in several chemical solutions that etch parts of the copper leaving just the parts protected during printing. You wash it, drill the holes for the components et voilà your PCB is ready. Chemical etching uses very aggressive acids that penetrate the margins of the pattern leaving the edge rough and, if the patterns are very thin, deteriorate electrical conductivity and reduce signal quality. Today we have CNC machines that use very fine tools to remove the unwanted copper leaving a much better quality product. This is very much used for prototypes or for very small batches. Canor claims that this process offers a quality equivalent to the one achievable with a point to point wiring with high quality wires. I have no evidence supporting this claim, but the PCBs used are very well designed and of excellent quality.

Step-up transformers are from Lundahl which is a reference brand.

Four super selected and matched 6922 tubes per channel. Each tube is housed in an anti-vibration mounting of excellent quality.
One 6CA4EH in the power supply unit to rectify anodic current.
Mains transformer is vacuum impregnated and installed in an anti-vibration housing.
A short comment on size and weight: the picture of the inside shows there is plenty of empty room in it. I made a gross calculation and you could probably shave off 50% of the size and thus plenty of weight. Now, it is true that all this space allows a very clean layout, but connections are longer and their influence on tiny phono signals could be non-negligible. Going back to the top of this review I did mention that there were parts of the packaging that were in common with other Canor products. Same thing is for the casework: Canor has one box and inside they fit a phono stage and two tube integrated amps. Scale economies are surely important, but this explains why we have a phono stage as big as an integrated tube amp of 50W per channel.
After all these details and such a long explanation I would expect you all will be curious as to how it performs, so, with a little help from my son to install it in the rack without scratching it, I connected everything up and started to use it "as is".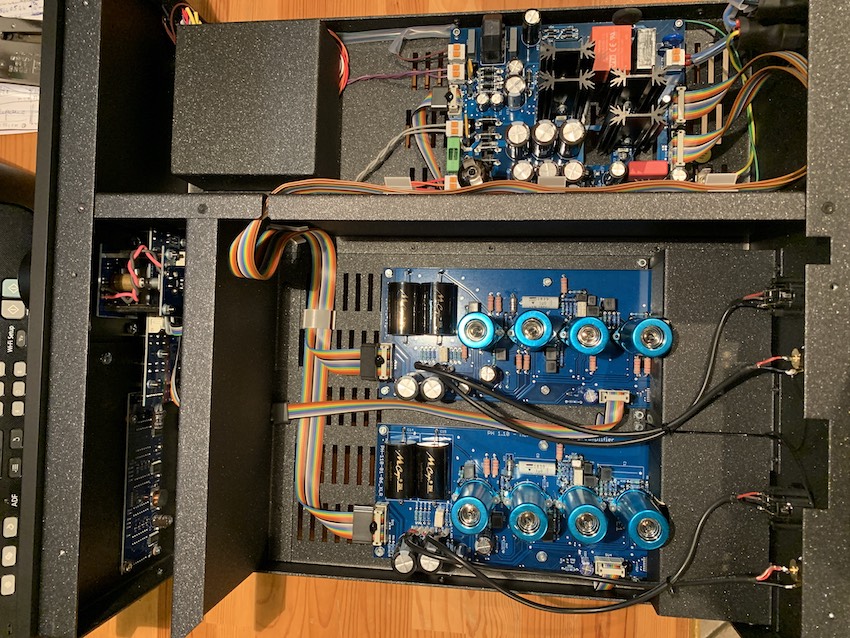 Listening test
My last experience with a phono tube stage was with an Audion premier with two step-up Stevens & Billington TX 103 transformers. I pressed the on switch, waited as the carburetor's float chambers filled while the gas pump was buzzing, pulled the choke, turned the key, and finally it started. You had to warm it up for at least half an hour until the oil pressure was right and finally it started singing. Obviously there was some background noise, 50 Hertz hum was also there, depending on the days and the mood, and if anybody at home was using a hairdryer or a vacuum cleaner, better stop listening.
With Canor PH 1.10 everything is different: push the button below the big knob, and the display lights up, a small click from a relay and all around is silence. It is like starting a Lexus hybrid car and beginning to move without any noise or vibration. I put my ear in front of my speakers and nothing, total silence. I knocked on the box with my knuckles and nothing again. I have, in my room, a dehumidifier and when it starts you have some interference and again nothing. I've never found, before, any phono stage so silent and isolated from external disturbances. Display brightness can be regulated on 4 levels plus off. MC cartridges have two gain levels (70 and 76 dB) and 10 different impedance levels. MM cartridges have 8 capacitance levels so everyone should be able to find the right setting for his cartridge. Among the two gain levels I prefer the higher at 76dB both because I have low voltage MC cartridges and I think it offers the best acoustic performance. What's missing? In my view a remote would be the icing on the cake. A microprocessor is already there, it controls gain and display, and with little money you could change any setting while sitting on your sofa. Another improvement could be a gain control, either continuous or discrete to give the option of using the PH1.10 with just a power amp in a minimalist system.
The first test was using a Denon DL 103S and single ended rear connectors. To have some burn-in I used a Cardas test record and left the record turning for 24 hours. I tried some listening, but, as expected, it was too soon and sound quality was poor with reproduction muffled and dry. I repeated the same routine for a further 24 hours; better, but to cut it short, wait at least 100 hours before any serious listening. First impression is good, but there is something wrong: I have some records I use continuously as a test when I make some changes (hopefully improvements) to my system. One of them is "If I Only Could Remember My Name" by David Crosby. First side, second track is "Cowboy Movie" where electric bass is played by Jack Casady from Jefferson Airplane. With PH 1.10 Jack is there, but plays from another room. Another test is "School" from Supertramp's "Crime of the Century", Mobile Fidelity press. Again, the lower octaves have lost impact, slam, and are very attenuated. It completely lacks physical impact. Kick drums are small, tiny. OK, there is something wrong. Double check, there is still something wrong. Everything is right so some tweaks are mandatory. Away the computer mains cord, replaced with one of mine. Better, but there is room for improvement. Let's try the balanced output: much better, but still, the low register is weak. Let's try some soft feet like Vibrapods; ok, we are moving in the right direction. Let's change cartridge and go for a Shelter 901: of course we have made a major improvement with this cartridge, but now finally we are there. Now listening becomes interesting and involving; the qualities of the design finally come into light. Transparency, harmonic richness, width of the sound-stage and, above everything, the depth of the stage. Highs have no roll off, as many associate with tube amps, cleanness and realism of cymbals is excellent. Mid frequencies and voices are reproduced in a very realistic way with a top class harmonic richness. Bass range is complete and has a good extension even, if for my taste, they are a bit controlled, dry, very politically correct. At the top there is PRAT that is simply superlative: Put on your turntable "Katy Lied" of Steely Dan and your feet will begin to follow the rhythm without you noticing it.
Generally the presentation is a bit forward against my standards, but this, together with the control on bass register, makes more pleasant the listening of some "dark" recordings like Eagles "Desperado". I am still puzzled by the lack of bass with the DL 103S cartridge so again I change cartridge and install my ZYX R1000 Airy 3S. The differences with Shelter 901 are clearly noticeable and there is a bit less musicality, but bass is still in good shape. Later I install my Dynavector Karat 23R and again the lack of bass appears again. What lacks is the extension on lowest octaves, let me try to explain it better. My room resonates at 27 hz so any record having these frequencies causes an annoyng resonance that makes listening very unpleasant. Fortunately most records don't have such low frequencies or are recorded without them, but in some cases like Pink Floyd's "The Dark Side of the Moon" in the reprint for the 40th anniversary, it's the heart beat at the beginning of "Speak to Me" that causes this resonance. With Ph 1.10 and Denon, the resonance is almost zero. With Shelter and PH1.10 is annoying, with Shelter and Parasound Halo as phono stage it is very very annoying. I have tried to find an explanation for this behaviour and the only one I have found is in the characteristics of the four cartridges used in the test. Shelter and Zyx have an output current of 0,06 and 0,061mA while the Denon and Dynavector have 0,0075 and 0,0067 mA so a magnitude order lower. Perhaps PH 1.10 likes stronger current generators? I wrote about this to Canor, but we haven't found a good explaination of this problem.
What I don't like is the cartridge impedance regulation and it's effects. In order to change the load impedance, as seen by the cartridge, some resistors are placed before the step-up transformer. Canor has decided to place those resistors after the step-up and they justify the choice by improving sonic quality. The negative is that the resistance value will be seen by your cartridge through the step-up transformer which means that all your references are gone. Denon 103 S has an impedance of 40 Ohm so to start I go for 400 and finally I have settled at 360 Ohm. With Canor the best compromise is at 200 Ohm. Alike, Shelter recommends 20 Ohm, but the PH 1.10 works better with 10 Ohm and so on. The second effect is that every time you lower impedance, gain is reduced by approximately 2dB. My preamplifier has the possibility to set gain for every input independently with 0,5dB steps. To keep the same sound pressure in my room every time I lowered the impedance by rotating the big knob I had to add 4 x 0,5dB clicks. Not a big issue, but confusing.
The last negative, for me, is intrinsic in its tube construction. Before listening you need to warm it up for at least one hour. Since its electric consumption is just 65W you can keep it always on, but the bill for new tubes will probably become excessive.
Conclusions
If you suffer from upgraditis disease this isn't for you: it isn't cheap and bears a very serious, but relatively unknown brand. Reselling it will be tough so you must plan to keep it for a while to depreciate it properly! It must be used in balanced mode and needs some very simple tweaks to make it shine.
We have here a phono stage that technically is a reference and has some undisputable excellences: stage depth, PRAT, mids and highs, silence and resistance to external disturbances. It sounds very little "tubey" in the classic way of the definition: if your system or your room is a bit fat on low frequencies or if you prefer a sound very controlled and analytical this could be right for you. In this it seems to me in line with current High-end trends that prefer control and an analytical sound against impact and emotion.
Coming back to car engines, I thought it was an American Big Block, but in truth it is a nice German V8. It has electronic injection, four overhead camshafts, 32 valves, etc. It's enough to push the start button and it starts, no vibrations, no noise when idling. But in this case, since I don't need it for commuting every day, I prefer the American one: it is grouchy, unreliable, grumpy, but when revolutions go up the Universe opens out and emotions grow.
DISCLAIMER. TNT-Audio is a 100% independent magazine that neither accepts advertising from companies nor requires readers to register or pay for subscriptions. After publication of reviews, the authors do not retain samples other than on long-term loan for further evaluation or comparison with later-received gear. Hence, all contents are written free of any "editorial" or "advertising" influence, and all reviews in this publication, positive or negative, reflect the independent opinions of their respective authors. TNT-Audio will publish all manufacturer responses, subject to the reviewer's right to reply in turn.
© Copyright 2020 Piero Canova - piero@tnt-audio.com - www.tnt-audio.com
[ Home | Staff & Contacts | HiFi Playground | Listening tests | DIY & Tweakings | Music & Books ]