[ Home | Staff & Contacts | HiFi Playground | Listening tests | DIY & Tweakings | Music & Books ]
Channel Islands Audio, VPP-1 Phono Stage
VPP-1, a Great Little Phono Stage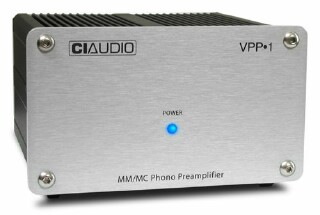 Channel Islands Audio VPP-1 Phono Stage
Photo Courtesy Channel Islands Audio
[Italian version]
Manufacturer: Channel Islands Audio
Product: VPP-1 Phono Stage
Approx. price: $299 USD
Product: VAC-1 Upgrade Power Supply
Approx. price: $159 USD
Reviewer: Richard George - TNT USA
Reviewed: October, 2003
Analog is dead, or, so we are told. Of course, audiophiles and most music lovers know better. Despite proclamations by digital pundits that analog is gone and buried, new phono stages seem to be introduced almost as often as new digital sources. So what is the attraction? The digital mavens say, "look at the specs." Indeed, by raw specifications alone the superiority of digital seems assured. From signal-to-noise ratio to channel separation, from frequency range to dynamic range, digital has specs so superior there should be no question, no argument.
So, why do manufacturers introduce new analog playback products if analog is "dead"? One answer involves the alleged superiority of digital. Despite the promise of 'perfect sound', the sound quality of the Redbook CD has been questioned by audiophiles since it was introduced. Yes, LPs are noisier and sustain critical damage more easily, yet well-recorded LPs often provide a musical experience that many people prefer.
Another reason LPs are still around involves the recordings themselves. Records were available for decades before the advent of CDs. There are many rare LPs and 78s that have never been, and possibly never will be available in a digital medium. As such, collectors and fans of LPs still need decent playback equipment.
Quite a bit of vintage analog equipment is still available, most at bargain prices. Still, there has been progress in phono cartridge and phono preamplifier design that potentially may provide playback quality superior to most vintage gear. Since most large companies no longer produce analog equipment because the market is too limited, many small companies have sprung up to fill the need.
Channel Islands Audio is a small manufacturer located in Port Hueneme, California. Owned and operated by Dusty Vawter, CI Audio is rapidly building a reputation for making high quality equipment at reasonable prices. Judging by activity on audio forums, Channel Islands Audio is also developing a deeply loyal following which seems to be based not only on product performance and value, but also on customer service.
The subject of this review is the VPP-1 phono preamp, with the VAC-1 upgrade power supply thrown in for good measure. On hand for comparison was an older Conrad-Johnson PV2a preamp with phono stage and a pair of Creek Audio phono preamps, one each for moving magnet and moving coil cartridges. During most of this evaluation, a Dynavector DV20XH, high output, moving coil cartridge was used. For the low output moving coil evaluation, a Denon DL103 was substituted.
What is the VPP-1?
The VPP-1 is a standalone, solid-state phono stage and preamplifier. It utilizes two Class A active stages and a passive RIAA filter. DIP switches on the back allow selection of gain (40dB or 50dB), resistive load (100ohms or 47kohms), capacitive load (0pf or 100pf), and subsonic filter. The DIP switches allows the VPP-1 to be used with either moving magnet or moving coil cartridges. Additionally, CI Audio has provided a place on the board that will allow the use of a custom resistor or capacitor to custom load the cartridge for optimum performance.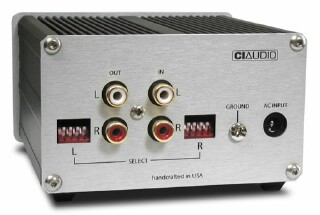 CI Audio VPP-1 Phono Stage, Back panel
Photo Courtesy Channel Islands Audio
The VPP-1 is a small unit, only 11cm wide x 6.7cm high x 11 cm deep (4.4 in. x 2.65 in. x 4.4 in.). The electronic components are mounted on glass/epoxy, double-sided circuit boards enclosed in an aluminum chassis. Stainless steel hardware is used for fasteners. A single, bright blue LED indicates the unit is on. Though small and light, the VPP-1 is well constructed. The included, separate power supply (a "wall wart") is a 115v, 14VAC 850mA transformer that plugs directly to a wall plug.
What is the VAC-1?
Housed in a chassis nearly identical to the VPP-1, the VAC-1 is a higher current and much higher quality power supply that provides 1.44 amps. The VAC-1 uses an IEC power cord connector allowing the end user to upgrade the power cord. Additionally, the VAC-1 has an internal switch allowing its use with either 115v or 230v power.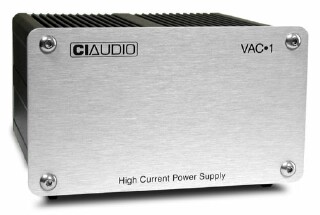 Channel Islands Audio VAC-1 Power Supply
Photo Courtesy Channel Islands Audio
How Does It Sound?
In a word, the VPP-1 is delightful! The mid- and high-frequency range has the liquid-smooth, sweet, and natural sound for which good analog playback is justifiably famous. Bass clarity and definition is good, though not exceptional. While snare drums sounded quick and sharp, deeper drums, from kick drums to tympanis sounded a bit soft. Not soggy, just lacking a bit of resolution. To be fair, the Creek OBH-8, a moving magnet preamp that is price competitive with the VPP-1, had less resolution on the same passages. This left Gene Krupa sounding rather uninspiring.
Listening to Gustav Leonhardt playing Bach on harpsichord, the VPP-1 did very well by maintaining complexity of the harmonics, a quality some inexpensive phono preamps lack. Simpler sounds, like the xylophone on Ralph Towner's "Matchbook" LP were rendered with clarity and purity of tone my CD version seems incapable achieving. It is such a delight to hear cymbols sound exactly like cymbols, from the first strike of the stick to the final decay of the ringing brass. The VPP-1 does an excellent job delivering such details.
Mid- and high-frequency performance of the OBH-8 also fell somewhat behind that of the VPP-1. While most of the information was there, a side-by-side comparison of the two revealed that the Creek had less presence and sounded more constricted than the VPP-1.
Leaving behind the audiophile interest in frequency extension and other technical details, the discussion must turn to music. Rendering of music by the VPP-1 was very good. Here is yet another product that caused me to forget I was trying to listen to "how it sounds" and ended up listening to music instead. This is a compliment, the best I can give.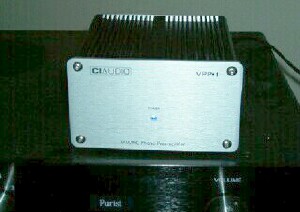 CI Audio VPP-1 Connected to System
Vocals sounded particularly engaging. From Peggy Lee's immortal "Fever" to the silky tenor of John Gary, the VPP-1 simply sounded great in my system. Records of a more recent vintage, like Jacintha's Lush Life LP were just as fun. Listening for a while caused me to bring out a few arcane LPs to which I don't often listen. The VPP-1 was a noticeable improvement over the Creek Audio phono stages I have been using.
Switching the power supply to the VAC-1 revealed a whole new layer of sound quality. Everything improved. Bass sounded stronger, quicker, and lost its slight softness. All notes sounded better defined with improved dynamics. Even background noise seemed diminished. The VPP-1 seems to have slightly lower background noise than the Creek OBH-8, especially with the upgrade power supply, the VAC-1.
Comparing the phono stage performance of the Conrad Johnson PV2a, the token "almost vintage" piece of analog equipment, to the VPP-1 was a lesson in how completely different two phono stages can sound and still provide a satisfying, musical experience. In every quantifiable respect, the VPP-1 was superior, especially comparing noise - the CJ was very noisy. Transient response, frequency range, signal-to-noise ratio, all were clearly superior for the VPP-1, and the difference was immediately obvious. Although the PV2a has a very musical sound, it could not compare in other regards to the VPP-1.
Flipping the DIP switches to 100ohm load, 0pF capacitance, and 50dB gain, the VPP-1 was ready to be used with the Denon DL103 low output moving coil cartridge. In this case, comparing the VPP-1 to the Creek OBH-9SE (special edition with upgraded power supply) found much less difference between the two. In fact, the bass performance of the OBH-9SE seems slightly cleaner with marginally better separation of notes and instruments on complex passages than the VPP-1. However, in my system, the VPP-1 still provided somewhat better mid-range tonality and high-frequency transient response than the Creek. The specs of the Creek indicate that it has 15dB more gain than the VPP-1. In my system, there was no real benefit to the added gain, but the higher noise level of the OBH-9SE was noticeable. In some systems, an additional 15dB gain, such as provided by the Creek, might be necessary.
Positive Impressions
The VPP-1 delivers clear, clean, and wonderfully musical output. Individual notes and sounds are delivered with substance and weight. Adding the VAC-1 doesn't change the sonic character of the VPP-1, but simply delivers notes with greater clarity and sharper response. After spending substantial time with the VPP-1, the VAC-1 was found to be a worthwhile upgrade.
The quality of construction seems to be very good. There were no failures, no problems with any part of the CI Audio components. Channel Islands Audio also is reputed to have very good Customer Service.
The value of the VPP-1 is simply excellent. At $299 USD, the price is somewhat higher than the OBH-8. However, the VPP-1 appears to have better build quality, has superior sound quality in my system, and can be set to operate well with low output, moving coil cartridges and moving magnet cartridges. One point to remember is that, since neither the OBH-8 nor the OBH-9 are adjustable, in order to use MM and MC cartridges with the Creek products it would be necessary to purchase both phono preamps, resulting in a combination that would cost 60% more than the VPP-1.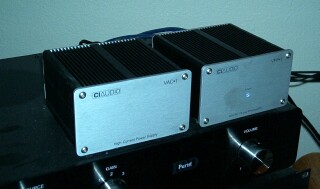 CI Audio VPP-1 and VAC-1 in System
The upgrade path, adding the VAC-1, provides a noticeable improvment to sound quality, while still keeping the total price well below some other competitive products.
Negative Observations
The VPP-1 has limited adjustability. The two cartridge loading adjustments only have two choices each, unlike some (more expensive) preamps that have much greater variety of loading options to optimize the cartridge. On the VPP-1, the impedance load can only be 47kohm, suitable for MM and high output MC cartridges, and 100ohms, a typical MC impedance setting that will work fine for most MC cartridges, but is not going to be an optimum load for many. The addition of a user available slot on the board for a custom capacitor or resistor does alleviate this somewhat by allowing the VPP-1 to be tuned specifically for one cartridge. To be fair, most phono preamps in this price range also have limited adjustability, and neither the OBH-8 nor the OBH-9 have any adjustability at all.
While the small size of the VPP-1 may be an advantage when placing the device, it is so small and light that care must be taken when attaching interconnects.
Conclusions
The VPP-1 is yet another phono preamp now available to the audiophile. What distinguishes it from its competition is simplicity of design, high standard of workmanship, and reasonable price. Oh, yes, and it sounds very, very good, much better than I expected for its price!
Since I prefer listening to analog, products such as the Channel Islands Audio VPP-1, which provides high quality and good value, are always welcome. Additionally, CI Audio has other products that have been well received, including a DAC, a passive preamp, and soon-to-be-introduced monobloc power amplifiers. If other CI Audio products perform as well as the VPP-1 and VAC-1, it comes as no surprise that Channel Islands Audio is developing such a loyal following.
Many thanks to Dusty Vawter of Channel Islands Audio, for providing background information and the sample used in this review.
Follow-up - November, 2003
After publication of this review, it was pointed out by a reader that the Creek OBH-9SE has a rated gain of 65dB, +15dB over the Channel Islands Audio VPP-1. I stated in my review that, "in some systems, an additional 6dB gain, such as provided , might be necessary." This has been corrected to "15dB gain".
It is important to emphasize that many systems will not be suitable with a low output moving coil cartridge and only 50dB gain from the phono preamp. In my test system combinations this was not an issue. However, if there is any doubt, then a higher gain MC phono preamp should be used.
© Copyright 2003 Richard George - www.tnt-audio.com
[ Home | Staff & Contacts | DIY & Tweaks | Listening tests | HiFi Playground | Music & Books ]