[ Home | Staff & Contacts | HiFi Playground | Listening tests | DIY & Tweakings | Music & Books ]
Hagerman Audio Labs Bugle MC Phono Preamplifier
Product name: Hagerman Audio Labs Bugle MC Phono Preamplifier
Manufacturer: Hagerman Audio Labs - USA
Price: $249 USD
Reviewer: M.L. Gneier - TNT USA
Reviewed: January, 2023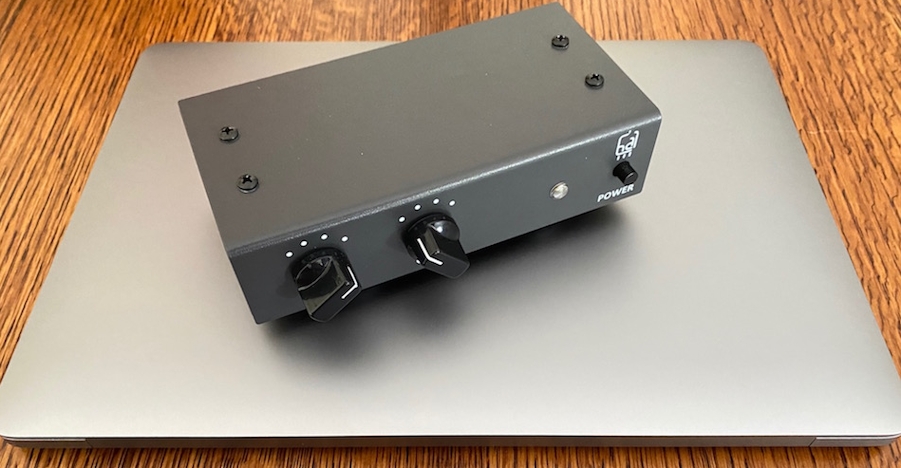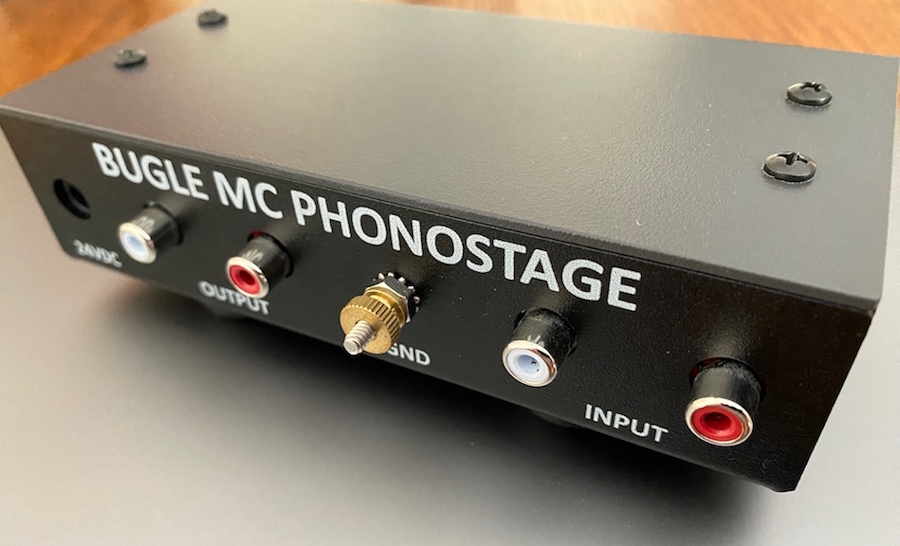 Do you remember the dark days?
Perhaps many of you likely don't remember the dark days of audio. I'm talking about the days after digital got a foothold and analog was in into its decline. So called line-only preamps were ubiquitous. Phono stages in preamps, if there was one, often lacked the gain needed for a proper low-output moving coil cartridge.

Times have changed...again. 2022 was the first year in decades that sales of LPs eclipsed those of CDs. Now that's a slightly sneaky way of presenting data when you consider the sale of digital music dwarfs both LP and CD sales combined. But still, it's gratifying to see LPs get the attention they have always deserved.

An old hi-fi buddy of me alerted me to Hagerman Audio Labs and the timing could not have been better. Two new cartridges (one moving-magnet and one high-output moving coil) found their way into my hands at nearly the same time as my beloved reference cartridge was enjoying a much-needed spa day with Steve Leung of VAS.

I was fascinated by what I saw at the Hagerman website and especially intrigued by his Bugle MC, which offers gain settings of 40/52/58/64dB, all from the front panel.

It looked like a reviewer's dream.

Oh wait, I have two other phono preamps and suffice it to say each costs quite a bit more than the Bugle. In fact, the cables going to and from my two phono preamps cost more (a lot more) than the Bugle does.

I'm not sure what that says about me.

Still, I couldn't resist Jim Hagerman's tagline about the Bugle MC:

Arguably the world's best phonostage under $500! Come on, who can ignore that kind of confidence? Not me. The Bugle MC is small, as you can see from my photo where the Hagerman is shown sitting atop my 13 inch MacBook Air. Its shipping weight is less than two pounds, for Pete's sake! There are two rotary knobs for selection of gain and loading, conveniently located on the front panel. The back panel has inputs, outputs and a grounding post. No surprises there. Though modest, the Bugle feels solid and repeated insertion and removal of very tight-fitting cables did not result in any flex or drama from the Bugle's RCA jacks. Somewhat surprisingly, there's a power push-button. One could imagine a device with as minuscule a current draw as the Bugle could blow its tunes all day for mere pennies but imagine how annoying its quite-bright power indicator light would become? If they've heard the Bugle I'll bet our pals over at What Hi-Fi? and Hi-fi News and Record Review have gone crazy for the Bugle. The Bugle has a strong, lively sound and keeps the beat right where it belongs. I started it on some relatively poppy LPs (with their limited dynamic range and perceived lack of acoustic space) but I soon learned the Bugle was fantastic on small-combo jazz where it allowed for a big, airy soundstage and excellent tonality on piano, acoustic bass and drums. Playing some female vocals from eras as far removed from each other as 2022 is from 1972 found that the Bugle rendered the essential warmth of the human voice quite well. The Hagerman does not, however, tend toward the romantic and there's nothing vintage, let alone significantly forgiving, about its sound. As usual, I went back and forth between listening to the Bugle feeding my headphone amp directly and listening with either of my open-back headphones and listening in-room through my reference monitors. Going direct to the headphone amp is what I call magnifying-glass mode. The Bugle held up well. I could discern the difference between it and my reference preamps but the Hagerman never was anything but musical and satisfying. Oddly, the Bugle's limitations were most noticeable on small-scale work (solo cello and piano) and more complex (full orchestra with massed strings) acoustic material. I don't listen to a lot of either these days but I was struck by a slight but persistent sense of congestion. Somehow, these comparative dynamic extremes exposed the Bugle a little. I emphasize that these shortcomings were slight. Overall, the Bugle is relentlessly musical and has enough gain for any cartridge you can throw at it. Is it truly the best phono preamp for less than $500? I don't know not having listened to every phono preamp below that benchmark. But for its price of less than half of $500 it's a no-brainer and a hi-fi classic in the making. All of this is especially prescient if you are contemplating the (costly) move to a low output moving coil and fear you might not leave yourself enough cash for a worthy headphone amp. If you take a listen to the Bugle you will find that you have more than enough left. One more thing: Jim Hagerman is a good guy. By sharing the Bugle's schematic both on his website and in the box with the Bugle he's giving of both his heart and his brain. That spirit is not as common as it should be and I would like to commend Jim for that. Also, he's a friendly, timely and informative guy when it comes to email. That, too, is not as common as it should be but always a pleasure when you're lucky enough to encounter it. The Hagerman Bugle is easy to recommend. Don't waste time thinking about it. Just order one while they're in stock and before Jim wisely raises the price. Who wouldn't want the world's best phonostage under $500? Listen well, but listen happy, my friends!
DISCLAIMER. TNT-Audio is a 100% independent magazine that neither accepts advertising from companies nor requires readers to register or pay for subscriptions. If you wish, you can support our independent reviews via a PayPal donation. After publication of reviews, the authors do not retain samples other than on long-term loan for further evaluation or comparison with later-received gear. Hence, all contents are written free of any "editorial" or "advertising" influence, and all reviews in this publication, positive or negative, reflect the independent opinions of their respective authors. TNT-Audio will publish all manufacturer responses, subject to the reviewer's right to reply in turn.


Copyright © 2023 M.L. Gneier - mlg@tnt-audio.com - www.tnt-audio.com
[ Home | Staff & Contacts | HiFi Playground | Listening tests | DIY & Tweakings | Music & Books ]