[ Home | Staff & Contacts | HiFi Playground | Listening tests | DIY & Tweakings | Music & Books ]
Krell KAV 300i - integrated amp
Kr....yptonite!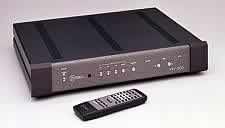 [Italian version]
Product: Krell KAV 300i - 150 + 150 watts integrated amplifier
Manufacturer: Krell Analog Inc.
Approx. price: 3,000 Euro/$ (maybe lower in the US, maybe higher elsewhere)
Reviewer: Lucio Cadeddu
I've already written something about this famous US Company during the listening test of their smallest power amp, the Krell KAV 150 a, so if you want more infos please refer to that article or browse the Krell official web site directly.
The KAV 300i is the smallest integrated amp made by Krell though the adjective "small" isn't well suited for this savage beast, capable of 150 watts RMS per channel on 8 ohms and 300 watts per channel on 4 ohms (I'm referring to the official specs here). Despite this brute force, the KAV 300i isn't particularly bulky at 12 kgs (25 lbs) nor excessively oversized (47.5 x 39 x 9.25 cm).
It makes use of a single 400 VA toroidal transformer (a bit small considering the claimed output power at 4 ohms) and it offers 4 line-level inputs (1 balanced XLR, 3 standard RCA, 1 pre-out + the ubiquitous tape-loop in/out).
Probably the most interesting feature, especially for the HT crowd out there, is the so-called Theater Throughput i.e. the possibility, via an internal jumper, to switch the input labelled S3 (a standard RCA) into a "main in" so to be able to use the KAV 300i as a stereo power amplifier into a 5.1 channel Home Theater system.
On the front panel you find the volume control (switch + leds), a balance control and an input selector (relays-assisted and led-equipped). The on/off switch just leaves the amp in stand-by mode so, to turn it off completely, you need to disconnect the power cord. The amount of power consumption in stand-by mode is negligible while the amp is always ready to perform at its best.
The Krell remote allows to control other Krell components (CD players included) so, if you own a complete Krell system, you can use just a single remote. Neat.
The KAV 300i comes with a full 5 years warranty so that the customer can rest assured about the quality of the product: he who buys Krell stuff wants something designed and built to last, not a product that works well only two times a month when certain Planets are well aligned up there in the sky ;-)
The KAV 300i is extremely easy to use: hook up the cables and relax, you're going to experience a small voyage into the Krell world.
Kr...yptonite!
Having tested the KAV 150a power amp, which is very similar to the KAV 300i, I expected to get similar results in terms of sound quality. So you can just imagine my suprise when the KAV 300i started to sing into my reference system...hey! A whole different approach, indeed!!!
The KAV 300i is much more similar to a BIG Krell than to its cousin KAV 150a....a gutsier and tastier family feeling and the famous bass range to die for.

Yes, let me start to describe the bass performance of this integrated amp: I'm pretty sure you can tell it is a Krell amp by simply listening to the bass notes it reproduces: taut, authoritative, nervous and deep till the lowest end, this amp might make you discover new hidden bass frequencies on our discs. You will start to play a disc after the other just to discover new (or deeper) bass notes, especially if you were used to diminutive low-powered audiophile amps.
It is not the kind of bass range that exceeds/pollutes the rest of the audio spectrum, it actually remains clean and articulated, with no intereference with the midbass and mid range.
So what about the mid band? Definitely on the dry side and much more "focused" on the "big picture" instead of trying to pursuit the finest and subtlest detail.
Not that the KAV 300i lacks precision, it is all there, but you are lead to follow the main theme instead of analyzing those tiny-weeny details.
For example, it does succeed to make you hear the different voices of a large choir but finally you end up listening to the "unison" instead. By the way, male voices appear a bit darker than they should be.
As for acoustic instruments: drums (not cymbals), pipe organ and strings seem to be the KAV 300i 's preferred ones. Not so brass instruments, cymbals and other metallic percussive stuff which lack a bit of harmonic richness in the high range. A bit too "essential" in my opinion.
It seems like the KAV 300i has no time to waste to reproduce the full harmonic content of these instruments and so the sense of "air" and transparency is a bit lacking.
Micro & macrodynamics
150 watts per channel, paired with medium-sensitivity speakers, are a LOT of raw energy. If you like to listen at very high pressure levels the Krell KAV 300i may be the perfect amp for you. Perhaps your loudspeakers and/or your listening room will show their natural limits way before this amp.
A top-notch bass frequencies impact makes you believe the available energy for drums and bass lines is infinite: take the Sheffield Drum and Track record, for example. While during the most complex passages other integrated amps start to jell and squeak, the KAV 300i invites you to raise the volume louder and louder. Your speakers (and your neighbourhoods) are the limit, here :-)
On the rest of the audio spectrum the dynamic performance is still very good and only during fortissimo's of very large orchestras the energy appears to be "finite". But beware! This happens only at volume levels you and your neighbourhoods have probably never experienced in real life :-)
The sound isn't irresistibly fast and sometimes it appears a tad slow, because of the psychoacoustic effect of a heavyweight bass range. It is quite easy to get a lightening fast sound when the bass frequencies are lacking. Don't you know many minimonitors are often referred as very fast though big floorstanders are known to be "slow"? Psychoacoustics is the answer.
If you don't trust me and you preamp/amp has tone controls, try lowering the level of the bass.
The FF ("fun factor"), i.e. the ability to shake the listener's inner soul, is one of the best characteristics of the KAV 300i. Oh yes, one may need a velvet touch instead but I'm sure you would be in trouble stopping your feet on the floor.
Definitely not recommended for those who prefer to listen to "whispers" at extremely low pressure levels, the KAV 300i is for those brave enough to want the live Music impact at home.
Soundstage
The virtual soundstage created by this amp is quite remarkable, especially because it is well extended beyond the loudspeakers. It appears a bit "dark" but the players/singers are well focused and firmly placed into it. No pin-point imaging to speak of since the lack of transparency in the upper mids and highs causes the loss of some small detail inside the scene but this is exactly what I expected by this amp, considering his tonal balance and his behaviour in the upper portion of the audio spectrum.
Some advice
As you can guess, leaving the KAV 300i permanently in stand-by mode is the best way to get its best performances. A solid and stable platform (table) and good cables will do the rest. No need to fancy exotic cables and tweaks: the KAV 300i does have a distictive kind of sound that will pop up no matter what you do with its ancillaries.
Complaints
Exactly like its cousin (KAV 150a) the cabinet of this integrated amp does have some weak spot, I mean, edgy edges :-) that can cause small wounds to children and pets. I'd like to see these edges on the front panel "rounded" as soon as possible.
Krell designers should consider this safety issue quite seriously, especially considering this amp doesn't come cheap, to say the least.
The craftsmanship quality is fair while the remote control, even too complete and hence "complicated", needs a couple of weeks of use before it becomes intuitive.
From a purely sonic point of view I'd have preferred a softer and harmonically richer sound in the mid/high range. A bit of extra transparency would be welcomed too.
Conclusions
If you want a taste of the REAL Krell sound at a human price (human considering the rated power output) then the KAV 300i may well suit your needs.
If you own lazy speakers, if you prefer visceral impact to tiny introspection, if you need a reliable, sturdly built, powerful amplifier with a first-class sound with respect to overall dynamics and quality of the bass range, well, if you need all these things...you may need to hook up a KAV 300i to your system....and don't forget to fasten your seatbelts... :-)
A heart-felt thank you to the guys at Audio Natali, the Krell Italian distributor, for having sent us the KAV 300i under test.
© Copyright 2000 Lucio Cadeddu - https://www.tnt-audio.com
How to print this article
[ Home | Staff & Contacts | HiFi Playground | Listening tests | DIY & Tweakings | Music & Books ]