[ Home | Staff & Contacts | DIY & Tweaks | Listening tests | HiFi Playground | Music & Books ]
Practical Devices XM3 Headphone Amplifier
Higher-fi on the move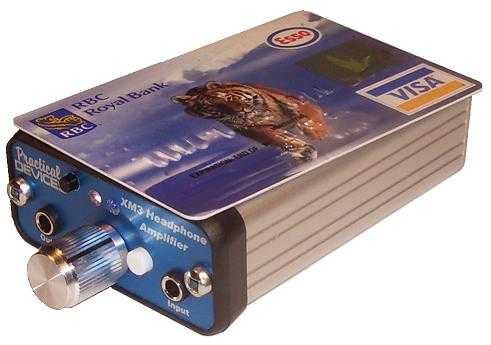 [Italian version]
Product: XM-3 headphone amplifier
Manufacturer: Practical Devices - Canada
Price: $135 USD, plus shipping
Reviewer: Arvind Kohli - TNT USA
Reviewed: Sep, 2006
| | |
| --- | --- |
| Power Source | 9V alkaline/NiMH/NiCd battery, or 8.4-volt NiMH/NiCD battery, and/or External Power Supply |
| Battery charge time | 15 Hours |
| Battery Life | 50 hours active, 2.5 years standby |
| Maximum Gain | 23.1dB (gain jumpers in), 12.7dB (gain jumpers out) |
| Frequency Response (20-20k Hz, typical) | +0.8dB, -0.3dB |
| -3dB Point (typical) | 21kHz, 9Hz |
| Total Harmonic Distortion (typical) | 0.002% |
| Intermodulation Distortion (typical) | 0.0039% |
| Signal to Noise ratio (20-20,000Hz, typical) | 97db |
| Dynamic Range (20-20,000Hz, typical) : | 97db |
| Crossfeed | User-adjustable from mono to stereo(-92.3db) using potentiometer; User can bypass using pushbutton. |
| Auto power-off | User selects none, 1, 3 or 6 hour power-off interval. |
| Integrated Voltmeter accuracy (typical) | +/- 100mV |
| Weight | 140g (4.9 oz) |
Introduction
Sometimes I like to approach a product from the perspective of someone outside of this hobby. When I got home one day, my wife informed me that yet another package had arrived. The usual question followed "What is this now?"
Practical Devices Corporation was launched as a startup in late 2001, and is headquartered in Toronto, Canada. They began by doing electronics and product design for industrial customers, and that branch of the business continues to this day. The foray into audio products started in 2005 with the "XMoy2", and then the XM3 in early 2006.
Their main focus now is to expand the audio side of the company. An upgraded version of the XM3 (called the "XM4"), is in the works. Also, on the drawing board is the XM5. Same form factor, but with additional features: bass boost, treble boost, variable crossfeed, switchable gain, buffered output with the amps and buffers in a monoblock configuration, and switchable output impedence. A feature-packed tube amp is also in conception.
The XM3 was designed by James Forest. According to him the design philosopies were:
Number one, sound quality. The audio quality is the amp's most basic function, and if it's not there, we've failed.
Second, we try to include features convenient for everyday use - an auto-power off function, for example.
Third, flexibility: we try to accomodate every user. For example, our amps include a switchable gain, which allows a wide range of headphone impedences to be used. Another example is the variable crossfeed, which allows users to tailor exactly to their tastes and equipment setup."
Jamesí all time favourite audio component is Sennheiser's HD650's. Which he finds smooth, comfortable and warm sounding. Coincidentially, that is the very model I will be using to do the majority of evaluations on this unit.
The product
The XM3 has an incredible feature set, listed below from their literature;
Microprocessor control
Variable Auto-PowerOFF
Variable Crossfeed
Integrated battery charger
DC power jack.
User selectable maximum gain.
Integrated voltmeter displays battery voltage
Low battery indicator
Blue LED and amber LED indicate status.
FlashLight mode
Gold-plated amp chip socket, allows for amp upgrades
0.1% tolerance mil-spec resistors in the analog feedback circuit.
TLE2426 rail splitter, with noise reduction.
OPA2134 ultra-low distortion (.00008%) low-noise high performance audio amplifier.
Audio power supply bypassing uses both high-value Electrolytic and Tantalum capacitors.
Polished Aluminum volume knob.
Dual-layer impedence-controlled Printed Circuit Board.
The unit is presented in a smart looking anodized extruded aluminum case The XM3 is constructed using the following components:
Amplifier Stage:
Burr-Brown OPA2134 op=amp.
Mil-spec 0.1% metal film feedback resistors.
Audio Power Supply Stage:
Texas Instruments TLE2426 Precision Virtual Ground.
Tantalum and high-value Electrolytic Capacitors.
PCB Layout:
A professionally-built FR-4 impedence-controlled PCB. Care was taken during the design of the PCB to ensure audio signals have ground shielding and a low-impedence return path, which is not possible with any hand-wired board.
Obviously a lot of thought, care and pride has gone into the design and componentry of the XM3. Now, what is left to see is - how it sounds.
Listening
In determining how to test this unit, I tried thinking of the various possible applications such a product could be used for, I came up with two that I would care to explore. The first, would be as part of a portable system that is used for travelling or excercising. The source could be a portable CD player, MP3 player or even a laptop. Don't laugh, but I did go running with this thing in my pocket a few times, and it was not terribly uncomfortable. The second application I can think of, is to enhance headphone listening at home, either because your gear does not have a headphone jack or you are looking for something better (especially if you are driving a high-impedance model).
Testing for the first application scenario as part of a portable Hi-fi system, I lined up my Samsung YP-6T MP3 player (MSRP $299USD, on eBAy for $93USD) and Sennheiser 497 headphones (MSRP $70USD). Aaaah, this is just the thing I need to get me motivated to start running on a regular basis. No more excuses after this...honest.
"Rimshot" (Eryka Badu; Baduism; Universal; UD53027)
"Cheek to cheek" (Ella Fitzgerald and Louis Armstrong; Ella and Louis; Verve; 314 589 598-2)
"Dawn" (Simon Shaheen, V.M. Bhatt; Saltanah; Water Lily Acoustics; WLA-ES-51-CD)
Alas, I heard no reliable difference with the XM3 in-line betweeen the MP3 player and the headphones when compared to the headphones driven directly by the MP3 player. Next, I also listened to the same tracks with my Pioneer DV414 as source and the Sennheiser HD497 driven either by the XM3 or the headphone jack of my NAD 317 integrated amp (in either case the amp was driven directly by the DVD player). Again, no discernible difference; I can think of two possible reasons for this.
First, it is possible that the XM3 is sonically no different from the NAD 317 after all. Or, the source and headphone used here are lacking in the level of resolution needed to discern a difference. I personally suspected the second case to be true; also it would be unlikely for someone to use a $70 headphone with a $135 amp. So, letís move on to a more likely setup.
To that end, I next switched in the Sennheiser HD650 (MSRP $550USD), and using my Samsung MP3 player and a cheapo portable CD player (Accusonic brand, if you really need to know) as source.
"Scherzos No.1, Op. 20 in B Minor" (Arthur Rubenstein - Fryderyk Chopin; The Chopin Ballades & Scherzos; Living Stereo; 82876.61396)
"Recuerdos (con tremolo flamenco)" (Tao Ruspoli; Flamenco; Mapleshade; 10452)
The most surprising finding here was completely unrelated to the question on hand, but that is the serendipitous way the search for knowledge works. The portable CD player sounded absolutely horrible whether driving the HD650 directly or through the XM3; this might have been the worst audio experience of my life (no exaggeration here). The Samsung MP3 player, on the other hand, is a terrific sounding source; and could actually drive the high impedance HD650 quite well all on its own (just not to very high levels).
But adding the XM3 in-line with the MP3 player did make a discernible, albeit small difference. The improvement using the XM3 was so small, that I had to listen to the same track several times before I could be sure there was a difference at all. But there were definite improvements; larger ones in terms of increased detail, and a relatively lesser ones in the way of greater bass slam and slightly better dynamics.
Finally, I wanted to test the XM3 with a higher resolution source (in this case a DVD player vs. a MP3 player). So, I compared the XM3 to the headphone output of my NAD 317 integrated amp, with the Pioneer DV414 as source. This test also approximates the second application scenario, of using a headphone amp for domestic listening. Though it is likely that someone using these headphones and amp is also likely to use a better digital source than my Pioneer DV414; in which case it would be reasonable to expect better results.
Using the same two tracks as above, it seemed a little bit easier to discern the same differences as I did with the MP3 player as source. Two possible reasons here; a higher resolution source does make it easier to pick out differences, or my mind knew what to look for after the lesson in the second test detailed above. I have to apologise for not being able to eliminate that possible bias; but at a minimum, you can be assured that there was a definite improvement with the XM3. Also, what I heard driving the HD650 with the headphone jack of the NAD was significantly 'darker' sounding and with less detail, than what I heard with the the XM3 (fed directly by the DV414).
But again, on an absolute scale the changes were so small that I had to listen to the same track many times before I could pick out a difference reliably.
Conclusion
Let me approach this from the perspective of the application scenarios I listed above.
In the case of the portable system, I would have to say that there is a level of improvement given a high resolution set of headphones (such as the Sennheiser HD650) and a half-decent source unit (Samsumg YEPP YP-MT6ZACI). Do not bother buying this amp if you are going to pair with less than outstanding cans (Sennheiser HD497) or a crappy source (Accusonic portable CD player).
In the case of the home application scenario, I would also say that there is a level of improvement over the NAD 317. So the XM3 makes for an upgrade to headphone driver of resolution equal to the NAD 317; or a great amp for a headphone-only, one-source system.
A key point to repeat here, is that when I say "a level of improvement" above, it is very important to understand that in absolute terms the difference are very small. I hope I have done an adequate job of describing how small those differences are. Once you have an estimation of the scale of improvement to be expected, it is upto you and your pocket to determine if that difference if worth paying $135USD for. I personally feel any improvement is worth pursuing, the only question is how much does it cost. For my pocket, spending an additional $135 to enhance my headphone experience is definitely worthwhile.
© Copyright 2006 Arvind Kohli - www.tnt-audio.com
[ Home | Staff & Contacts | DIY & Tweaks | Listening tests | HiFi Playground | Music & Books ]