[ Home | Staff & Contacts | HiFi Playground | Listening tests | DIY & Tweakings | Music & Books ]
T+A Power Plant - integrated amplifier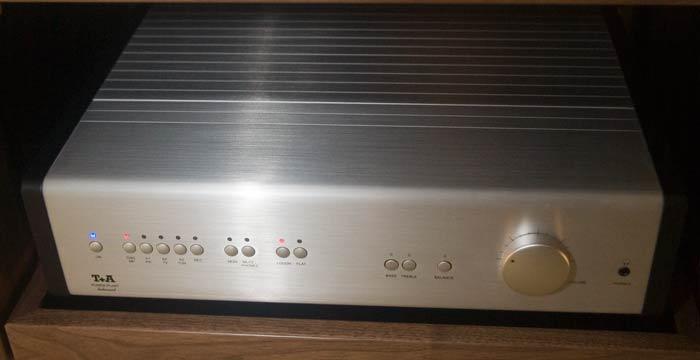 Cool power!
[Italian version here]
Product name: T+A Power Plant - balanced integrated amp
Manufacturer: T + A elektroakustik - Germany
Cost: 2800€ - NZ$ 4899 (Currency conversion)
(YMMV)
Reviewer: Richard Varey - TNT New Zealand
Reviewed: September, 2015
Introduction
The Power Plant balanced integrated amplifier is part of the E-Series of "affordable hi-end" kit from T + A which also includes a music player (which is a CD player, FM radio, DAC, and streaming client) and a music receiver (which combines the player with the amplifier). I wasn't aware of this German company's products until my 6-year old Cambridge 840A finally became too unreliable to use, and the need for a forced replacement/upgrade was realised. As soon as I played my music through the amplifier, and especially with my Clearaudio SmartPhono preamplifier, I was hearing very pleasing improvements in the musicality of the reproduced sound.
Although not previously known to me, and so not on my shortlist of replacement options, the Power Plant was immediately appealing for four reasons. The silver/black styling is striking in an "engineered but stylish" way, the company's track-record of audiophile innovation is very impressive, they are confident enough to offer a five-year warranty (maybe the German engineering stereotype remains true), and I was offered a fair trade-in value on the failing predecessor. A home audition was needed ...... and the Power Plant is still the heart of my system a year later and now a permanent part of my daily listening experience.
The Power Plant has won a number of test awards, which reflects the audiophile performance achieved by the fully symmetrical signal processing with XLR inputs and outputs, although I haven't capitalised on that, simply using it with normal RCA connections to my Clearaudio Emotion turntable, Pioneer D6 SACD player, Technics tuner, and PC-based Audiophile Linux music file player via a SoTM USB interface and Cambridge DacMagic, all feeding my home-built Philips 12" vintage full-range drivers on open baffles with REL Quake powered sub-bass and Taket BatPro2 super-tweeters. I also run an iFi iTube active tube buffer/pre-amplifier in the record monitor circuit with a pleasingly natural, open and relaxing soundstage resulting which is "tube-like" without the stability and reliability issues (Nick Whetstone reviewed this pre-amp package here on TNT-Audio in October 2013).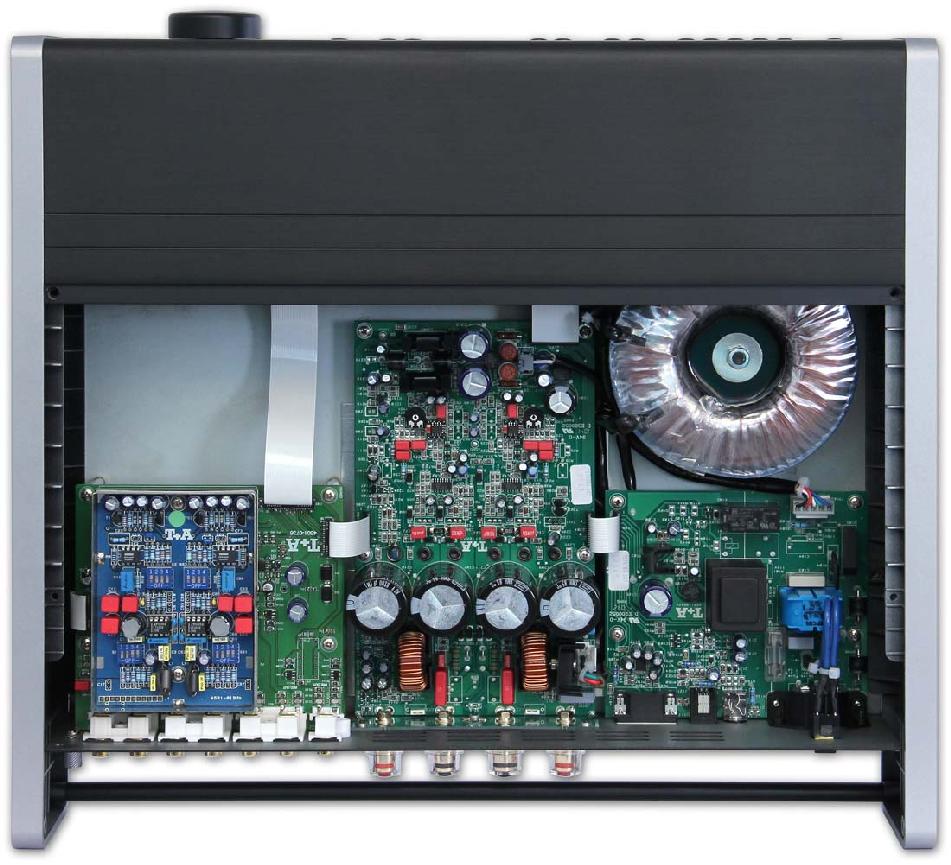 Whereas the Cambridge amplifier ran very hot and was prone to background buzz in its latter days, the Power Plant is silent, cool, and very solid. The front panel has push-buttons and a rotary volume control (which feels a little loose). The tone controls can be removed from the signal path - this is my normal setting. Two of the inputs can be set for XLR inputs. Software updates can be loaded through an RS232 socket, and a remote control is available. One input can be configured for phono with the insertion of an optional MM or MC module.
The unit is designed to be upgradeable by replacing sub-assemblies or adding auxiliary modules. The sound produced is open and lively, and T + A claim this is the result of their pulse width modulation (PWM) output stages. Up to 210W peak per channel is specified, with <0.005% THD and >80dB channel separation. Outputs also include pre-amp, tape, and headphones. With 12" coaxial full-range drivers (vintage Philips AD1256-M8), I doubt that I am driving them in my 6.4 x 3.9 x 2.4 m listening room with more than a few watts - the control never goes beyond 10 o'clock (or about 5/11 on the Spinal Tap scale).
In keeping with the advanced engineering persona of the T + A Elektroakustik Company, the amplifier comes in a very generous transit box with lots of protection. The user manual is very detailed in both German and English. It is presented in a folder that is very reminiscent of a technician's or designer's manual - somehow it feels reassuring and smacks of competence and attention to detail (I couldn't find any typos or contradictions in the text). A personally signed quality control certificate is also included. So, I like the way the product is designed and presented, and believe that the purchase price is fair for a superior unit.
How about satisfaction with playing recorded music?

So, how does the T+A amplifier fit into my listening experience? I play music every day and have found the Power Plant to be always reliable, ready and waiting to do its job exertion-free. Once the ritual of switch-on is done, I tend to quickly drift into the music, not concerning myself with flashy looks or gadgets (or running temperature anymore). Given the crucial role an amplifier plays in making recorded music audible, I think the Power Plant just gets out of the way and lets the musicians come through into my listening experience.
Right now, for example, I am listening to Peggy Sings the Blues by Miss Peggy Lee (Decca, 1989) on CD. I bought this album for its title and was not familiar with Peggy Lee's singing apart from thinking of her as more of my parent's generation and of the golden age of movie stars. This album has not had universally positive reviews, but what a revelation.
Even recognising that her voice by this time (she was 68 years old when she recorded the songs) was beyond its peak, the musicality is startling. The instruments - piano, electric guitar, double bass, drums, and percussion) are so clear and prominent and stand out, with the voice sitting in the mix almost feeling like accompaniment to the players. A very engaging musical experience with both songs and an artist that I had half expected to not really connect with (I was a teenager when Led Zeppelin and Deep Purple ruled the rock kingdom).
Even when not playing loud, the soundstage produced is full, detailed, and really enjoyable, sometimes hard-hitting and explosive, sometimes wispy and subtle. And when music is not playing, there is black silence with no hint of background noise. For this review, I switched in the loudness circuit, resulting in an effortlessly stronger low-end kick and punch on drums and bass, whilst retaining the clarity of the upper ranges.
Having not heard a live jazz band playing blues songs right in front of me, it's hard to express an impression of realism, although I can readily say that for me the sound is musical and very enjoyable, without the listening fatigue found in some playback systems. I always end-up wanting to play some more music, whether it be folk, female vocal, jazz-rock, fusion, progressive rock, blues, blues-rock, or rock. It's difficult to reasonably express an impression of how the amplifier sounds as it is presenting what comes in from the source and passing the processed signal along to the loudspeakers.
Source quality is highly variable anyway, and mood also determines the experience of music. As I'm truly besotted with my Philips full-rangers (see my TNT-Audio article on my self-build speaker projects), I am going to say that the overall presentation of music by my system-room combination is very pleasing indeed. Plenty of presence, performance, punch, and power. How much of that is down to the amplifier, I can't say. What I am sure of is that the current combination is very engaging, and the equipment does its job effortlessly, cool and calm, and lets the music come through.
Whilst I originally acquired the Power Plant as a substitute for a failing amplifier, what I have now is a notable upgrade and a sense of assured enjoyment. In that sense, it has come to feel like a value-for-money improvement, rather than only an expensive problem solution. The push button controls and led indicators are subtle in use, whilst the volume control knob feels well-engineered. The substantial metal case is very solid and the brushed finish is pleasing, if subtle.
My overall impression in use is that whilst the amplifier can hardly be called compact, it makes its presence felt physically, exuding confidence and rock-solid performance. I am particularly pleased with the performance of the phono stage which, coupled with my Clearaudio SmartPhono pre-amp, delivers a step-wise improved clarity and punch to my turntable's performance. It's like renewing my whole vinyl record collection. Inputs are labelled Disc/Media Player, Phono, TV/Line, and Tuner. There's a Record/Monitor option, Mute speakers (for headphone listening, Loudness, Flat response, Bass/Treble (switchable), Balance, and a 3.5 mm jack headphone outlet. I've found that switching in the loudness option beefs up the soundstage in a very pleasing way, ensuring that when listening at low level the realism and weight is retained. It has remained switched in.
Conclusions
The bottom-line is that I recommend the T + A company, and this first experience with one of their products has been an eye-opener and a delight. I would love to audition the music player if the chance arose. A glance through the company website reveals a wealth of similarly engineered listening instruments, all exhibiting a design flair that synthesises a clear 'musical' purpose with impressive technical accomplishment.

© Copyright 2015 Richard Varey - richard@tnt-audio.com - www.tnt-audio.com
[ Home | Staff & Contacts | HiFi Playground | Listening tests | DIY & Tweakings | Music & Books ]