[ Home | Staff & Contacts | HiFi Playground | Listening tests | DIY & Tweakings | Music & Books ]
ZeroZone IRS2092 - Class D monoblock amplifiers
Thunder and lightning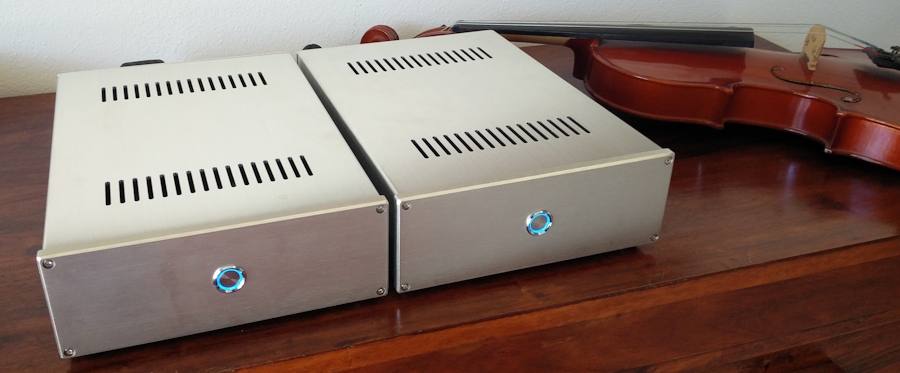 Product: ZeroZone IRS2092 mono power amplifers
Manufacturer: ZeroZone - China
Approx. price: highly variabile, ±300€/$ pair, including shipping
Reviewer: Lucio Cadeddu - TNT Italy
Reviewed: June, 2021
Foreword
If you're a long time TNT-Audio reader you probably are already aware of the fact we're always searching for bizarre HiFi components, gifted by stellar quality/price ratio. While scouting the Web searching for such items, I've come across this pair of monoblock amplifiers, based on IRF IRS2092 Class D chipset, built by a Company (?) known as ZeroZone.
If you're an avid DIYer you certainly have already encountered this brand before, as they make several DIY kits, boards and finished products. Most of this stuff is available at different Aliexpress/Ebay stores.
I have nothing more to say about the company, as the power amps I'm going to review arrived at the palatial TNT-Audio headquarters inside an almost anonymous parcel, with the writing ZeroZone outside and nothing inside, except the two amps! No owner's manual, no AC cord, no tech specs, no warranty card, nothing that can shed any light about the Company or the amps.
They are claimed to be extremely powerful: 600 watt @ 8 ohm, 800 watt @ 4 ohm and 1,000 watt (1kW!) @ 2 ohm. Their cost is even more surprising than the power specs: I paid 126€/each + 30€ of shipping via FedEx. Then I had to add 45€ of customs duties (that may vary depending on the Country you live in). A note for EU readers: from July 1, 2021 on, the EU customs rules change: every parcel has to pay duties and VAT, even those claimed to be below 22€.
Summarizing, I paid slightly more than 300€ for this pair of amps, including shipping and custom fees, making them the amps with the most outstanding watt/price ratio on Planet Earth!
As usual, I purchased these amps in a completely anonymous way, so to be sure to receive standard run of the mill components, nothing specifically made for reviewing purposes (i.e. checked/selected, specially inspected and spec'd etc.).
Let me add just some remarks, right before someone might complain about our reviewing policy:
Reviewing HiFi components like these doesn't harm the usual commercial components sales. Indeed, there's no amplifier in the market with this price tag and this power output. You need to add a zero to the cost, to say the least. Hence, manufacturers of power amplifiers won't be harmed by the existence of such a bizarre competitor. Actually, to be honest, these amps have no competitors. At the same price you can just buy an entry-level integrated amplifier.
They are not standard components by any means: no warranty, no owner's manual, there's no physical store where they can be evaluated and purchased, not even a company's website (or I haven't been able to locate it).
The customers who have the money to purchase extremely expensive amplifiers with all the bells and whistles won't consider purchasing these ridiculously inexpensive and understated amplifiers. Generally, these customers are not so open-minded ;-) [OK, some of them are]
That said, let's have a closer look at the secrets of these mysterious amps!
What's inside?
These monoblock amps are based on the IRF Infineon IRS 2092 Class D chipset (the links opens the official PDF datasheet). The IRS2092 is a class D chipset with a PWM modulator that operates at the switching frequency of 800 kHz: paired with power MosFET it can produce an output power as high as 500 watt when fed by a 100V power supply. In this case, the Company uses IRF Infineon IRFB4227 HexFETs. As said, claimed power output is impressive, though no precise THD range or frequency range has been given.
A look at the inside unveils a very clean and well-enginereed layout. As for components, we can identify a group of 8 x SamYoung NHA caps of 1000 uF/100V, 4 x Rubycon ZLH of 100 uF/80V, and 2 x Nichicon of 330 uF/35V. Perhaps not the ultimate audiophile grade stuff, but certainly good components for such an inexpensive amplifier. The power supply is of the switching kind, of course, to help cutting costs, weight and size of the units.
Up front we can find the switch-on power button, whose edge colour becomes blue once pressed. After a few seconds a SONGLE relay connects the loudspeaker outputs. In the rear, we can find a good quality gold-plated RCA line input, two multi-standard gold-plated binding posts, and the IEC AC inlet. The cabinet is surprisingly and entirely made out of a mix of brushed and polished aluminium, with a 8mm-thick front panel with rounded edges. A steel cabinet would have been less expensive, and this means the company has decided not to cut corners here. The pluses of an aluminium cabinet are that it is non-magnetic, light and doesn't corrode. The diminutive size of the cabinet (19.5W x 30D x 7.6H cm), the switching PSU and the aluminium cabinet help in keeping the weight under 2,5 kg (5 lbs) per unit. Impressive.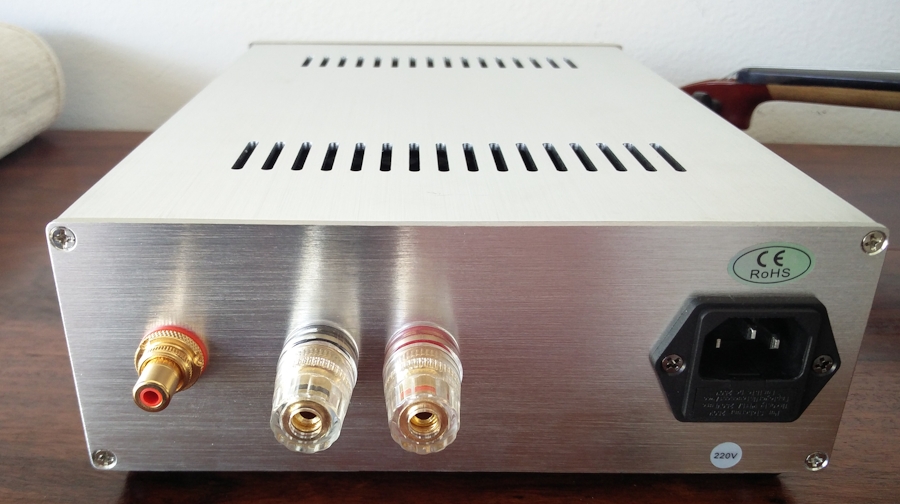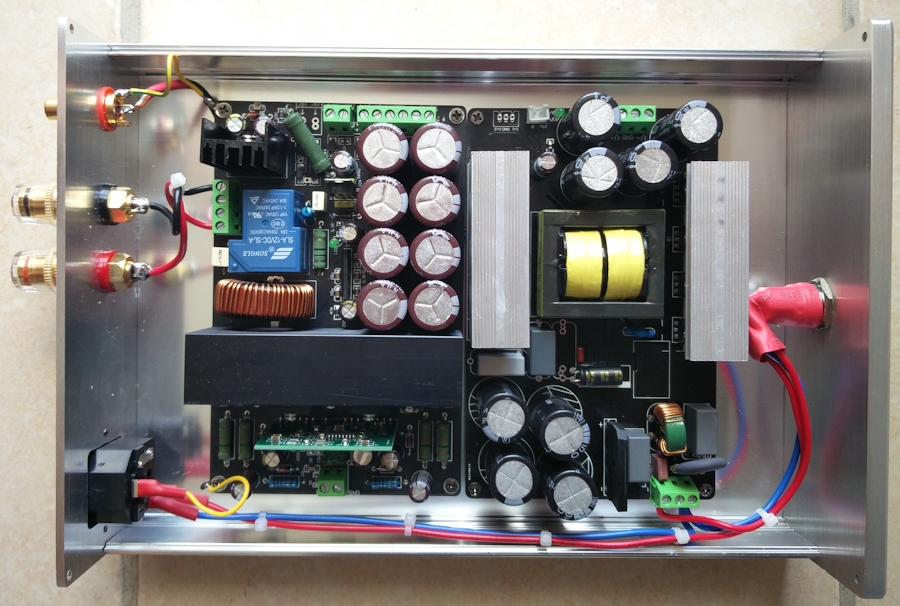 Thunder and lightning
First things first: these are high-power amps, so please respect the switch-on procedure carefully: turn on the preamp before the amps and turn off the amps before the preamp. OK, there's the output relays that protect the loudspeakers from power-on transients, but it's better to be safe than sorry.
Now, let me confess I was a skeptic, to say the least: once received the parcel, even a bit worried! Quite surprisingly, the two tiny beasts powered on correctly and didn't explode. Secondly, they operate quite silently: one of the two has a background hiss which is slightly louder than the other one. That's nothing that can be detected at your listening seat, though, as you need to glue your ears to the tweeters to hear it.
The first thing that I noticed is the impressive power output and the amount of power reserve: undoubtedly, these amps have impressive dynamics, deliver sheer energy to the loudspeakers, on any load, and you need to be extremely careful with the volume knob! It seems they never run out of steam, and just invite you to raise the volume to insane levels. Tough loads don't seem to upset them either!
The performance is always full bodied, dynamic, effortless, quick, articulated and controlled. And the sound they produce is big. That kind of sound that you can experience only with big amplifiers, gifted with a breath that makes the music expand in all directions. Oh yes, the power reserve plays a role here, but I'm sure these new Class D chipsets are getting better and better over time. Moreover, the HexFETs these amps use have an impressive dynamic headroom and current capability.
Anyway, if you're looking for a relaxed, warm and silky sound you'd better look elsewhere, as these amps take no prisoners, literally. The tonal balance is mostly open, though I'd not say bright. I can't guarantee that the frequency response in the high range doesn't get affected by the impedance curve of the loudspeaker, as it sometimes happens with Class D amps. In any case, at least with the loudspeakers I tested, I didn't notice any change in the high frequency balance. Hence, you should expect a detailed, precise, transparent and lively sound. If there's something hidden inside the recording, it will be undoubtedly revealed by these amps. For example, take the background hiss of an old analogue tape recording: you will hear it, for sure.
This also means that voices and stringed instruments are gifted with a very appealing presence effect, while the harmonic content of the music is preserved, which is a quite unexpected and welcomed gift, considering the price range of these amps. Singers' sibilants can be detected if these have been recorded, and will be displayed without mercy, otherwise voices are smooth and natural. Different sections of male and female choirs remain distinct even during complex and energy-drawing musical passages. Lyrics appear extremely intelligible, and this certainly adds realism to the songs.
The bass range, as you might expect, is extremely extended, articulated, powerful and controlled. Even the lowest notes sound each one different from the other, which is not usual, as many amplifiers, close to the first octave, tend to homogenize everything into a one-key note. And no, you won't hear this unless your speakers can reproduce the first octave flat. Bass articulation deserves a special mention: the lowest and strongest bass frequencies are managed without effort, even at insanely high listening levels. Let's hope your loudspeakers can handle such levels without compression, as it would be a pity, since these amps are really bass-monsters.
The 3D soundstage, a torture test for any inexpensive component, is incredibly good: wide, I'd say huge, with an impressive sense of depth and height. The focus is extremely good as well and, as expected, it doesn't vary with level. If there's some ambience information in a recording, this will be reproduced with extreme care, and that's another unexpected and welcomed gift!
Summarizing, and trying to avoid enthusiastic claims, these amps are astonishing, and not only for their stellar watt/price ratio. They do sound extremely good and can be embarassing for many amplifiers costing several times as much. I confess that they can also be quite disappointing, because they remind you how much money you spent on expensive amplifiers, just to get a tiny fraction of the sheer energy and precision these ZeroZone amps deliver. Of course they lack the ultimate refinement of the best amplifiers around, but to expect this would be immoral.
Perhaps they are not everyone's cup of tea, but they are impossible to beat, at this price...and above. Please remember that for 300€ you would usually get an entry-level commercial integrated amplifier that would sound anemic, lifeless and compressed when compared to these impressive power stations.
Complaints
Manufacturing & finish.
Oh well, they are even too good to be true! Pics speak for themselves: full aluminium cabinet, impressive layout, good solderings all around and good quality components. Do I need to complain? Seriously? OK, just few things: the damping feet are small and tend to unglue and move. There's no owner's manual, no warranty, no tech specs, no AC cord. Not even any writing on the front fascia that declares who made them.
Sound.
Unbelievable at this price, period. Not for the fainted of heart, though: warm, silky and muffled sound addicts steer away from these babies as soon as possible. A touch of refinement at the top end would be welcomed. With loudspeakers that have a loudness balance (strong bass and highs) these amps are not a wise choice.
Some advice
It is true that they take no prisoners, but they can sound gentle, when required. In any case, I'd avoid aggressive ancillaries, just to be sure. Pairing them with small loudspeakers can be a nonsense, considering their explosive and full-bodied sound. Be careful with that volume knob, or you'll have to hunt for woofers flying around your listening room. If continuous power is impressive, peak power is even more devastating. You've been warned.
Though they come without a real warranty, Aliexpress stores are extremely supportive (most of the times) and are ready to get components back and send new ones in case of damage or malfunction.
Availability
These amps can be easily found on Aliexpress or Ebay stores. I purchased mine on Sep_Store at Aliexpress, but you might find a lower price elsewhere, depending on special offers. If possible, choose a safe shipping method, FedEx or similar, and a trusted store (check for followers and feedback).
Conclusions
Frankly, I'm slightly puzzled. Yes, because I've never found so much power and sound quality at this price. Would I recommend these amps to anyone? No, and for all the reasons I've already explained. They are not standard commercial HiFi components, you can't listen to them at a physical store, you don't even get a warranty card. Their sound is impressive, though you might need some effort to find the right partners. Once set up inside a good, evenly-balanced HiFi system, you can ask your friends to guess the price of the amps, it will be an amusing experiment (and a prank!). I, for one, can't wipe that stupid smile off my face. If this is what progress is meant be be, then long live progress!
DISCLAIMER. TNT-Audio is a 100% independent magazine that neither accepts advertising from companies nor requires readers to register or pay for subscriptions. After publication of reviews, the authors do not retain samples other than on long-term loan for further evaluation or comparison with later-received gear. Hence, all contents are written free of any "editorial" or "advertising" influence, and all reviews in this publication, positive or negative, reflect the independent opinions of their respective authors. TNT-Audio will publish all manufacturer responses, subject to the reviewer's right to reply in turn.

© Copyright 2021 Lucio Cadeddu - direttore@tnt-audio.com - www.tnt-audio.com
[ Home | Staff & Contacts | HiFi Playground | Listening tests | DIY & Tweakings | Music & Books ]