[ Home | Staff & Contacts | HiFi Playground | Listening tests | DIY & Tweakings | Music & Books ]
Born To Run - Bruce Springsteen's autobiography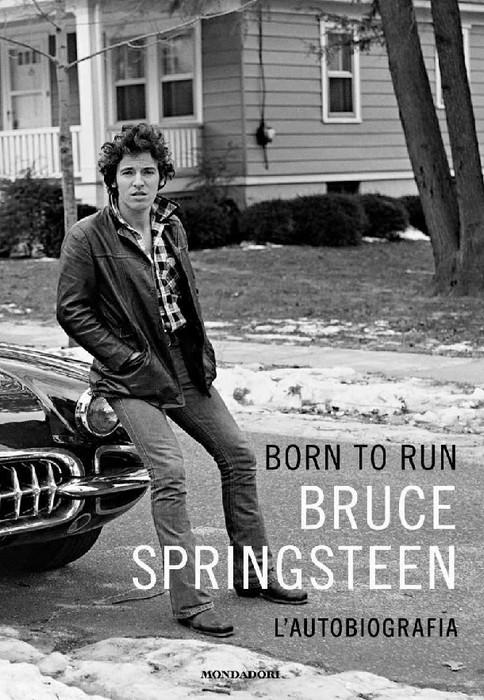 "Tramps like us, baby we were born to run..."
[Italian version here]
Product: Born To Run: the autobiography
Author: Bruce Springsteen (Italian translation by Michele Piumini)
Official site: http://brucespringsteen.net/
Wikipedia page: Bruce Springsteen
Published in Italy by: Mondadori
Price (approximate): € 20 (printed, hard cover) - € 10 (e-book) - (Currency converter) - YMMV
Reviewer: Roberto Felletti - TNT Italy
Date: 2017
Introduction
I must admit it: reading my name as a reviewer is quite impressive; will I succeed in doing this? I had been thinking to write an article of my own for quite a while, not to be presumptious nor from an urge to be at the centre of attention (I simply translate into Italian for TNT-Audio), but because I wished to do it. After all, isn't that the driving force here, at TNT-Audio? Doing something just for the fun of it, for that pleasure, maybe a little narcissistic for the writer, that our Editor Lucio grants us? As I said, I had this idea in my mind for quite a while; following the rule stating that one should write about what he/she knows, I asked Lucio if he were interested in such an article for his/our magazine. He said yes, and here I am now, ready to face this task (not a task, actually) whose goal is to offer you an article I hope is pleasant, interesting and exciting. The reason for writing this review has been my having read 500 autobiographical pages by one of the surely undisputed and most famous, worldwide known, rockstars: Bruce Springsteen. I chose to not connect this review to a particular event, such as his 70th birthday (two years from now) or other circumstances, also because when someone writes something about a star (a music star, in TNT-Audio case), it often happens when the situation is... how could I say... not exactly good; so I preferred to try to review the book. Let's see how it goes.
Bruce Frederick Joseph Springsteen
I will not talk about the life and the accomplishments of this rocker from New Jersey, the American par excellence as we could describe him (even if his father was Irish and his mother is Italian, or maybe this is simply the reason, the American as the result of an integration nevertheless always difficult; Bruce himself writes «Though not unfriendly, the clans do not often cross the street to socialize with one another»); the official site and the Wikipedia page have plenty of information about his career, so I suggest you check those links for his CV. In this article I will try to talk about the man more than the artist, even if, in the end, as the time goes by and his career goes on, it can be rather difficult to separate the two parts, sometimes. I met Bruce, obviously musically speaking, when Born in the U.S.A. was released, undoubtedly his most famous work, the album that made him an international rockstar and, as Bruce himself stated, the one which started to make his bank account richer. Yes, because Bruce, after his father's decision to leave and go to the West, chose to remain in New Jersey to be a musician (virtually, the only job he ever had). It was a hard time, he had little money or none at all, and for some time he had to rummage through the garbage to find something to eat. Born in the U.S.A. was the first CD I bought; curiously, I had a CD player, a Philips CD380 (still working, even if, when powered up, it produces disquieting cracklings), but no discs to play, whereas a friend of mine had a CD (Syd Barrett's Opel) but no player; hence, we listened that one. Anyway, the forementioned Philips player was connected to (and for this I will be sentenced to weave cables in a TNT-Audio dungeon) a Philips F1662 combo feeding two speakers provided with the combo itself, speakers with tweeters at the height of a giraffe's ear (and for this I will be surely banished from these pages forever). In the end I always used headphones, also because those speakers in that high position did not produce music, but noise; moreover, I had not enough space to position the speakers properly. Hence, using what I had at hand, I started to know better this artist and I also bought his previous works, without knowing if I would have liked them or not. During those years, services like Spotify or YouTube did not exist, so a preview was not possible.
Book One: Growin'Up
The book is divided into three parts: Growin'Up is the first one, and it is also the title of a song included in Greetings from Asbury Park, N.J., Springsteen's first album; it spans from his childhood to the release of the album The Wild, the Innocent & the E Street Shuffle (1973), up to the moment when a music critic, named Jon Landau, spoke these historical words: «I saw rock and roll's future and its name is Bruce Springsteen». That future started on a Sunday evening in 1956, when a very young Bruce saw on the TV a rousing Elvis Presley who, with his guitar in his hands, performed, twisting and turning his pelvis, in front of an audience made up of virtuous Americans; the next day, the boy persuaded his mother to buy him a guitar, but she just rented it, because Bruce's family could not afford to spend money for such things. The Bruce's first show was in front of some startled friends of his age and, strumming those strings, he felt that playing a guitar would have been his path to take; he had that feeling of foresight and anticipation that, when we are kids and boys, makes us capable of foolish things, not because we think to be superior to others, but because we really feel the fire burning deeply inside of us. It is some sort of unconscious consciousness that makes us special, that gives us the sensation of gaining almost total control. So, the future Boss, doing some odd jobs for relatives and neighbours, put away enough money to buy a guitar (obviously a used one, nothing more than a crock) and started to learn the first chords. Then he bought an electric guitar with its amplifier, even in this case it was shoddy stuff, but for him it was nirvana. From that moment on, Bruce followed the path of every musician (or, at least, aspiring musicians), join his friends and play, play, play... never mind where it was, it could be the poorest club, the more wretched place on Earth or even the tool shed. The first serious band was The Castiles, which accompanied Bruce on a very wide range of stages, from firemen's parties to a psychiatric hospital. One day (it was the second half of the '60s), Bruce met the front-man of another band: his name was Steve Van Zandt. Springsteen writes: «So began one of the longest and greatest friendships of my life».

Bruce Springsteen & The Castiles
As the sun rises in the east and sets in the west, so music bands join and separate; it is the natural course of events. The Castiles separated, but Bruce would have had new bands to play with. Then there was the call-up for arms; for Bruce and the young Americans of the late '60s, it meant the departure (for many of them, only a departure) for the Vietnam hell. The Vietnam and the war are depicted in some Bruce's songs: one I like in particular is A Good Man Is Hard To Find (Pittsburgh), from the 4-CD compilation Tracks; it is a moving portrait of a woman who is at her home, alone, with her little daughter, in a cloudy Pittsburgh, whereas her husband is in a rainy Saigon; and she is sitting next to a illuminated Christmas tree while her daughter is sleeping in her room, and she does not know how to tell her about «the meanness in this world» and a father that, probably, will not come back home anymore. Bruce Springsteen is also this; he was declared unfit for the army, because he suffered the consequences of a past motorbike accident. After that dreaded moment, when he feared the results of the army examination, he continued his, now full-time, job as a musician, far and wide in many clubs and places. It was in those years that his father decided to leave and go to California with his family; Bruce chose to remain in the East, in his New Jersey, and in the end he formed the other serious early band: the Steel Mill. I have not a direct experience, but I think changing bands and names, particularly in the beginning, is something normal and characteristic of music personalities still forming, when young musicians are asking themselves "what will I do as a man?", when they are searching for that musical identity that will be a constant shadow throughout their careers. But Bruce's life had a Californian period, also. When he went to the West, he visited his parents and sister, as every good boy should do. But, «feeling not quite like complete failures but not like the successes we'd imagined», Bruce & the Steel Mill realized that they would have made a living with music only on the East Coast.

Bruce Springsteen & the Steel Mill
So, when they made their way back home, Bruce met the second important man in his life, on stage and off stage: Clarence "Big Man" Clemons, another pillar of that E Street Band, faithful companion during so many years and so many successes. But California's call, the search for a new life, «far away from my lover's blues», led Bruce to the West once again, where he (once again) was one out of many musicians who were still trying, and not a "big shot", as he was in New Jersey. In the meantime, the so-called (still unknown) future of rock'n'roll was working on what would have been his first album: Greetings from Asbury Park, N.J. (1973). Once he was back again in New Jersey, his dream came true: a real contract for a real album, recorded in three weeks and with autobiographical lyrics, inspired by real people, places and moments in Bruce's life. But many later Bruce's songs will have such an autobiographical trait; I think every artist, more or less, adds personal experiences to his/her songs, maybe disguised (brilliantly) as someone else's experiences. Maybe, as a way to tell things that otherwise would not be told or one could not know how to tell. That first Bruce's album, more a songwriter's work than a rocker's one, sold 23,000 copies only; a music-industry failure but a great satisfaction for Bruce's parents (and surely for Bruce himself).
About this, I remember a Vinyl episode; Vinyl is a TV-series taking place in an American record label in 1973, hence in the very years of Springsteen's debut. During a briefing to decide which artists to invest in and which to discard, Bruce's name came up; the manager said «Who? Oh, that guy won't go a long way». Well, I do not recall the exact words, but the sense was surely that one. Luckily, it was just a fiction! And when Bruce started to hear his songs playing on the radio, it started also to feel that thrilling shake he still feels today, every time he has a new song blasting from the speakers.
While the Greetings tour was underway, Bruce recorded his second album, The Wild, the Innocent & the E Street Shuffle. In this second work too, there are many autobiographical connections with episodes of his life and places he frequented in New Jersey. This is a peculiar album, I might say, surely not the right start for someone who never listened to Springsteen's music and not the easiest way to know him. It is one of those records fully understandable only when one is well acquainted with the artist, when an emotional link has been established with the man, when one's soul vibrates in unison with those strings, the strings of a guitar that, in two years time, would have started to be part of that rising parabola of what Landau predicted, the future of rock'n'roll. Time was right to be born to run, to have a better and more satisfying life, moving towards an enviable future, and to conquer the (music) world.

Growin'Up (Greetings from Asbury Park, N.J.) and Kitty's Back (The Wild, the Innocent & the E Street Shuffle)
Book Two: Born To Run
The second part of this autobiography, Born To Run, spans the period from when Bruce was working on the namesake album and its release (1975) to the end of the '80s. The run was yet to start and the only song that was ready, out of the eight of the album, was Born To Run itself. He finished it after six difficult months. They probably were difficult months, but without doubt the song, and the entire album, drives with power and energy, strength and the courage of juvenile rebellion, longing for redemption, and the stamina to act. I like to listen to different music genres; but, particularly, rock music, for me a genuine tonic that has helped me (and still helps), every now and then, to cheer me up when things were not (or are not) as I expected or hoped. Maybe it could seem a bit predictable, vaguely young-sounding and immature, but still now, when I am not a teenager anymore (I am in my 50s), I am continuing to think that, sometimes, a song is more reassuring than a thousand words; Bruce himself says that in No Surrender (Born in the U.S.A.): «we learned more from a three minute record than we ever learned in school». Born To Run opened up international stages for Bruce, such as England, homeland of the great rock groups of the '60s and '70s, homeland of those musicians that were the music idols of the young people of those years. On foreign stages, more copious and more geographically distant from home as the years passed by, but always with the support of the E Street Band, not just a band but a bunch of friends, the proper completion for an artist who, maybe, without them would not be the rocker he is now: Garry Tallent (bass), Danny "the Phantom" Federici (organ), Steve "Little Steven" Van Zandt (guitar), Max "Mighty Max" Weinberg (drums), Roy "Professor" Bittan (piano), Clarence "Big Man" Clemons (saxophone). The order of presentation is not important, no one is more important than the other, and even if time, cruel and inescapable, has taken someone away, their magic and skills will exist as long as there is someone to hear them playing, as long as there are systems, records and whatever else at hand to play their prowess.

Born To Run
Bruce has always been a prolific songwriter, he always wrote more songs than an album could include; it was the vinyl era, it was not possible to put more than eight or ten songs in the grooves. If the CDs were used in those days, his albums would have played for more than an hour... indeed, the four CDs in the Tracks compilation are almost full and offer a huge amount of outtakes discarded from previous albums. And what valuable discards they are! Real gems. Another example of discarded songs is The Promise, another compilation of previously unreleased material dating back to late '70s, when Darkness on the Edge of Town was released. Surely, he had a difficult time selecting the songs to include in his albums... Should I choose this? And what if I should choose that one? No, these are surely better.
Bruce says «No one you have been and no place you have gone ever leaves you.». I think that is true: where you come from, where you lived, what you are depends on the seeds that were sown. There is no doubt about that. And so it is for Bruce; he is from a family not exactly rich, not exactly middle-class, he is not a daddy's boy. And this is manifest in Darkness; one of my favourite songs is Factory. That worker walking through those factory gates is my father, that kid watching him is me. Just a little more than two intense minutes of life, but much more than what we could ever learn at school (that verse from No Surrender, again). With Darkness, Bruce becomes a man (he is 30 by now), he must take his responsibilities, in front of himself and the world. No time for playing anymore, the foolishness of the teenage years is behind him by now, the carefreeness of childhood days is just a faded memory in a black and white picture. Adulthood, with its burdens, is at the door and it is time to face the facts for what they are. The world is not a safe cradle, it is a beautiful place but it is a hard one, where normal people must fight day after day to live and to survive.

Factory (Darkness On The Edge Of Town)
And normal people are the main characters in The River, the 1980 double album; in it, Bruce talks about love, marriage and family. The love of I Wanna Marry You, where the protagonist (Bruce himself?) tells it is time to have a family of his own, take up his responsibilities as a man, while he watches a working girl pushing a baby carriage along the street. Life may not be easy, love may not be the fairytale it seems, but, even if his dying father tells him that true love is a lie, he does not believe him; there could be happy moments and sad moments, sunny days and cloudy days, but it is possible to face and overcome hardships together. Things should go this way, but often they should not. And then there is the moving love of a man who fears the loss, as the man in Wreck On The Highway (Bruce himself again?) who witnesses a car accident and who, once back home, wakes up in the middle of the night to hold tight his woman, thinking of the other woman, the wife or girlfriend of the man who died in the wreck, when a policeman will knock to her door to tell her sad news. We are nothing but leaves hung on the tree of life, indeed; just a breath and we could lose everything. An emotional, heartfelt Bruce. But The River is rock, also; sure... There are some rocking rock songs, Bruce's guitar must roar and it roars, with love. Even in this case, many discarded songs were released in the Tracks compilation box set and some outtakes have been released in an extra disc in the 35 years edition of the album: The Ties That Bind: The River Collection (together with other songs of that period, previously already included in Tracks).

I Wanna Marry You and Ramrod (The River)
Is it possible to release an album with just voice, guitar and harmonica? Yes, if your name is Bruce Springsteen. In 1982 Springsteen released Nebraska, a very bare album, musically speaking. You just have to sit down and listen carefully to it. The emotional intensity of the ten songs included in this album gets inspiration from Bruce's childhood and its mysteries, as Bruce himself says. At least three songs get inspiration from autobiographical moments. This is an overall poor recording, almost amateurish; recordings are nothing more than demo tapes which, after some unsatisfying and inconclusive studio takes, were released as they were. Nevertheless, the album is somewhat magical; the lack of plugged instruments puts his voice up front, and the guitar and the harmonica lead us into his world. Closing our eyes, we could almost see the full moon rising above the mansion on the hill or the policeman who allows his brother, who has committed a crime, to cross the Canadian border or the man (Bruce himself once again) who comes back to his father's house, but no one he knows lives there anymore, and in that house another family lives now. It is an album to listen to with dim light, when the sun sets or even at night, when everything is calm and quiet. It may be some form of suggestion, but certain albums, regardless what genre they are, seem to acquire a new dimension when we listen to them in specific circumstances. It is a fascinating sensation. Well, probably the better the system the better the sensation. That is what happens to me, leastwise; the stage seems to widen, music spreads freely in the air and the system seems to vanish.
So, sensation after sensation, we are in 1984 now, a turning point not only for Bruce, as a musician, but for music in general, also; that is because in that year Born In The U.S.A. was released, an album that undoubtedly was a music divide in those years. Now, after 30 years, I would not say it is Springsteen's best album, nor the most significant. It was a great commercial hit (we could not deny it), his bank account surely benefited from it, but I would rather consider it a focal point, a sign of its time, a start to go deep into his other works, previous and following, and to know better the man. America had Reagan as a President in those years, and the title track was considered a celebration of force and military power of uncle Sam; that verse, «they put a rifle in my hands and sent me to a foreign land to go and kill the yellow man», as people from Asia were scornfully named, is somewhat ironic. Springsteen is against the war; he did not like when the President thought of the song as a tribute to his military wishes. On the contrary, Bruce is still sensitive to veterans' problems and he supports them. Maybe the true meaning of the song was misinterpreted and got lost in the overwhelming worldwide success of the album. I think in the early days is easier to follow your own heart, your own nature and put them into your songs; then you become famous, a star, someone invested money in you and in the end you have your hands tied up. I went to a Bruce concert only once: it was in 2013, in Milano; a friend of mine was lucky enough to find two complimentary tickets, so we jumped in his car and went to see the show. I never attended an event of such proportions, nor I could even afford it; the ticket price was nearly 100 euros/dollars/pounds! For me, a lot of money for a show. Anyway, it was a three hours and a half great show, with great energy; seeing a 64 years old man (in 2013) playing and singing continuously for three hours, with almost no breaks... well, it is not a task for everyone. In such an occasion, Mr. Springsteen and his band played the whole Born In The U.S.A. album, because in that very same stadium they played it for the first time in Italy, in 1985. Still now, I remember the chorus of the crowd surrounding me when they played the title track; that born in the U.S.A., I was born in the U.S.A., I was... repeated by people shouting as a single man, and heard all around me, was something I think not a single system in the world, even the higher-end, could reproduce. Let me say this: acoustics was really really bad; after all, a stadium should be a place where to play football not to play music... (or just my seat was in an unfavourable position). Anyway, I really enjoyed the show and went back home happy (even if my ears were a little numb).

Born In The U.S.A. at San Siro Stadium (Milano, Italy) in 2013
And then something changed. Little Steven left the band. Bruce started to realize that success is a heavy burden, then he got married. A bunch of reasons pushed him back away from the spotlights, searching for some more intimate dimension; after having wanted much, he now wanted less. Surely, fame, especially when it comes quickly and unpredictably, may be something somewhat counter-productive. Not only that; you have to face the fact that time passes, and more time passes more it seems it passes more quickly. If we do not pay attention, we find ourselves on the edge of the cliff, at the end of the road, without even realizing that. Anyway Bruce entered the tunnel, that tunnel of love that ended his first marriage with the actress Julianne Phillips to make him fall in the arms of Patti Scialfa, backing vocalist and then rocker's second wife. Maturity (Bruce was nearly 40) is at the base of Tunnel Of Love, an album in which love, crises and problems of a complicated and not exactly ordinary marriage life silence (or at least lessen) that seething young force that could encourage someone to run away, to flee, that life on the road that, in effect, is not the proper way of life a mature man. Anyway, enter the tunnel of love is surely the most beautiful thing for a human being to happen, but at the same time it is a big risk; but if you do not risk, where is the fun of it? The important thing is to exit the wrong tunnel before it is too late, to enter, hopefully, the right one. And, in the end, Bruce entered it. Once he left behind his first marriage, he married Patti; a morning she told him she was pregnant, that quite feared but quite wanted moment when everything changes and when you realize that your world will not be the same anymore. A baby is a true living proof: of love, of life, of magic and power of the universe that is inside us and all around us.
Book Three: Living Proof
The third and latter part of the autobiographical Springsteen's tale gets its name from another song of the Boss, Living Proof, from Lucky Town album, and it spans from his first child birth (1990) until the present. For Bruce it is the beginning of a new life, not only because he is a father now, but also because in the '90s the E Street Band is not at his side anymore; the trustworthy and loyal group of skillful musicians will not perform with Bruce until 2002, when The Rising album was released, an album dedicated to the Twin Towers tragedy. Parting is never easy, so it was a sad moment for all of them, for the band and for Bruce himself, but everyone understood the Boss decision and they agreed to that separation. Was it a wise choice, was it the right thing to do? Anyway, it was his choice, a choice that characterized the years that followed. Could we say that, in general, a choice is not right or wrong? A thing which may seem wrong to many, is a positive change to other people; when the change is negative we say "it is wrong". But maybe it is not wrong in absolute terms; maybe it is just a path not apt to us, not wrong in itself. In those years, someone said that Bruce was not himself anymore, that he had gentrified; well, it could happened, who are we to pass judgement? He was not that penniless boy who rummaged through the garbage to find something to eat, not anymore; he had become a music star, and there is no need to be Bruce Springsteen (nor everyone else) to understand that when you have plenty of money in your pocket you could not be the same person you were in those very old days of your humble youth. I never believed it, and I do not start to believe it now. It is just not possible to feel anger when things go the right way.

Living Proof (Lucky Town)
As I said, Bruce recorded a new album with the E Street Band in 2002. The year before, the whole world witnessed to an event that changed our planet and shook our souls: September 11th will remain sadly famous for that tragedy we all know. Undoubtedly, for American people it was a great shock; the United States were never directly attacked on their land, even during the Second World War. Bruce wrote an album, in memory of that terrible tragedy: The Rising, an exhortation to rise, to react, to not surrender to terrorist actions made by deranged and stray minds. In this absolutely not cheerful album, Bruce shows us his dismay, the same dismay that all Americans felt (and we, too, all around the world) witnessing this sudden change in their everyday lives, this rising feeling of uncertainty and insecurity, which ultimately is the goal of every terrorist action. The heroic acts of the firemen entering the burning towers, from which they probably knew they could not escape (Into The Fire), and that distressing and sad Empty Sky, not the typical background of a happy New York anymore, as in an old days postcard where the towers were a unique symbol projecting in the sky, need to be replaced (without forgetting them) by hope, and people are Waitin' on a Sunny Day; they desire to live their lives normally again, but it will not be the same life as they knew it. The wound will remain open, so that no one forgets what happened. Life goes on, that is true, even if You're Missing and this absence, not only in the sky but even in the soul, is overwhelming and unbridgeable. No roaring guitars, no wild rocking; just soothing tunes, songs just like whispers, sort of a gentle touch for a deeply hurt soul. Bruce recalls that on that day he went to a spot where he could see the towers like two thin black lines in the sky; but on September 11th he could just see pillars of smoke rising up in the sky. He sat there for a while, to think, and then, on his way back home, a car driver, who recognized him, shouted «Bruce, we need you!». As I already said, sometimes a song can help, especially when the artist speaks to us in such a way as he would know what could comfort us, as he would know what we need. In that circumstance more than ever.

Into The Fire e You're Missing (The Rising)
But let's leave the gloomy mood of The Rising for a Bruce's raid into folk-country realm, with an undoubtedly peculiar non-rock album: We Shall Overcome: The Seeger Sessions. Since I love country music too, even if more honky-tonk oriented, I cannot help but recommend this rousing Pay Me My Money Down. This album is an excursus into the real American old days music tradition.

Pay Me My Money Down (We Shall Overcome: The Seeger Sessions)
So, we have arrived at present days. Bruce and the E Street Band members are not those East Coast boys anymore, years are a heavy burden and leave their mark. Despite music work still goes on with the release of other albums inspired by current facts (as the Nomadi - a famous band in Italy - say in one of their songs: «if you want to write a song read the newspaper, you will get the inspiration»), for the first time in the band history a member is forced to quit: he is Danny Federici, affected by a melanoma. Because of a wrong diagnosis (apparently these sorts of things does not happen only in Italy...) the disease spreads throughout his body and in 2009 Danny passes out (but I would prefer to say he is gone to another place, because nobody really dies as long as that person stays with us, in our hearts and minds). Then it is up to Max Weinberg; he is replaced with his son, but the reason, luckily, is artistic. Unfortunately, Clarence Clemons' health conditions concern Bruce once again; the solid Big Man is affected by progressive health issues, and eventually they must take him on the stage using an elevator, because he has great difficulties moving and he feels pain. Later he is affected by a stroke that damaged half his brain; not only he would not be able to play anymore, but it would be fatal. On his hospital bed, Bruce sings for him an intense and touching Land Of Hope And Dreams, playing his guitar. Clarence's nephew, Jake Clemons, takes his uncle's place in the band. The show must go on...
Conclusions
And this is the end of this (my first) review, (soliloquy?), (stream of consciousness?), about Bruce Springsteen's autobiographical book. I wrote a lot, and I did not write a lot. To defend myself, I could say I am not a literary critic, nor a music critic; I like writing and translating (I am one of the Italian translators for TNT-Audio), I do not know all Bruce's songs and I do not know all Bruce's albums (at least, not in detail). I listen to other music, also; I like to search for new artists and new genres. Anyway, the goal of this review was to talk about the book, which is the book of a musician/songwriter and because of that it is impossible not talking about his works. I also thought adding some videos would have been helpful, a proper frame to the picture. Summarising a 500 pages book and a long and successful career, as the Bruce's one, is certainly not an easy task; to make the job harder, Mother Nature did not give me the gift of being able to write short texts.
Many books have been written about the Boss, many biographies have been published and some texts examine in depth one aspect or another of the man (I read a book analyzing his relationships with women, real or depicted in his songs). I do not intend to lessen the importance of all the books written about Springsteen and his music, but this one has undoubtedly a primary role; he wrote it, so no one is better qualified than him to describe his feelings over the years, what he felt writing his songs, what he felt performing them on stage, what he felt in his private and family moments (as when he learned how to prepare breakfast for his kids). Even in his, surely satisfying and successful, life, there have been happy moments and sad moments, joyful times and sad times: his children's births, his father's death and his most dear band members/friends' death, those friends who have been an important and essential part of his music, and trustworthy people. All in all, the life of an ordinary man with a non ordinary job.
I certainly suggest you read this book, written not only for people who do not know who Springsteen is, but to those who are well acquainted with him, to those who are regular spectators of his concerts, never the same, and to everybody who loves (not only) rock music. But his run is not over yet; I am quite sure that Bruce has much more to say. That guitar will produce more notes, more chords, and we will be there, once again, with our whiter and whiter hair, dancing and rocking to the rhythm of his songs because... tramps like us, baby we were born to run...
Live long and prosper, Boss!

Land Of Hope And Dreams (Wrecking Ball)
Post Scriptum
Since we are on TNT-Audio, a magazine offering audio gear reviews, I cannot help but to close with a brief description of my (very humble) system, that 15 years ago replaced the Philips combo I talked about earlier. It is light years distant from the "beasts" used by the reviewers (the real ones) of this magazine, but it is surely better than the best combo on the market. :-)
Sources (digital)

Denon DCD-755AR
Philips CD380 (every now and then still in use, despite it is 30 by now)

Amplifier
Speakers

B&W DM 602 S3 (with DIY stands, based on this DIY project by TNT-Audio - the article is in Italian only)

Cables

speakers: Supra Classic 2.5
speakers: Monster XP (used to connect to the amplifier two small "cubes" from a Creative 5.1 kit, for computer listening)
interconnect: Monster Interlink 200 (Denon)
interconnect: G&BL HM (Philips)
All the gear is housed in a DIY rack based on the FleXy by TNT-Audio.

© Copyright 2017 Roberto Felletti - www.tnt-audio.com
[ Home | Staff & Contacts | HiFi Playground | Listening tests | DIY & Tweakings | Music & Books ]