[ Home | Staff & Contacts | HiFi Playground | Listening tests | DIY & Tweakings | Music & Books ]
Product: Audio Systems Design and Installation - book
Author: Philip Giddings
Book Details: ISBN-0-240-80286-1, Published 1990, Focal Press.
Price: YMMV; Can be found on the used book market, paperback
Reviewer: Roger McCuaig - TNT Canada
Reviewed: October, 2021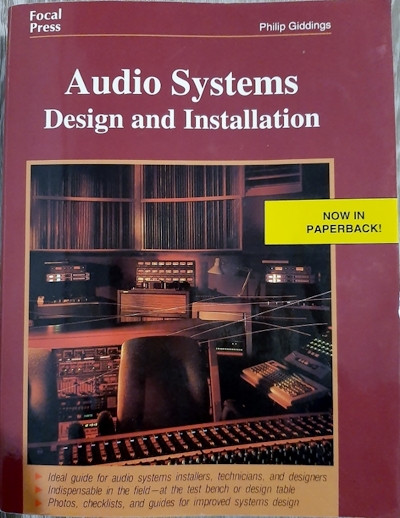 I would like to start the review of this book with an advisory upon its use. This book was written as a training manual and reference guide for professionals and in the right hands it is a very valuable reference tool. Electrical engineers and technologists will have no problem understanding and using this book and there are probably some self-taught readers who will be able to get good use of it. Many non-professionals will (hopefully) realize they are in over their heads and put the book aside. The modification of power distribution and grounding systems by someone who doesn't really understand what they are doing can result in smoke coming out of your amplifier, or adding noise to the system or personal injury. So, I am writing this review specifically for those readers who have the training and/or experience necessary to use such a highly technical reference manual.
I have owned an autographed copy of this book for many years. My research turned up many used copies available at various prices, typically between $50. and $100. I did find a few new editions available from book stores but the prices were very, very high!
This book is not concerned with components such as amplifiers or loudspeakers, it is all about how to design all of the support system, power, cables, grounding etc. It covers every topic in great detail. I have never read it from cover to cover, that type of use certainly would be appropriate for a professional system installer. I use it as a reference tool and I have gone digging in this book quite a few times over the years.
The book is 551 pages long and it covers pretty much everything one could imagine, and a lot of things that many readers probably never imagined! Want to know the difference between Common Mode and Differential Mode noise? What is the significance of amplifier Damping Factor? What is the CBEMA curve used for? Understanding Decibels, Root Mean Square Power, Headroom, Sensitivity, you name it, it's all there. There is a whole chapter on interconnect cable design, something that I have found myself referring to on many occasions. Noise in audio systems; 28 pages dedicated to that subject. Grounding and shielding are very complex topics, especially so for electronic components that have Safety grounds and Technical grounds. Anyone who has battled with ground loops can attest to this. There is a very extensive amount of material on this subject. It goes into a complete and thorough treatment of the subject, matching college level curriculum. The book is filled with tables, graphs, photos and equations, enough to satisfy any technical need.
Conclusions
There is way too much material in this book for me to try to list here. I have found it to be an excellent reference tool that I have consulted often over the years. Those of you with sufficient technical training will certainly find it useful, those who don't should pass on this one.
DISCLAIMER. TNT-Audio is a 100% independent magazine that neither accepts advertising from companies nor requires readers to register or pay for subscriptions. After publication of reviews, the authors do not retain samples other than on long-term loan for further evaluation or comparison with later-received gear. Hence, all contents are written free of any "editorial" or "advertising" influence, and all reviews in this publication, positive or negative, reflect the independent opinions of their respective authors. TNT-Audio will publish all manufacturer responses, subject to the reviewer's right to reply in turn.

Copyright © 2021 Roger McCuaig - roger@tnt-audio.com - www.tnt-audio.com
[ Home | Staff & Contacts | HiFi Playground | Listening tests | DIY & Tweakings | Music & Books ]