[ Home | Staff & Contacts | HiFi Playground | Listening tests | DIY & Tweakings | Music & Books ]
Introductory Guide to High-Performance Audio Systems - book by Robert Harley
A Good Starter Book
[Italian version here]
Product: Introductory Guide to High-Performance Audio Systems - book
Author: Robert Harley
Book Details: ISBN-13:9780978649302, Published 2007.
Price: Chapters-Indigo $24.95 Can., paperback
Reviewer: Roger McCuaig - TNT Canada
Reviewed: July, 2021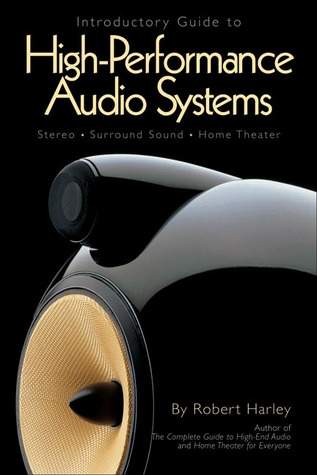 Anyone who has been nosing around on audio web sites and reading product reviews has probably heard of Robert Harley. He is of course well known for his contributions to two of the biggest names in the audio magazine business, Stereophile and The Absolute Sound. Now these magazines have been severely criticized by many people, including myself, for their tendency to write positive reviews of everything, especially glowing for the products that are advertised in their magazines. Nevertheless, Mr. Harley has spent all his professional career in the audio industry and has excellent writing skills. His book, Introductory Guide to High-Performance Audio Systems is free of the shackles of the commercial obligations of the audio magazines mentioned above and therefore well worth consideration.
Harley describes this book as an attempt to produce a more digestible version of his 600-plus page Complete Guide to High-Performance Audio Systems. A lot of detail and techno-babble has been removed in the "Introductory" version and the result is quite readable. The book was published in 2007 and it does not appear that there has been a revised edition since then. The book is still available in paperback from several sources and there also appears to be quite many used editions for sale on the Web.
The book covers pretty much all the bases; analog and digital sources, amplification, loudspeakers, home theatre and multichannel music and much more. The chapter on digital music is, of course, not fully up to date but let's face it, any book on this subject is out of date by the time it's published! It does, however provide a lot of fairly easy to understand explanations of hardware and software formats of digital music. There is also a chapter titled "Becoming a Better Listener" that many newcomers to high-end audio should find valuable.
I particularly enjoyed Harley's ability to present every topic with great clarity and no double-talk or audio magazine fluff. For example, the chapter on loudspeakers starts out by telling the reader that the world is full of bad speakers and that furthermore the price of a speaker is not a useful indication of its performance. That's telling it like it is!
Conclusions
I don't know a lot about Robert Harley. I stopped reading magazines like Stereophile and TAS many years ago. I can say that Mr. Harley has produced a valuable, easy to read, introduction to high-end audio that is well worth the investment for anyone just starting out on their audiophile adventure.
DISCLAIMER. TNT-Audio is a 100% independent magazine that neither accepts advertising from companies nor requires readers to register or pay for subscriptions. After publication of reviews, the authors do not retain samples other than on long-term loan for further evaluation or comparison with later-received gear. Hence, all contents are written free of any "editorial" or "advertising" influence, and all reviews in this publication, positive or negative, reflect the independent opinions of their respective authors. TNT-Audio will publish all manufacturer responses, subject to the reviewer's right to reply in turn.

Copyright © 2021 Roger McCuaig - roger@tnt-audio.com - www.tnt-audio.com
[ Home | Staff & Contacts | HiFi Playground | Listening tests | DIY & Tweakings | Music & Books ]