[ Home | Staff & Contacts | HiFi Playground | Listening tests | DIY & Tweakings | Music & Books]
Bob Dylan in London
Troubadour Tales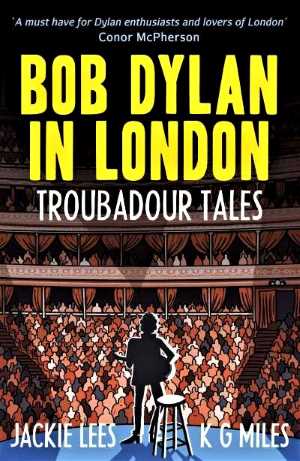 Another Dylan 80th Cash-in?
or a unique story needing an opportunity to be told
Book: Bob Dylan in London: Troubadour Tales
Authors: Jackie Lees & KG Miles, with Foreword by Andrew Muir
Publisher: McNidder & Grace - UK
Price: please buy from an independent bookshop (YMMV)
Author: Mark Wheeler - TNT UK
Published: September, 2021

Another Dylan book in his birthday year?
The Troubadour Club is still a folk club in London although Lockdown quiet today, and hosted Bob Dylan in 1963 (and later Jimi Hendrix among others) and was visited by the authors Jackie Lees and KG Miles for this splendid tome. So committed to their cause are they, that they are now curators of the Dylan Room, commissioned as a consequence of their enthusiastic visit.
Jackie Lees & KG Miles demonstrate the same commitment and thoroughness throughout the pages of Dylan in London: Troubadour Tales.
Bob Dylan told Robert Shelton (his future biographer and author of one of the many other Dylan books published this year), that looking back at what he'd done so far was like watching another person.
"It's almost like it happened to somebody else", quoth Bob Dylan to Robert Shelton (Dylan's future authorised biographer). The conversation took place while touring the USA in 1966 less than one year after Dylan's pivotal 1965 visit to Britain. Dylan turns 80 this year (2021). Like many octagenarians, Dylan seems to be evaluating a journey that stretches back to before he was born, to his musical ancestry and equally evaluated by numerous authors this anniversary year. The British tour of 1965 was a key milestone on that journey among many visits to Britain's capital city.
The year before that conversation between Dylan and Shelton, in July 1965 Bob Dylan had kicked off a morsel of controversy among his fans with an electric set at the Newport Folk Festival. That electric performance was noteworthy because it was one using electricity, not how lively it was.
Bob's electric guitar and the amplified electric instruments of his band, The Hawks are reported to have incensed folkier elements of his fan base with an almost Amish devotion to electron avoidance. However, Joe Boyd, who worked on the sound mixing for the festival, relates the audience's reaction somewhat differently in his memoir, White Bicycles: Making Music in the 1960s.
Boyd asserts that "By today's standards, the volume wasn't particularly high, but in 1965 it was probably the loudest thing anyone in the audience had ever heard. A buzz of shock and amazement ran through the crowd. When the [first] song finished, there was a roar that contained many sounds. Certainly boos were included, but they weren't in a majority. There were shouts of delight and triumph and also of derision and outrage. The musicians didn't wait to interpret it, they just plunged straight into the second song"
Al Kooper (on keyboards at Newport) has argued that the boos were brought on by the short duration of Dylan's set, not by the fact that Bob Dylan had gone electric. Al Kooper said: "The reason they booed is that he only played for fifteen minutes when everybody else played for forty-five minutes or an hour. They were feeling ripped off"
Bob Dylan himself also said, back in the day, of the release of Bringing It All Back Home in March 1965 and the ensuing Newport performance, "There was never any change. No instrument will change love, death, in any soul. My music is my music. Folk music was such a schock. I never recorded a folk song...I want to write songs now". Dylan continued by explaining that until Bringing It All Back Home songwriting was incidental to performing, but he'd reached a point where he knew he had to write songs for his next album.
And what an album he was promoting in London during the tour annotated in this thorough book. Side 1 was electric. On subsequent tours throughout 1965 and 1966, his electric sets (now backed by The Hawks) were often met with derisiveness from the audience. Crowds became particularly acrimonious during a British tour, including an oft-cited incident in Manchester, where a member of the crowd shouted "Judas!" at Dylan.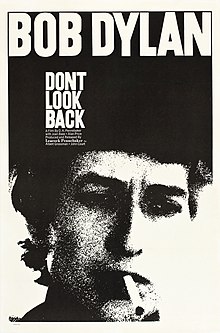 Don't Look Back
Dont Look Back is a 1967 rockumentary by D. A. Pennebaker that also covers Bob Dylan's 1965 concert tour in England. The opening scene of the film has Dylan displaying and discarding a series of cue cards bearing selected words and phrases from the lyrics to his song "Subterranean Homesick Blues" (including intentional misspellings and puns). Your Old Scribe lived with an original Dont Look Back film poster on the wall for many years and watched the movie a few times whenever it arrived at nearby arthouse cinemas.
That famous precursor to promo videos, to promote "Subterranean Homesick Blues" was filmed in the London alleyway known as the Savoy Steps round the back of the Savoy Hotel. The authors of Bob Dylan in London: Troubadour Tales tried unsuccessfully to get a Blue Plaque erected there. Dont Look Back and Eat the Document catch Dylan in London as he moves from folk to electric rock and the subsequent brouhaha that followed this (foreward by Andrew Muir, The 1990s: living in Fulham, running my own Dylan fanzine)
Jackie Lees & KG Miles pen the opening words of the introduction to Bob Dylan in London: Trobador Tales, "This book will take you on a journey through London, following in the footsteps of Bob Dylan from the first time he set foot in the capital in the winter of 1962". As we were all told in skool, on writing anything: tell the reader what you are going to tell them; then tell it to them; then tell them what you just told them.
TROUBADOUR TALES
Troubadour Tales first hears Bob Dylan perform at the Troubadour Coffee House in the London borough of Earls Court. This was an insalubrious area back then and still has not achieved the gentrification of New York's Chelsea and Greenwich Village to this day. The descriptions of these early visits, so influential on Dylan and the encounters he has with London's luminaries, are rich in texture.
In Troubadour Tales: Bob Dylan in London authors Jackie Lees and Keith KG Miles relate stories about landmark locations around London with significance for Dylan. The book covers visits from December 1962, Dylan's first trip to London and ends in Summer 1993. This were key journeys in the career journey of an artist who attracts controversy and plaudits and appellations as the most significant songwriter since World War 2. Often tours abroad seem to coincide with changes of direction or artistic experiments for many artists including Dylan. The 1965 visit marked Dylan moving from his admiration and channelling of luminaries like Woody Guthrie to defining his own musical materiality, when Bob Dylan also secured and reinforced the high status accorded to writer-performer in rock music.
The idea that it matters in performance, that both creative and performative processes occur best within the same cranium, owes much to Dylan. Equally though, Dylan songs have been covered incredibly successfully by artists as diverse as thousands (if not millions) of folkies and buskers as well as by the likes of The Byrds and Jimi Hendrix. The 1965 album Bringing It All Back Home represents a significant signpost that indicates this direction for the branch of popular music that tends to take itself quite seriously at times.
The challenge any authors face when tackling any aspect of His Bobness is the opprobrium that will be brought down any authors who offend any sect among the Dylan faithful. Possibly only Frank Zappa attracts the kind of obsessive pedantic fandom speculating on the semiotics of his oevre that Dylan does. Dylan is the only singer-songwriter to have been awarded a Nobel Prize. Dylan obsessives these include pseudo academics alongside genuine academics like the folks who actually get a PhD in Dylanology (really) and there is a department of Bobness at Tulsa university, of which more later.
Jackie Lees and KG Miles (why one first name and the other initialled?) manage to swerve the whole theoretical Angels on a pinhead theological posturing and postulating by describing, evocatively and clearly, episodes from Dylan's times in London until 1993. The publishers claim that this is only the second book on Dylan to be authored by a female author ever, dating the first as 1982, presumably Liz Thompson' 1980 Conclusions on the Wall: New Essays on Bob Dylan, and therefore excluding Liz Thomson's 1990 The Dylan Companion, her editorial input into Shelton's No Direction Home, Suze Rotoloapos's 2008 A Freewheelin' Time or Nina Goss's 2018 Tearing the World Apart). See? State anything in print about Dylan and someone will claim to know better.
This books succeeds by guiding and accompanying the reader on a journey through London's Dylan related landmarks in the footsteps of the artist himself. Fortunately it is written in accessible style, avoiding any temptation to a James Joyce style stream of consciousness, to which his Bobness himself might well have succumbed. You follow, page by page these footsteps and make a mental pilgrimage yourself.
It would be equally possible to use this as a rough guide to Dylan's London Landmarks and visit the same streets a nd pubs & clubs, cafes & concert venues and the book even includes a useful map to this end!
It is this quality of pilgrimage, in an age of growing popularity of secular pilgrimages, that sets this book apart. Unlike the endless listicles and ponderous pedantry of writing devoted to cult performers, this book has a lively narrative.
Inventing His Bobness
Bob Dylan has worked hard to create this aura, however he protests to the contrary. Dylan complains about interviewers questions and then complains about how his answers are reported. Whatever Dylan's protestations about these intrusions of curiosity, he has worked very hard to fuel them with this typical statement made in the period of this 1965 London visit,
"My toenails don't really fit right and I can't see too well on Tuesdays"
During the 1970s Bob Dylan famously rarely give interviews, so each one became an anticipated event. Your Old Scribe remembers one interview in New Musical Express (NME) or Melody Maker where Dylan responded to a question about God with "How come Chris Krisopherson doesn't get asked these questions?". His next album was "Slow Train Coming" followed by "Saved" chronicling his brief born again phase.
Indeed, Dylan vacillates in many things - faith/secularism - intensity/superficiality - political/apolitical, which helps explain his enduring appeal as much as the brilliance of some of his writing. Dylan is not shape shifting like David Bowie but Dylan is not afraid to drag fans down any blind alley that seemed like a good idea at the time, and why not, given that it's the journey that counts. Dylan told a newspaper interviewer in 1984 that he might not be understood until he's 100 but many books in this, his 80th year, hope to disprove that statement before 2041.
The Authors
This is the first collaboration by Jackie Lees and KG (Keith) Miles. They undertook this pilgrimage together around the London haunts of their revered artistic hero and only during the journey realised that others might like to follow their footsteps. Lees has a career writing for a homelessness charity and is now co-curator of the Dylan Room at the Troubadour Club.
KG Miles has Dylan form, so much form that he addressed the inaugural conference at the Tulsa Dylan Archive in 2019
"Is that all there is?," query Plebs Chorus, stage left, having been primed earlier for more news of Tusla University
K G Miles enthusiastically shares his encyclopaedic knowledge throughout the world via various media including podcasts along with co-curating the Dylan Room at the Troubadour Club.
Conclusion
Bob Dylan is 80 years old on 24th May 2021. This will herald a deluge of mostly recycled material examining the minutiae of his life and works. Jackie Lees and KG Miles's book, TROUBADOUR TALES: Bob Dylan in London, like it's subject, avoids being immersed in the mainstream. Like Pennebaker's movie Don't Look Back, this book documents some of the pivotal moments and experiences of an interesting life producing fascinating work, with a broader look from Dylan's first visit in December 1962 to a period in 1993 when he spent time in London Boroughs emulating the gentrification of Greenwich Village.
Other Dylan 80th cash-in books released this year
Paul Morley: You Lose Yourself, You Reappear, the former NME scribe, TV & radio presenter makes most things accessible and here concentrates on Dylan's changing vocal timbre
Sean Latham (ed): The World of Bob Dylan, an academic gowned treatise
Clinton Heylin: The Double Life of Bob Dylan Vol 1, from this prolific Dylan author
"So just how dedicated to the Dylan oeuvre are these authors?," demand Plebs Chorus, stage left, before parting with cash
The Plebs Chorus can hear an interview with Jackie Lees and K. G. Miles, the authors of Bob Dylan in London - Troubadour Tales broadcast on Phoenix FM The Sound of Calderdale 06/02/2021
DISCLAIMER. TNT-Audio is a 100% independent magazine that neither accepts advertising from companies nor requires readers to register or pay for subscriptions. After publication of reviews, the authors do not retain samples other than on long-term loan for further evaluation or comparison with later-received gear. Hence, all contents are written free of any "editorial" or "advertising" influence, and all reviews in this publication, positive or negative, reflect the independent opinions of their respective authors. TNT-Audio will publish all manufacturer responses, subject to the reviewer's right to reply in turn.

Copyright © 2021 Mark Wheeler - mark@tnt-audio.com - www.tnt-audio.com
[ Home | Staff & Contacts | HiFi Playground | Listening tests | DIY & Tweakings | Music & Books ]